A hand – picked assemblage of masonry WordPress themes for all those who want to present their portfolio pieces.
Works of art, designer projects, as well as services all in one, well – laid out and accurate structure of portfolio can be done using these templates.
The world of web design and its styles is changing rapidly in an endeavor to find the most accurate and presentable look and feel for the websites nurtured with the best design and structural solutions.
In this situation, one favorite and widely applicable design style or coding quickly falls out of favor and gives way to another one. Currently, masonry layout comes to the fore with its infinite advantages and preferences that may supersede a wide array of other web design styles.
Based on masonry or grid layout any kind of content will be easily adjusted to the given contextual basis with optimized use of space.
Without any unnecessary gaps, this kind of approach to your future website will be the most reasonable selection of you to use the given environment in the most optimal fashion and use better functionality as well.
Below you can find the best rundown of masonry WordPress themes equipped with all the primary controls and elements required for multi – purpose and multi – dimensional websites. All of them are time and security – checked and are totally worth trying.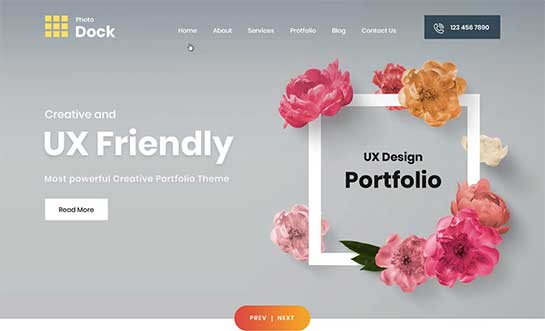 Safe and intelligent, complete and stable in all its aspects, grid layout – based Photodock has been released particularly for image – based websites.
Thus, this template can be ideal for photographers, designers, fashion bloggers, web and graphic designers, freelancers, as well as other creative individuals and company managers to let their images speak instead of them.
From totally responsive and cross mobile web coding to translation and multilingual ready character, from the homepage slider to host your best images to gallery section, Photodock has it all.
Preloaded package of shortcodes for easy content setup, smooth and sleek navigation controls, as well as plugin compliance are also added to the theme.
The theme has also been tested with diverse sliders to add a video functionaltiy for you to share your dynamic videos as well.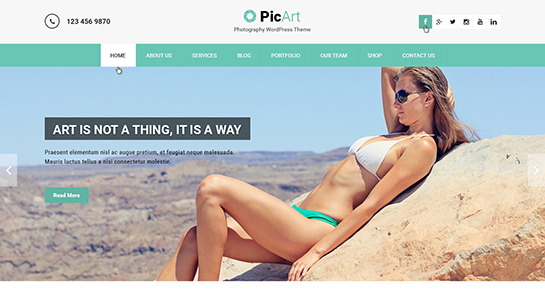 Detail – oriented and colorful, silver – tongued and well -managed, PicArt as another valuable sample in our list of masonry WordPress themes is ready to functions at a top -notch level no matter what kind of website you are going to build on it.
Energetic and zealous, completely documented and well – supported, this WordPress – powered theme is a rapid way to scaffold your masonry layout – based website exposing any photo or image – centric initiative.
This image and gallery – optimized SKT – authored website ecosystem is totally simple and lightweight while celebrating bright and engaging, lively and interactive external design, 100% responsiveness, cross device and mobile compatible foundation.
It means that on – the – go viewers of your website will never be faced with distorted visuals or obscure texts no matter what portable they are using to browse your website.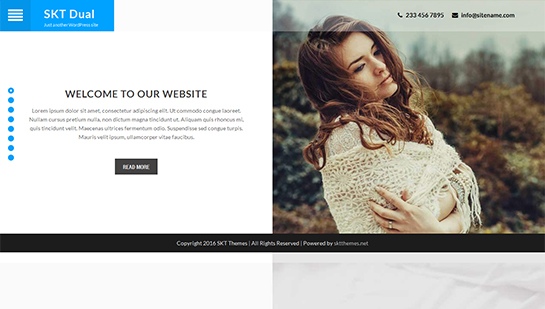 One of the most reliable and battle – ready masonry WordPress themes appears in the form of SKT Dual.
Correlated between high- end functionality and strictly organized layout to manipulate with, this website creation and development tool is tailor – made to take your website of any kind or nature to new heights and let it function at a near perfection level.
Based on modern grid and responsive design style, SKT Dual is the one to automatically adjust your content to any proposed device or screen with minimum resizes and editions.
From marketing and digital agencies to private photography services, everything can be neatly arranged in this template. Checked for plugin compatibility and e – commerce nature, SKT Dual offers an offshoot of customization and management options as well.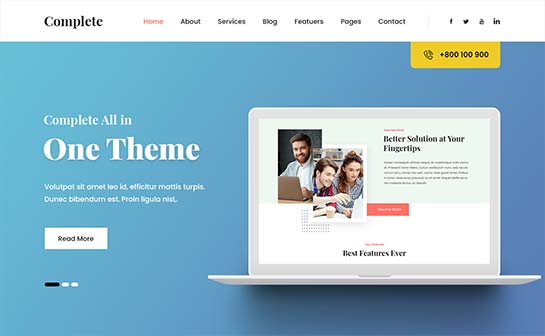 Although standing at top ranks in the contemporary digital environment is hard enough, it won't be unattainable with safe and secure, amazingly smooth and sleek Complete Pro of SKT Production.
It can become one of the most aggressive tools in your customer – focused strategy to showcase whatever is relevant to your business and let all your content organized in the respective theme sections, areas and parts.
As one of the top – rated masonry WordPress themes, Complete Pro is based on a much – demanded Customizer for manipulating the web changes and preview them instantly, a series of inner page layouts with sidebar, inner page headers, header and footer variables to select from, etc.
Responsive and mobile – friendly, SKT Complete Pro will impeccably fit any default screen size or resolution, from small to large.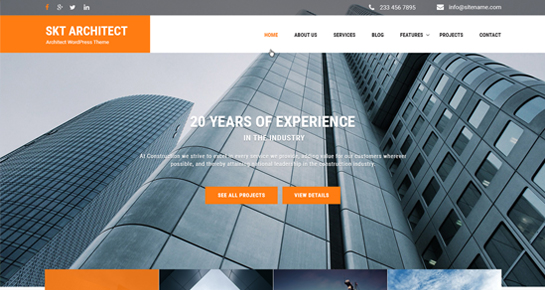 Arming your website with responsive grids for eye -catchy content display will be as easy as one two three with SKT Architect Pro.
General – purpose to meet any suggested scenery, this user and admin – friendly template fully complies with the uniform standards and norms specified by the current digital realm.
Powered to generate totally controllable layout, SKT Architect Pro comes with management and control allowances for every single admin or website assignee with 0 coding and styling knowledge.
SKT Architect Pro is resilient and adaptable as well, bundled with tons of intuitive and practical features and essentials, shortcodes and widgetized areas to utilize as per your needs and wishes.
You can also change the images, texts and background of the homepage to disseminate your own business style or personal identity.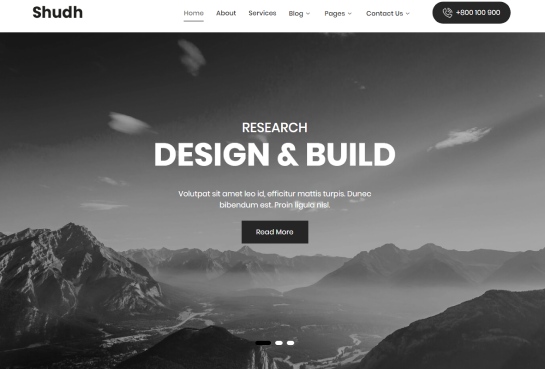 In case you want to complement the communication gaps between your business and your client – base with pretty little investment and too little efforts, clean and precise, neatly – structured and masonry WordPress themes based Shudh Pro will be a great assistance to you.
Fire up your creative ideas or passion about what you are engaged in and communicate your message to your target audience via the given parts and sections of the theme, such as home, about us, services, blog, contact us, etc.
This minimalistic product is also customization – ready, HTML5 and CSS3 – based, as well as totally responsive and mobile and device – friendly.