Today we'll leave you with a search – based collection of logistics WordPress Themes for transportation and moving companies.
Trucking and distribution websites, logistics and express postal services, cargo and warehouse, freight and other relevant services to work in the online format and meet their client's demands fully need website which these themes satisfy.
Displaying all the available services for the sake of the convenience and comfort of the target customer can be the key point to success in the transportation industry.
Show your clients that you care about their nerves and precious time, let them quickly find the needed service while pressing few buttons and your business is condemned to success.
This time let's get into the meat of the primary features and controls of logistics WordPress themes for logistics and transportation companies, delivery and shipment organizers, packing and moving companies and other relevant industry representatives.
Since finding the best one for your future website can be a real challenge, we have done our best to present only the best ones ready to divide your burden and be your greatest assistance right from the start.
Each of them separately shares a wonderful professionalism and precision in usage that will last a lifetime.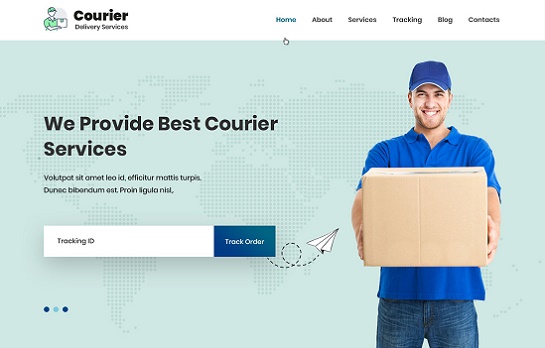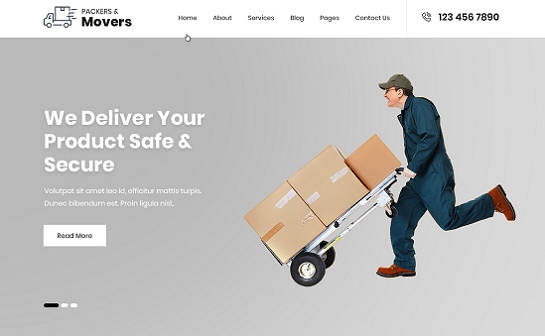 Logistics is one of the newest logistics WordPress themes that have already managed to record serious achievements on the market.
Security and usability – checked, powerful and integrative, Logistics is a template based on handy, intuitively guided walkthroughs inside the theme's dashboard to assist you in a quick and effective start of your future website.
If we dive into the main characteristics of this marvelous template, we will discover unmatched features and impeccable functionality across different platforms and when viewed with the help of different portable devices.
Hence from responsive and cross –mobile device compatibility to smooth and sleek navigation levels, everything is minutely taken care of by the seasoned professionals of our team.
Logistics is also very lightweight in usage while providing the end – user with lots of customization options to change colors, use shortcodes whenever required and extend the given functionality with plugin support.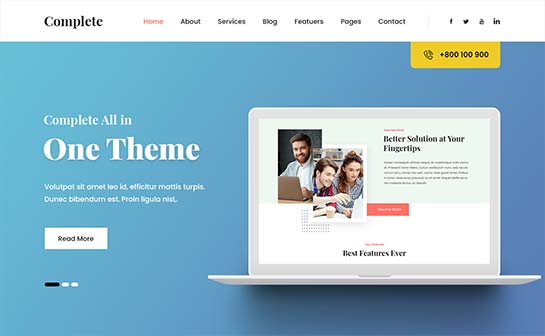 Have you ever wondered how a completely organized and streamlined, infallible in behavior, pixel – perfect and highly integrative transportation and shipping – based template looks like?
If yes, you are lucky to meet Complete Pro on your way! With this template you will feel privileged to be the only proprietor of your website with complete dominance over every single part and aspect of the theme to subject to your will.
Ramp up new cooperation and collaboration ties with potential clients and partner companies via the online platform and arm your website to be presentable both in look and feel.
From a more structural perspective, Complete Pro comes with homepage full – width slider to proudly showcase the best images and photos, fonts and icons integration, color changing options, and finally, SEO and SMO – compliant nature for boosted search engine and social recognition.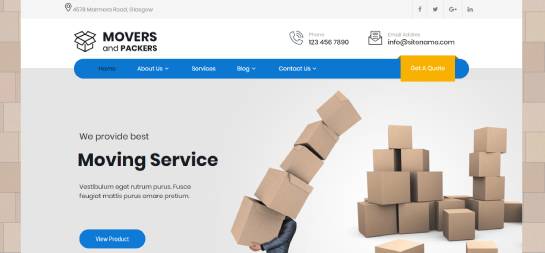 Offer your logistics, transportation, delivery, shipping and trucking services in the most effective fashion with Movers and Packers Pro as the next award – winning and top – notch system in the repository of logistics WordPress themes.
Scrupulously coded with responsive and mobile – friendly obsess in the theme author's mind, this template comes ready to generate new business opportunities and leads for you.
Let the pulse of your company or agency be felt across your website and make it a place where any interested client will find an informative content, as well as high – quality customer care and support, whenever needed.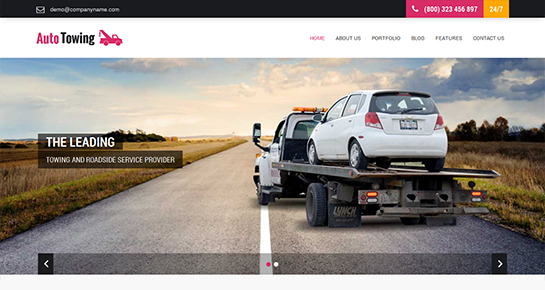 Showcase all your transportation and logistics services and offers, including land, road, railway, water, air, ropeway and other transportation modes, forwarding and brokerage services, packaging and moving, etc with the great assistance of Towing.
Repeatedly tested and confirmed for its dependable nature no matter what kind of website is established on it, this template knows what is relevant to your website and is capable of satisfying even the most finical website visitor.
Pay almost next to nothing for this creative and unbounded website building toolkit and outshine the current competition with original traits and visual touches.
Choose the most appropriate fonts and icons, change colors, arm the homepage slider with high – resolution images, add relevant plugins and translate your content to any target language easily yet effectively. Hence this one as explained also falls into the logistics WordPress themes category.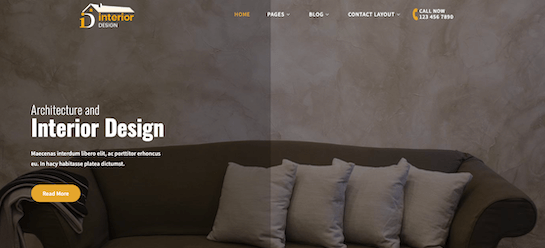 Organize the makeover of your old – dated and workaday business profile and add freshness to it with Furnish as one of the user and customer – optimized platforms among logistics WordPress themes.
Or start everything form 0 even while working on a tight – budget and startle your primary competitors with your new and sophisticated website. Multipurpose and multiservice, Furnish is never hesitant to fit any other industry and its representation apart from logistics and transportation industry.
Hence this general – purpose and multi – faced template incorporates almost everything to fire up your creativity to design and arrange your website accordingly and keep it up to date.
Furnish has also been checked for its total responsiveness, translation – ready character and plugin compatibility, social media integration for engaging more and more website visitors from social media platforms and much more.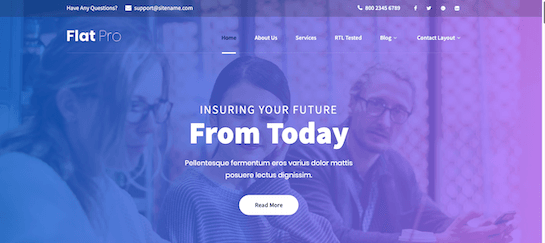 Flat Pro is bewitchingly beautiful and strictly – arranged logistics – friendly website building ecosystem nurtured by the touches of modern flat design for more legible visualization, as well as precise functionality of your website.
This jaw – dropping and serious – looking template knows how to be simple and lightweight as well as quick and flexible without any heavy loading.
Hence if you are in the pursuit of a creative mixture of power and precision, as well as simplicity and flexibility, this template can be ideal for you.
This template allows you to take advantage of the given footer and header, as well as sidebar areas, freely exercise the given pack of shortcodes, and finally, add different plugins, among them gallery and portfolio plugins, contact form and translation plugins, as well as SEO ones.
From the last 20 years, running a business has shifted from traditional ways to more advanced and modern ways i.e the online methods.
Companies that underestimated the power of the internet are now behind the competition timeline of today's world. Different business fields have adopted the online methods and understood the true power of the internet.
Be it logistics and express postal services, cargo and warehouse, freight and other relevant services having an online website helps businesses to connect with more people without many efforts.
During past times, developing a website required much of an advanced skill set and if u didn't have coding skills then you need to invest a lot of money to hire website developers.
But in today's market, popular content management systems such as WordPress have given people the opportunity to build their own websites with much less investment and that too without writing a single line of code.
Not only this, with these use of correct WordPress themes you can add various functionalities and special functions that perfectly suits your business needs.
With the help of logistics WordPress themes, you can build your own powerful yet flexible logistic website that will definitely fulfil your customers' needs. You can customize every corner of the website if you are using these themes.
For example, the homepage is the most important part of the website by which customers will judge about your business offerings and potentiality.
So you can welcome your visitors by displaying all the service you provide in this logistic firm along with the prices so as to keep your business transparent to your potential customers.
In Fact, you can change the header, footer, background, colours and fonts too as per your desire with these logistics WordPress themes. You can customize the menu of your website too, so as to increase the user experience of your customers while they explore through your site's contents.
Now comes the benefits of plugins that help you to add different extra functionalities which are included with these logistics WordPress themes.
If you want to add different payment methods so as to give the user the ability to pay right there at your website, you can opt for the WooCommerce plugin.
You can add another important functionality such as live chat plugin to answer all the queries of your customers in real time right through your website. There are plugins too that auto-generates invoices for your customers.
Nowadays everybody is looking forward to adding search engine optimization to his or her website to promote his or her website in various search engines.
But the good news is if you are using these logistics WordPress themes you don't have to hire specialists to optimize your websites to rank high in Google, Bing, etc. All you need is to download the SEO plugin and activate it on your WordPress website to make it happen.
Apart from these, logistic WordPress plugins are highly responsive and mobile friendly. That means these themes can adjust itself according to the screen size it's viewed on and that too without compromising on the user experience part.
These logistic WordPress themes will be the best for your business as you have to apply minimal efforts in starting and maintaining your website while you can focus more on your business offerings to your future customers.