There are a lot of businesses that provide lawn care services in the world. If you want to distinguish your services and brand, then you need a website.
It doesn't only make your brand more accessible, but users can also book appointments or make complaints with its proper use. Within a few days in business, you will know how good of a job you and your staff are doing.
Where your customer's complaint is, there your task is. If a customer complains about something, you must ensure that all your customers never face a similar problem.
Upgrade your business model with a Landscaping themed website. You can create your lawn care business website with a random theme, but many lawn mowing WordPress themes will do a better job for your website. These themes have all the elements your landscaping business website will need.
Pick the right theme and see your business grow!
Business is all about psychology. If your business appears trustworthy through your website, you will get more customers than your competitor. Even colors have the potential to impact the mind.
Certain colors can incline the mind in one direction, so you should design your website carefully with the help of these themes.
Pick any theme from the following and start designing a website that will appeal to the user. All these themes have similar features and designs that make them the best for the landscaping sector.
The Best Lawn Mowing WordPress Themes
There are a few themes that were designed with your business in mind. You should know about the top lawn mowing WordPress themes before picking one for your website.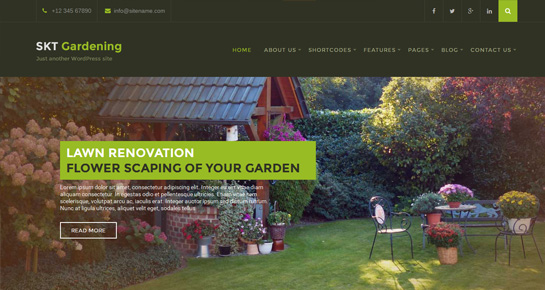 The core colors of this theme are green, black, and white, which suits the landscaping aesthetic. This way, visitors will know what your business is about when they view your home page. You can only impress potential customers by showing your work. That is why this theme has a lot of space for images.
Despite being media heavy, your website will be extremely responsive and fast. It comes with a WooCommerce plugin which means customers can place orders online. You only have to track order requests through the admin portal instead of picking up customer calls all day.
Ele Nature is a theme with a vibrant tone for the lawn mowing business sector. When you run a business, you must provide a prospect with numbers to impress them.
This theme helps you with that as you will be able to provide various business-related numbers that can impress site visitors. It can be related to the number of clients you have served or something else.
This theme was generally created for plant-selling websites. However, it has been used by landscaping businesses, environment-related NGOs, and gardening service businesses ever since its inception.
This theme uses colors like dark green, white, and black, which is why more than one business can use it. With the help of this theme, you will be able to manage your landscaping business remotely. Of course, you will still have to provide great customer service.
A website's homepage should be like a business card. It should have all the details, including contact number, contact form, and social media handles. With this theme, you can add all this to your website's home page. So once customers find you, they can stay connected with your business on multiple platforms.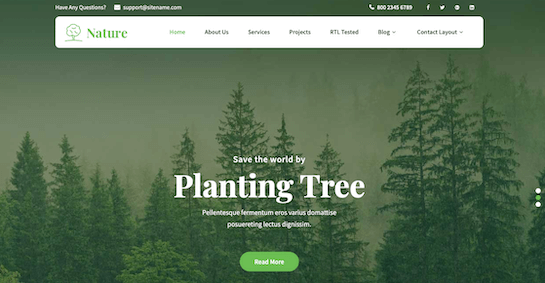 This website theme reflects the love of nature. Since your landscaping business caters to customers that love nature and want to stay close to it, it will be beneficial to use this theme to display your work proudly.
This theme works on mobile and tablets too. In this age, many people browse the internet with their phones. It is smart to make your website mobile friendly. The theme has four content boxes which you can use to highlight your services.
You can also highlight your recent projects or testimonials from old customers. When a prospective client reads the positive feedback from your old client, it reassures them.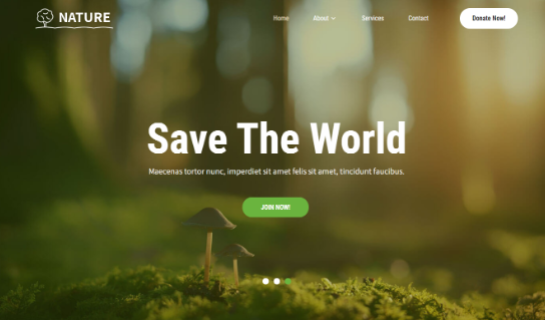 This is the perfect theme out of all lawn mowing WordPress themes if you want to add blog posts related to your field of business, you should use this theme as it comes with a blog posts sidebar.
Since landscaping is about taking care of the environment, this theme shows that your business cares about the environment.
You can talk about how you have made an impact. It also has a mail chimp integration feature which is useful for business owners who want to create a newsletter. Creating and managing a newsletter related to your business can help a lot.
It keeps reminding your customers and potential customers about you. You can also solve their problems and talk about useful things for people with a lawn.
Other than that, you can also add the donation plugin and ask visitors for donations related to a cause which you are aligned with.
This amazing theme comes with a services bar where you can proudly highlight the services you provide. You can also add animated images related to the service to make things more interesting for the visitor.
The White, Green, and Orange colors give the theme a very interesting look. You are making changes in the world and your customer's life through your business every day, which you should communicate with the help of a website.
Using this theme, you can provide the visitor information on the number of clients you have served, the number of lawns mowed, the duration of service, etc.
The members of your landscaping team are the face of your business, which is why they should also be on your website. This theme uses the first two sections of the home page to provide details about your business.
After that, you can publish client testimonials and details about your team members. This way, your customers will be acquainted with the type of people working on their front lawn.
This theme was originally developed for companies that provide solar energy solutions. However, it has all the components of great lawn mowing WordPress themes. The color tone of the theme is green, white, and black.
You will find e-commerce plugins, testimonial plugins, appointment plugins, and more. Since you provide landscaping services, it makes more sense to use an appointment plugin instead of turning your website into an e-commerce store. Your customers can book appointments, and your team will show up and provide the services.
With the help of this theme, you will be able to describe your business and the services you provide in detail. If written and visual imagery is not enough for you, you can also convince your customers with a video.
This theme supports a video on the homepage. You can take this opportunity and add a video about your business, your journey, and what you seek to achieve. The theme is HD ready, which means if you choose it to create a website.
Your website will be ready in HD vision. The first impression is important, so you should choose this theme. It makes a powerful attempt to impress potential customers who land on the homepage.
This theme is for people who want to create a clean website where the focus can be on images and content instead of design.
This is the right choice if you are looking for a more simplistic theme for your lawn mowing business. Despite being relatively simpler, it still provides all the features other themes provide.
Even though we say that this theme is simpler, it comes with a slider that provides you with 12 animation effects. It comes with the NextGen Gallery plugin, which you can use to create a suitable portfolio about your business.
You should not feel restricted while writing about your business. Certain fonts look good with the right color, and you need to have the time to experiment with them. That is why this theme comes with 1300+ Google Fonts. Now you have no limits on what content on your website can look like.
This theme is for companies that organize summer camps. However, with the right editing, it can be used by landscaping companies too. It will be beneficial to use this theme because you will be able to highlight a few perks your customers will get if they select you.
The theme looks visually pleasing and is HD ready. It is in orange and white color right now, but if you want to edit it, then you are welcome to do so.
The SKT Landing Page is a theme perfect for a responsive landing page for your website. You can use this theme to describe your services, business model, achievements, and employees. It is optimized for high speed, so the site can manage if many people are browsing your website.