A search – based collection of the top and best kindergarten WordPress themes has been compiled.
Now is at your disposal to review for your future website catering to babies and toddlers, kindergartens and nursery schools, babysitters and playgroups, as well as any kind of child development and learning centers.
Kindergartens and other child – related centers have long shown a host of benefits for both children and their adaptation and socialization.
All of them are directed to creating curricula and agendas to develop the child's physical, mental and social competence.
And while the role of preschools and child development centers is incontestable, many parents at present find themselves in trouble when it comes to choosing the best option for their child or children.
However, their panic over choosing this or that kid – centric structure is annihilated thanks to the virtual platform rich with target information of any kind.
Hence any parent will be able to scan the whole material available in the digital realm from the comfort of home, deeply analyze all the cons and pros and make a final decision.
In this situation, the key to being noticed and reviewed by the respective parents is going into the process of building and ensuring presentable and all – inclusive website showcasing to be the virtual home of any kindergarten or preschool.
This will also enable productive and mutually beneficial teacher- parent relationship and the latter will be able to take active participation in his or her child's learning process whenever needed.
Kindergarten WordPress themes signalized below with their toolkits will be a great assistance to those who are in the pursuit to find the best basis for their children – centric online initiatives.
The internet has enabled parents to spot the best suitable kindergarten for their kids. But is it the same way around for kindergarten management? With advancement and dependence on the Internet, it has become essential to manage a thriving web presence.
Kindergarten WordPress themes enable you to achieve the same with best in class graphics that are suitable for your target audience. Finding the right and the most impactful theme in this niche from hundreds of options online is a difficult task.
Hence, we have compiled some of the most impactful and dynamic options in this compilation for you to explore and select.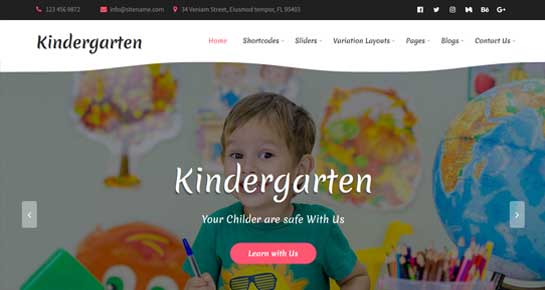 The dedicated specialists of SKT Themes have been demanding and hard at work while projecting and coding Kindergarten with unbeatable primary and auxiliary features for every single person to have a reliable beast at his command.
Use this new kindergarten WordPress themes to promote your business in the digital arena, use the given content areas with nice – looking animation to showcase your content, arm the homepage full – width slider with high – resolution images and make them seize the website visitor's attention.
SEO –integrated for top positions in search engines, it also shares commercial ready platform and WooCommerce support to give your online store a quick start.
With Babysitter as the last valuable sample of kindergarten WordPress themes you will be ready to go on with your kindergarten, nursery, baby care, or babysitter web management and control without any further ado since this product is stunningly easy to drive and admin – optimized to be mastered even intuitively.
Use the whole power of Babysitter's artificial intelligence and customize it the way you want.
Change the exquisite colors of the theme and add your preferred ones, choose from the given Google fonts and icons for the best typography and the overall appearance, use the preloaded shortcodes, give your details in about section, present the list of your services in services sections, etc.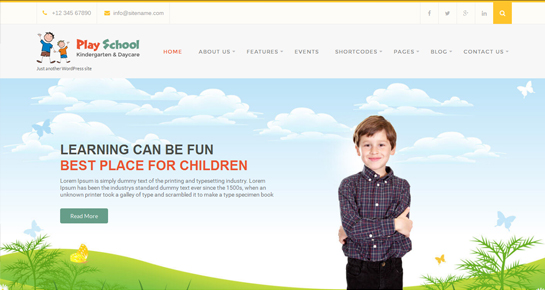 Play School is one of the most affordable and comprehensive, visually colorful and motivational WordPress templates specifically build up for child and learning – oriented websites.
Hence this is exceptionally suitable for all those teachers and nurses, kid clubs and other organizations ready to take care of children and contribute to their physical and psychological development.
It comes with lots of page and post layouts to choose from and a handy package shortcodes for instant content setup, homepage default slider with controllable effects for the best images, animation blocks and suitable sections to showcase your information and services, etc.
Flat design traits used in the graphics, highest quality of coding and its precision, easy to read and follow documentation, as well as full professional support are bonuses coming along with this wonderful and lively template.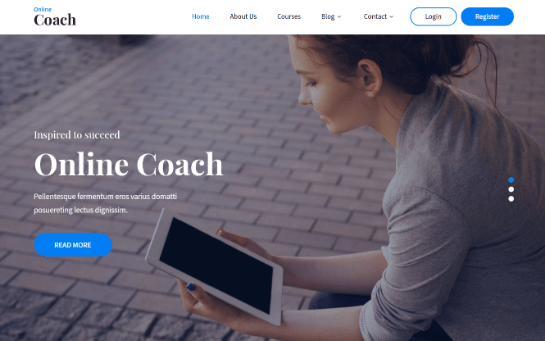 Online Coach Pro is a vibrant, dynamic, and feature-rich theme that enables you to create a terrific website. This has been dedicatedly created for organizations that are dealing with kids and children.
Hence, all the niche-related functionalities and aesthetics are offered by default. You do not have to block time in setting up the right structure or layout as it has already been predesigned.
This helps in focusing on setting up the right content in a textual, audio, and visual format for the audience. All kinds of external plugins related to contact forms, e-commerce, sliders, gallery, etc. are tested successfully for compatibility.
Adding a timetable schedule and course literature on the website is easy. For any important updates or news, you can rely on the default slider. The slider is completely under your control in terms of transition, content, and animation effect.
All other essential details related to the teachers, recruitment, course structure, and trust can be easily integrated into dedicated pages.
Google Font integration allows adding the best typography to make your site look appealing. This is one of the finest choices that you can make for achieving a thriving web presence.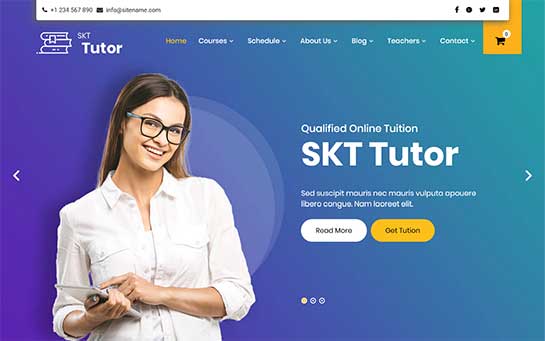 SKT Tutor is a flexible, responsive, and modernly crafted option in this compilation of Kindergarten WordPress themes. You can conveniently create websites related to preschool, childcare centers, and kindergartens.
The overall aesthetics are professionally designed and are open to all kinds of modifications to meet all peculiar requirements. The default template can be personalized without any limitation and comes in a retina-ready format.
This also ensures that the responsiveness of the site is perfect across all browsers, screens, and devices. It is well-built in terms of SEO and can include information in all kinds of content formats.
Embedding relevant videos with the information and setting up a blog for informative purposes can be managed easily. Moreover, Google Fonts are integrated by default that helps in setting up an amazing line of typography to attract the audience.
All kinds of external applications including sophisticated custom field plugins can be installed. Without touching or modifying codes all elements including the layout, header, and footer can be customized.
Taking online lectures and updating the site with regular pre-recorded classes or sessions can be set up. Different aspects that are impacting this niche in numerous manners are handled with best in class solutions here.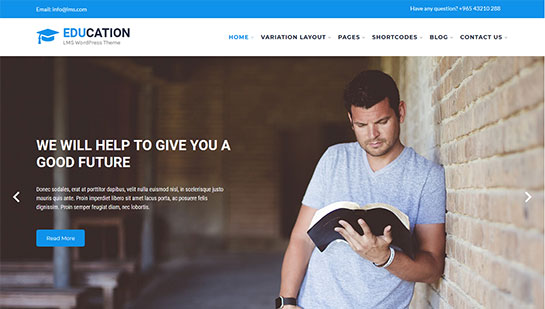 Learning online has become an inevitable part of the education system since the inception of the COVID-19 pandemic. Therefore it is necessary that your organization's website is compatible enough to manage and deliver to the expectations of the parents.
One of the most crucial requisites for the same is a dynamic website like SKT Education. SKT Education has been an amazing performer in this compilation of Kindergarten WordPress themes and is used by prominent organizations.
The wisest choice is to select it and for a dynamic and responsive online presence. It is dedicated solely for education purposes hence all kinds of features related to the same perform stunningly well.
Modifying and upgrading information, template or layout is swiftly manageable without writing any code. Page builder and customizer will contribute to molding the aesthetics and other elements as per your expectations.
You can add photographs of your recognitions, awards, and event in the gallery. Shortcodes and external plugins will contribute to adding the missing features.
You will receive full support from the developers for 365 days and comprehensive theme documentation with lifetime access.
This is a multipurpose and fully responsive option in this collection of best Kindergarten WordPress themes. This theme has all the required potential, aesthetics, and features to create a flexible and versatile website for your kindergarten.
Various images are used in the default content is copyright free and can be directly used in your core content. This helps in preserving time for finding suitable images in various sections.
Setting up the process is simple and the one-click demo option helps in boosting the website launch process. All aspects can be personalized without any limitation so that the brand image of your organization can be maintained.
The compatibility has been tested with plugins of all kinds and shortcodes also contribute to adding functionalities as required. Hence, you will never face any shortcomings in terms of offering features for your visitors.
The performance has been coded subtly to match the expectations of the target audience. Everything related to the curriculum, course structure, important notices, faculty, and experience can be conveniently projected for the best results.
This is an out-of-the-box and amazing collection that can help you to create a solid base for your visitors.
SKT Charity Pro is a truly multipurpose theme with exclusive responsiveness and features. Due to such exclusivity and prominence in various sectors, it has made it to the list of kindergarten WordPress themes.
Within a matter of minutes, you can swiftly launch your website with the default setup and content related to your organization. The basic layout and template are HD-ready and retina-ready without any particular limitations of customizations.
Hence, personalization at all levels can be managed that helps in setting up a unique identity in the online space. All necessary functions like schedules, timetables, contact forms, tables, etc. can be added through plugins or shortcodes.
This ensures that a non-coding individual can conveniently set up and manage a website.
Demo content and one-click export features help in saving time and efforts so that other areas can be productively transformed.
Integrating the social media handles of your esteemed organization boosts promotion and visitor engagement. For any exclusive books or learning materials, WooCommerce compatibility helps in adding it to the online store.
Donation is the last multipurpose option in this best kindergarten WordPress themes compilation. It helps you in setting up a colorful and feature-rich website for your playschool and kindergarten.
The theme is modern, clean, and responsive along with being crafted with a collection of necessary features and tools. It is translation-ready, multilingual, and also offers RTL support so that reaching out to the audience at the regional level is possible.
The visual tone and typography can be easily managed to suit the needs of the children in different sections. All activities, events, important dates, and a comprehensive profile about your team can be included.
Complete customization in terms of layout, aesthetics, templates, structure, and other elements helps you create a space with a definite aura. Shortcodes will be at your rescue just like external plugins that can set the tone for all the required features.
With its stunning approach towards SEO, you are bound to remain on the cutting edge of competition. Enrollment of the younger ones and connecting with their parents has never been this easy.
SKT Perfect as the next recommended product in the repository of kindergarten WordPress themes unites attention – grabbing visuals with advanced technology for you to make the most out of your kid and child – related website.
Designer – made graphics and visual layout, stable and persistent inner performance, thoroughly flexible nature and plugin compatibility are all wrapped up in one single and affordable website building solution.
If you are stubborn on satisfying all the needs of your website visitors from every corner of the world who are practicing their low – powered devices for your web access, look no other way than SKT Perfect.
It has been developed and coded to seamlessly respond to any screen dimensions with all the compulsory changes, resizes amendments and shifts.
The barriers to getting started with Complete Pro are reduced to nothing for all the enthusiast candidates who have set their minds to virtualize their kindergarten or preschool and make it more interactive.
Even if you are non – techy and clueless about all the ins and outs of WordPress, no worries.
Powered by the safe and sound Customizer for totally mastering the website changes and have their preview in live format, this truly complete and integrative kindergarten WordPress theme comes bundled with diverse inner page layouts with sidebar.
Inner page headers, header and footer variables to select from, lots of Google fonts and icons integration and yet much more to come with this template.
Elegant and powerful, challenging and motivation, SKT White Pro is also one the best solutions among kindergarten WordPress themes to move your kindergarten, preschool, school or babysitter agency in a digital strategic line.
With this inherently elastic and zealous, present and future – scalable website builder of SKT Production anyone will be only one decision away from creating a safe and client – oriented virtual environment.
Dealing with this premium – quality template for your specific child – centric needs will not be intimidating or bewildering even if you are unaware of all the hurly – burly of the WordPress ecosystem or its customization.
When you are thinking of creating a website for kindergarten you must realize that even though it is directed towards kids they are not the ones who are directly going to use it.
This means that the Kindergarten WordPress themes that one chooses to create the website should have features which ensure that the parents who browse through the website should be able to connect to it.
This does not mean there are no colors or attractive images but the interest here is to add content which will provide information about the activities that you offer.
The Kindergarten WordPress themes are designed in a way that they complement the content. Still when you are creating something new then it is important that every aspect is especially taken care off.
To start with the website should have colors, even when it is established that it will be the parents who will be using the website it is important that adequate colors are added which makes it warm and welcoming. This is going to have a great impact on the conversion rate of the website.
Talk about the class strength which is a must mention. Parents these days are picky about the kind of attention the kid will get in the class and with pre-school and kindergarten small is great.
Make sure you mention your student-teacher ratio so that the parents know that their kids will get special attention as deserved.
This also shows that there is a learning environment in the school. Talk about the style of education and the activities which are a part of the learning environment.
This information creates a good impression on the parents and they now take an active interest in getting their kids admitted to your school.
Include teacher's profiles on the website which is a great way to create trust. You do not have to worry about this one and be as creative as possible.
Add basic information with a smiling picture so that the parents know who is going to take care of their little ones.
Talk about their designation and experience and add their interest and a personal message to the same. You should realize that with young kids a friendly and dedicated teacher is what is needed.
Talk about the subjects which the teachers like and if possible add a little about their teaching style.
When the discussion is around website then it is a must that it is mobile-friendly. Kid's website is no different and thus the theme which is selected should be tested to work on small screen devices.
Research clearly shows that the users are fast moving from laptops to smartphones and other such devices.
It is also possible that when the parents run past the school or hear the name the first thing they will do is make a quick search on the phone which is way before they can even reach their phone.
The website creation process will become easy when you are sure of what you wish to include in it.