Two decades back no one had imagined that journals, newspapers, and magazines will be digitalized. But today if it is not digital then you are not even competing.
But amidst this hush of making the most from your website is it worth selecting one from Journal WordPress themes?
To promote important content and news at once websites need a peculiar layout. By keeping the aesthetics and performance standards high these themes are designed to do just that.
But how to recognize which one is the best amongst them all? Do not worry we have made this task simple and quick for you.
Check out this sorted compilation of WordPress themes related to Journal and choose the best one for a stellar online presence.
Best Journal WordPress Themes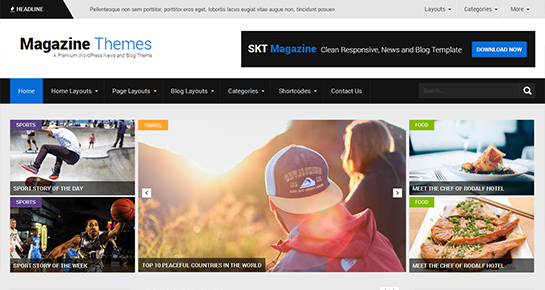 This is a visually stunning, interactive, dynamic, and aesthetically eclectic theme. It can be an excellent choice for publishing, reviewing, news, and magazine websites.
The best advantage you have is to use the page builder to manage all kinds of modifications from the beginning to the end. Tracking of changes in real-time is possible with the help of a customizer that enables modification from the backend.
The pre-made templates, blogs, authors, tags, categories, and other elements are all created after sufficient research.
Customization of each element including the core template is possible. Additionally, if you intend to create a fresh template then it can also be created in an HD-ready format.
It comes with unparalleled and unmatched flexibility. The design is unique with integrated translation and shortcodes functionality.
You also get complete support for one year from the developers so that any issue at any stage can be resolved. The entire theme is well-documented and supported by plugins of various kinds.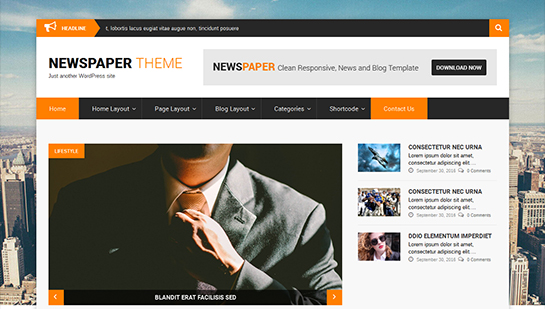 SKT Newspaper Pro is a champion and fulfills all the requirements of journal WordPress themes. Journals are usually unpredictable and come with full of surprises.
The header, footer, and other layout vary from one edition to another. Grid combinations are countless and need frequent modification to suit the issue design.
This theme provides you the absolute freedom to manage all these customizations in the simplest manner. The page builder plays a crucial in the simplification of the customization process.
Plugins of different kinds are supported so that functionality wise if at all something is missing then it can be added conveniently.
You can work out your styles with a block or full-width elements also to suit your needs. Variations that are pre-developed are available for pages and blogs.
It comes with clean coding, fast loading speed, SEO optimization, and flexible designing possibilities. It is responsive across all platforms including mobiles and different kinds of browsers.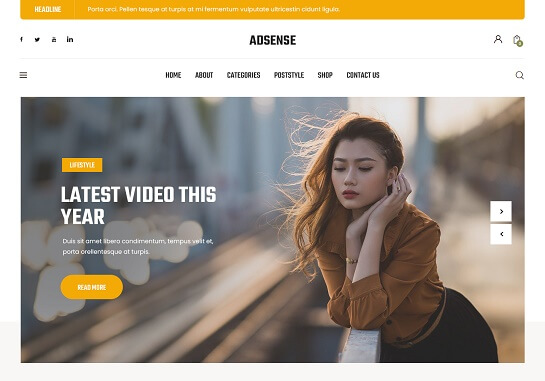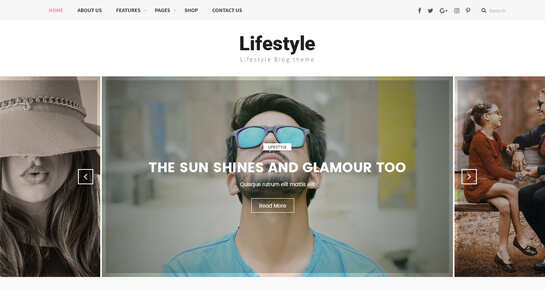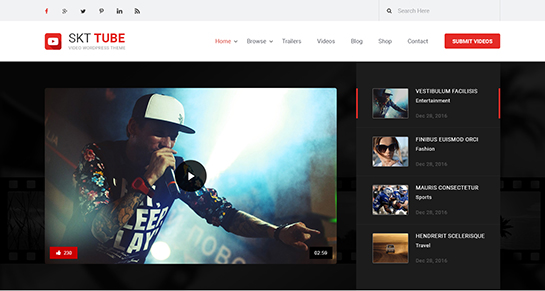 Charm is a special option in this collection of journal WordPress themes. All journals are not the same as some strive hard to stand from the conventional ones.
Charm is exclusively for them. It is one of its kind multipurpose theme that does complete justice to all the needs of featuring a magazine online.
It has the required glamour and shines brightly with a fascinating layout. The design can be kept minimal or completely catchy depending upon the target audience.
The entire modification process and management of all the features is simple and quick. You don't need to code for making any change as all elements can be conveniently settled.
It has been tested for cross-device experience and is compatible with cross-browser experience. It is loaded with hundreds of Google Fonts and Social Icons to give your site a terrific personalized look.
Shortcodes plugins are compatible and easy to set up just like all other plugins that are required for use. It is widget-ready and comes with easy to work panel option.
Are you looking for journal WordPress themes to create and feature a photography-based online magazine? If yes, then Panorama Pro is the most ideal choice for this purpose.
It can provide ample degrees of flexibility in just a few clicks. It empowers you with special features and custom styles to craft a modern online space.
Multiple column functionalities and other identical layouts can be managed to serve the portfolio requirements of the users.
All your content in pictorial format can be disseminated to the world at large. Hence, when it comes to the club of being modern and flexible there is no better choice than this.
Color picker helps you establish the desired color tones and shades on all the elements. Moreover, it also comes with opacity changing options and transparency options.
You can choose to use the opacity drop-down to minutely manage the experience that the users will enjoy on their devices.
SKT Launch Pro is a unique and powerful multipurpose theme option in this collection of best journal WordPress themes.
It is clean, has a creative outlook, and is compatible with a diverse range of applications. You can easily create sophisticated online magazines and also manage attention-grabbing blogs.
This is possible because of its highly customizable end-user experience. It comes pre-equipped with outspoken layouts and supremely polished graphical effects to address your needs.
Such features and other functionality contribute to the swift and painless process of website development. Every single section, page, and elements will emerge with professional and quality results that the users cannot ignore.
Constant improvisation and update are necessary for developing audience loyalty. This is easily possible with SKT Launch Pro as hundreds of powerful customization options will be at your fingertips.
In case if you need any unique features then you can rely on plugins as most of them are tested and highly-compatible.
Photodock is a responsive and eloquent theme which has a powerful platform for creating photo-based journals.
All journals that need photographs in high-quality and numbers should use this theme for their website. No particular coding is required to be done from your end.
Layouts, templates, and all other elements are already designed as per the requirements. You have full control over the modification and customization of the same with the help of a page builder and customizer.
Branding of your magazine can be managed effortlessly thanks to tons of handy widgets that can simplify magazine crafting.
Post styles and types are seamless and not bounded by any certain restrictions to follow. In addition to that, for important announcements or content slideshow, you can opt to keep the inbuilt slider.
It performs dynamically across all kinds of screens, browsers, and devices. Setting up distinct blogs, forums, or community discussion by integrating social media handles is also possible.
Naturo is amongst the best multipurpose themes with a clean and minimal approach which is a must-have for journal WordPress themes. Bloggers, experts, reviewers, and the overall scenario of a journal can be easily managed and maintained on it.
Despite being minimal in design it is an all-inclusive theme when it comes to plugins support. You can choose to select one from the pre-defined layouts that are in a retina-ready format for direct use or further improvisation.
Additionally, you can also end up creating a fresh and unique template as required for your purpose without writing any code.
It is mobile-ready and completely responsive so that the operations and stability across all devices are smooth. It shows excellent compatibility with browsers of all kinds and is optimized for SEO.
You will get detailed documentation along with the theme that records all the procedures and steps to help you out. Lastly, you also get one year of support from the developers for quickly tackling difficulties at any time and phase.
If you are looking to feature a women-centric magazine then Girlie Pro is the best from the collection of journal WordPress themes. It has been designed and coded for multipurpose use for featuring everything that is related to girls and women.
The best part is that molding it according to your requirements is quite easy and simple. Hence, modification of the layout will only take a few minutes to build a magazine website.
Another advantage is that all elements, colors, graphics, pictures, etc. have been included after necessary experiments and research. Therefore, you will have to invest minimum time on it and it will easily attract your audience.
You can maintain a strong focus on advertisement and publicity apart from your content. Plugins of all kinds can be easily installed and do not affect the responsiveness of the theme.
All standards of coding have been maintained and are crucially optimized for search engines.
Character is a special theme that has made it to the compilation of journal WordPress themes. Magazines are filled with characters, locations, and windows that give us a view of perspectives and events across the world.
With this theme, you can create one such online space and target to attract the right audience.
Even when you are looking to set up a personal space through the journals then the same can be established. To impress your audience you get a charming design and a large section of useful features.
Regardless of the number of sections and modifications in the template, your website will look amazing across all devices.
The options panel will enable you to make necessary modifications in settings and set up fully-functional pages. Anyone can manage the pages therefore you do not need to be tech-savvy to navigate through them.
Personalized widgets, sliders, shortcodes, and plugins will be at your rescue for creating a perfect website.
This is a gradient less theme having a material-based design. The advantage here is that because of its flat approach it can perform exceedingly well across all devices and screen sizes.
Restructuring of templates, layout, and other elements can be easily done without the need of writing any code.
For your satisfaction and confirmation, you can rely on the one-click demo option to have a look at the theme. You also get a one-click import function to ensure that you can manage to pull in all your content.
All necessary modification to create a stunning magazine is possible and required features are also offered. If you need any peculiar feature then you can install the necessary plugins.
There will be no compromise with the performance of the website or its loading speed due to added features. This is just one-half of the overview of what this theme can do for you. Try your hands at it and explore it to the fullest.
Creative Agency is one of the most professional, stunning, flexible, and versatile themes in the compilation of journal WordPress themes.
With easy modification and customization options, you can make an exclusive magazine-based structured theme out of it. Equal emphasis has been given to the written content and visual allure in the basic template.
To cope up with the competition, everything that you think can be customized here. It offers full flexibility for colors and has unlimited options when it comes to sidebars.
Custom widgets and shortcodes are at your rescue to ensure that you can develop a feature-based space for your audience.
Plugins of all kinds and types are supported so that any small and big feature can be added quickly.
In a minimalistic approach, it offers a powerful visual concept to attract the audience. Lastly, you get RTL support, multilingual possibilities, and retina-ready display across all devices.
SKT Events is the last in this collection of best journal WordPress themes. Despite being a multipurpose theme it emerges as a professional website for a non-technological audience. The basic look of the theme is simple and it is backed by tons of features to establish a personalized vibe.
It will be fun to mold and easy to craft. The one-click demo option comes with multiple layouts that can be directly imported for use and improvisation. Setting up dedicated sections for your magazine is also quick and any amount of content can be added to it.
Some of its distinct features include multilingual support, inbuilt shortcodes, complete customization, translation-ready, SEO-optimized, and compatibility across devices and browsers.
You are entitled to receive full support from the external plugins as well to cope up with the deficiency of features if any. Lastly, it offers ease of experience and the most convenient navigation for your audience.