Below you can find a full walkthrough to the best Internet services (ISP) WordPress themes developed for Internet service and hosting providers, domain registrars, DSL and dial up, mobile and fixed telephone providers, developers and designers, etc.
Internet is a modern gigantic repository of absolutely any kind of information and infinite channels to communicate them. It has long become the indispensable part of modern life and lifestyle, while cross linking people and businesses across the globe.
With this unbeatable importance of the global networking hub, there is hardly any individual or company which is not "on the web".
From creating and using social profiles to building separate websites and blogs, people exercise all the possible ways to fulfill their personal and corporate needs.
In this spectrum, the demand of dependable and easy to access Internet service providers is clearly accentuated since not all of the web surfers are well aware of all the nuances of the digital world.
And this is where they use the worldwide web to look for and find convenient service providers to help you in completing different Internet related tasks.
In this article, we have collected some of the top rated Internet services WordPress themes for such Internet based companies and agencies, communities and centers engaged in providing Internet access, transit, hosting, domain name, Usenet services and much more.
Irrespective of their well developed and strong nature, those templates are not costly adventures at all. All of them are pocket friendly while offering you boundless capabilities to monetize your website and attract more clients' attention.
Internet Services (ISP) WordPress Themes for Internet Styled Websites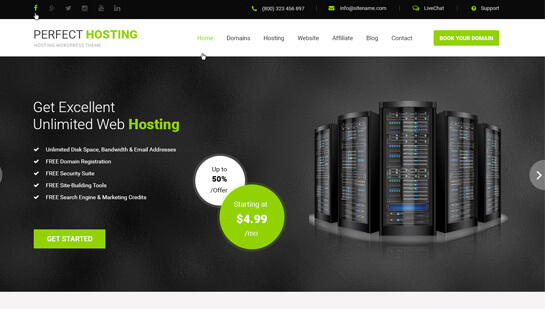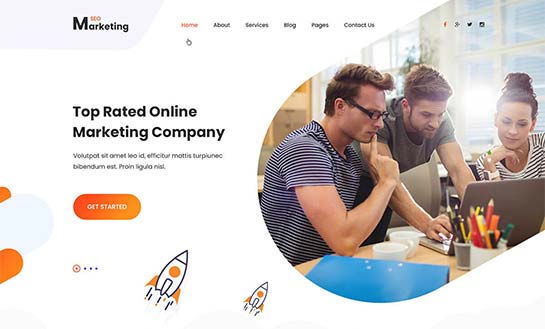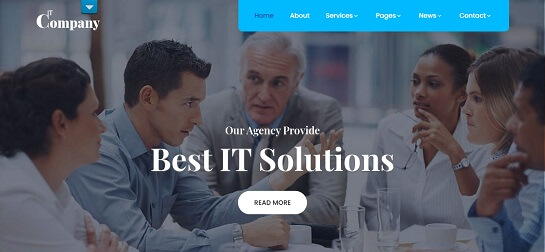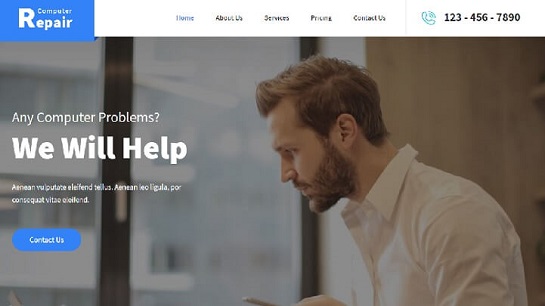 High Tech is totally resourceful and versatile template one can find when looking for the best Internet services WordPress themes.
Created and launched for the representatives of the digital world and digital service providers, this template can cover a wide array of relevant topics catering to the creation, management, design and development, repair and maintenance, registration and marketing of different digital products.
The theme's framework is smart and flexible enough to effortlessly respond to your changes and appear accordingly. Widgetized footer and header areas are the best to showcase calls to actions, social media links, phone numbers, address and other contact details.
Contact form is also included for your potential clients to address their inquiries and requests to you through the site.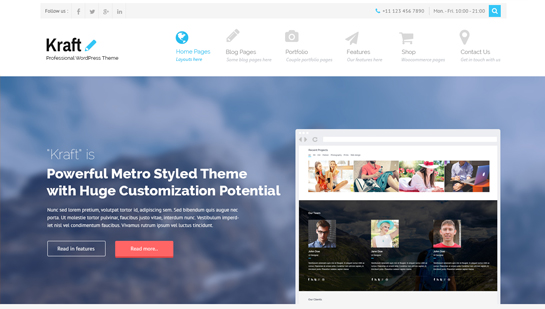 Every asset of any kind of personal or business undertaking is highly affected by the Internet. Since winning your place in this global platform can be the best contribution you can do for the benefit of specific activity, be it a personal, social or corporate.
Kraft has been coded to be the mix and match of valuable and compulsory features rolled up in a beautiful design.
Hence, this template is launched as a unity of elegant look and powerful functional framework to boost your online presence with its responsive and mobile friendly layout.
Apart from being accessible for mobile users, Kraft is also interactive with homepage slider and its controllable slides, as well as homepage animated columns to insert your content in an eye catchy manner.
IT and Internet related consulting services can be easily enlisted and served to your audience with the help of IT Consultant. It is one of the niche specific Internet services WordPress themes for ISPs and other digital experts, IT companies and tech startups.
With a lifetime endurance and stamina, IT Consultant offers top quality functionality and admin friendly management zone with a handy toolbox.
All in all, the theme unites nicely arranged theme areas and sections all easy to control, more than 100 shortcodes for quick content handling, contact form with captcha, widget friendly footer and header areas, etc.
More than 600 Google approved fonts are at your leisure to manipulate with the site typography and overall look.
SKT StartUp Pro is processed to be the springboard of technical and digital startups, service providers and marketing companies.
Several minutes installation and activation processes are like breeze even for the most non techy website admins. Moreover, the subsequent content publication and management procedures don't yield the previous processes with their simplicity and accessibility.
SKT StartUp Pro has got a thing for pixel perfect and serious looking visualization, homepage beautiful slider for high resolution images and photos.
Shortcodes and HTML5 based, CSS3 animated and wonderfully responsive, this template is also one of the cost effective Internet services (ISP) WordPress themes as compared to the quality it generates.
This website builder is also technically compatible with a wide range of useful plugins, among them translation and ecommerce ones.
Awe inspiring and crisp, crafty and skillful, The App Pro knows how to grasp the web visitor's attention and result in a perfect user experience.
Unlimited colors and fonts variations are given with this premium template for you to choose from, as well as tons of other customization management controls for changing slider images, font sizes, and more.
The theme is perfectly suitable for any kind of digital company selling digital products and services to the public at large. It comes with browser checked and mobile friendly coding and design, standard pages like 404 and blog, as well as full documentation and professional support.
SEO practices are all exercised with this template to generate higher results and be more searchable.
Gravida is one of the most effective and contemporary Internet services WordPress themes for ISP, SEO and marketing, domain and hosting and other purposes and related offers.
Demo content is included for the most demanding clients to review the theme and check its potential. Thoughtfully managed and stylized, this attention grabbing template is dotted with modern design touches and solutions.
It is also based on Customizer thus simplifying the customization process for you to make changes and preview them at the same time. Gravida is ecommerce ready with WooCommerce compatibility as well as SEO optimized.
There is no way that the world now can even think about having a life without the use of internet in it. It is interesting how the whole world has changed and the use of internet has increased so much.
The user who is now so dependant did not even think that it would be such a necessary part of their lives. We all make use of the service and with the added apps development we use them even for out smallest of needs.
They are an important medium of communication. The indispensable part of the modern life and huge repository of the human needs is what internet is all about.
There is no form of business which has not made its way to the online platforms. The platform has become the main source of information and researchers' even individuals who wish to connect prefer this as it is accessible to the millions out there.
The process for each of them can be different- there are simple social media profiles, fully functional websites, blogs etc. People either share their personal things or use the platform for professional sharing but they are resent online. This is what has made an online platform so popular.
This leads us to the requirement of the internet service providers. There is no dearth of such service providers as the need has increased many folds.
There are many services which one can find online and if you have a business similar to this and wants to make an online presence then you must think about using internet service provider WordPress theme.
The themes are designed by experts and they all have many functionalities which are a must for the website.
This could also lead to a source of stress when you feel that the number of internet service provider WordPress theme is not small and you wish you can have some support. Well, the problem is resolved with the top 10 themes which are laid out for you carefully selected from the top rated themes by the users.
The services might differ like domain name, hosting, internet access and transit and all of this could mean that the users will need different functionalities for each one of them. If you know your needs then the process of finding the right website becomes simple.
The numbers of themes which are picked all have their own specific unique element which is why they are preferred one over the other. They all are of high-quality and comes with high level of support.
They are pocket-friendly and user-friendly. As WordPress understand that these themes would be used for various different reasons they are created with a high amount of compatibility. This means that elements can easily be added to these themes and if the users wish they can add a simple plug-in to enhance the functionality.
The themes also support the use of high-quality media and hence the images and videos all go in very smoothly.
The process is very easy for the users to pick one from the list and make use of them for creating a great online presence.