A handpicked list of the best India WordPress themes is available in this article for India based individuals and businesses, private and public spectrum representatives, financial agencies and digital world experts and not only.
India, being one of the ancient wonderlands on earth, has recorded a profound growth and development during the recent decades. And this rapid progress involved dozens of aspects of Indian life and economy and not only.
Particularly, it has successfully grown to be an economical and agricultural powerhouse, as well as one of the cradles of modern technology based digital world.
With this in mind, we have collected amazing India WordPress themes with incredible design and architecture in this article for relevant India related candidates and clients. They are well thought out and developed for any website or blog catering to India, its culture, cuisine, state organizations and NGOs and more.
From development programs, life and lifestyle, tour agencies and health centers to communications and information technology companies and other businesses thriving in India, absolutely any kind of personal or business undertaking can be best showcased by each template you can find in this article.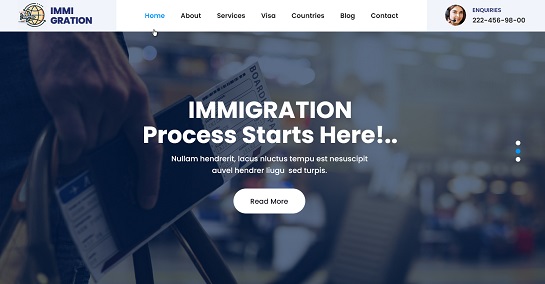 SKT Immigration is one of the widely used India WordPress themes to fuel your business. This template is custom built to host an avalanche of useful features, controls, as well as customization options.
Hence, you can style and configure the default template to match your needs and conquer the international market as well.
All in all, it is one of the reliable web creation and management platforms to cover the needs of business field and its activities. It celebrates an amazingly versatile structure with clear coding behind it.
It means that your website and its content are going to shine with their unique look and performance when accessed or browsed by different portable devices or browsers.
It comes with page and blog controls, retina ready graphics to enhance the visual appeal of your site, user friendly layout and error free navigation levels.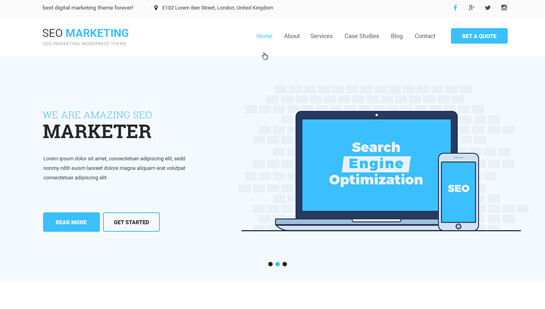 SKT SEO is the one to be a great assistance to Indian digital market and its professionals. The India's digital and information technology success story of the recent years cannot be ignored.
Hence, SKT SEO is one of the most useful India WordPress themes to meet the needs of both public and private sectors of the modern technological world in India.
This visually stunning and functionally sophisticated website builder is never hesitant to provide you with the most comfortable admin area to add your own shades to the theme. From infinite color and font management options to social icons and shortcodes pack for fancy content, you are granted with everything you'll need.
SKT SEO is also search engine and social media optimized to guarantee your website's growth on account of higher rankings and social media engagement.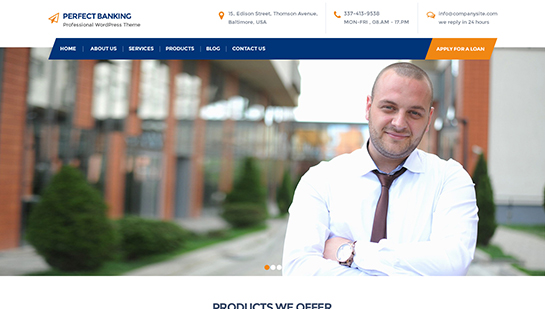 SKT Banking is designed specifically for banking and financial world to access to a broader client and customer market via the informative and user centric website.
Thus, it can be esteemed as one of the modern and affordable India WordPress themes for Indian banks and banking houses, financial experts and marketers, accountants and investors, etc.
This feature heavy and commercial ready template is crafted with care and unique taste. However, you can edit and modify it to prove the unique identity or brand you possess.
There are around 100 prebuilt shortcodes with SKT Banking so that you can easily add whatever needed without having any development or coding knowledge.
Homepage pre enabled slider with 10 slides capacity and timing controls are at your disposal to make the best images and photos stand out on your homepage.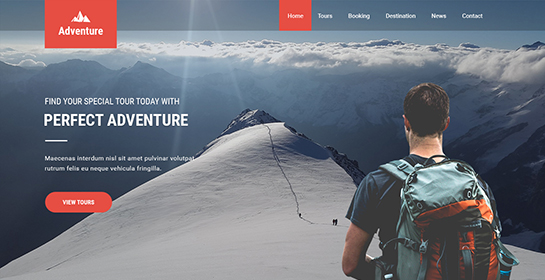 Adventure can be the best option for adventurous sports, clubs, as well as other activity centers in India. Otherwise stated, this template as a valuable representative of the best India WordPress themes, is ready made to reveal all the picturesque and interesting.
Adventurous and widely popular places and complexes across the lengths and breadth of India.
You are welcome to check out the demo version of this site so that you can grasp the lovely structure and framework of Adventure in its plenitude. Every single element and portion of the theme can have its color changes due to the inbuilt color picker functionality.
The same is true about the pre enabled fonts, their sizes, colors and styles.
The theme is also full HD and retina supported to have a seamless mobile and device resolution compatibility.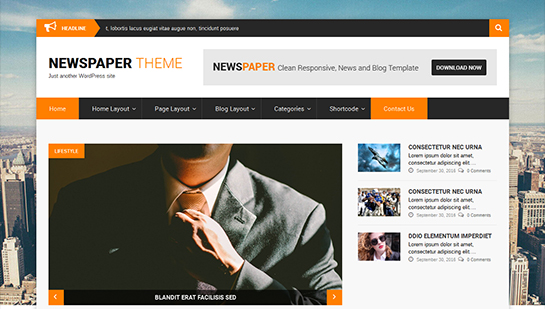 SKT NewsPaper Pro is a hero when it comes to generating a results driven and client engaging websites of Indian origin.
The dynamic and energetic blog style nature of the theme is excellent for having your entertaining, informational, business or personal blog, online journal, magazine or periodical up and running smoothly all the time.
Technically well equipped and visually refined, cutting edge and zealous, SKT NewsPaper Pro is cross mobile and device compliant, as well as compatible with a bulk of modern plugins and widgets
It suggests entirely search engine optimized coding, useful widget zones, grid and list view category types to choose from and much more.
Charity and NGO spectrum can highly benefit from SKT Trust. From human and children charities to animal and development charities, these forms of graciousness are popular in India. Thus, SKT Trust has all the prerequisites to contribute to any kind of humanitarian or donation campaign and event with its powerful nature.
This affordable and cost conscious template is very lightweight in usage, however, highly customizable to make your online profile more user centric and attention seizing.
Featuring full width homepage slider, widget friendly sidebar, header and footer areas, SKT Trust is also social media friendly to communicate your message to a broader audience using major social media networks. The theme is also well adapted to use donation plugins to receive donations online.
Back in the earlier days, India was mostly touted as one of the the agriculture oriented country only. And it was actually true, considering how much of contribution was added to the country's GDP.
But today, situation is rapidly changing and India is starting to be a real powerhouse in every field you see – from technology to industries – the growth has been magnificent, to say the least.
From various public and private company businesses being set up every day, to new technology startups making leaps of innovations and improvements, it can be seen quite clearly how much potential this country holds.
One of the greatest tools of the 21st Century is the internet. Therefore, it is very much important to use this tool to its maximum potentiality and help your specific business grow on the online competitive stage. No one wants to be left behind, and that is the reason why there is India WordPress Themes to save your day.
Whether your business is focused on agriculture, or on the banking sector – we have solutions for every specific needs out there.
For example, if your business is focused on the agricultural sector, then India WordPress Themes will help you get more out of your business by setting up a fantastic website that will showcase your particular business. From various kinds of features and customizability options.
You can change your style and the website configuration according to your liking. The structure is very much versatile, and it's one of a kind look and performance will definitely enhance your agricultural business as a whole, so that you can showcase your activities as a whole.
Similarly, when it comes to the banking sector, which involves various kinds of statistics and financial numbers, your website needs to be more about the information your provide and also be more about the user, so that it may reach a broader audience.
With India WordPress Themes, the solution is very much simple for investors, marketers, experts of finance, etc. You don't ever need any kind of coding language to build your website, that is not only heavy on the features, but also make it ready for commercialization in a more unique manner.
Coming to other more popular type of businesses, like Newspaper or Non-Profit or Trust type businesses, India WordPress Themes lead the way in developing websites that suit the needs of that particular kind of business.
When it comes to a business that is focused on providing news to the users, it helps in building a more entertaining website that is high on energetics and dynamics. From supporting modern types of widgets and plugins, to having an app that is very much cross device and mobile compliant.
Coming to businesses, that are built for Not for Profit purposes, the main aim should be to provide lightweight use, being more centered towards the user, and also helping in grabbing more attention from a vast majority of people who are willing to donate.
Thus, the support and the potential of using India WordPress Themes is truly massive and just waiting to more exploit. From delivering uniqueness to every business, to providing the perfect tools for customizability – this option truly need to be considered by you.