Do you want to stand out from the crowd? Obviously, this is why you're looking for responsive impressive WordPress Themes that target your audience and give an outstanding response.
Whether your website is creative or normal your ultimate goal is to achieve the targets. The main three things that one should focus on are checking high-quality, products, and services.
This will make the theme unique and simply recognizable online. Moreover, this would help you achieve good skills and allow you to customize everything that will make your site unique and distinct.
This article will show you the most impressive WordPress themes collection that allows you to make your website distinct. Let us find out!
Best Impressive WordPress Themes 2023
The flower shop is one of the Unique which came to light because it is particularly bright and made with super color combinations. This coolest WordPress theme is highly responsive, Google-friendly, tested and based on various screen resolutions.
The flower shop is a very simple theme, includes several subset features. Also, it is widgets friendly and comprises 4 layouts for header and footers.
It is also retina-ready and HD resolution-friendly. In addition, the theme includes translation Ready and POT file support. Also, it is faster to load every web, so try this theme now!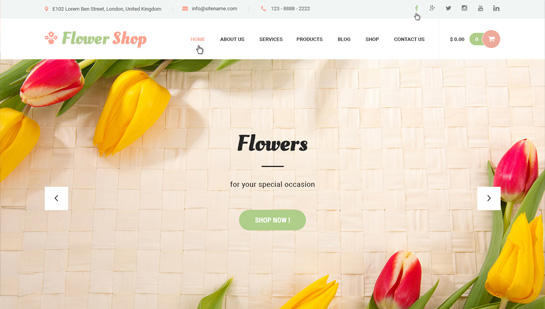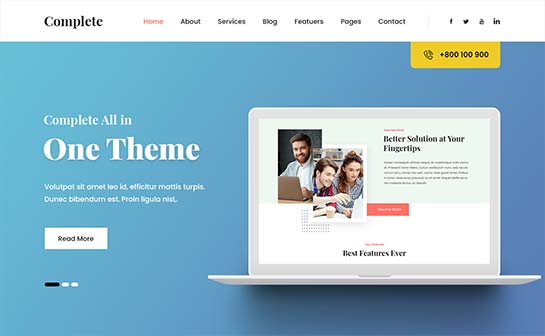 Complete Pro is yet another impressive WordPress theme that gives you a complete package to start your website without issues.  It includes Latin and various subsets that enable special characters.
More, it comprises various sections for the homepage and an in-built customizer allows you to make the changes live. 
Besides, complete Pro includes multiple inner pages for headers and footers along with multiple layouts. The theme is translation, multilingual ready, and also compatible with the WooCommerce plugin that makes your user's shopping experience brilliant.
In addition, the theme is tested with multiple portfolio plugins and showcases different sections. With the complete pro theme, you will be in safe hands. So, start the website now!
Home Theatre is one of the best impressive WordPress themes you can choose for creating and perfect online creative website. If you want to spend less and implement the fantastic designs on your website then don't miss the home theatre theme. 
Even more, you can use this template for related services like room designs, installation of audio/video, and Home Automation services. It supports multiple browsers like Opera Mini, Chrome, Android browsers, and more. 
Also, it works better with the new WordPress version.  The theme is a multi-page template and is based on a single-page template. It is well optimized with a Search Engine Optimisation plugin along with social media plugins.
Apart from it, Home theatre is good to optimize and based on a one-step installation process. So, what are you waiting for? Try now!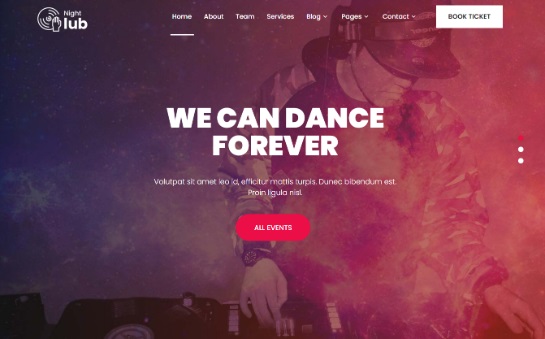 SKT Night Club is a highly qualified and Google-tested WordPress theme that has a glossy, dark color and stylish look.
The template is very useful and creates multiple websites related to events, music clubs, dancing clubs, nightlife discos, house parties, and concerts. 
Additionally, the template will also work on all handheld devices so you can target a large number of the crowd easily. Further, it helps you engage the multiple visitors that make you use a different type of media file.
Along with that, it includes shortcodes that make your website easier to access by anyone. Furthermore, the theme is based on an elementor page builder that allows your site easy to use and you will save a lot of time and effort.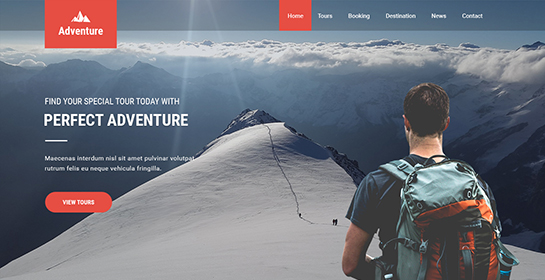 Adventure is an impressive WordPress theme that helps to create adventure sports websites, but it can help you create adventure camps related to various activities such as ice skating, cycling, trekking, etc.  
The theme is well-designed and easy to use and adopts social media-friendly plugins.  It has an effective backend coded with customized, which is very lightweight and easiest to use. Further, it has inbuilt several functions and shortcodes. 
The more function you will get on this- it has theme files, sample content, customer support, and free installation service. Check now!
Pet care is a color-changing theme based on multiple features. It includes custom post types for multiple pages like gallery, team page, or doctors.
This is similarly a great platform that helps you to get most of a website. 
However, it is a footer and header-friendly theme.
Similarly, it is best for everyone who wants to get started with multiple purposes and responsive themes. Explore & decide!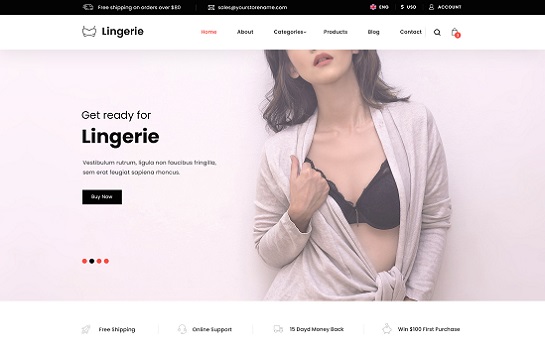 SKT Lingerie Pro is one of the best impressive WordPress themes. It is specially designed for the website related to fashion Industries such as undergarments, nightwear, nightclothes, innerwear, inners clothes, women's collections, and more.
It is a super flexible, innovative, and versatile theme that probably you are searching for. It is made up of a responsive page builder that makes your website smooth and loads faster on every webpage. 
Moreover, this template is built with an Elementor page builder that makes it hundred percent responsive and well optimized with mobile. Also, it permits you to create a website very quickly and easily and comes with a GPL license. 
Besides, SKT lingerie pro is translation-ready, RTL-ready, and retina-ready theme. Further, it supports backup plugins like updraft plus, duplicator, and blog.
Moreover, it might help you to give the highest rank on the web with all other popular sites like rank Math and all Yoast SEO.  
In addition, the theme has SEO optimized with Google page speed and GT matrix. Clothing is very important in every way, so why not get started with this eCommerce-friendly website?
I am one pro is impressive WordPress theme you can pick for your business related to fashion and related to it. It is the multi-purpose one-page WordPress theme created with Elementor page builder and visual builders that help you to rank easily on the search engines.
This comes with the default gallery and the elegant parallax sliders options. Moreover, it includes a lot of shortcodes based on multiple theme options and makes them more powerful and super easy to control by anyone.
It is well customized and has up to 30 sections for the home page and is inbuilt with 450 + icons, 450 + web icons, and many more.
Also, it is coded with HTML5 and css3. The purpose of using this website is that it helps you to get an easy inbuilt call to action, social media platform, etc. that makes it easier for your customers to get the best information they are looking for. 
If you're searching for a unique and most powerful WordPress theme, choose SKT Trust Pro. It is a highly interactive and quality WordPress theme that was established for non-profit organizations.
It is loaded with SKT donation plugins for accepting donations from different countries. 
Furthermore, SKT trust Pro is seamlessly integrated with shortcodes plugins that make it possible for you to manage the theme options easily. The header and footer sections are customizable, so you can adjust as per your site performance. 
Moreover, the theme is translation-ready with a POT file. The theme is well compatible with WooCommerce and NextGEN gallery. Also, it is based on the charitable plugin and compatible with Paypal stripe and payumoney. 
The template is based on a portfolio plugin that refers to showcase events for both old and new ones. It can also show the drop-down list in the team's actions, so you can easily build the trust of customers in you. 
SKT Beach Pro is a 100% responsive and full-color changing theme that is suitable for everyone. This multi-concept theme makes it possible for every business holder to create a quality and professional-looking website. 
In addition, it is well tested with WooCommerce plugin along with server portfolio plugins, contact forms, and Ninja forms.
Besides, the theme is very simple and easy to use. Moreover, it is compatible with the page builder plugins and shortcodes for easy content building.
The more features you will get with this are- several slider bar page layouts, five types of header and footers in a banner with four to five variations, fast loading, a very lightweight theme, and responsiveness with the latest version of WordPress. 
Photodock is one of the best, responsive, and Google-mobile-friendly website themes for a photographer, model portfolio, and corporate portfolio websites.
It allows the use of multiple sliders on the home page and inner pages. It is tested with several gallery plugins, including inbuilt galleries shortcodes, contact forms, and team members.
Also, this theme is pre-filled with several sections and can add many sections as needed. The corporates fancy hamburgers can be disabled to apply a normal menu.  Dropdown levels allow easy navigation for every user. 
Additionally, the WooCommerce plugin is also compatible, so that you can start an ultimate online shopping platform. Give it a try today!
The App Pro is a full color-changing and impressive WordPress theme that provides you with the type of combination of colors you want to get started with. It includes the fall portfolio gallery and contact form with captcha. Further, it is a widgets-friendly theme with variants of header and footer. 
On top of that, it is SEO friendly theme that is simply suitable for your online business. It also provides you default portfolio and contact form 7 gallery plugin that also works with the different homepage.
The app pro is compatible with the latest version of WordPress and coded with HTML5 and css3. It provides you with the complete access and supports you need.
Beauty cuts are also one of the impressive WordPress themes.  It is specially designed for hairstyle salons or hairstylists. Based on SEO-friendly plugins and social media icons it allows you to make a maximum profit through the website. 
Apart from it, this includes an easy theme area and different team members sections. Moreover, the banner slider can display the main slideshow images.
Further, the theme is coded with HTML5 and css3. On top of that, it comes with 1-year customer support with complete documentation, so no one user can find difficulty.
SKT Tutor is a responsive, magnificent, modern, and impressive WordPress theme specially designed for the school, Universities, and other online tutor platforms. with this learning management platform, you will easily get full of beautiful flowers and bright colors in your sections. 
Moreover, it includes shortcodes for the gallery so you to add on different pictures of staff members teachers, and other experts. Even you can add on the facilities that you provide in your institutes. 
The popup plugin is also compatible and based on related information. Also, it is based on easy-to-add reviews that make your website successful on the web. On top of that, it includes valuable customer support along with full documentation so that anyone can a safe and use the website easily. 
If you are searching for an impressive WordPress theme that is based on the sponsor and compatibility features then don't look further Nuptials. It is an easy color-changing theme that is suitable for every kind of business.
More, it is based on an animated slider that showcases your content along with the wide image.  
Nuptials is compatible with the latest version of WordPress, so there will be no issues at all. Moreover, it is based on the about us section, so that anyone can explain about the team members. 
This is a special and creative website that is based on creative features and makes your customers more impressed with your content. 
Naturo is a minimal impressive WordPress theme that looks good on all devices. It is based on a minimalistic approach and developed using multiple page builders. This is specially used to make a side more responsive and faster to load on web pages. 
Furthermore, it comes with portfolio sections while the team section has been checked for code consistencies. Based on dropdown-ready themes, this makes the navigation panel smart and easy. Further, it is coded which HTML5 and css3 make the website more impressive for all.
Choose the best theme that takes your business to new heights. Good Luck!