What are the benefits of shopping for baby products on a website as opposed to in-store?
Online purchasing of baby products, compared to traditional shopping in a baby store, is much more beneficial. Here's how it is more beneficial to opt for online baby products shopping than store shopping:
Time-saving
Traveling to the store may consume a lot of time. At the same time, browsing the shopping site on the web will save a lot of time and enable you to implement it fruitfully.
Better prices
You can compare multiple websites on the web at the same time and purchase your desired baby products at the best price, which is not possible in the case of store shopping.
Easy returns and exchange
Returning or purchasing products to a store may be hectic and difficult due to the hassle of paper receipts. However, in the case of online shopping, there will be no hassle, and you can carry out your process instantly.
Better variety
Online shopping always comes with a greater range of options to choose from. Shopping from an online store will enable you to select from uncountable baby products.
A colorful collection of the best baby store WordPress themes is showcased in this article for kids stores and shops, online baby stores, game stores and, generally, for any kind of digital marketplace or online commercial activities.
The toys are the constant companions of the child from the very first days of birth. They are specifically created not only in entertaining, but also educational purposes to prepare the baby for the smooth entry into public relation.
Toys and playthings serve as an object of fun, entertainment, joy, and at the same time the most important means of the mental development of the child.
While the range of the important characteristics of toys is endless, parents spare no money to provide their children with diverse toys and plays to guarantee their normal development and happy pastime.
This kind of approach naturally leads to increased profit and good business condition for all kinds of toys and games stores, kid zones and playgrounds, commercial centers and other relevant organizations.
Our baby store WordPress themes is foreseen for the above mentioned activities and commercial undertakings dealing with toys and playthings, games and other kid related attributes and products.
They are made by the best webmasters for the most successful business owners, startup companies, as well as private entrepreneurs selling their handmade toys. Hence, no matter what your entrepreneurial efforts are directed to, each of the baby store WordPress themes discussed here can be a complete solution for your future website or blog.
Best Baby Store WordPress Themes for Kids Stores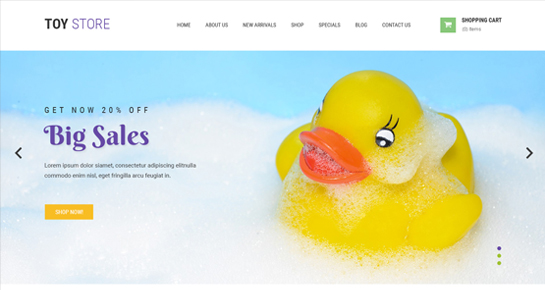 Wondering where to start from? We have the best recommendation for you! Toy Store is exactly what you are looking for to establish your toys or kids store online and receive dozens of online guests.
As one of the niche specific and stunningly worked out baby store WordPress themes, Toy Store is what will make you a better leader in the commercial world and will contribute to the promotion of your store.
As from the more structural standpoint, it is fully adjustable and manageable with tons of customization options which are given by default.
To maximize your admin potential, loads of pre enable features and packs are also given right from the start such as Google approved fonts and icons, shortcodes and more.
Another popular offering at SKT Themes is Ele Chocolate the main aim of this template is to streamline the development and designing process of building an eCommerce website.
While looking at the features and functionalities of Ele Chocolate you will find that its design is responsive and bundled with Elementor Page builder.
With a number of predefined pages, unlimited colors, google fonts, and inner pages we can say that Ele Chocolate is a great choice for bakeries, grocery stores, toy stores, and many more.
Thanks to its modern and simple design. If you want you can edit the look of your website from bright to the dark color theme.
Moreover, the theme is included with customizing header, one-click demo import, testimonial section, Woocommerce features, and much more.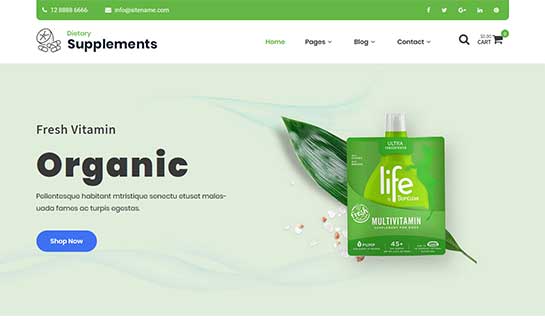 SKT Nutristore is a colorful and alluring template as compare to other baby store WordPress themes.
This theme works seamlessly with WooCommerce and offers quick demos with unique icons, colors, fonts, headers, etc to help you to launch a new website easily.
The theme was actually created to target nutrient product store owners but you can use this theme the way you want to. For example, you can use this theme to not only sell nutrition products but also other products that are required for a baby.
For faster homepage customization the theme is based on elementor page builder. As well as the theme is properly optimized for speed and search engines.
What's more when you hear that the theme is integrated with all the latest WordPress tech.
Dairy Farm is the most innovative baby store WordPress themes with a different set of eCommerce functions. This theme can be used to sell smoothies, juices, fruits, dairy products, etc online.
The theme's layout is so elegant so that it will give pleasant look to infant collection and baby care shop sites. The theme is actually integrated with the WooCommerce plugin and trustable payment gateways so that you can start accepting payments online.
The shop page allows you to sell different kinds of products while adding details on the products such as discount items details, pricing tag, product description, product images, reviews, and many more.
So, grab the features and functionalities provided with the Dairy Farm theme to create and advertise your baby products on the web world.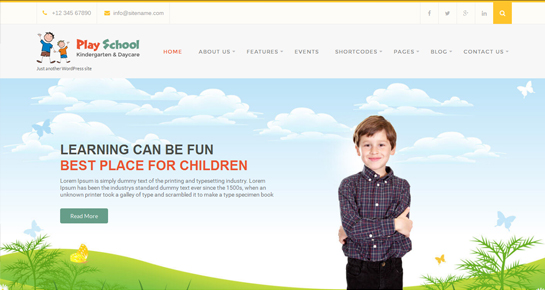 Another kids and child centric ecosystem ready to give a boost to any kind of relevant topic and niche is called Play School. This dynamic and agile website tool is wonderful for preschool and kindergarten, kids center and kids toy store websites, kid centric blogs and event planning and management centers.
Play School is more than just a productive vision. It's also about better perspective and new working horizons as the template can be customized and extended to meet all your far going plans and objectives.
From footer and header variations to match the overall look of your site to font and color selection options, prebuilt shortcodes to exercise for adding something more to your online store, maps, homepage slides and much more are all possible with Play School.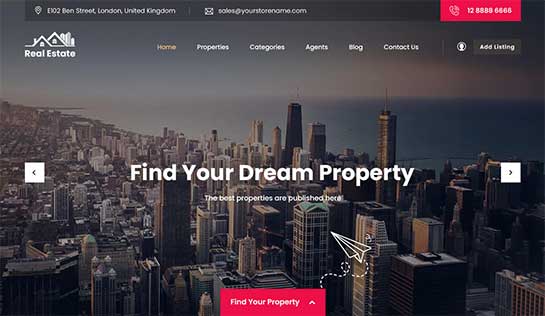 Created and launched for displaying any product listings and ranges, Real Estate is one of the totally commercial ready online platforms any merchandiser or toy store owner can reap a good profit from.
List view and grid view options are available with Real Estate so that your site will have the same functionality but listings and offers can be displayed and viewed differently, as the case may be.
All in all, this template comes with specific characteristic features and traits to help you get your site flowing easily.
However, you are the only master of your site playing around its look and feel, color domination and typography controls, additional tools installation, etc.
Events and calendar, SEO and SMO plugins and yet much more are effortlessly compatible with this template.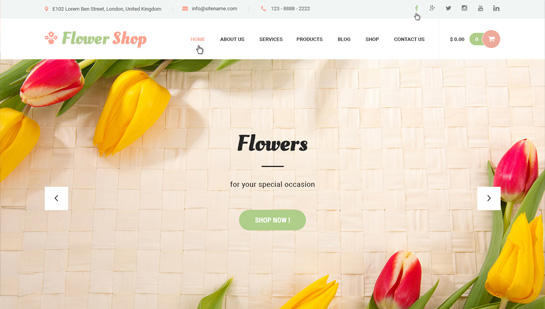 Another cute and lively, inspiringly beautiful and amazingly stylized template among baby store WordPress themes catering to a global commercial world in all its manifestations comes launched as Flower Shop.
The road to success sales and the relationships with clients begins with Flower Shop that is a harmonious unity of simplicity in usage, as well as award winning performance on the whole.
The top assessment of this template is measured by how well prepared it is both in terms of design and inner framework to host as much content and product categories as you want to showcase in your store.
You will also be capable of establishing the best color palette for your store, manage the font size and color, arrange sidebar or totally remove it.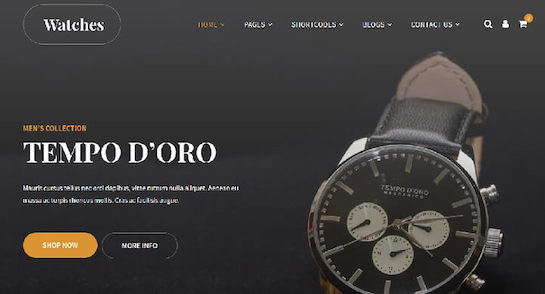 Luxury Watch is among the most demanded baby store WordPress themes thanks to its customer optimized nature with responsive touches and durable coding.
Creativity and passion by your side can be the best assets to keeping Luxury Watch productive and highly socialized.
It means that all you need to do is to take care that your site's external look and working capacity correspond to your own preferences, as well as meet your website user's needs.
The theme is also totally GPL licensed giving its end user an ultimate freedom to change and modify the given platform, add own images and product list, etc.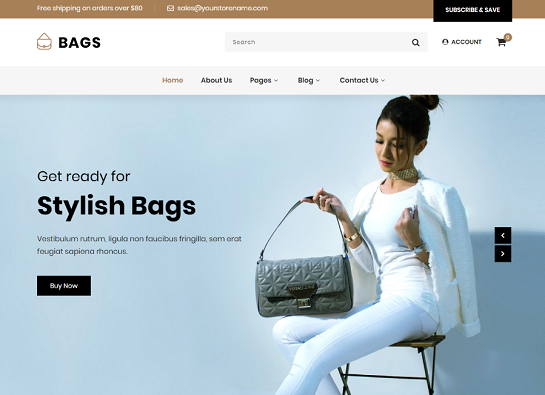 With Shopzee you will not need to conquer the discipline of coding since all the hard work is already left behind. This easy to use and customize template can be a real springboard for startups and small business representatives to widen the sphere of their influence and get connected to more and more clients shopping online.
You will be intrigued by every single piece and part of this top quality template that comes with sustainable coding from behind the scenes, responsive and mobile friendly design to work with any portable device, as well as boundless possibilities of adding products lists, categories and more.
This widget ready and search engine optimized template enables you to add as many posts and pages as you find expedient for your baby store and its proper operation