Creating a website might slip out from your priority list in hustle and bustle of your Hotel. We understand that you will always have a long to-do list but online presence should not be neglected.
An intuitive functional and inviting website can be the major difference between you and your competitor.
When selecting a theme you should first look for easy and quick design options. Additionally, you will also need the same to support reputable and powerful management plugins without compromising with the basics.
Finding the best option has become simple and easy as we have compiled the best hotel WordPress themes here. Explore the features and offering to make a sound choice.
This is a highly customizable theme with plenty of color options and tools to make al tasks simple for you.
It is fully compatible with WooCommerce and not to mention that the integration with all the payment gateways is also quick. The most integral factor is that it is 100% responsive in mobile devices which is a must need.
By default, the contact form feature is provided and all other plugins related to the same are also compatible. You have the freedom to select the desired layout for pages and blogs. Additionally, you also have an option to select a sidebar layout.
A few sections have been provided by default which can be modified, deleted, or added. A blog section is also provided so that no additional efforts are required for setting up one. Standard pages that are common are also offered and it is translation ready.
Most Popular Hotel WordPress Themes with Online Booking 2023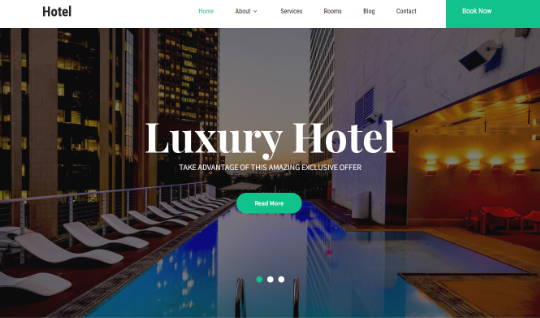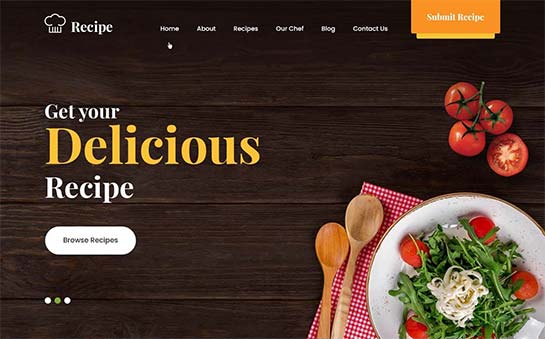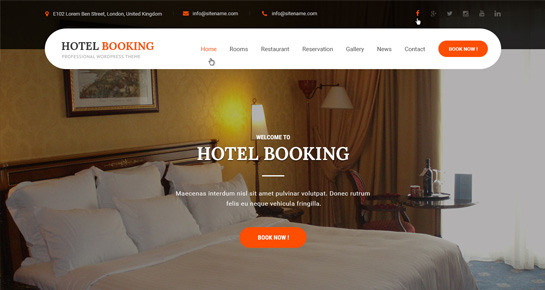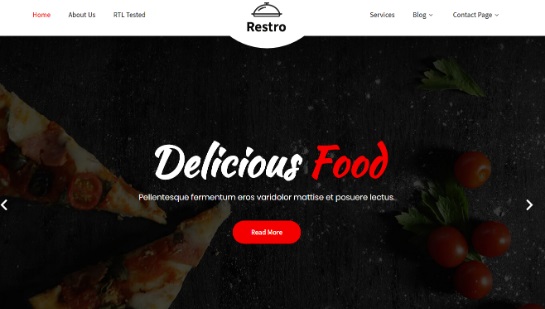 The 'Restro' is amongst the popular hotel WordPress themes. Although by default it has been developed to cater to the needs of a restaurant, the multiple features make it absolutely compatible with reservations.
This is a peculiar option where you can easily represent your management, ambiance, and the restaurant associated with it. WooCommerce compatibility has been tested and performs stunningly well.
This helps you in maintaining online bookings, room reservations, and table reservations for the restaurant. Online ordering of food is also applicable if you offer that service.
The overall framework and structure have been coded to perfections so that the site can excel in performance.
Modification, customization, and creation of new elements are possible which helps you in creating the required layout. Customer support and documentation is at your rescue if you get stuck in the installation process or face issues.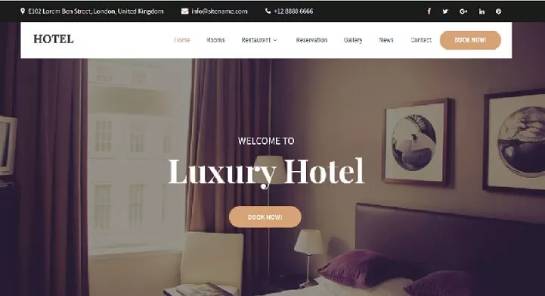 Seven stars and other luxury hotels are preferred by elite individuals only because of the service offered by them.
Service plays a crucial parameter in the hostility segment of such hotels. The same thing should be reflected and highlighted in the online presence of such brands and chains.
Only then will a new client approach you and opt to stay in your hotel. Hence, keeping all these things in focus, experts have coded this theme.
All the default layouts provided will perfectly match your expectations and even excel them. Different elements on the website are customizable which enables you to add your personal touch.
Social media integration, WooCoomerce, Contact Forms, and all other necessary features have been tested. It is multilingual, translation-ready, SEO-optimized, and mobile-friendly. All methods of customer attraction and engagement can be used for this power-packed option.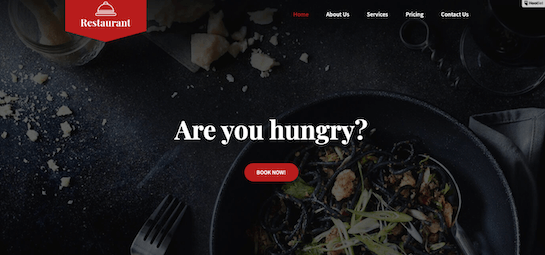 When the restaurant of your hotel is highlighted with all its uniqueness and special dishes then it creates a mesmerizing impact. Ele Restaurant is one such hotel WordPress themes that enable you to mesmerize your audience.
If the client can get delicious food in the hotel where he/she stays there is nothing more to ask for.
This theme gives you the leverage of space and content so that all your USPs can be captured online. The flawless navigation and exciting user-interface make users explore all of them with ease.
WooCommerce support is offered and documentation is also provided for assistance in the installation process.
Gallery plugins can be added hassle-free so that the entire property can be viewed by the audience. In case any essential feature required by you is missing you can install the required plugin and enjoy the same.
Looking for minimalistic yet powerful hotel WordPress themes? Stay Here is your answer to all such needs. As an administrator you want your website to perform.
But, the audience wants your website to be elegant, sober, and helpful. Stay Here can easily help you achieve that balance with the features and layout that it has to offer.
It is compatible with WooCommerce and all other plugins including those of social media handles. You can add contact forms, galleries, and discount offers as you like for attracting users. It is optimized for faster loading and for SEO which keeps you in the safe zone of technicalities.
The customization process will be like a smooth breeze as you will enjoy each stage of it. Modification, addition, or deletion of any elements is quick and does not require any coding.
Who does not like to stay on a clean, neat, and turbulent beach for a weekend or a vacation? If your hotel lies near a beach or in a city that is popular for its beaches then this theme is for you. SKT Beach Pro is one of the most liked hotel WordPress themes across the world.
This is because the major attraction of the beach is covered in various parts of the layout and the template. This makes the modification process simpler and quicker for most of the developers.
Additionally, customizers and page builder helps in inserting and removing different designs and content. WooCommerce is supported which enables developing an online store for demographic-specific commodities.
The structure is developed by experts and is SEO-friendly. Create a stunning, interactive, and mesmerizing digital space for your coastal region hotel today.
If you need a simple, reliable, and versatile option in your quest for hotel WordPress themes then here is Accommodation. It perfectly suits for reflecting the kind of care in all intricate things that you provide to the clients during accommodation.
You can utilize and add all the content that is necessary for representation in the online space. By default, certain sections regarding stay are provided but you can easily add more. Modifying background, templates, colors, layout, widget, etc. is simple and quick.
Plugin support is phenomenal and it fits perfectly on all kinds of devices and browsers. Moreover, it is translation ready and incorporated with Google Fonts by default. Make the most of this option to create an elegant, professional, responsive, and flexible site.
Hotels are preferred over Motels because they offer hygienic stay and delicious food. For this combination to be well-reflected in your online presence We Bake is perfect amongst the list of hotel WordPress themes.
It can also be used particularly for bakery and baking related items to be reflected in the online space.
Due to such exclusive templates, you can conveniently feature the bakery products of your hotel in the same without any extra effort.
Moreover, WooCommerce support is impeccable that enables you to proceed with all online transactions. The default design and layout is based on White color to ensure a rich feel to your audience.
All aspects including templates, colors, layouts, and other elements can be customized to make a perfect site. It is retina-ready, multilingual, HD-ready, and translation ready. There is no compromise in performance when accessed from different browsers and devices.
This is an IceCream themed option that can be used to create a wonderful, responsive, and versatile website for Hotel reservations. This is because it includes powerful graphics and all technical requirements for WooCommerce.
Hence, setting up an online payment or reservation chain will never be difficult. Considering the default graphics it will be a one of its kind reservation site for the customers. You only need to make minor modification and the site will be ready to go live.
For ease of understanding, a one-click demo option is available and assistance in installation documentation is provided. Moreover, plugins of different types and kinds are supported to ensure supreme functionality.
Customization in sliders, widgets, and other areas is possible without writing any single line of code. If required customer support can be accessed for solutions to technical issues.
Catering is amongst the special multipurpose hotel WordPress themes. It is feature-rich and composed of everything that is required for a high-performance booking website. You can swiftly manage to create a seamless and top-notch online booking system here.
Users can be offered friendly and flexible means of managing their bookings, room types, coupons, payments, and food. To optimize your operations plugins of all kinds are tested rigorously.
The elegant and responsive design is open to customizations in all its elements including the templates. Changing layouts, font style, and colors is the easiest of them all.
You can opt to create a blog without adding any extra efforts or writing a single line of code. Your website will have a chance to stand out from the competition with search engine optimization and social sharing capabilities of this theme.
When individuals and family plan for their trip they look for hotels that provide them impeccable service and full comfort. This cannot be experienced without visiting any property.
But, with a theme like The Trip, you can easily manage to include all such details on your website. By default, it provides a stunning layout and template that is desirable for highlighting a class hotel.
All your services, including cleaning, laundry, room service, dining area, banquet halls, party area, pool, gym, etc. can be easily featured.
You can create a list of amenities that you offer and also include other special services like cab and ticket bookings that you offer.
The performance of your website will remain top-class despite holding all such features. You can add or remove elements as per your convince to facilitate your client needs.
This is a powerful, versatile, and feature-rich option to suffice the requirements of hotel WordPress themes. All individuals have a unique idea of the kind of rooms and hotels that they require and Coffee Shop helps you in creating that.
Luxury and comfort offered by you can be conveniently conveyed to your customers with different tools, ease of booking, and HD-pictures. The one-click demo option will help you in understanding the actual webspace that you can get and create.
All the services, luxuries, and delicious food offered by you can be easily bifurcated into sections. As per the need, the same can be modified and plugins can be added for other features.
The last in the compilation of versatile hotel WordPress themes is SKT Café Pro. It leverages you to stand out with the plethora of representing hotel, service, and luxury. The most integral and liked aspect of this theme is the ease of booking that you can attain and provide.
The modification is quick, simple, and convenient. Check the one-click demo to have an immediate sense of how awesome the navigation and user interface is. The sleek layouts are perfect for high-end establishments as well for smaller lodgings.
All the loft ambitions and the perfect outing that you offer can be reflected in various sections. Ease of booking, payments, and management of other aspects can be introduced. All kinds of audiences like individual, corporate, family, and couples can be facilitated smoothly.
'Exceptiona' is one of the profound multipurpose WordPress themes which makes an excellent match for your hotel's website.
This theme has everything that one requires for launching a versatile website including WooCommerce support. It is 100% responsive, mobile-friendly, multilingual, and SEO-optimized.
The customization options are the most liked ones because of the convenient tools. Customizer and page builder helps in creating the required design without worrying about the coding part.
Slider and widgets are provided by default and a blog section can also be made without any extra effort.
Everything is manageable and can be modified as per the required standards. Contact forms, gallery, newsletter subscriptions, and similar stuff are tested for compatibility.
It is technically sound and powerful so that the site never lags in terms of performance and loading speed. Lastly, you will not regret selecting 'Exceptiona' for reaching out to your target audience.