The hospitality business is a multibillion dollar industry with a broad range of services and offers, from tourism and hotel to traveling and lodging, transportation, cruise line, spa and massage, beauty and hair salon, food and beverage businesses and everything in between.
And if you represent any of such hospitality related business or activities with your website, you are welcome to have a look at the checklist of hospitality WordPress themes below.
Today more and more people and businesses are discovering thousands of benefits of being in the hospitality industry.
The essential reason for this is that this hospitality sphere boasts a higher capacity of growth and higher potential of income than many other industries or business opportunities.
This being said, we can clearly justify the high demand for hospitality and traveling, vacation and tourism websites and profiles on the Internet on the one hand, as well as the need for useful and practical hospitality web creation tools on the other.
There has never been a better time to launch your hospitality website than now with one of the best hospitality WordPress themes available.
Our dedicated coders and designers have combined their vocational skills and put them into practice to generate stunningly beautiful and functionally bold spa and wellness, massage parlor and hotel, online reservation and hospitality WordPress themes.
All of these templates strive for simplicity in usage and affordability in pricing, but are feature packed with many basic and hidden features to be unveiled by you.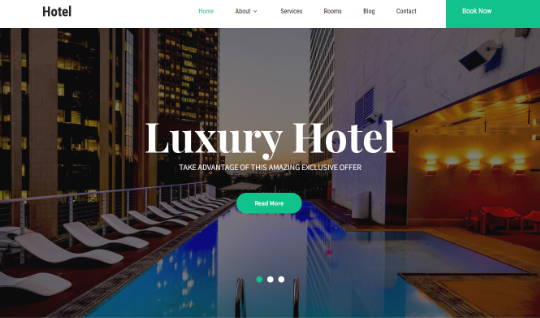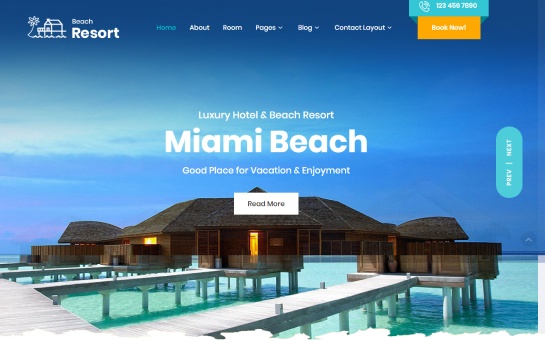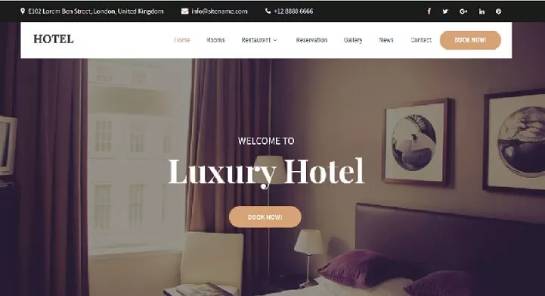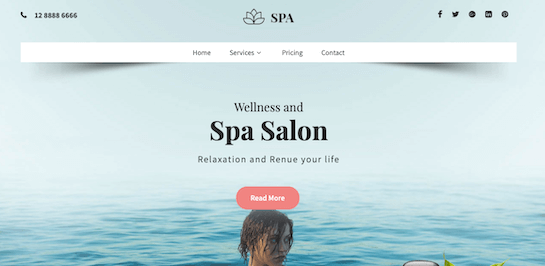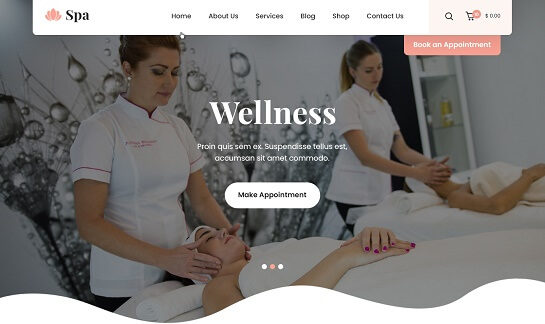 SKT Spa is one of aesthetically pleasing and creative spa and massage parlor, beauty bar and nail salon, tour agency and traveling business, online booking and hospitality WordPress themes ready to go smooth with your preferable style and business model.
From the novices to the most advanced webmasters, anyone can make the most of this template that is feature rich and highly customizable with a Live Customizer at its core.
Make quick changes to your theme, set up new color tones and add imagery, manage widget ready areas, arrange menu location and sequence of menu items quickly and preview all the changes without hampering the normal functionality of your site for the end users.
Totally plugin and social media optimized, SKT Spa is also translation and POT editor compatible for letting your translate your site and its content into different languages.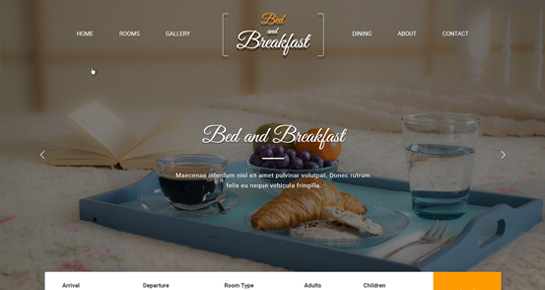 Bed and Breakfast is another innovative and visually delightful, technically well coded and structurally well formatted web creation tool among the best hospitality WordPress themes.
Admin and user optimization is a top priority for this theme. Everything is kept simple and easy to manage for the website admin from the backend, and every control is given to the latter to make the most inviting and comfortable environment for the front end users of the website.
Since bookings and reservations are the inseparable part of any hospitality business for making it easier for the clients to organize everything without leaving their comfort zones, Bed and Breakfast has been coded to be 100% plugin compatible, particularly with booking and reservation plugins.
Food and drink businesses are also among the most thriving and money making businesses within the scope of hospitality industry.
And whether you have a small pub or tavern in your town or own an international restaurant chain or leisure complexes, Beer and Pub will create the best virtual version of your business in the most productive way.
Every single element and part of this template can be altered and modified the way you need. Different types of layout options, footer and header variations with sidebar choices, typography and font management options, multiple shortcodes for activating this or that functionality or changing this or that part quickly are all provided with Beer and Pub.
It has also been checked with page builders and dozens of other practical plugins ranging from SEO and SMO to translation and additional shortcodes, etc.
The next top rated web building ecosystem that is fully ready to integrate reservation and booking functionality, quickly connect with page builders for more controls over the look and feel of your website is called Hotel Booking.
WoCommerce is another practical integration any hotel and hospitality website would need. Hence, eCommerce and WooCommerce plugins can also be added to your site based on Hotel Booking and create a shopping platform for your local and international audience.
This slider and shortcode armed, flat and material design styled template is also amazingly responsive and cross mobile/browser compatible. It means that this theme can be a good choice if you want to reach more clients and customers.
As one of the premium quality hospitality WordPress themes, Yacht and Cruise is an ambitiously versatile and creatively beautiful, modern and dynamic web builder ready to take any kind of hospitality website to a near perfection level.
No coding knowledge is required to jump to the backend of the theme for customizing and managing the default template to deliver your unique style and business identity so that your site can stand out from the crowd.
It also facilitates the navigation for the web users making it smooth and easy, as well as contributes to the legible and accurate performance of the site across different mobiles and platforms.
From having a separate blog area for regular updates to bringing social media sharing functionality into your posts and pages, translating and localizing web content for the international audience, everything can be done via the collaboration of Yacht and Cruise with third party plugins.
Adventure is energetic and interactive WordPress theme ready to support absolutely any kind of sports and leisure activity, hotel and vacation rental, tourism and travelling website or blog.
Powered by an advanced technology and precisely coded to comply with all kinds of modern digital standards, Adventure boasts nice looking homepage slider on the homepage for grabbing the maximum user attention with high quality imagery, WooCommerce compatibility, handy customizer for quick changes and their preview, and yet much more to be discovered with Adventure.
It may surprise you to know that the travel industry of which hospitality is an integral part of is a multi-trillion dollar industry and yes, the competition in this niche can be downright intensive.
That said, there are a few things that you can do especially if you plan to get into the hospitality business;
You can start off by opting to set up an online website using WordPress platform. One of the reasons that you should go in for WordPress is that it is light, easy to customize and comes pre-loaded with all the plugins and tools that you would need to make your website stand out for all the right reasons.
So check out some of our hospitality WordPress themes and even do a demo with some and then, choose the one that seems to be a good fit for you.
The hospitality niche is well saturated and quite competitive, which is why you often need to go the extra mile to stand apart from the rest of the crowd.
You can choose from some of the many designer themes available; often a good deal of organization goes into making a company successful and the same cannot be emphasized enough for the hospitality sector.
So essentially you would have to pick a theme that comes with integrated features that would allow for seamless booking, will enable you to micro-manage all your tasks and allows you to update your website with relevant details and high-end graphics in a matter of seconds, and that's WordPress in a nutshell.
This is why you should set up your website by using any one of our hospitality WordPress themes as they all come pre-loaded with requisite tools, widgets, and features.
The WordPress theme that you are looking for is one that comes with an aesthetically pleasing design and layout and can be easily customized.
You should be able to pick and choose the color, tone and upload the required graphics with images, videos with ease. The CMS system should enable you to get most of it up on your website within a matter of minutes.
It is vital that the theme you choose allows you to arrange the menu as per your preference which is why you should do a demo before choosing any particular theme.
Please remember to use a cache tester to see if the site is fast enough and if not, you may have to use WP Super cache plugin to speed up the performance of your website.
It is important that you are able to enhance user experience so that they may return back to the site again. Your website should come with integrated features that will enable guests to pre-book their rooms and even their breakfast, lunch and dinner well ahead of time.
And a website that does all of this should definitely help you better your performance and in due time, your rankings as well.
This is why it is vital that you do some research before selecting a theme for your website and make sure that you have chosen the right one for your business.