Today our main focus will be on high CTR WordPress themes which are ad – friendly and Google AdSense – optimized for higher results and deliverables.
Click through rate technic is widely exercised through different digital channels. It is used to measure the performance of this or that target advertisement to understand how effective it is. Hence, in order you want to receive a broad view of how productive your advertisement is, CTR is inevitably the best way to do it.
Luckily enough, WordPress content management system comes rich with high CTR WordPress themes offering a reliable platform where advertisements can be located and CTR technic can be practiced. It can be both for the benefit of the advertiser and website admin.
In this article, we have compiled the best collection of the best CTR and Google AdSense WordPress templates to make the web advertisement easily noticeable and attention – grabbing. All of them are clean and legible enough so that the website visitor's attention can be easily directed to whatever is needed. In a nutshell, those high CTR WordPress themes are perfect for digital agencies, affiliate marketing, as well as other highly populated websites and blogs.
1. SKT Tube: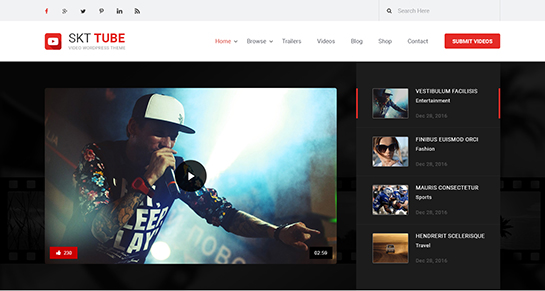 Thank you for visiting SKT Themes a place for selecting top
WordPress Themes
from a list of several hundred templates. Happy Reading and Shopping.