In this digital era, catapulting your business portfolio isn't that difficult. Making your business more impressive and acceptable has gotten more comfortable with the help of well-polished business websites and digital marketing strategies. However, what poses the real challenge is to retain uniqueness amongst the crowd.
But as a small business owner, spending extra pennies for a custom-designed website might not make sense for you right at this point. Besides, going back and forth with a high-rated web designer can be a real headache for you at times. So what?
WordPress is the only free platform to create a website without any restrictions. It is free because it does not charge any money as well as it gives you the freedom to modify the WordPress code according to you.
You can play with the code as you like it and upgrade it all according to you. WordPress can be called the king of website creation and it owns the 36% of the web.
WordPress is complex for the developers because it is a platform with multiple features and functions and creating flexibility and functionality takes a complex development process . But it is really easy to understand and use by the users.
It offers a lot of features such as plug-ins and themes for you to make a website of your liking. You can add those different themes and plug-ins to make your unique site your way.
WordPress helps yours at every phase and guides them through their journey of website design and development.
If you are a new blogger then WordPress is where you need to start your journey.
WordPress is simple and effective.
It offers many plug-ins that add functionality to your site such as plug-ins which will help you in SEO of your website or loading speed of your site.
Another main advantage of using WordPress is that it offers many Ready-Made WordPress Themes which are exceptionally useful and important for any WordPress user.
These themes work as the sink of your site, display, or the visual presentation. Themes add aesthetics, functionality and features to the look of your site.
There are thousands of Ready-Made WordPress Themes and it is not easy to discover what fits your site most.
Don't worry! You won't have to go through all thousands of them.
We have chosen 12 of the Ready-Made WordPress Themes to help you find out the suitable one for your site .
13 popular Ready-Made WordPress Themes for you to enhance the look of your site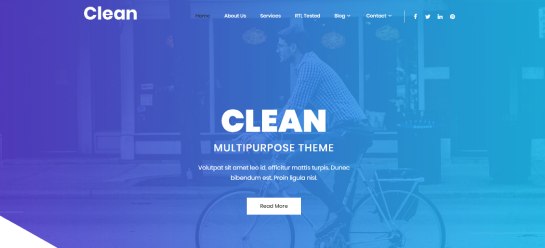 In order to make the look of websites many websites developers add multiple designs and features which overload the website and ruin all its aesthetics.
Clean pro is a very sophisticated and minimal theme which leaves a lot of blank space for your content and media to showcase, re-defining the main purpose of websites.
This theme can be used by anyone whether you are an entrepreneur, blogger, creator, or business enthusiast.
It can be customized as per your wish and this theme is really beginner friendly.
If you don't like a lot of clutter on your site and want to keep the look minimal then this is the perfect theme for you to try out.
This Ready-Made WordPress Theme has a lot of features like :
The theme is designed as color changing
There are inbuilt shortcodes and plug-in shortcodes that can be used
It offers 600+ google fonts that you can try
It is really minimalist and has no excessive shades
Many functional widgets are available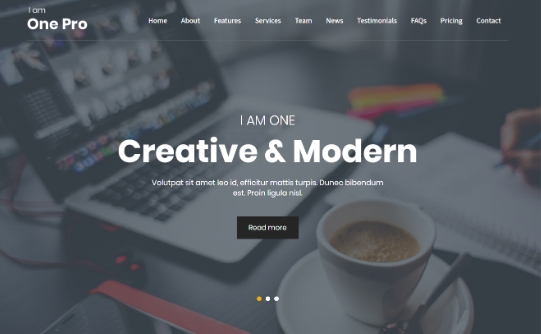 I Am One PRO is a multipurpose one page Ready-Made WordPress Theme that can be used by anyone easily who is looking for a one page website.
It is best for designers, creators, or job seekers who are looking forward to making a portfolio or showcasing their work. You have an option to add as many sections as you want for your photographs and content.
This theme is really easy to use and you can customize it as you want to.
It has inbuilt default sections for gallery, about us, services, etc.
One click content defaults are also available.
Features this Ready-Made WordPress Themes offers :-
It offers 600 + google fonts
Very easy to use theme
It provides multiple shortcodes and you can add more it you want to
It's an social media integrated theme for the ease of users
Supports many popular plug-ins like bbpress and contact form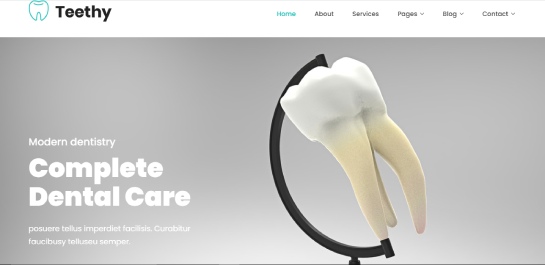 Teethy is a very clean,minimal and sophisticated Ready-Made WordPress Theme for medical professionals who works as dentists, dental surgeons, physiotherapists, doctors, medical practitioners or own a clinic.
This theme is suitable to work with several page builders, both free or paid. This theme does not require any prior knowledge of HTML to be used.
This theme also has a section for photo gallery and portfolio. Gallery can be used to showcase prior dental work and patient photographs.
This theme also involves 100+ inbuilt shortcodes which are easy to use and apply.
This theme has a design based on color changing.
Features this Ready-Made WordPress Themes offers :
You can customize the header and footer
Shortcode plug-ins for creating mega menus are available
810+ google fonts available
You can create multiple pages, posts etc. As many as you want to
This theme includes sections for doctors where they can add blogs, news, information about themselves, services they proved, news releases, and contact options.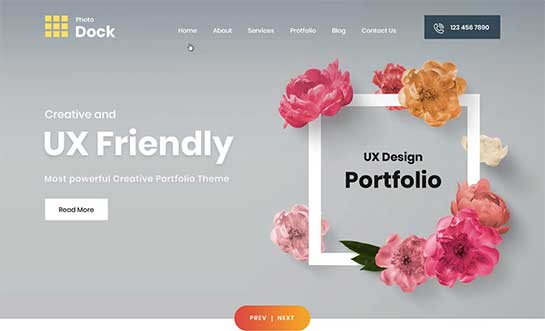 Having an impressive portfolio is the need of the hour and you should invest time and effort in making a good portfolio whether you are looking for a job, online work or if you want to showcase your talent and work to attract more visitors and clients.
Photodock is a mashable WordPress theme to show your work to the world.
If you are a photographer, designer, or creator then you need to have this theme. This is very easy to use and affordable and you will get full support by the team after purchasing it.
This Ready-Made WordPress theme has different features –
It is really one of the best responsive WordPress theme for making your portfolio
Photodock is a Google certified mobile friendly theme.
It's translation and multilingual features are ready to be used
It is very affordable and easy to use for making any type of portfolios such as model, photographer or corporate portfolios
You can also use multiple sliders for the home page.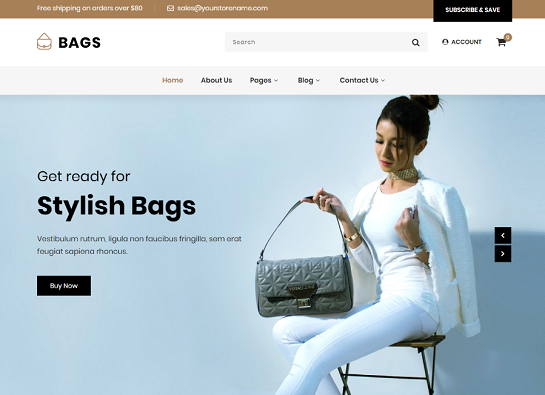 Online businesses are constantly growing worldwide, people like to purchase everything online be it grocery products , clothing, medicines, or other necessary products.
E-commerce websites are booming and people love to use them. Nowadays nobody likes to go to the market to buy anything when they can get everything on their doorsteps.
This is the best time to start an unique E-commerce website to scale your business. And if you are ready to build one Shopzee is the best Ready-Made WordPress Theme for you.
It is compatible for various devices, you can add multiple categories and products there are no limits. It is designed while keeping in mind the needs of a E-commerce website.
Some of its features are –
Color changing theme.
100+ shortcodes available and you can add 100 more.
You can add unlimited post and pages
It is a very SEO friendly theme
The team will provide all round support once it's purchased
Anyone's beauty is enhanced greatly if the hair looks beautiful. Which makes beauty salons need for the hour. Everybody loves having stylish hair and hair that can enhance their beauty.
Hair salons are growing alot and it is a great business to start if you love hair styling.
For hair salons to grow vast there is a need to have a stunning online website, from where people can easily find you contact you and have a look at your work
Beauty cuts is the best Ready-Made WordPress Theme to use if you want to make a website to showcase your work.
Features of Beauty cuts :
Simple and easy to use for beginners
Option for contact information with Google maps are available
Banners sliders are also added so that one can display major images and slides
In this theme service section is also given to show all your services
It is highly SEO friendly theme
Pets are the love for life, Everybody loves cats (if not cats then other pets). They really fill our life with love and care. Pets are stress busters and they just light up our days instantly.
If you are a person who loves pets and just want to make a blog to upload a lot of pictures of your pet or even if you want to sell some pet foods, medicines, or products then SKT Cats is a really useful Ready-Made WordPress Theme for you.
Some features of this theme are –
Can be used for every business related to pets
Can add as many photos and videos as you want
Google friendly, your products will rank easily on Google
Can Customise colors according to you
It is lightweight and secure
Massage center is a Ready-Made WordPress Theme for massage and spa center. It has been dedicated to fulfil the needs of spa and massage centers for showcasing their work.
This is the best theme to use if you want to develop a website for your spa or massage center.
Some of the features of this theme are –
Call to action options available
Welcome section is also integrated
About us section is also included to show the work of your team
Easy to set up
Blog section and other useful features included
It is a Ready-Made WordPress Themes which is developed to use it in a website for research, hospital, clinics, pharmacies and other health related establishments.
It can be used by doctors, therapists, and other health associates to spread general awareness and run a blog around health specifically.
SKT Sanitization Pro has a lots of features including –
Elementor page builder will make it easy to create online presence
Easy to update and install
Updated code used to make it easy for you
Supports different types of plug-ins
Very SEO friendly theme
Nowadays there is a great need of online tutors as all the schools and colleges are shut down due to the pandemic.
If you love teaching and want to help out people to learn different things then you really need to start a website using this Ready-Made WordPress Theme.
This theme is specifically designed for teachers, online tutors, professors, and other professionals related to the learning industry.
This theme includes various features like :
Can sell your E- study materials by using WooCommerce plug-in
This theme gives an option of digital download
Clean code for better speed and performance
Popup plug-ins can be used to show latest information on your online courses
Very sophisticated design, easy to use for children.
Legal Experts is a Premade WordPress Theme for legal service company websites and it can be used by lawyers law firms and legal service providers to show their work and offer their services.
These legal services can show their case studies with this theme and add all type of different information about themselves and their services.
This theme includes various features and some of them are as follows :
Google mobile friendly certification
650+ google fonts available
Lots of shortcodes are available already
Theme color is changeable and u can set it as per your liking
Social media integrated and SEO friendly theme
SKT Beach Pro is the best Ready-Made WordPress Theme for beaches, resorts, vacations, tour, travel and other multiple agencies. It is designed in a way that it suits perfectly to these kinds of agencies.
Some of the features of this theme includes –
Lot of options for inner header
Can use it with various shortcodes plug-ins
Can add multiple pages and unlimited content
Very easy to use design
Various option Contact information and can use different plug-ins to upgrade this theme.
Nuptials is a great theme if you want to set up a website for your wedding diaries. Everyone dreams about their wedding to be the most beautiful and memorable occasion.
If you want to keep it alive forever and want a hustle free way to do so, also if you want to share your memories with friends and family and want to share invitations in a simple way then making a wedding website is a great idea.
This Ready-Made WordPress Themes includes various features like –
600+ google fonts
Color changing theme
Customisable menu options
Contact information,event, information and other options
Blog section and about us section also available.
If you want to scale your Website then try these Ready-Made WordPress themes and start growing.