Let's delve into the meat of the best auto WordPress themes for automobile and vehicle – related websites, car dealers and brokers, car repair and other relevant topics.
Using the modern digital spectrum to your advantage when it comes to selling or buying cars, finding the best offers and specialists to understand the problem of your automobile is pretty easy.
What can be more enjoyable than sitting back and turn the virtual pages to scan all the available material and make a final decision?
Instead of spending hours on wandering throughout your locality or even outside of it in the pursuit of the best deals for you, today's digital world provides you with unlimited success to look through, analyze and compare different car offers, find handymen and more.
And since people are already used to completing thorough Internet research before contacting car owners or dealers, such kind of individuals and dealership agencies do their best to run a successful and all – inclusive websites.
They perfectly acknowledge that the clients and leads coming from their website are more qualified than any other prospect.
Hence, if you are an auto trader, repair specialist or handymen or any other automotive specialist or dealer, the below – mentioned auto WordPress themes will be ideal for you.
Enlist and offer all kinds of auto – related services, including sale and purchase, dealership, audio and video, car security, navigation, window tint, auto upholstery and repair services to the public at large. Create your online identity with ease and at a reasonable price.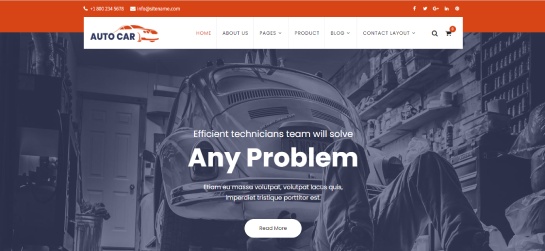 Create your online automotive marketplace and receive new flows of clients with the help of Auto Car. It is one of the brand – building and inherently flexible auto WordPress themes for you to master.
Establish the online platform for your car – related activities, add all your offers and even let people add their own car listings.
Auto Car deploys a wonderful drag and drop functionality to manage all kinds of customization processes in several minutes.
Smooth and decent, yet powerful and unbeatable, this theme shares nice – looking content parts and sections to tell your story, profile, showcase categorized cars and automobiles, contact details, etc.
Homepage full – width slider is foreseen for the best or the most urgent listings to be at the center of attention.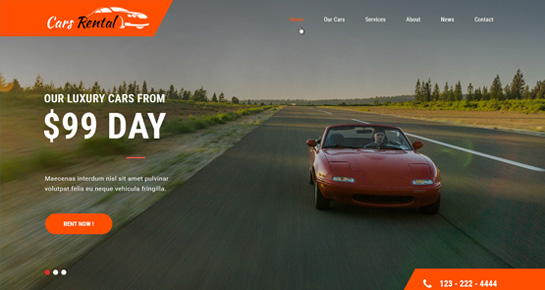 The next highly integrative and totally complete template catering to car industry comes as Car Rental. The name of this top – rated theme gives the cue that it can be truly perfect for any kind of car – related topic revelation through your website.
Particularly, any kind of car specialist, including mechanics, motor specialists, minders and others can highly benefit from this pixel – perfect and Google – approved template.
What makes this website builder so advisable is the clear and modern coding coming in the mixture of HTML5 and CSS3. It's the main source and anchor of the theme's ultimate responsiveness and cross mobile and device compatibility.
Car Rental is also shortcodes – based and amazingly customizable to change it as per your preferences and business objectives.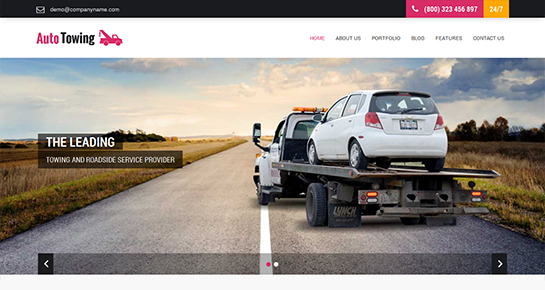 Towing is the next reliable and top – notch template among auto WordPress themes which is coded and developed to meet the needs of car towing industry, as well as car roadside assistance services.
A variety of colors, fonts, content zones and slides can be exercised within the theme to meet all the challenges of the virtual world and take your advertising and marketing to infinity.
Show off all your expertise in the given field and prove that you are always there for your clients while giving them around the clock access to your website, and subsequently, to your assistance and support.
From towing recovery to door opening, from carpark towing to towing of heavy vehicels can be inserted into the separate services sections and be easy to find.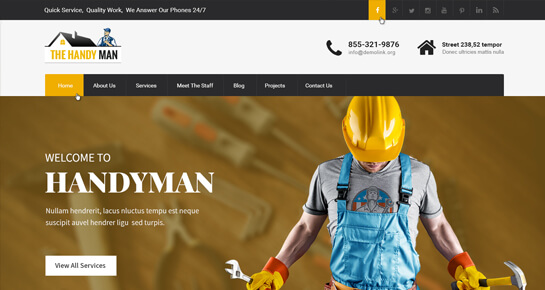 Handyman is the one to convert all your efforts into tangible results as quickly as possible. This template is designed for any kind of online care dealership, sale and purchase, auto salons, garages, car repair and maintenance services and specialists.
Keep a primary contact with your potential client – base and be "searchable" for the new ones simultaneously with the help of Fix IT as one of the most practical auto WordPress themes.
The theme's arsenal includes easy to use and customize framework, gallery, contact form and captcha included, handy Google fonts and icons packs, about us section to present all your handymen and specialists, etc.
In case you want to run an online car shop to sell oils, wheels and other spare parts, all you need to do is to add WooCommerce plugin and enjoy a whole e – commercial system at your disposal.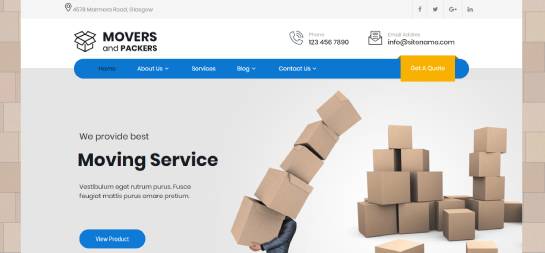 Movers and Packers Pro can host a wide variety of topics, including towing, moving and packaging, delivery, transportation and logistics.
This website building ecosystem is well – trained about all the hustle and bustle any car – based business can every have in relation to its website or blog.
Polished and pliable, Movers and Packers Pro celebrates maximal flexibility with minimal drawbacks. Based on the modern and persistent coding, your content based on this theme is well – aware of how to respond to any resolution or mobile screen size.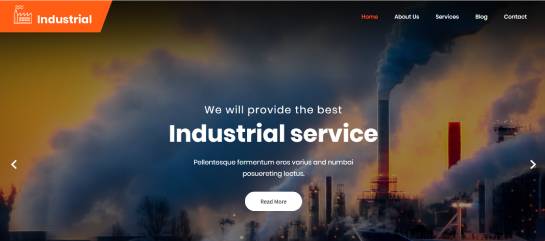 Although SKT Industrial is multi – purpose at its true nature and experience, it can be fairly included in our collection of auto WordPress themes.
This theme highlights a bulk of advantages and admin – friendly controls to make the most out of your website. It comes with elegant look and feel, as well as nicely – formatted layout with presentable areas and sections.
It is also unparalleled in safety and durability and thus will make all your mobile and desktop users happy and satisfied.
Unlimited color combinations can be created and practiced by the website admin, typography can be controlled, as well as homepage slider can be armed by high –resolution images.
Running a car dealership is no joke; apart from having to be on your toes all the time and to get your inventories done each day and in fact more than once each day, you may as well take your vacation, stretched out across the rack.
That's why, irrespective of whether you are a small dealership or part of a larger conglomerate, you would need to set up a website, using one of our auto WordPress themes; these themes come loaded with easy to use functionality that would enable you to streamline your marketing and sales and even enable your staff to focus on selling your wares to your customers.
Transportation has made it possible for our global community to become more enmeshed and interconnected to the point that you can now travel long distances within a short amount of time.
And the car is no longer just a status symbol but a key functional element of any household. Given this, you would naturally want to streamline your auto business and some of our auto WordPress themes can just make that happen.
Since you are auto dealer or an automotive specialist, then you already know how intensive the competition is which is why you need to do all you can to retain the edge.
That means having an online presence, but more importantly, one that functions seamlessly thanks to the various auto WordPress themes.
Just check some of our themes; here's what you need to make your website stand out for all the right reasons.
You need a auto WordPress theme that comes loaded with a good inventory management system that allows you to track any vehicle in the warehouse within seconds along with a customizable inventory search feature as well as a loan calculator.
The last is more pertinent since various customers would want to check out the loan terms and the amount they would be required to pay each month.
The theme should be easy to use and must allow for integrate various social media platforms that enables you to stay connected with your audience.
Setting up a website using one of the auto WordPress themes should only take a matter of minutes; you may want to demo the themes out and choose one that looks to be a good fit Just keep in mind that a good website is only as interesting as the content so make sure that your website features the latest information about your products and that your customers can easily locate the information they were searching for.
Whether you choose one of our auto WordPress themes or choose to custom build your own, the website should serve its key function without a hitch.
In simple terms, it should help make your life easier and if it is not doing that, then you need to tweak that design, choose a theme that makes it easy for you to micromanage everything.
So the next time you choose an auto WordPress theme, demo it out and choose the one that's perfect for you and your website.