This time we have taken the trouble of bringing the best gas company WordPress themes under one hood.
They can be freely used for gas and oil, petroleum and naphtha companies, oil gas and petroleum stations, gas extraction and processing companies, gas generation plants, hydroelectric power plants and other relevant businesses and undertakings.
Petroleum industry includes as many branches and components, working directions and marketing strategies in the form of global processes as it is hard to enumerate.
While being one of the profitable and major industries at present, this petroleum or oil industry comes as a unity of wide range of subsequent processes, from exploration, processing, extraction, refining, moving and transportation to the production of chemical merchandise, sale and more.
No matter which branch or sphere of this huge commune you are in, making your respective business or services, products or gas station popular in the global networking market can do lots of favors to you.
The best gas company WordPress themes to be found in this article are designated as valuable components of any future niche specific website or blog catering to oil and gas spectrum and its subdivisions.
You will certainly get what you pay for since every single part and portion of these templates have gone through profound testing and updates to be error free in exploitation.
Our themes also offer the easiest way to update the best version of your site and keep it valid over the time, each of these gas company WordPress themes will take the responsibility of growing your business with a pixel perfect online presence.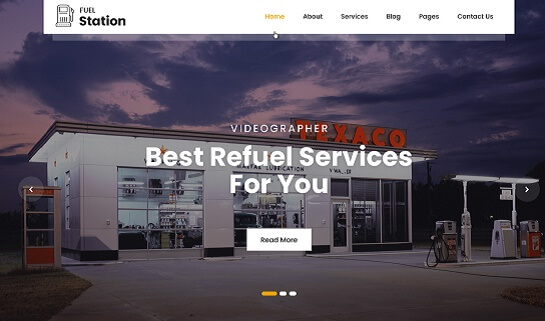 Fuel Station by SKT Themes is the perfect oil and gas company WordPress theme. Fuel Station theme can be used for oil stations, service centers, autogas stations, charging stations, power generation plants, gas pump stations, local gas stations, and oil retail service station websites.
Using this theme you can offer your gas or oil-related services such as premium gasoline, petrol station, process oils, fuel/credit cards, and so on. WP Google Map can be integrated beautifully to feature an oil station locator in the contact form.
To give incredible look to your website the theme comes with a service and a slider section with a special hovering effect. the full image sliding section can be used to explain the facilities provided by your theme, explain your services, and work in detail.
However, you can stay connected with your customers with the blog and contact form 7 integration.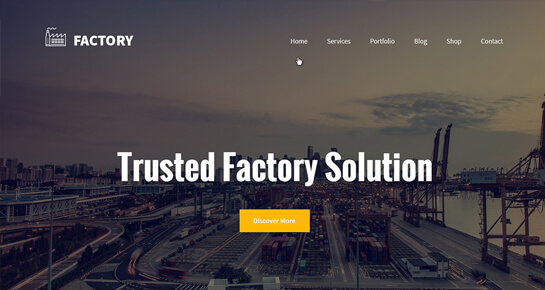 Factory Pro has been nurtured by the utmost care of the most seasoned web designers and developers. As a result, it turns to be one of the 5 stars ranked gas company WordPress themes checked and loved by dozens of gas company or station managers, specialists, private contractors and more.
The overall appearance of Factory Pro is kept balanced and serious to exude the most professional look. But if you prefer to add some more colors and flushes to it, you are privileged to do so.
Other parts and visual traits can also be altered accordingly matching your needs and business objectives, such as Google Fonts which are present throughout your website, their sizes and colors, pre installed templates, page and post layouts, etc.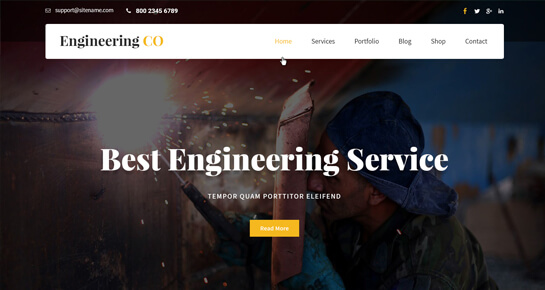 Engineering Pro is the next firm and solid template ready to take your gas and oil related website to the best exposure in the digital platform.
Engineering Pro can be a fantastic and practical solution for your clients to save their time and manage their gas supply or order your services from the comfort of their homes.
With this responsive and mobile friendly template you will definitely have a far larger reach to your prospective clients and leads than any other form of advertising or marketing.
The SEO and SMO compatibility nature together with user friendly interface of the theme will do a great job in bringing the right traffic to your website from search engine inquiries and popular social media networks.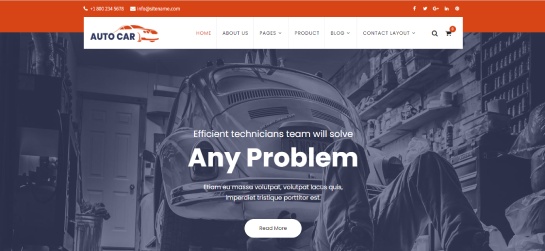 Auto Car is essentially automotive and vehicle related template and hence can be effectively used for gas and oil industries to manage their petroleum transportation, gas tankers and pipelines related services online.
Increasing your business access and visibility in all the possible ways is a major key to better results in the future and more return on your initial investment.
In this relation, Auto Car has been made to share enough potential and flexibility to work with all the practical platforms, additional commercial tools and SEO plugins to make your gas station, products or services more demanded.
From a more technical perspective, this template includes preloaded packs of icons, fonts, shortcodes and call to actions, homepage controllable slider for sharing your visual materials,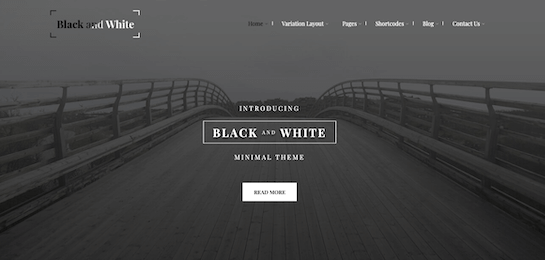 By the application of one of the most admin optimized and simple gas company WordPress themes in the form of Black and White, you can gather your audience from search engines, social media platforms and other networks around your profile and fulfill all their needs and inquiries.
Black and White is available at a low cost and guarantees you that you are going to spend an exact amount of money on the establishment of your professional website and its future transformation as per your requirements.
It means that Black and Pro is never susceptible to such occurrences that can force you to hire professional designers or developers which would certainly blow out your website preparation and maintenance costs.
Everything can be easily controlled from the backend of the theme with a customizer-based platform and tons of customization options. You will find a guide to customizing the WordPress Dashboard.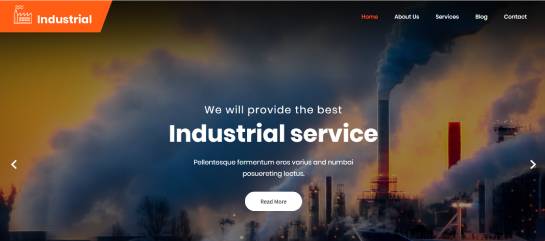 The next great medium among gas company WordPress themes on which you can display your business and keep a large audience informed about your ongoing work and novelties is called SKT Industrial.
From mapping your locations and sharing them with web viewers to inserting all your services and products into accurately deployed sections and areas, from showing off the best of your images on the homepage slider to running an online storefront for commercial purposes, everything is possible with SKT Industrial.
While being a full color and font management template with Social Media Icons and shortcodes integration, SKT Industrial enables you to make your content translated into multiple languages when paired with additional translation plugins.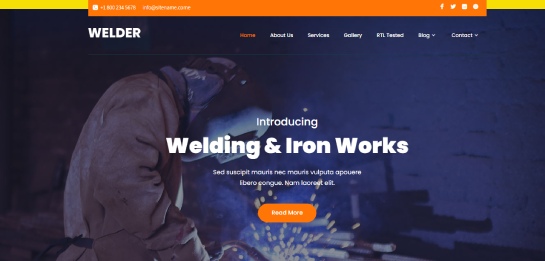 Provide your gas company's credibility and expertise through Welder. This template will win your attention thanks to its business looking appearance and advanced operational framework offered as a homogeneous unity one supporting another.
On the whole, Welder's a well formulated mechanism with powerful shortcodes base to make your life easier with coding technics, out of box page and post layout controls, standard pages inclusion like 404, search, blog and more.
Prebuilt team area is a great way to discover your staff and team representative's profiles, as well as gallery section for visualizing your works and services with HD photos. However, WordPress Image Gallery plugin is supported too.