We at SKT Themes are energized to share fun WordPress themes with you to turn any kind of website building, development and maintenance as easy and joyful as it can be imaginable.
The usability and quantifiable results of your upcoming online presence in the scale of a website or blog greatly depend on the admin and developer – related part of the theme that is running at the website's core.
And in case you want to be an absolute master of your website feel, performance, security and error – free updates at any stage of its creation and development, you have to spare no efforts to come up with a flexible and resourceful template, full – fledged and tailor – made to process developer – friendly environment to be stunningly controllable right from the backend of the theme.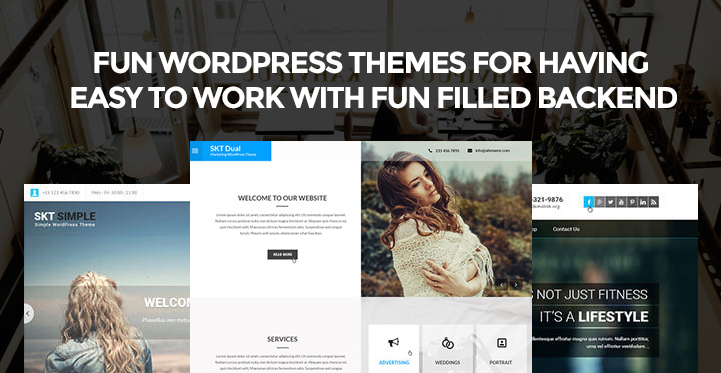 You'll be excited to find the most dependable and admin – driven fun WordPress themes in this article. All of them are perfectly suited to any non – professional usage and intervention and can be easily brought under total control and surveillance.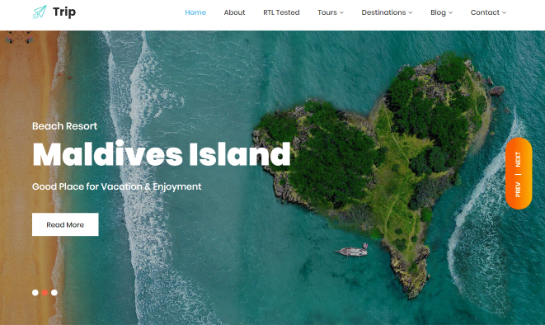 Customize and refresh your website of any caliber behind the scene to the maximum effect imaginable with the WordPress – based template called The Trip.
This extravagant and lavish, visually radiant and evoking template is particularly suitable for any travel industry representation to get in touch with millions of people around the globe in a matter of seconds and unites bright visualization and advanced technology for cutting – edge operational frame.
This website builder that is clearly coded to meet all the demands of the contemporary virtual world and high – speed digital connections is also fun – packaged with easy to use backend and admin panel for any kind of customization, extension or enhancement.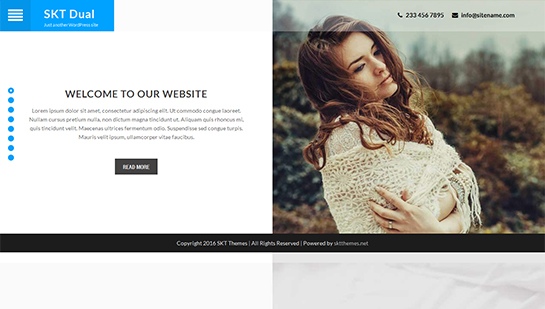 By being perfectly versed in HTML5 and CSS3 coding languages and based on a durable foundation for unbeatable results, SKT Dual is the first example of totally exercisable fun WordPress themes available for now in the WordPress theme repository.
Structural changes, content management and publication, security control of your whole digital existence and much more will be seamlessly accessible and simple to manipulate by the application of this fantastic template.
This responsive and plugin compatible theme based on the modern Customizer for real – time changes is equipped with all the primary features and touches to take your hobby or preference to serious undertaking or business.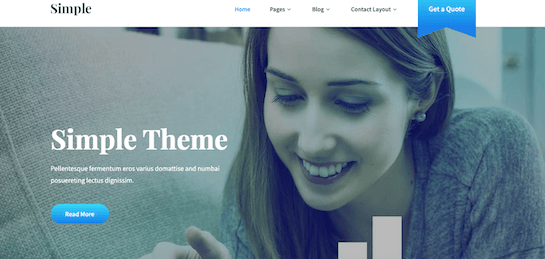 With fine – tuned and guaranteed easy web developer and admin experience, Simple is an irresistible ecosystem with a plenty of preloaded options, elements and controls that are worth trying.
With this theme anyone will soon discover how easiness and precision in the website backend part and admin dashboard can be highly decisive of groundbreaking success of the website.
Equalized between clearness and flexibility, facility, yet ultimate sophistication, this amazingly stable, safe and sound toolbox coded to render minimalistic, yet responsive and cross – browser, e–commerce – ready and plugin – compliant design requires only one – time investment to be done while purchasing the theme at an affordable price, since all the upcoming modifications and variations of the theme are going to succeed without hiring any professionals.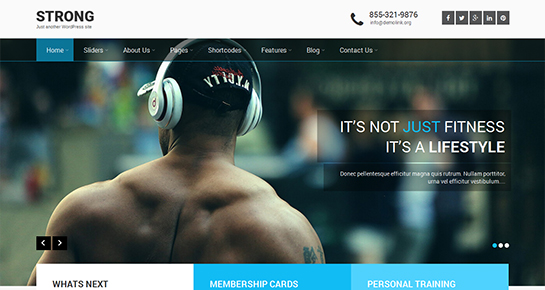 Once you have handed over Strong Pro as another paradigm among the strongly advisable fun WordPress themes, be sure you are put ahead of the game.
It is another useful way of managing every single aspect and manifestation of the theme with the minimum efforts right from the custom web admin interface that is less chaotic and bewildering, as well as readily responsive, giving every website developer, programmer or admin every chance to be in the focus of alterations and updates.
This crossfit and gym – friendly, easy to understand and use product also features tons of prebuilt forms to be activated and referred to for stylizing the website as per your needs and business visions, translation – readiness to have all the content translated for target nationalities and language bearers, device and mobile – optimized web design for all the portable device users, etc.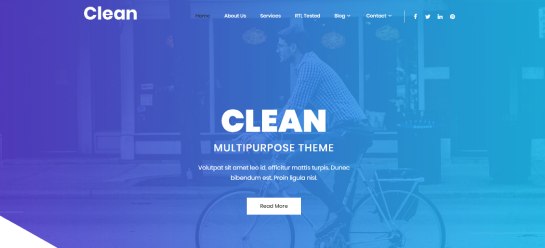 Another clearly – coded and seriously – thought out, top – class WordPress – powered template authored by SKT Themes is Clean Pro. This is another useful and practical template to play with joy and experience steady growth in the relevant field of your activities.
Strong and secure, yet easy to work with backend of the theme provides the dynamic nature of Clean Pro with its respective database, as, in all probability, any website based on the theme is going to undergo lots of changes and updates.
Furthermore, modern and inviting visual appearance of the theme, interesting graphics and typology, full – width homepage slider with the exclusive pieces of images will welcome every single website visitor with geniality.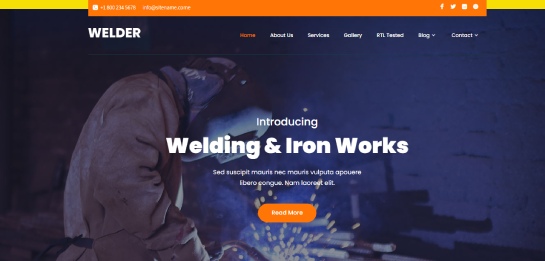 Armed with admin – panel refurbished with significant options and functions, Welder proves itself as one more dependable and perspective form of fun WordPress themes.
Apart from being well – designed and polished, the backend of the theme is easy and intuitive as well to free any developer from additional burdens while working with any online project.
This welding, craftsman and repair WordPress template has passed all the tests for high – end responsive functionality with its neatly – shaped mobile version, fast and effectual content setup advantages in relation to prebuilt shortcodes, robust and reliable HTML5 and CSS3 coding, etc.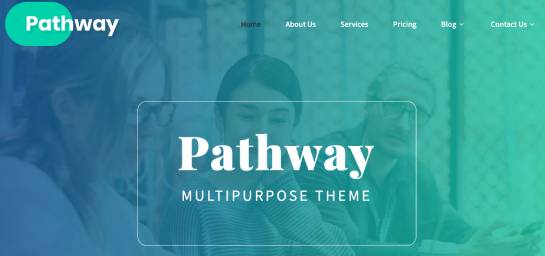 Based on do – it – yourself philosophy and coding combinations, SKT Pathway Pro as another easy to work with fun – filled backend WordPress theme will indeed own any runway up to the specified destination, where global recognition of your digital identity is waiting for you.
Use the incontestable intelligence of the awesome backend construction of the theme in order to support any kind of front – end services and undertakings to be visible for any website viewer and visitor.
Let them dive into your pages and their content with ease and find whatever they are looking for both with desktop or mobile versions.