Ever wondered how are the websites evolving with the new trends? The concept of website and web design has evolved over the years resulting in high demands of Full Width WordPress themes. This is because of their excellent ability to mesmerize the audience.
Creative professionals, startups, and corporate are the major users of such themes. But why will a specific segment choose to create a full-screen WordPress themed website? Such industries are looking for out of the box options for a dynamic audience and they get exactly that.
Here is a compilation that covers a wide range of niches and can be directly used by expert and novice users.
The first option in this compilation is Full Screen Pro that happens to be popular across the globe for its responsiveness. It offers a multipurpose template and can be directly used for landscape, nature, architecture, gardening, photography, portfolio, etc.
You can easily set up to ten slides with all features under your control including pause time control and animation. Additionally, other popular slider plugins have also been tested and are fully compatible.
Best Full Width WordPress Themes
It also compatible with the Gutenberg editor and the page builder will enable making all kinds of changes as required. Changes can be tracked in real-time as the page templates are customizer based.
The templates are prebuilt with class with all necessary provisions of modifications for your convenience. Colors, fonts, and other layouts can be customized as required without compromising with the functionality.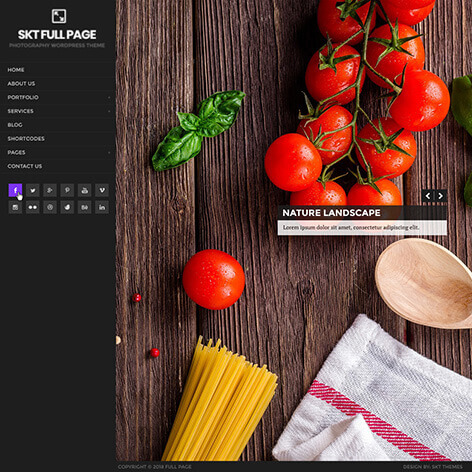 One of the prime reasons for selecting full width WordPress themes is that you can create a magnificent series of pictures. This enables users to mesmerize their audience and set up a fantastic digital web presence. Full Page Pro is one such amazing theme that is easy and simple to use along with being completely responsive.
The website can be tweaked easily for all kinds of modifications including fonts, style, color, background, and all other elements.
There are a bunch of inbuilt shortcodes to make things more convenient for you by offering 100+ functionalities. In addition to the full-width pattern, various page layout options and sidebar variations are made available.
All elements are customizable and the colors for all sections, backgrounds, and layout can also be changed. Moreover, it also offers full support for WooCommerce so that establishing an online store becomes super easy.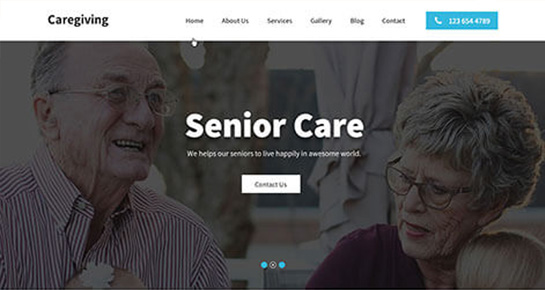 For creating a website that offers services for the senior citizens full width WordPress themes are the most preferred ones. Caregiving is one such amazing option that is modern and up to date with the latest trends.
If you are looking to make a site for the charity, old age home, medical, healthcare, and similar categories then select this.
You can proficiently work on the same and it is also easy to use. It comes with comprehensive documentation so that you can get step by step assistance in each process. It is completely dynamic which ensures that you can modify all elements and come up with a unique appearance.
In full-width, there are various sidebar options that enable delivering your digital space splendidly. Layouts and variations contribute to ensuring that you get the kind of final publication as required.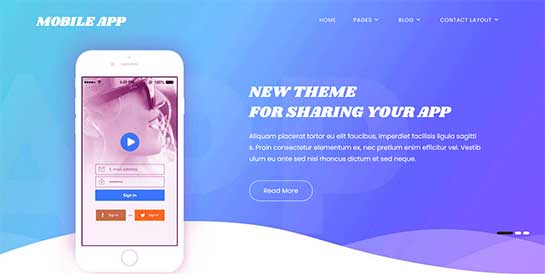 This is a unique and one of its kind themes that allows you to perfectly manage the content and create a website. You can easily get versed in it because it is easy to use. This can be your best call for designing sites related to an app landing page, software, android/iOS app, etc.
The notable part is that it comes with a customizable design that is not limited to any sections or templates. This helps it in being featured as a powerful option that can be used to serve multiple industries. By default pages like 404, archives, search and other common categories are provided for a standard look.
By default, shortcodes are offered to boost the functionality and further new shortcodes can also be included by plugins. In addition to compatibility with all kinds of browser types and screen types, it clings to various SEO standards.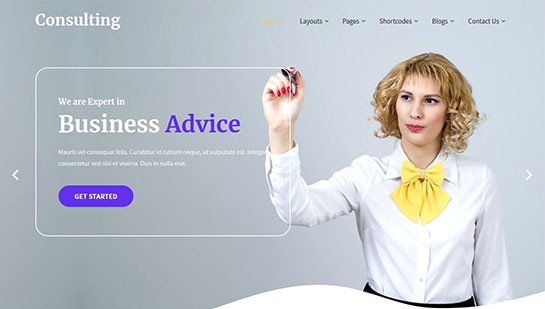 If you are looking for financial advisor full width WordPress themes then this is the most ideal choice. SKT Consulting Pro has served multiple industries relating to financial asset management, income tax, accountants, portfolio management, etc.
You can easily maintain the modern look on the homepage even after completing the required modifications.
Page builders will help in making all required changes as well as in creating new templates if needed. It also offers a slider by default that can be easily added and controlled.
It is compatible with Gutenberg Editor and with various other WordPress versions. For simplification and ease of use, the positioning of the sidebar is made flexible.
To create a stunning header style and set up the navigation you can select from four different types of offered layouts. Shortcodes for features like testimonials, gallery, team members, etc. are provided by default.
Delivering impeccable taste and customer service is important for any café or coffee shop. But, along with that, it also necessary to maintain an unmatchable and fully responsive digital space. Coffee Shop is an exclusive option that will help you in creating a full-screen website for your café.
In addition to being Google Mobile Friendly, it is also cross-browser and cross-device compatible. A default slider is offered that allows you to add up to ten slides with full control over animation and pause time.
You will also find an inbuilt gallery for showcasing the pictures of the dishes and features to create a pricing list. It is integrated with 650+ Google Fonts that makes the modification process simple.
Next in the compilation of full width WordPress themes is Simple. This is a super easy, responsive, and cross-browser compatible theme. Various options are loaded for use and 100+ shortcodes are also provided with instructions for use.
Additionally if required you can easily rely on plugins for adding other shortcodes as well. The overall design and working area are kept in bold white color which enriches the feel but still keeps it minimal. By default, you get access to the gallery and portfolio section along with the contact form feature.
Header images of the inner pages can also be changed as per the information that it contains.
It is fully documented for your better assistance and offers widgets for all areas across the theme. It is tested and coded as per the latest trends and standards which gives you a booming experience.
Using full width WordPress themes for a startup or a local business is trending today. This is because it helps businesses to clearly explain their products and justify their services to customers. Ele Business can help you all manners for creating a mesmerizing, dynamic, and responsive site for your business.
You can conveniently add all information to different types of content formats. Adding customer testimonial in a slider format and through a particular section is possible.
Detailed and required information regarding your services and product can be featured easily. Navigation has been kept to simple and the user-interface has been carefully designed.
Modifications, customizations, and molding of all the elements of the website are possible and quite easy. This ensures the brand identity of your organization is maintained and reflected in the digital space.
This is amongst the most professionally developed full width WordPress themes. It is responsive and can be used for the online presence of hospitals, psychology firms, medical, therapists, etc. The content, designing, and layout will be clearly visible irrespective of the screen type and the browser version.
To make your homepage unique from your competitors more than 5 sidebar layouts are given. All WordPress coding standards and necessary compliance have been maintained during the coding process.
You are also entitled to receive 12 months of customer support and comprehensive documentation that will help in the setup process.
For convenience in controlling the shades of colors, the color picker is available. Additionally, it is compatible with Cyrillic and Latin font sets.
When it comes to creating the entire website relying on the preference of the target audience then you need something special.
Play School is one such special multipurpose option that offers you unlimited possibilities. By default, it is an educational based theme that can be most suitable for universities, schools, and online/offline teaching.
But given its features and modification capabilities it can be used for other industries as well. All kinds of content types in the most elaborated and detailed manner can be published. You also have a choice for layout and sidebars so that customization can be unleashed.
It is tested with cache plugins and with various header variations. Additionally, you can also explore other types of sidebar and header & footer options. Color picker enables changing colors across all sections. It is RTL and multilingual tested.
Auto Car happens to be amongst the best full width WordPress themes for car dealers and industries related to it. Depending upon your target audience you can conveniently modify it to a minimal theme or a high graphics website. Functionalities and features are provided to assist your operations of adding other plugins.
Modification in layout, fonts, colors, and all sections are possible without any limitation. Page builder helps you in developing HD-ready templates with all required parameters.
It also offers full compatibility with WooCommerce so that you can make your presence felt offline as well as online. Full support from the developers will be provided along with a comprehensive set up documentation.
With the help of plugins, you can easily link all social media handles and improvise the user engagement of your website.
Fitness is extremely crucial to defeating the pandemics occurring across the globe. Hence, to make things simple, easy, and quick for your audience selecting from the full width WordPress themes will be the best decision. SKT Fitness Pro enables you to swiftly accommodate all the necessary content that requires featuring.
One can easily create websites related to gym, yoga, meditation, exercise, cycling, etc. If required you can also explore creating a minimal blog related to fitness with this theme.
All attributes relating to the modification and creation of new layouts are provided. Every element including the default page templates can be changed.
It is tested for compatibility with contact forms and gallery plugins which will add value to your content. Lastly, shortcodes are also provided by default which enables adding hundreds of features as required for your site.
Full width WordPress themes have evolved as a one-stop solution for all photographers and artists. It enables one to create a fascinating and dynamic website filled with photographs. Photo Session Pro is one such dynamic and powerful website that can be used for creating a portfolio, modeling site, artistic paintings, etc.
The best part is that all other elements like sidebar, widgets, sliders, header, footer, etc. can all be managed. This means that the entire layout is directly under your control and supervision.
The inbuilt templates are of supreme quality enabling direct use or a customized template can be created with the help of the page builder.
Additionally, you also have the feature of managing the opacity which can ensure that photographs are highlighted in their best versions.
The last in this compilation is cyber security which is an out of the box option. It is important to convey your trust, abilities, and potential to the clients in this niche. Hence, a full-screen theme enables you to creatively segment your service areas.
This helps in adding strong inputs, images, and related data for a better understanding. Moreover, all required plugins can be added so that all kinds of functionalities can be met as per the requirements. All elements of the service page, header slider, logo area, and all other segments can be modified in all aspects.
In addition to cross-browser and cross-device compatibility, social sharing integration is also possible. During visual scrolling, you can also set up animation effects. The complete setup is easy, documented, and does not consume more than five minutes.