In the fast-paced digital world, a visually appealing and functional website is essential for businesses, bloggers, and freelancers. WordPress has long been a favored platform due to its user-friendly interface and many customizable themes.
However, starting a new website with a new theme can be daunting, especially for those without advanced technical skills. This is where the concept of "One-Click Demo Import" comes to the rescue.
The advent of free WordPress themes with one-click demo import functionality has revolutionized the website creation process. From showcasing culinary delights to promoting eco-consciousness and wellness practices, these themes cater to various industries and interests. Let us look at some free one-click demo import WordPress themes that must be tried
Let's find out some themes relevant to this category:
Coffee Block Brewing Creativity into Your Website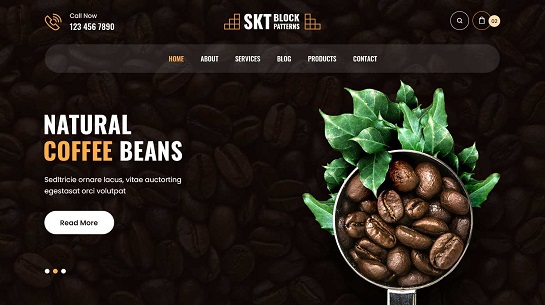 Coffee Block is a vibrant and engaging WordPress theme that caters to coffee shops, cafes, and creative bloggers. If you run a business that deals with coffee and beverages, it is one of the must-try free one-click demo import WordPress themes. Its one-click demo import functionality allows users to replicate the theme's demo content effortlessly, saving time and effort during setup.
Features:
Key features of the Coffee Block theme include:
Responsive Design: Coffee Block's layout adapts seamlessly to various screen sizes, ensuring your website looks stunning on any device.
Customization Options: Modify colors, fonts, and layouts to match your brand identity and preferences.
Integrated Plugins: The theme comes with essential plugins that enhance functionality and ease of use.
Blog Templates: Engage your audience with beautifully designed blog layouts to showcase your content effectively.
Image Galleries: Display your coffee creations or portfolio items using stylish image galleries.
SKT FSE Empowering Your Online Presence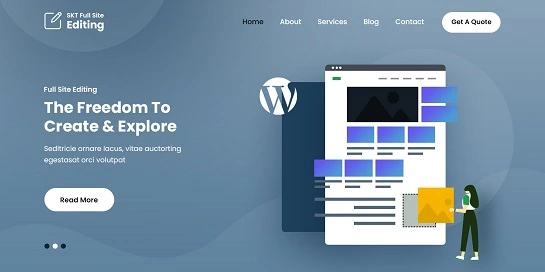 SKT FSE is a versatile free WordPress theme suitable for businesses, startups, and online portfolios. With its one-click demo import feature, setting up your website is a breeze. The SKT FSE theme is customizable. It lets you add or remove any page of your choice. Moreover, it helps you create an online store for your business. With SKT FSE, you can securely carry out financial transactions.
Features:
Key features of the SKT FSE theme include:
Frontend Editing: Experience real-time customization through the frontend editor, eliminating the need for backend coding.
Flexible Layouts: Choose from a range of layout options to create a unique and engaging website design.
Custom Widgets: Enhance your website's functionality with custom widgets for testimonials, services, and more.
eCommerce Compatibility: Integrate with popular eCommerce plugins to set up your online store effortlessly.
SKT Patterns Weaving Your Website's Story
SKT Patterns is a visually stunning WordPress theme that caters to creative professionals, artists, and storytellers. Its one-click demo import functionality streamlines the initial setup process. With this theme on your website, you can attract viewers and showcase your work effortlessly.
Features:
Key features of SKT Patterns include:
Unique Design: Stand out with a distinctive design that allows you to showcase your creative work elegantly.
Typography Options: Choose from a wide range of Google fonts and customize your website.
Portfolio Showcase: Display your portfolio items using various layouts and showcase your creative journey.
Social Media Integration: Effortlessly integrate your social media profiles to expand your online presence.
SKT Salon : Elevate Your Beauty Business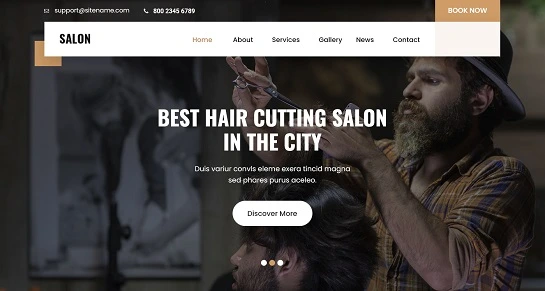 SKT Salon is a visually appealing WordPress theme designed for beauty salons, spas, and wellness centers. Its one-click demo import feature ensures a hassle-free setup.
You can effortlessly create a gallery to showcase your services. You can even create a testimonial page to highlight feedback from your happy customers.
Features:
Key features of the SKT Salon theme include:
Appointment Booking: Allow clients to schedule appointments online, enhancing convenience and accessibility.
Service Presentation: Showcase your range of services and treatments using dedicated service pages.
Price Lists: Display your service prices clearly to help clients make informed decisions.
Testimonials Section: Build trust by sharing client testimonials that highlight the quality of your services.
SKT Ayurveda: Embracing Holistic Wellness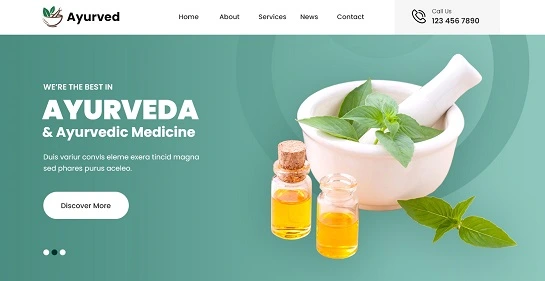 SKT Ayurveda is a holistic wellness-oriented WordPress theme suitable for ayurvedic centers, health retreats, and wellness blogs. Many healthcare-focused businesses are already using the theme to showcase their products and services.
This is one of the free one-click demo import WordPress themes you can use to create a health or yoga blog and attract viewers.
Features:
Key features of the SKT Ayurveda theme include:
Colorful Design: Reflect the vibrancy of holistic living through a visually appealing and soothing design.
Health Tips Blog: Share valuable insights into holistic well-being through an integrated blog section.
Service Details: Provide in-depth information about your Ayurvedic services, therapies, and treatments.
Booking Integration: Allow visitors to schedule appointments or consultations with ease.
SKT Insurance: Safeguarding Your Digital Presence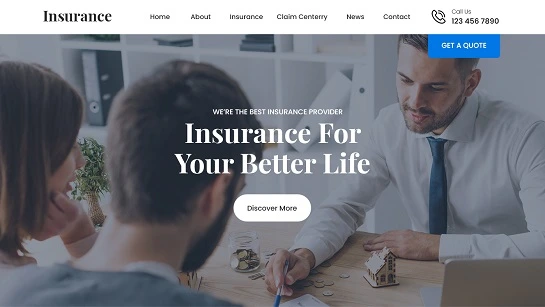 SKT Insurance is a professional WordPress theme tailored for insurance agencies, financial consultants, and risk management firms. The theme is customizable to meet the requirement of insurance companies. You can use the theme to showcase offers on insurance policies and get noticed online.
Features:
Key features of the SKT Insurance theme include:
Clear Call-to-Actions: Lead visitors to take action through strategically placed call-to-action buttons.
Insurance Services: Showcase various insurance offerings and policy options for easy comparison.
Client Resources: Provide informative resources, guides, and FAQs to assist potential clients.
Contact Forms: Integrate user-friendly contact forms to encourage inquiries and communication.
SKT UI UX: Navigating the Digital Landscape with Ease
In the ever-evolving digital landscape, user experience (UX) and user interface (UI) play pivotal roles in ensuring a seamless interaction between users and websites.
SKT UI UX, a WordPress theme that enhances digital experiences, is easy to set up. You can use the theme to create a stunning-looking website without taking any professional help.
Features:
Key features of the SKT UI UX theme include:
Intuitive Navigation: Create user-friendly navigation menus and layouts that guide visitors effortlessly.
Responsive Design: Ensure smooth functionality impeccably across various devices and screen sizes.
Typography Choices: Select from various fonts to convey the right tone and personality for your brand.
Interactive Elements: Implement interactive elements, such as animations and hover effects, to engage users.
Content Hierarchy: Arrange content strategically to prioritize important information and guide users' attention.
SKT Skin Care: Unveil Your Radiance Online
For businesses in the beauty and skincare industry, presenting an appealing and informative online presence is crucial. The SKT Skin Care is a free one-click demo import WordPress theme best suitable for skincare clinics, beauty products, and wellness blogs. The theme lets you add galleries, blogs, and a lot more to attract customers.
Features:
Key features of the SKT Skin Care theme include:
Visual Elegance: Reflect the essence of skin care through a visually stunning and elegant design.
Product Showcase: Display skincare products attractively with dedicated product pages and galleries.
Beauty Tips Blog: Share skincare tips, advice, and tutorials through an integrated blog section.
Appointment Booking: Allow clients to schedule skincare treatments or consultations seamlessly.
SKT Sandwich: Crafting Digital Delicacies
SKT Sandwich, a delectable WordPress theme ideal for restaurants, cafes, and food bloggers, brings the art of food presentation online. Attracting customers to food outlets online is not easy.
But with SKT Sandwich, you can easily showcase eating space, pictures of customers enjoying food at your restaurant, and highlight any upcoming event. The theme is one of the best free one-click demo import WordPress themes that are a must to try for a food-related business.
Features:
Key features of the SKT Sandwich theme include:
Visual Appetite: Showcase culinary delights through enticing images and carefully crafted layouts.
Menu Presentation: Display your menu offerings in an organized and visually appealing manner.
Recipe Sharing: Engage food enthusiasts by sharing your unique recipes through dedicated sections.
Online Reservations: Customers can reserve tables or place food orders online for a convenient dining experience.
SKT Plants: Cultivating Your Online Garden
A captivating online presence is essential for nurseries, gardening enthusiasts, and landscape designers. SKT Plants is a WordPress theme designed for plant-related businesses and blogs.
These days, people are concerned about environmental preservation. With the SKT plant theme, you can attract more customers and attract more people to embrace and care for nature and the environment around us.
Features:
Key features of the SKT Plants theme include:
Green Aesthetics: Infuse the beauty of nature into your website with a nature-inspired design palette.
Plant Catalog: Display a diverse range of plants with detailed descriptions, care tips, and pricing.
Gardening Blog: Share gardening insights, tips, and stories through an integrated blog section.
Contact Integration: Provide easy access for visitors to inquire about plant availability and services.
SKT Resort: Online Way to Tranquil Getaways
SKT Resort, a WordPress theme tailored for hotels, resorts, and vacation rentals, transports the serenity of hospitality online. This is one of the must-try free one-click demo import WordPress themes for the tourism industry. The theme can help you create a virtual presence of your hotel online and attract new customers.
Features:
Key features of the SKT Resort theme include:
Visual Retreat: Create a captivating online ambiance that mirrors the tranquility of your physical resort.
Room Showcase: Display room options, amenities, and pricing for potential guests' convenience.
Booking System: Allow visitors to check availability and make reservations directly from your website.
Attractions Highlight: Showcase nearby attractions, activities, and experiences to entice potential guests.
SKT Karate: Unleash Your Martial Arts Journey
For martial arts studios, trainers, and enthusiasts, conveying the essence of discipline and strength is paramount in their online presence. SKT Karate, a WordPress theme dedicated to martial arts and fitness, allows you to create an eye-catching website with one click.
Features:
Key features of the SKT Karate theme include:
Dynamic Design: Reflect the energy and discipline of martial arts through a visually dynamic design.
Class Information: Display class schedules, training programs, and instructor profiles for easy access.
Gallery Showcase: Share images and videos of training sessions, competitions, and achievements.
Membership Options: Offer membership packages and registration forms for interested participants.
SKT Ecology: Nurturing Green Ideas Online
Promoting environmental consciousness and sustainable practices requires an engaging online platform. SKT Ecology, a WordPress theme, is aimed at eco-friendly businesses, conservation organizations, and green bloggers. It is easy to set up and has a green theme to attract nature lovers.
Features:
Key features of the SKT Ecology theme include:
Nature-Inspired Design: Embrace the beauty of the natural world through an earthy and eco-friendly design.
Causes Highlight: Showcase your environmental initiatives, projects, and conservation efforts.
Educational Content: Share informative articles, guides, and resources related to sustainability.
Donation Integration: Facilitate online donations and contributions to support your eco-friendly endeavors.
Palm Healing Lite, a free WordPress theme catering to holistic wellness centers, alternative therapy practices, and mindfulness blogs, brings the concept of healing online. With its one-click demo import feature, setting up your healing-oriented website becomes effortless.
Features:
Key features of the Palm Healing Lite theme include:
Soothing Design: Reflect the tranquility and healing essence through a calm, serene design.
Service Offerings: Present your range of holistic therapies, services, and wellness workshops.
Testimonials Showcase: Share client success stories and testimonials to build credibility.
Appointment Booking: Allow visitors to schedule healing sessions or consultations seamlessly.
SKT Generic: A Versatile Canvas for Creativity
SKT Generic is a versatile and multipurpose WordPress theme that is a blank canvas for various industries, blogs, and personal projects. Any business can use this theme in any industry. It is fully customizable and attractive to the eyes.
Features:
Key features of the SKT Generic theme include:
Customization Flexibility: Tailor the theme to your unique style with extensive customization options.
Content Modules: Choose from a range of content modules to display your information creatively.
Integration Possibilities: Seamlessly integrate with popular plugins to enhance functionality.
User-Friendly Interface: Enjoy a user-friendly experience while crafting your website masterpiece.
Conclusion
In the modern digital landscape, creating a captivating and functional website is essential for businesses and bloggers seeking to establish an online presence.
By simplifying the setup process and offering a multitude of features, these free one-click demo import WordPress themes enable individuals and businesses to focus on what truly matters: delivering exceptional content and services to their audiences.
So, whether you're a martial arts studio, a beauty salon, an eco-warrior, or a holistic healer, these themes are your key to unlocking a seamless and engaging online journey.