SKT Ecology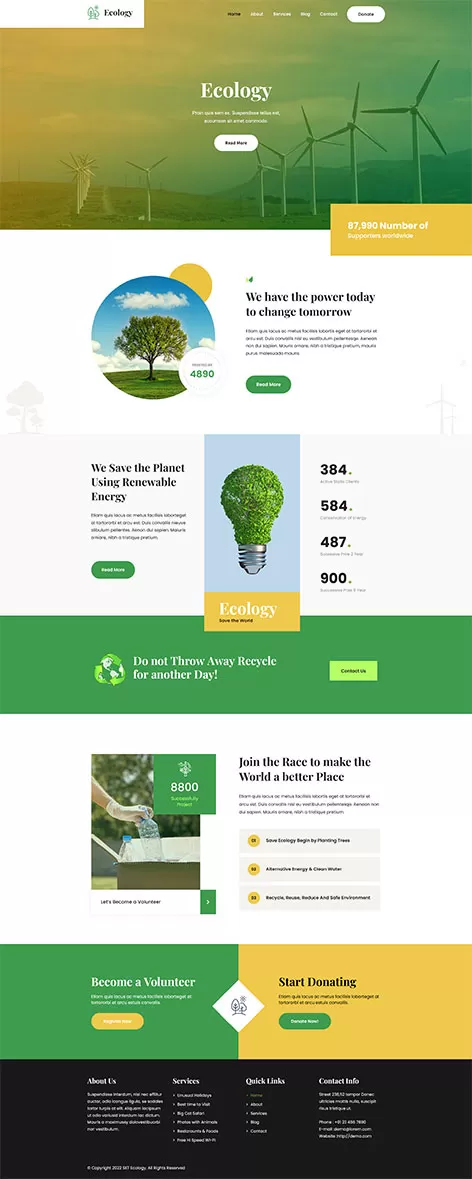 Free
Demo
360+ Themes for $69
Comparison
Free Theme
Less homepage sections
No inner pages
No Support
No Typography Options
No Icon Options
No Header Layouts
No footer Layouts
Less plugins compatible
Less updates
Less flexibility
More Time for Website Build
Features of free ecology WordPress theme
This theme is ideal for eco-friendly services, non-profit organizations, recycling websites, waste management services, cleaning services, green businesses, etc.
It has a minimalistic design built with compressed coding on Elementor.
This theme has a color combination of yellow and green, resembling the environment.
The logo of this theme is changeable.
This theme offers 4 different layout options for the header menu.
This theme includes the WPML features for language translation.
This theme is multi-paged.
You will get the option to customize widgets with this theme.
This theme comes with well-described documentation for its users.
This theme is CDN and Jetpack supported.
SKT Ecology Lite theme is compatible with WP Hosting.
The latest version of WordPress is perfectly compatible with this theme.
This theme is RTL-ready.
Multiple social icons are included in this theme for publicity of your website.
Are you looking for an eco-friendly theme for your ecological and sustainable business? Then, look no further than the SKT Ecology Lite theme. This theme is the best free ecology WordPress theme for any eco-friendly website.
This free WordPress theme is the ideal fit for any website concerning environmental niches. Green businesses, reusable organic food websites, environment-friendly non-profit organizations, waste management and cleaning service providers, and all other websites emphasizing recycling and conserving the environment can utilize this theme.
You will find plenty of ecological themes on the internet, but the SKT Ecology Lite theme, with its efficient functionality, proves to be the leading choice for any eco-friendly website.
Moreover, developing an eco-friendly service-based website prevents you from spending a lot of money, and this can be further reduced with the use of the right theme for your website.
The SKT Ecology Lite theme is a free WordPress theme that will help you design your website in a professional outlook free of cost. All you have to do is to install this theme without spending a single penny. Thereafter, your free ecology WordPress theme is ready to function.
Even if you are a neophyte or intermediate user, you will not require professional assistance for operating this theme. Developed using the Elementor page builder, this theme is easy to use, uncomplicated, and does not require any technical skills.
SKT Ecology Lite theme comes with a compressed coding to ensure less usage of power and fast loading. Less usage of power helps in the conservation of power, making this theme eco-friendly, certainly.
This theme has a color combination of green and yellow. These colors signify the colors of the environment, and hence, the color combination is done accordingly. This eco-friendly color duo will help your website to create a strong bond with your audience.
Apart from this, you will also get a variety of elegant colors to choose from. This theme comes with a fast-loading font and some beautiful backgrounds to draw the attention of the audience.
The SKT Ecology Lite theme has a very minimalist, elegant look with an effective user interface. The effective, user-friendly interface will make it easier for you to work with this theme, eliminating all sorts of problems.
This free theme will display the slogan of your website on the homepage of your website. A CTA button such as 'read more', 'know more', etc., would be adjoined with the slogan. Clicking on the slogan will direct your audience to the actual page right away.
From there, your audience can check out the other sections and categories of your webpage.
Besides the CTA button, the homepage consists of Mega menu, Sticky menu, Sidebar widgets, White Label. All these extensive features included in the homepage make this free ecology WordPress theme highly functional.
SKT Ecology Lite theme is widget-friendly. So, you can customize all the widgets of the homepage. All your contact details, location, and other information can be displayed through the customized widgets.
The position of the logo is alterable, and this theme comes along with 4 different types of header layout options. You can personalize this theme just as you like.
Thereafter, you can even include all your team member details, client testimonials, the active status of your clients, your major accomplishments, and a lot more. You can display all this important information, thanks to the SKT Ecology Lite theme.
The animation effects offered by this theme are simple and smooth. Complicated animation effects are not present in the SKT Ecology Lite theme. This free WordPress theme has no scope for any unnecessary detailing, which makes this theme strictly simple and effective.
This theme is multilingual and supports the feature of WPML. WPML contributes to the easy translation of the website to other languages.
Besides, the SKT Ecology Lite theme is also RTL-compliant and comprises support of one year.
This HD quality theme is even retina-ready, making it more efficient. This free ecology WordPress theme also comes with the feature of both Search Engine Optimization and Speed Engine Optimization.
Both these features are vital. The Speed Engine Optimization will boost the loading speed of the website. Slow loading makes the viewers withdraw from the website by losing patience. Hence, a fast and smooth loading website is highly appreciated.
The Search Engine Optimization feature is significant too. This will increase your website ranking greater on the Google search engine so that your website receives a huge amount of traffic online. The boost in traffic will increase your website conversion rates incredibly.
The mobile-friendly nature of this theme makes it run smoothly on mobile phones. If you want to operate this theme from your mobile phone, you can do that without facing any hurdle at all.
This WordPress theme is compatible with various plugins. Booking Plugins, Security Plugins, Popup Plugins, Testimonial plugins, Appointment plugins, and WooCommerce plugin are all perfectly compatible with the SKT Ecology Lite theme.
If your website is associated with any kind of online money transaction, WooCommerce compatibility of this theme will come to aid.
This theme even supports CDN and Jetpack and comes with copyright-free images. So, you do not have to worry about any copyright claim while working with this theme. Overall, this free ecology WordPress theme is the best option to go for any environmentally concerned website.
Also Included with free ecology WordPress theme
Theme FilesTheme files are included in the zip you get when downloaded
SupportYou can email us for support of this theme
Change Log
Updated November 2023
Working With Latest WordPress Version
Updated Google fonts for GDPR and Other Country Privacy
Updated to work with PHP 8+
Updated to work with at least one page builder (Elementor, Gutenberg or SKT Builder)
Compatible with popular plugins of SEO, contact form and WooCommerce
Updated performance to work with popular cache plugins and Cloudflare