SKT Karate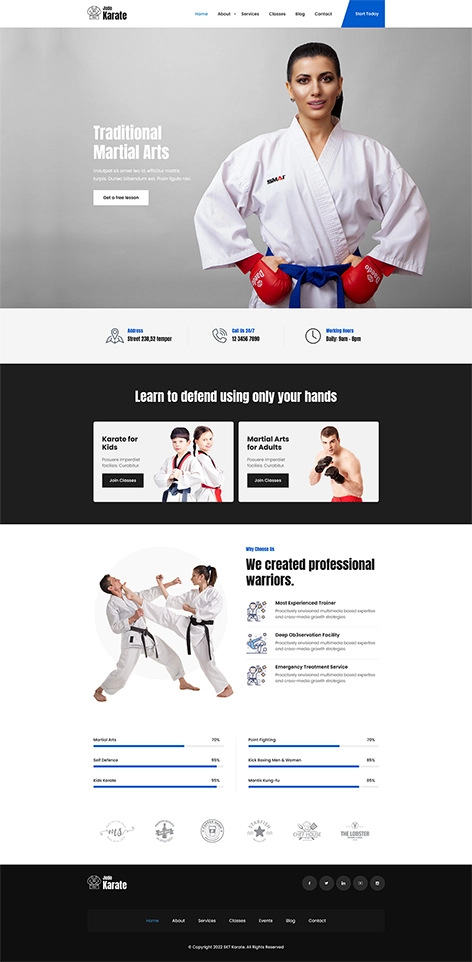 Free
Demo
360+ Themes for $69
Comparison
Free Theme
Less homepage sections
No inner pages
No Support
No Typography Options
No Icon Options
No Header Layouts
No footer Layouts
Less plugins compatible
Less updates
Less flexibility
More Time for Website Build
Features of free taekwondo WordPress theme
The SKT Karate WordPress theme is apt for Martial arts and karate arts school, karate coaches, self-defense teachers, and other related sports websites.
The pre-build demo content and the Elementor page builder enhance the utility of this Free Taekwondo WordPress Theme.
Without any hassle, every template can be installed.
The calculator plugins that come with the theme help calculate the classes' price or the coaching fees.
It is HD ready and thus looks amazing in every browser and device.
As the theme is retina-ready, the images look very sharp.
The WordPress theme comes with 1300+ Google fonts.
A dashboard option has been incorporated so that the accessibility of the website is boosted.
The control panel comes to use to solve the problems associated with the customization of website templates.
The WordPress theme is compatible with Gutenberg.
Other plugins like WPML, Yoast SEO, contact form 7, and WooCommerce are compatible with the SKT karate WordPress theme.
It comes with 4 unique and modern style website templates.
The Elementor page builder facilitates customization, making a website very overwhelming and appealing.
The Karate WordPress theme is completely SMO and SEO friendly.
Dynamic features have been used to create web pages and homepage.
Every CTA and button are directed to the original page, and the CTA's text can be changed.
Every page, including the blog pages, services page, about us page, project page, and homepage, are beautifully created.
Any icon can be added, having animation effects.
The animations provided are based on CSS3.
Both the technical and non-technical users can make use of this WordPress theme.
Correct links and icons are provided to the needful area to make the UI easy.
More icons can be included in social media, sidebars, footer and header area, and contact details.
Nivo Slider has been integrated to give an enhanced look.
With the help of translation and multilingual plugins, the SKT Karate WordPress theme can be put to use in multiple languages.
It is Google-friendly; it will get crawled by Google efficiently and easily.
This is an SEO-friendly Free Taekwondo WordPress Theme.
Documentation is available with correct text and image highlights for better understanding.
The 5-level drop-down menu option is available.
Boxed and full website layouts are compatible with this WordPress theme.
The color picker option is available, and the color of almost any element can be changed.
It is cross-browser compatible and supports a wide range of renowned browsers.
Every business out there needs a professional website to boost visibility. You may almost own any website based on your website. But it would be best if you made sure that the theme you choose for your website allows you to stand out from the crowd.
You will find a lot of businesses offering the same services and products. But not all of them are witnessing the maximum sales. So, what makes a website different is its online visibility.
If you are running a martial arts or self-defense school or a martial arts teacher or coach, this Free Taekwondo WordPress Theme from SKT Themes is just what you need to boost your business to unimaginable heights. It will allow maximum people to connect to your business at ease.
This exciting and clean theme allows you to boast about the services you offer with superb quality images and exotic colors. Moreover, the theme is compatible with the booking plugins like Bookings, Ultra booking pro, WooCommerce bookings, etc. This allows the students or the learners to book your classes directly online.
With this theme, you can also sell products that are associated with karate or self-defense like a nunchaku, karate uniforms, belts, punching bag, boxing mats, bags, safety kits, and others. It is a multipurpose theme and has everything you need to make your dream business thrive.
The SKT Karate WordPress theme is created with professionalism so that your website looks appealing to visitors or your target audience. You can easily install it without any need for assistance from experts. Every feature of this theme can be accessed by yourself at ease.
For making your business website look attractive, almost every remarkable feature has been incorporated with this Free Taekwondo WordPress Theme. It is easy-to-use and is the perfect solution for karate schools to drive more students and visitors. Being a very basic theme, it can be personalized at ease.
The homepage that comes with this WordPress theme is elegant and attractive, and it introduces you to a CTA button so that the customers can find you by making a single click. Furthermore, the homepage, along with every element present on it, can be customized in the way you wish to attract more website visitors.
In-depth coding has been done for creating this free website theme. So, within a few minutes, the entire website can be customized. In addition, an importer demo content is available with the theme so that you can operate your site seamlessly. The best part about the Karate WordPress theme is that it offers you separate spaces for showing your contact information, fees, charges, facilities, videos, images, and other necessary things.
This Karate WordPress theme is 100% compatible with the WooCommerce plugin, which facilitates cashless payments and transactions. This compatibility allows your students or learners to book an appointment with you right from the comfort of their homes anytime. Even they can book classes online.
Besides, WooCommerce compatibility makes money transactions a breeze. With this free martial arts-based WordPress theme, you can enjoy money transactions almost instantly. The theme is also compatible with plugins and NewsLetter, and MailChimp. You can be aware of your customers with the latest facts like openings, offers, discounts, course fees, new facilities, and more through emails.
With this SKT Free Taekwondo WordPress Theme, you get every feature, making it the best weapon for overpowering your competitors and seamlessly thriving in the market. So, if you are planning to open a new karate school or if you already own one, the SKT Karate WordPress theme will allow you to do so seamlessly.
This template is made for taekwondo, karate, fitness, boxing, kung fu and other types of martial arts and MMA style websites. It can be used for coaching and self defence classes.
Also Included with free taekwondo WordPress theme
Theme FilesTheme files are included in the zip you get when downloaded
SupportYou can email us for support of this theme
Change Log
Updated November 2023
Working With Latest WordPress Version
Updated Google fonts for GDPR and Other Country Privacy
Updated to work with PHP 8+
Updated to work with at least one page builder (Elementor, Gutenberg or SKT Builder)
Compatible with popular plugins of SEO, contact form and WooCommerce
Updated performance to work with popular cache plugins and Cloudflare