We have researched and sorted free fitness WordPress themes for you in this article.
A prominent method of connecting with the target audience is through the website.
Websites help your business in reaching out to the people of your surroundings and enlighten them about your services.
Today, fitness has become an important aspect for youths.
Gone are those times when individuals signed up to the gym and training centres which were geographically convenient for them.
With an increase in technology and facilities, people today intend to review, analyze, and research about a facility before signing up.
A website is the most convenient way to do that.
Website for your fitness group or cross-fit centres will be a dynamic medium of connecting with the enthusiast individuals of your city.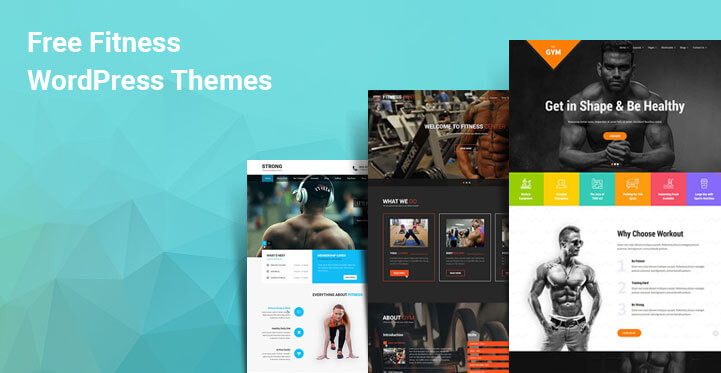 WordPress enables you in quickly making a user-friendly website at an affordable price.
Your fitness website can include all different kinds of features and functionalities according to your requirements.
These free fitness WordPress themes are as efficient as the premium themes.
Go through the peculiarities of each of them and select the one which best fits your requirement.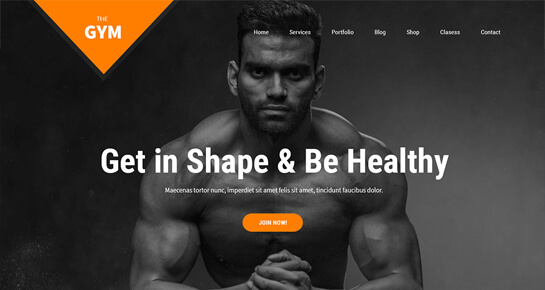 SKT Gym is amongst the popular free WordPress fitness themes. The message of getting in shape and being healthy is screened right at the homepage of the screen.
The theme has been exclusively designed keeping the target audience in mind and hence exhibits the fitness aura in all the sections.
It comes with an attractive black and white styled layout for featuring various information and equipment details about the gym.
Health clubs, yoga centres, aerobics, and other similar niches can also develop their website using this theme.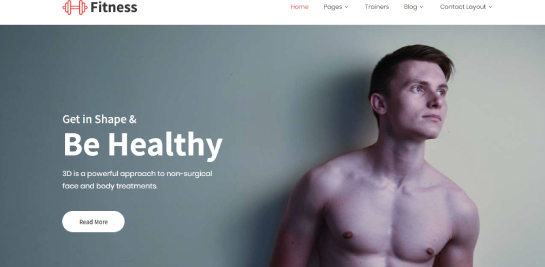 Fitness Lite is one of the free WordPress themes for fitness.
It has a classic design and comes with two templates and five slides in default.
It is a flexible theme and can be used for developing websites for any activities that involve fitness.
It has been tested for all the essential plugins so that no difficulty is faced in extending an enhanced functionality to your website.
The theme is equipped with a mesmerizing layout focusing on fitness which can be modified according to your requirements.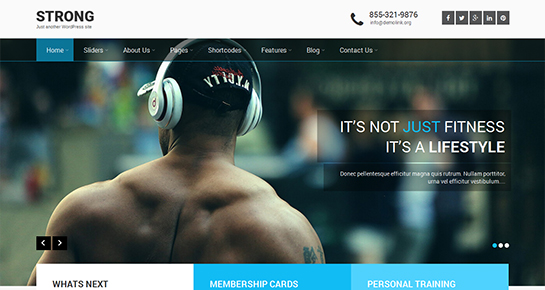 The list of free fitness themes for WordPress includes SKT Strong theme.
SKT strong is a multipurpose theme which can be used for promoting your fitness business and also manage a blog along with the same.
The website has an impactful user-interface and takes considerably less time in loading.
It has passed the theme check test and is an SEO-friendly theme.
The theme allows you to modify the overall layout which can help you in making a website that reflects your brand.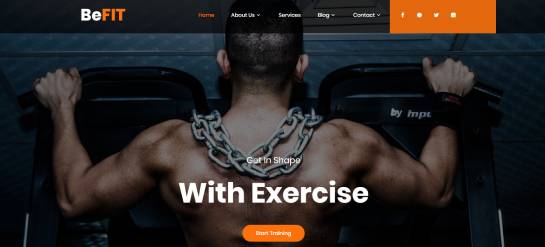 With excellent functionality and a dynamic design BeFit Lite has secured its place in the free fitness WordPress themes list.
The primary color of the theme is aesthetic black and all other segments of the theme are managed in such a manner that it exhibits an outstanding display to the audience.
The theme allows you to integrate your social media handles with the website through plugins so that the audience can connect with your brand efficiently.
It is also easy to add testimonials from clients on the website.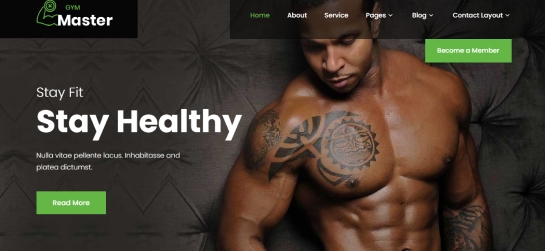 SKT Gym Master is one of the widely used free WordPress fitness themes.
When developing a website related to the gym all the aspects of your website must reflect professionalism.
This theme has a clean, sober, and professional design.
It provides you with the flexibility of adding all the required features and designing a user-friendly website.
It has been tested for cross-browser and cross-device compatibility so that the users do not face any issues while accessing the website from any source.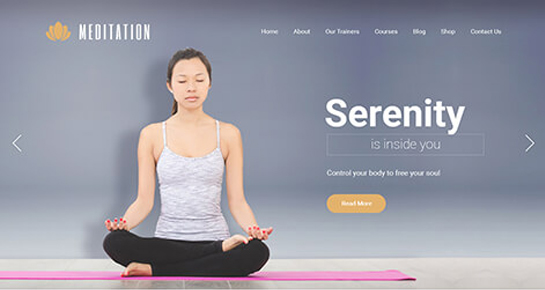 SKT Meditation is one of the most responsive free fitness WordPress themes.
It has a calm design with light colors which is just an ideal choice for designing a website to promote meditation.
Sections like headers, footer, and sidebar are widget friendly which allows you to add an impactful touch to your design.
To enhance the functionality diversified shortcodes have been used in coding.
Any layout or color combination can be tweaked in the theme. The theme connects with your audience and features all the essential details regarding your meditational activities/sessions.
Yogi Lite is one of the most preferred free fitness WordPress themes.
Theme plays a significant role in connecting with your audience.
By using this theme you will have to undergo the least modification as it has been designed with a focus on fitness and yoga.
Pages, templates, header, footer, and other sections of the themes have been customized keeping in mind the central idea of yoga.
The theme offers compatibility for all the necessary plugins to boost the website features.
With the rise of the internet and website, it becomes essential that the first impression of the brand on the client is positive and appealing.
SKT Handy is a theme developed by professionals which is responsive, flexible, and dynamic.
This theme helps in promoting your fitness groups and cross-fit centres in the most practiced manner.
It has a formal design which can be modified as required.
It offers compatibility for essential plugins that helps in adding all the required features to the website.
SKT simple is one of the classic free fitness WordPress themes.
It comes with a sober design.
It can be easily accessed from mobile, tablets, and computers.
The theme is also customizable according to the needs.
It includes standard pages like search, category, and archives by default.
Plugins supporting a gallery for a website are compatible with this theme which enables you to promote different activities of the fitness group.
One can also easily set up a fitness blog using this theme.
Clients usually demand modern and clean design for the website which can attract the audience.
Clean Lite is a theme developed by experts which comes with unique functionality and performance.
It can be used for developing a website for a gym, fitness centre, fitness therapy, and other similar kinds.
The theme helps in increasing the search rankings of the website as it is light in weight.
It has also been tested for the use of various plugins and can be used for establishing an online store.
Spirited Lite is a powerful, dynamic, and attractive theme for developing a fitness website.
The theme can be easily set up with a customizer and comes with a default slider.
It can be used in the latest version of WordPress.
Social media handles can be integrated and an online store on the website can be set up using the required plugins.
It has successfully passed the Google speed test and is mobile-friendly.
This theme is loaded with all the required features to create a decent and elegant website.
SKT Toothy is a spectacular responsive theme for developing a fitness website.
The theme has been originally designed for dental care and fitness website.
It can be moulded and modified to the desired requirements of your fitness group.
Sections and services are highlighted on the homepage while the footed & sidebar is widget friendly.
It has an eye-soothing modern design and the colors can be modified anytime.