SKT Strong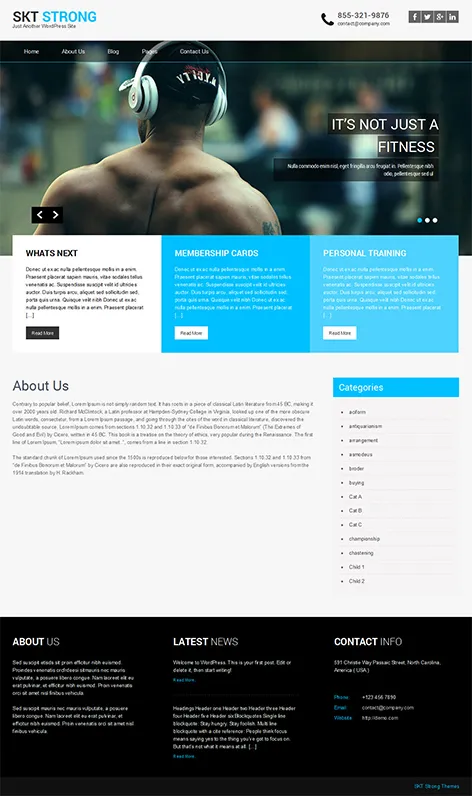 Free
Demo
360+ Themes for $69
Comparison
Free Theme
Less homepage sections
No inner pages
No Support
No Typography Options
No Icon Options
No Header Layouts
No footer Layouts
Less plugins compatible
Less updates
Less flexibility
More Time for Website Build
Features of free corporate WordPress theme
SKT Strong is free corporate WordPress theme
Slider has 3 slides with normal slide option more options in paid theme with slider changes and slider replacement with other slider
Google font default has been loaded more font options are available in paid theme
SEO friendly coding and Theme check passed theme
Plugins compatibility is huge
eCommerce ready with WooCommerce and EDD plugin tested
Translation ready with PO file given
RTL tested
Cross browser and cross device compatibility tested
Testimonials rotator plugin tested
Team member plugin tested
Tested with client rotator plugins
Contact forms supported
Multi language plugins supported
Responsive and Google mobile friendly
Normal color scheme of the entire site can be changed more options in paid version of the theme for individual elements
Pricing plugins compatible
Local business set up like call to actions, social icons given
More social icons given in Paid theme
Footer and sidebar widget friendly
More page templates given in paid version
Great free corporate WordPress theme for corporates and other industries
Opening hours and others given by default
Shortcodes plugin compatible for enhanced functionality
Security vulnerabilities passed
Lesser scripts used so faster loading theme
Based on Customizer for live preview of changes
Solid framework built by WordPress team itself which has been used
Logo, color scheme, tagline and favicon changeable easily
Inner page single page template given more available in paid theme
HTML5 And CSS3 latest design trends followed
Why Consider this free corporate WordPress theme?
SKT Strong is a free corporate WordPress theme which has been designed and developed to have all the corporate websites look great and function well without the additional costs of having a paid theme.
Also the immense plugin compatibility and in built features make it possible for one to have a great website without getting into too much of problems.
It is a free corporate WordPress theme built for novices as the documentation showcases everything related to the free as well as paid theme. Some of the salient features of this great free corporate WordPress theme has been explained below:
1. Great corporate look and feel: Great corporate look and feel means that the website looks great and with great look and feel people will get more and more attracted towards the website and would like to browse and navigate more via the website.
2. Blue and white colors match professionalism: Blue and white colors always describe professional themes and their professionalism and hence this template also showcases just the right color. Blue color scheme is however changeable using 1 click color picker which can change it to any other color of your choice.
3. Slider in built: In built slider means that you don't go through the hassle of setting up a slider. The slider is simple and does the job of getting the desired attraction from the visitors.
4. Shortcodes compatibility for homepage and inner pages: Shortcodes increase and enhance functionality to great heights for example someone needs a team member section or a testimonials section or a client logo rotator or a video slider all these are possible using shortcodes plugins with great ease.
5. Page builder plugin compatible: Page builders are known to enhance the functionality and features of any page and hence one can easily include any type of page template on their own and have their own page layouts due to these plugins which are a life saviour for people who are novice and cannot do any HTML on their own.
6. Translation Ready and multilingual ready: Translation readiness is done due to PO file inclusion which is compatible with loco translate and other plugins like PO Edit.
Multilingual compatibility is also done and all sorts of multilingual plugins should work with this free corporate WordPress theme.
7. Contact form support: Contact forms are necessary to get requirements and to know about the client in short and their requirements so that while speaking on phone or emailing back some basis of discussion is formed.
8. Pricing plugins: Pricing plugins are important for local businesses as they showcase different pricing range of services and hence determine ease in client's mind in selecting the optimum services depending on their requirements and budget.
The corporate world is emerging to a large extent. With the advent of new technologies, there are many companies and fitness centers evolving. But you may be thinking about how to manage your company in this digital realm when there are already so many competitors? Thanks to renowned content management systems such as WordPress, which made many businessmen set up their professional websites with minimum investment and without any strenuous efforts. In the current scenario, along with the global networking landscape, thousands of digital products comes. But along with that the filtration of the most-affordable products applies to all. Specifically for startups, small businesses or other enterprises functioning on a low budget.
This free corporate WordPress theme comes with a plethora of diversified features and functionality which can be used to create an enticing and professional corporate, fitness or any other related website. With the use of this theme, you can have an eye-catching homepage according to your business requirements. And, not only this it has comes along with various sections which all are aesthetically designed. So you can place your website content accordingly in that sections. Like About us section to tell visitors about you, blog section in order to update articles and blogs related to your fitness center, you can allow your customers to contact you shortly after they like your business offerings and want to opt for your services.
Coded and stylized with the latest technicalities like HTML and CSS3, so you will have a website with a standardized and professional look. You can showcase all your products and services in a compact and structured format. Free corporate WordPress theme can be used to design any kind of website. And, one of the best aspects is that it is made available to you just free of cost. Isn't it intriguing, you need not pay anything and you are provided with such a fully feature-rich theme.
Speak with calls to actions on the top of your homepage which are considered to be the secret formulas of your online success and customer engagement with your website. By providing your visitors with an immediate call to actions you can engage your customers in just a few seconds. While designing this alluring theme all the minuscule detail have been taken care of in order to provide designers and visitors the highest possible friendliness while designing and navigating respectively.
In order to provide you with good search rankings on the search engines, coding of the theme has been done keeping in mind SEO standards. If you want higher search rankings then this theme is exemplary for you. Also, you can make use of SEO plugins in order to enhance search rankings. There are limitless advantages of SEO ranging from high search rankings to a higher rate of traffic on your website. In this competitive world, competition is everywhere. So, in the online marketplace also you have to maintain competition with others. This is the only way of getting success.
Social media platforms are one of the vital aspects which help you out in getting higher traffic and to establish yourself as a brand name. You can share your website content across various social platforms as we have designed this theme social media friendly. There is also an incarnation of social media icons in the header and footer section.
No efforts have been left by our competent designers in making free corporate WordPress theme simple and easy to use. This is one of the best blends of captivating visuals and prerequisite features and functionalities. Try this theme and get ready to amaze with its results.
Also Included with every free corporate WordPress theme
Theme Files Theme files are included in the zip you get when purchased
SupportYou can email us for support of this theme
Tags: health, fitness, coach, well-being, good physical condition, healthiness, fitness, physical fitness, haleness, good trim, good shape, fine fettle, good kilter, robustness, strength, vigour, soundness, discipline, yoga, meditation, reiki, healing, weight loss, pilates, stretching, relaxation, workout, mental
Change Log
Updated September 2023
Working With Latest WordPress Version
Updated Google fonts