WordPress is the most popular platform for making professional websites. For event management companies, the good news is that a diverse selection of free event management WordPress themes is tailored precisely to their needs.
These themes not only enhance the visual allure of your website but also bring a range of indispensable features to the table, streamlining event planning, ticketing, and promotional efforts.
This article will delve into some of the leading WordPress themes purpose-built for event management, exploring how they can propel your business to success in the vast online domain.
Whether your expertise lies in weddings, corporate gatherings, music festivals, or social campaigns, rest assured, there is a perfect theme to suit your unique vision and elevate your online presence.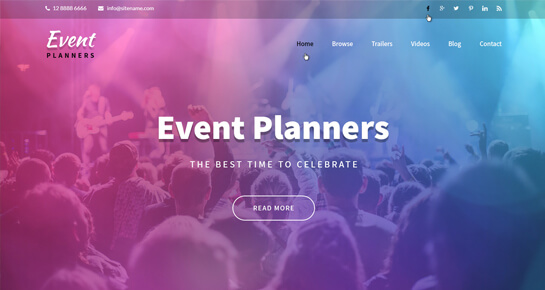 Event Planners is a versatile theme designed to cater to the needs of event organizers, conference managers, and wedding planners. With its elegant design and smooth navigation, this theme lets you easily showcase past events, display upcoming events, and sell event tickets. Integration with popular plugins for event management ensures a seamless ticketing and RSVP process, keeping your clients engaged and informed.
Event planners have many things to do than sell tickets and arrange a concert. They are also responsible for promoting an event. And therefore, they need an attractive online presence. Websites with free event management WordPress themes can help them stay attractive and visible online.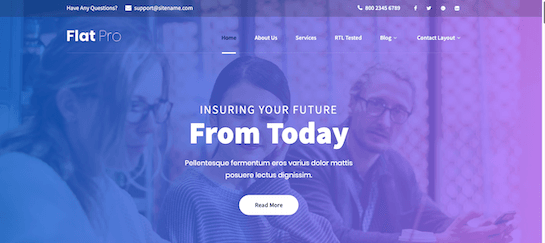 Flat Lite is a clean and modern theme perfect for event management companies prioritizing simplicity and user experience. The flat design and intuitive layout make it easy for visitors to find the necessary information, such as event details, schedules, and speaker profiles. The responsive design ensures a seamless browsing experience on various devices, making it convenient for users to access your website on the go.
A person looking for events in the town will refer to a website that provides complete details of all the events or concrete scheduled to occur in the city. A detailed list of events can help get more online traffic and prospective customers.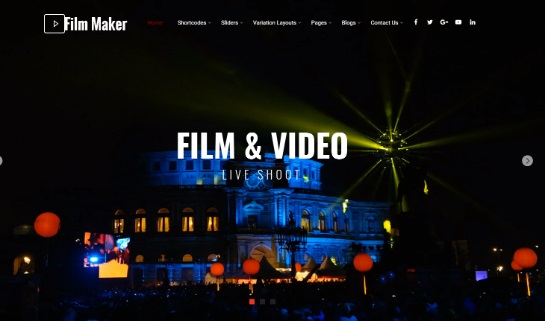 While primarily designed for filmmakers, this theme can also be effectively utilized by event management businesses specializing in film festivals, premiere events, or corporate film screenings. SKT Filmmaker's visually stunning layout and multimedia support allow you to effortlessly showcase event videos and promotional materials.
Event management companies should be careful about their brand identity online. Any business that wants to avail of the event management services would like to opt for the with ans an online reputation. There are many free event management WordPress themes that let you customize the layouts and designs to match your brand.
Focused on wedding and engagement events, Ele Wedding Lite offers a romantic and elegant design that appeals to engaged couples and wedding planners alike. Managing guests could be a challenging task for event management companies.
The theme Ele Wedding lite uses a built-in RSVP form and countdown timer, enabling seamless guest management and generating excitement for upcoming weddings.
When designing websites, event management companies should look for features that allow them to add photos and blogs to showcase their work.
Activism Lite is an excellent theme for event management companies that organize social and community events. Whether it's fundraisers, awareness campaigns, or charity events, this theme's responsive design and clear call-to-action buttons ensure maximum participation and support. The integrated social media icons also aid in promoting events and connecting with a broader audience.
Businesses involved in fundraising need to have a way to deposit money and securely protect the volunteer's privacy. Many free event management WordPress themes let you securely add a fund-raining page But, as you add a fundraising page, you must also ensure the website is visible online. Using SEO plugins of the Activism Lite theme, you can increase your website reach and be visible online.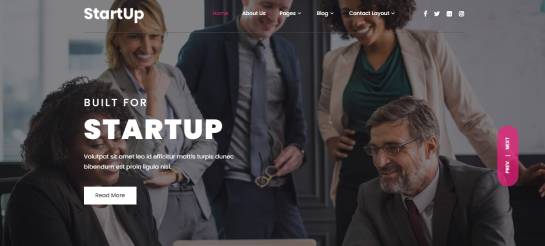 The startup is designed for businesses in their infancy and offers a modern and vibrant design suitable for promoting new event management ventures. The theme's one-page layout lets you present your company's mission, services, and past events on a single scroll. The built-in contact forms facilitate communication with potential clients and enable quick inquiries for event bookings.
New businesses can save time and money by opting for a theme that is easy to install. A website that is SEO-friendly, easy to navigate pages, and looks attractive can provide businesses with lucrative opportunities. People or customers are inclined towards a good-looking website that provides all the necessary information.
Targeting film festivals, movie premieres, and film-related events, Movie Maker provides an eye-catching and professional design to captivate film enthusiasts. This theme has a video banner feature, enabling you to display trailers or event highlights prominently. Integration with popular plugins also facilitates ticket sales and event management for movie screenings.
If your business deals in video making for Youtube and Instagram, you should upload high-quality videos and images on your website to showcase your work. People will be more interested in hiring someone with good hand experience in making videos rather than a novice. You can showcase your work on your website and even encourage users to contact you for work.
For event management companies specializing in outdoor events, retreats, or camping trips, Camping is the ideal theme. Its nature-inspired design and customizable features make it easy to promote outdoor adventures and attract enthusiasts. The theme's WooCommerce compatibility allows for effortless event ticket sales and payment processing.
People like to pre-book their adventurous trips, so it is essential to allow them to pay in advance. A pre-booking facility is suitable for business development as you have a fair idea about the number of crowds you must manage. Moreover, you can make plans for camping to make them more attractive and keep people coming to you.
The association is a powerful and flexible theme suitable for event management companies that organize conferences, symposiums, and professional gatherings. It's multi-layout options and content modules allow you to effectively present detailed event schedules, speaker profiles, and sponsor information. The theme's responsive design ensures attendees can access event details from any device.
The ability to attend an event from anywhere is one of the best features you can include on your website. People want remote access to multi-task and participate in the event from the comfort of their homes.
Posterity Dark offers a bold and edgy design, making it a standout choice for event management companies that host parties, nightlife events, or music festivals. What can be more attractive for an event manager than having a visually appealing website with animation as well?
The animation industry is booming thanks to the latest advancement in AI technology. Integrating animated video with an excellent background and music can help highlight your work effectively. It is also a great way to promote your business.
Parallax scrolling is an engaging web design technique, and SKT Parallax Me takes full advantage of it. With this theme, you can design a perfect-looking event management business online. The parallax effect adds depth and interactivity to your website, making it more immersive for visitors.
People scrolling through the pages of your website may want to interact with you instantly. Having a contact forum or live chat section can do wonders for you and prospective customers.
Shows focused on actors and performers need a website that helps professionals showcase their talent. SKT Actor Lite can also be utilized by event management businesses involved in talent shows, talent management, or live performances. The theme's sleek design and portfolio features allow you to professionally showcase event performers, artists, and entertainers, attracting potential clients and event participants.
A company that helps talent grow is always in demand. And people are also often looking for opportunities that help them excel in their chosen field of entertainment. So as a business owner, you should use free event management WordPress themes that let people connect and grow.
Banquet Hall is the theme for event management companies specializing in corporate events, banquets, and gala dinners. Its elegant and sophisticated design complements formal occasions, and the built-in reservation and booking system streamline event registrations and ticket sales. The theme's testimonials section also helps build trust and credibility among potential clients.
In conclusion, free event management WordPress themes are critical for any event management business looking to establish a strong online presence and attract potential clients.
Each theme offers unique features and designs tailored to different event types, ensuring that your website looks impressive and functions seamlessly to manage events efficiently. Using these themes, event management businesses can elevate their online presence, increase event attendance, and ultimately flourish digitally.