Ele Wedding Lite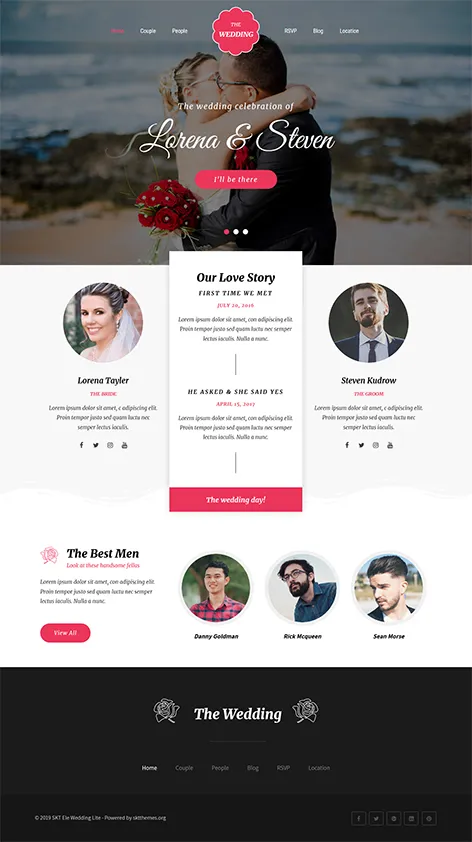 Free
Demo
360+ Themes for $69
Comparison
Free Theme
Less homepage sections
No inner pages
No Support
No Typography Options
No Icon Options
No Header Layouts
No footer Layouts
Less plugins compatible
Less updates
Less flexibility
More Time for Website Build
Features of Free wedding planner WordPress Theme
Ele Wedding lite is a fancy and enrapture free wedding planner WordPress theme.
It is a pretty and astonishing theme for wedding planners and wedding businesses.
The theme can be used for creating a personal wedding website or can be used by wedding planners for marketing their services.
The web template is originated with the elementor page builder.
Make a use of plenty features to create an energetic website.
Ele Wedding Lite is a highly adaptive and multipurpose wordpress theme.
This theme has a beautiful layout that will promote your brand in a unique way.
The traditional approach is followed for styling a header.
Different page builders are also compatible with the theme.
Modify the setting option to give some different look or leave a default setting as it is.
While handling a website you will feel comfortable because the page builder we have used is user-friendly.
The web page will get loaded faster because the page is optimized with the latest code.
The coding is done as per wordpress standards.
The free wedding planner WordPress theme is a perfect choice for creating a wedding website.
Plus the theme will work perfectly for promoting your events such as birthday parties, anniversary, celebrations even a vacations.
However, the Ele Wedding Lite is also supreme for creating a blog or a portfolio website.
By emphasis on your wish to add content, you can add images, videos, and other multimedia to make your user engaged.
The theme will also allow you to add fonts and colors to the link, buttons, as per your choice.
The free wedding planner WordPress theme is compatible with the cross browsers.
With a minimalist approach, a one-page website can be created with the wedding page template.
It will be a perfect website that will perform the same as it does on various devices.
With the use of some widgets the website will look attractive and impressive.
Link can be added to the button to make an image slider functional.
You can utilize more than 600 Google fonts to make your boring content good looking.
The website will be very easy to use that can be handled by a non-technical person.
The website can be multilingual if you install some multilingual plugin such as TranslatePress, WPML, etc.
Form plugin such as contact form 7 can be installed for taking user input.
No issue on using social media sharing or profile plugins as all plugins are fully compatible with the theme.
Hence, No coding knowledge required to create a professional website for a wedding or event planner website.
Every person faces a good time as well as a bad time. Bad time is always ignored and we look for good memories that we have spent with our family, friends, colleagues, etc. In the same way, some events are very important to create longlastic memories. An event can be a birthday party, wedding, celebration, anniversaries, late-night dinner party, vacation or anything. Each event is special for everyone because we just care about our enjoyment and our close ones. At this time we need an event planning agency that can make our event successful. However, event management business has a big scope because this business needs less investment if you have planned proper strategy. Every person will look for your help to make their event successful. If you are looking into this article than it means you belong to the same field. You must be looking to start a website that will make your business brand. Creating a website for an event-related business is the classic idea because by doing this you will have a great chance of getting more customers and publicity.
Why not prefer Website templates? Website templates are actually best for starting your business website on your own in a short period of time. We are here to aware you of some classic web templates that are made with WordPress. WordPress gives a lot of functionality and features hence if you create a website by using wordpress web templates that you will get all the awesome features that you are looking for your business.
A wedding is the beginning of a lovely new journey. If your business provides some services related to the marital niche such as greeting cards printing, boutique, cake decorations, makeup, event planners, etc. To promote your services you need a website that will represent your purpose. To stand out in the crowd and to build something classic memorable you need a website. Hence, we are proving a free web template that is totally based on wedding businesses and can be used by event planners too. There are lots of choices in the market but the free wedding planner WordPress theme is the best one because you will get all the required functionality in a single platform i.e. Ele Wedding Lite. The theme is handy that can be handled by anyone. The theme is created to celebrate your special day. Tons of options are included to make your wedding memorable. Features of an Ele Wedding Lite are mentioned in this article, check them out before making a choice.
Free wedding planner WordPress theme is best for creating a valuable website in no time. You can check out some other themes that are provided by different companies but that themes will not be handy in nature. The theme which we are providing is an open-source that can be taken free of cost. Plus we have used simple coding to create an easy user interface. Newcomers will feel comfortable while using its features.
This theme has one ready-made template so that you will get an idea of how your website will look like after editing the content. You can launch your wedding website or an event website the same as the demo one. The one-click import option is their. You will have a access to unlimited fonts and color option. Some more pages can be created in future by becoming a premium member. The images used in your website will look great as the theme is supported with retina images. Because of this branding your business will be a easier task.
Also Included with Free Wedding Planner WordPress Theme
Theme FilesTheme files are included in the zip you get when purchased
SupportYou can email us for support of this theme
Tags: wedding, bride, groom, invite, family, celebration, sangeet, reception, haldi, act, business, function, marriage, banquet, celebration, parties, entertainment, barbecue, bash, social, reception, engagement, bride and groom, matrimonial, coupling, merging, fun, social, nuptials, marry, anniversary, commitment ceremony, ceremony, wedding receptions, combinations, unions, intermarriage, wedlock, consortium, coupling, holy matrimony, mating, monogamy, pledging, match, spousal
Change Log
Updated September 2023
Working With Latest WordPress Version
Updated Google fonts