Against the backdrop of endless talk about harmful effects and bad consequences of fast food, this business is still doing well and does not seem to cede its position in the food based marketplace.
Therefore, we have thought about creating a list of the best fast food WordPress themes which can be used for fast food, takeaway, food truck.
Online food delivery, kebab and barbeque, food kiosk or small restaurant, eatery or pub, waffle house or coffee shop, chef or culinary websites or blogs and are going to share it with you.
If there is any multi million dollar industry you can join and start making money within a relatively short period of time, it's that of food and drink, dining and restaurant based one.
Of course, starting a restaurant or food production business needs more efforts and financial means, as well as takes more time to get into the bandwagon of the successful business owners.
But concentrating on launching a cozy eatery or local retro style café even without cosmetic renovation works and other additional expenses.
Or cooperating with different fast food partners to organize food and drink delivery services, or creating a user friendly website and start selling delicious food online is what you can do without any hesitation.
Well, whatever business you represent and whichever your plans for going online, these fast food WordPress themes will help you transfer your website into a productive selling medium with e commerce activities.
Product categories, shopping carts and secure payment gateways, unique design delivering the taste and smell of your food centric business, etc.
These quick service and fast food WordPress themes all are great examples of how professional and sophisticated WP theme developers can be and how the theme users can greatly benefit from it.
It means that marketing your mass produced food will be easier and more affordable with any of these template and will let you attract the attention of more growling stomachs.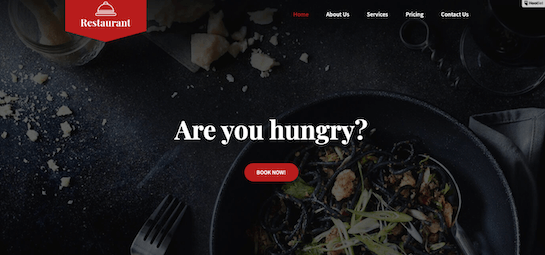 Ele Restaurant is going to grant you with a full battery of digital marketing for engaging more clients and customers for your pizzeria, bistro, fast food restaurant or delivery business.
Packed with modern web solutions and strong coding, CSS 3 animated and responsive when it comes to mobile usage, Ele Restaurant is also affordable and pocket friendly which means you don't need to give your all for the creation of a high quality and decent website.
As one of the best and top rated restaurant and fast food WordPress themes, Ele Restaurant is also coded with an ability of functioning with third party tools such as shortcodes and plugins for adding commercial, SEO, event management and scheduling, caching and other qualities to your site.
Bistro is also in high demand among food based businesses and companies thanks to its pocket friendly and easy to use, yet functionally advanced and reliable nature.
Sometimes foodie photos turn to be the best elements for client engagement which means you can use the trick with images to win more attention to your yummy food and drink offers.
For this, you have a nice looking homepage slider for the most appetizing images, as well as gallery area to be totally controllable image arrangement area with frequently updated albums.
Blog area and important homepage sections are also available to host unique and SEO optimized content with Google approved topography.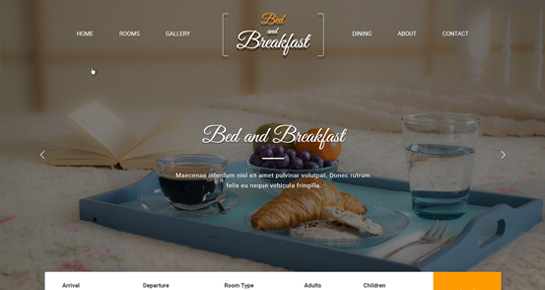 The idea behind the creation of Bed and Breakfast was to give the website owners an endless freedom in their actions to enjoy the site's look and feel they want.
Moreover, as all the other fast food WordPress themes discussed here, Bed and Breakfast is General Public licensed which is what gives the theme users a legal base to utilize and customize the given template the way they prefer.
All in all, your preferences and wishes will fit well with the highly editable nature of the theme that comes with accurate admin panel from the backend as well as offers you to practice live customizer to keep the customization process simple and productive with live changes and their previews.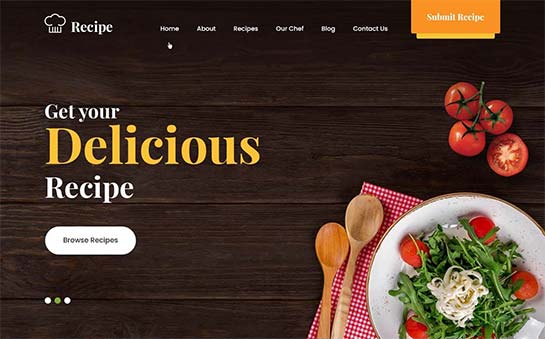 Do you want to become a rock star chef in the digital arena or have an army of thousands of daily followers for your recipe or culinary blog, sell fast food online or enable people reserve tables before coming to your eatery? Great, we have all in one solution for you in the form of Recipe.
This template has been tried and tested by tons of WP users and now has a fame of one of the most preferable and highly ranked fast food WordPress themes.
Thus, you can be sure Recipe is going to open up new avenues for you to get the maximum of your digital presence with boosted leads for you on the one hand and more satisfied clients on the other.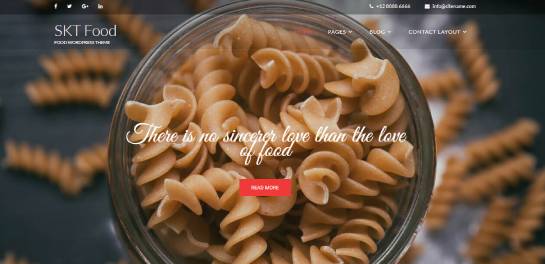 Another template worth particular attention from the fast food market is called SKT Food.
It's a real example on how you can be competitive online even without spending thousands of dollars on the web creation and marketing. The basic functionality of SKT Food is already processed with search engine requirements and algorithms in the theme author's mind.
Additionally, you will have a wide choice of the theme customization and functional extension with plugins to be a winner in search engine rankings and not only.
Naturally, SKT Food is also e commerce compatible to serve your online customers flawlessly and save their time, as well as is translation ready for running a multilingual website.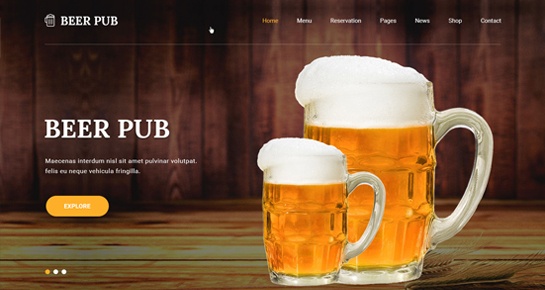 Beer and Pub is a winning recipe for absolutely any kind of food and drink centric successful website. No, you don't need to have tremendous coding talent to craft a wonderful commercial website for meeting more prospective clients and inviting them to try your food or order them.
Full documentation of the theme is going to give you a peek behind the kitchen door and encourage you to spend some time on discovering practical and easy to follow ways to succeed with Beer and Pub.