A rapidly growing industry, Solar Energy is booming in the electrical and innovative world. To compete with the automation technology and marketing sectors evolution of environmental processes and analytics must stay ahead in the game as well.
If you want to initiate websites based on solar energies, then searching for the best energy company WordPress themes cab get quite hectic.
The WordPress theme for solar energy businesses selected must be on the piece of cream of the crop. These themes are Range from beautiful colours, robust features and functionality along with flexibility in working with the site. These WordPress themes customize your websites as per the brand's guidelines.
How Responsive are the energy company WordPress themes?
energy company WordPress themes are designed flexibly and with full-on customizable features. These WordPress themes are responsive, functional and ensure compatibility with the latest upgrades.
The pieces are upgrades as per the convenience of the users and companies. With a collection of themes that make websites easy and not touching any code with drag and drop functionality.
These themes make your services and website presented professionally. Its shortcodes, customizable widgets and plugins allow users to make the best websites on the web.
They are having more than a limited number of layouts in the built-in library to use them whenever you want to make a website better than all existing ones.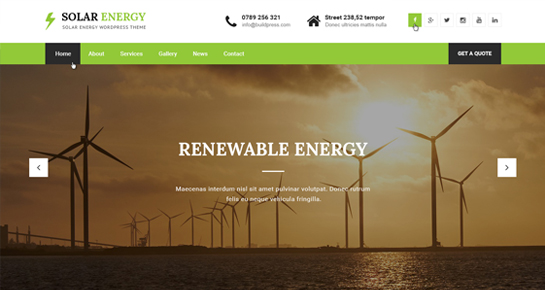 Solar energy pro WordPress theme is very responsive in nature and dynamic, elegant along with functional. It can be used by people in organic farming and renewable energy resources. Different plugins and layout help the website look flexible and soothing to their users.
Many users want easy functionality in the site which can be possible with instilling designs and banners and easily change footers and headers. The Solar WordPress theme can be set beautifully and is compatible with all the devices, browsers.
It comes with premium page builder, especially for the non-profit businesses and organizations for environmental, social causes.
Its features:
Along with being flexible, it is cross-compatible, which gives you full controls.
It supports RTL writing, simple coding capable of making perfect websites.
Translational and multilingual plugins like qTranslate X, Loco translate, Polylang and WPML are compatible.
Several pages templates are available, and shortcodes can be inserted and used as per your choices.
It's tested with Google mobile-friendly test and SEO consistent.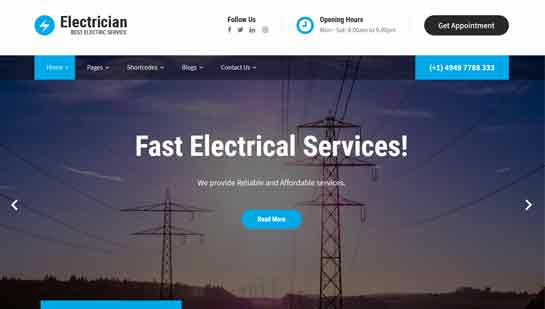 Electrician WordPress Pro is a theme which is very responsive without any hassle. The electrician pro theme works perfectly for electrical service websites. You'll be able to create your logo and branding of your website.
You can open up any demo content and pre-built with templates at Elementor, and you can start customizing them through widget options and drag and drop interface in this popular tool.
It describes the site as it wants to be displayed like conveying skills, testimonial slider and credibility with adjusting default features. You can also add extra customized layouts for different sections and content.
Its features:
It comes with a pre-built homepage which gives you tremendous opportunity to deliver your content without any hassle.
This theme works perfectly for promoting electric service business and has effects which enable more effortless functionality of your website.
You can get access to a full set of customizable options where you can insert photos and videos
It's compatible with all types of devices.
It works perfectly with search engine optimization.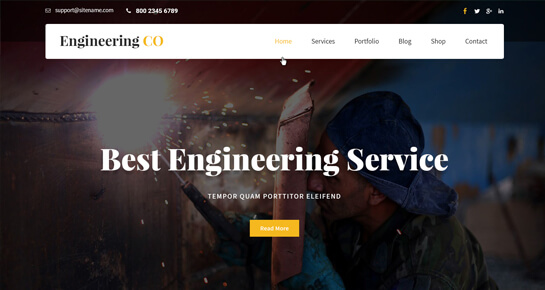 Engineering Pro themes suits with engineering websites, like engineering articles, blogs, client reviews, testimonials, concerning the business world and automation.
Many engineers are coming out with engineering websites, by investing best templates like architects, builders, construction, Mat lab and even college students who are pursuing engineering.
It can be customized and coded with faster outcomes and very easy to use due to its flexibility. It also has five layout sections and sliders to include up to 10 slides.
You can insert videos and images for projecting the data more precisely. You can consist of different colours, icons and widgets which make it super customizable.
Its features:
This WordPress theme is designed with the latest plugin and sliders to customize accordingly.
There is also a news section where you can show and give information on the latest updates.
This Engineering Pro WordPress theme is entirely compatible with Social Media Optimization and Search Engine optimization.
This theme is designed as per the latest upgraded plugin.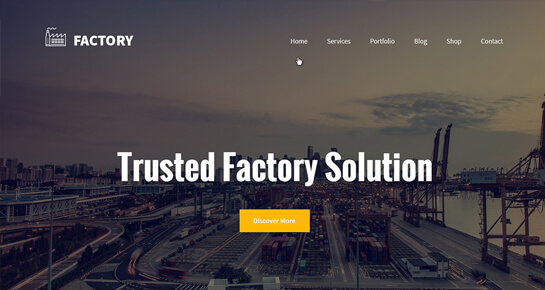 Factory Pro is a whole different WordPress theme meant for industrial purposes websites, oil gas websites, welding and other automobile industries.
It comes with SKT builder that helps to customize WordPress site in very flexible ways. There is no single necessity of coding to support the working of the website.
It is compatible with all the devices and browsers. This site will be given one-year free support to the site through social media as third party apps.
The theme provides five layouts that come with sliders to customizable sections. You can present content, pictures and videos on the site through the website.
Its features:
It's fully and effectively respond to the users.
It's compatible with all the social media optimization and search engine optimization
It's compatible with multilingualism and WPML, which makes it more functional.
Though you cannot download the image file, still we have advanced theme options to change the look of your website.
It has both audio and video composer.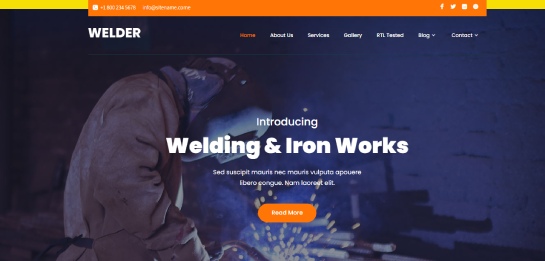 Welder WordPress theme is carefully crafted with customizable icons, widgets, layouts, sliders and colours to best suit a welding company or a welder. Welder theme suits perfectly for the online web presence of the welding websites.
They come with a variety of choices, and compatibility advantages with various devices and browsers. Its design tested and tested with automatic onboarding process within seconds. Once it's installed onto your WordPress website, then it'll automatically get activated.
This theme runs perfectly on handheld devices, tablets and mobile phones. You can easily reposition logo, header, footer and other things on the site.
Its features:
This theme template once installed, makes the website very responsive.
It involves instant onboarding process within a single click and no time.
It has famous slider plugin which makes the site very customizable.
With its smart theme option, a lot of customizations can be done with almost all the elements of the site.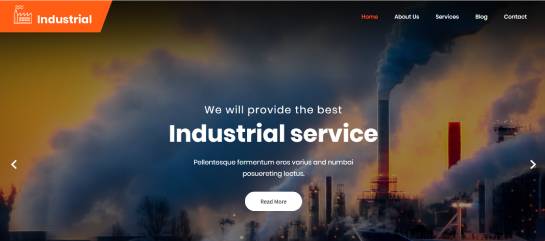 SKT Industrial is a WordPress website used for industrial and renovation works. This theme is fully responsive, compatible and worth for any industrial company.
If you are looking to expand your renovation business by choosing the right WordPress theme for your website, then you can choose from a variety of built shortcodes.
The music is compatible with all devices like mobile and tablets for making it easier for people to work with this theme on their website. Different sidebar layouts are available, and page builders like sidebars and presenting fancy content.
Its features:
It has numerous fonts, widgets and social media icons to choose and make content typography.
Simple theme options for more than 20 sections and you can even work as one-page landing or more.
Changing colours are the main customizable options for the website using this theme.
Industrial WordPress themes are responsive and very flexible.
Compatible with plugins like Woocommerce for enabling shopping websites.
Manufacturing Pro is a WordPress site that works with different elements of the theme to make a fabulous website. It's responsive and delivers seamless results for manufacturing companies.
This theme is tailor-made for content blocks for services, projects, trading companies, Market research, online shops and online portfolios.
These themes are exclusively optimized and pre-coded to provide seamless frontend homepage to the website. This theme is Woo-commerce connected with no coding language experience required by the users.
Its features:
This energy company WordPress themes can be easily set up on websites without any delay and hassle.
It has 24/7 customer care. So focus on your business rather than working on websites.
It's compatible with Instagram, and you can seamlessly flaunt your website for your Instagram followers.
Manufacturing WordPress sites are compatible with all the devices, browsers and platforms.
User-friendly interface enabling human-oriented theme experience on the website.
Nowadays the demand for green business and green-friendly products to have pure atmosphere and ecology is on the peak. Many Solar energy WordPress themes are based on recyclable green business themes.
It's no doubt that everything related to the environment is quite business-related, but if you are looking for saving animals, planting nurseries and your products and services are related to greenery.
Then using these energy company WordPress themes are an excellent choice. The strategy applied through these themes inspires people and tend them towards sustaining landfills, decreasing deforestation and saving water on earth.
Its features:
These Solar WordPress theme will hide flex out all the difficulties to enable the site to work correctly on the website.
The SKT recycle WordPress theme harmonizes well with Woo-commerce version 3.
Gutenberg feature is also compatible with this WordPress theme.
It's absolutely widget ready.
SKT Handyman is a tool repair template for plumbers, electricians, carpenter and craftsman. People in construction can also use these themes to bring out the best on websites. It's very responsive and is compatible with search engine optimization.
This WordPress theme is compatible with all the browsers and devices and works perfectly with multipurpose templates and ready to import element pages.
It supports all kinds of businesses like an e-commerce website, personal blogs and company websites altogether.
Its features:
It has more than 800 WordPress plugins to work with and get started with.
Handyman WordPress theme works perfectly with sliders and has a useful homepage in any way you desire and would want to work with.
The service sections and other layouts are finely placed to flaunt the overall look of the website.
It's compatible with popular Nextgen gallery; videos other insertable options into the website.
It's coded with HTML5 and CSS.
Maintenance services are very crucial in IT solutions services with delivering high-quality functionality on the websites.
Things like junk removal, software updates and plumbing, carpeting, electrician and other software and other cleaning processes combined to produce a functional website.
Users can use these sites for multi purposes and different reasons to cite—one solution for all, which allows 63+ inputs from the plugins into the website.
The website also uses home and other inner pages to deliberately increase brand visibility and manage site rankings on the web.
Its features:
It has dragged and drop kind of facility.
It's very responsive.
It has an advanced set of configurations to handle and follow, which makes it super more accessible for the users to navigate through the site.
The ultimate pack of plugins and shortcodes increase functionality and working of the sites.
It has a built-in library of already laid out layouts which speeds up your building process seamlessly.
Clean is designed minimally and works perfectly that is built professionals who want to clutter-free websites. It's minimally designed for well crafting your website with fewer amounts of layouts, descriptions and customizable plugins.
It works perfect for multipurpose and requires less part of an effort to flaunt the websites on the web. It's compatible with all the devices, browsers and m customization options.
Its features:
It has default demo of the homepage with already built layouts.
Clean PRO WordPress theme works flawlessly and compatible with Search Engine optimization.
It's compatible with devices and browsers.
It's very minimal can be easily viewed on mobile screens and is very functional.
Condimentum is a powerful energy company WordPress themes with multiple sections for toggle gallery, and with numerous shortcodes and can hold both videos and blog sections. These themes are installed within a single click and can implement call to action links pretty quickly.
Its features:
It's functional with 500 plus shortcodes and plugins.
It's coded with elementor page builder.
100% responsive.
Idle for businesses, SEO friendly and cleanly coded.