What are crowdfunding WordPress themes that have created hype in the online space for the last few years? All industries, sectors, and enthusiasts have made the most of the internet through the concept of crowdfunding.
These are the themes that are dedicatedly developed to promote and support such projects in the form of websites. It ensures that all distinct and useful features that are a must-have in such projects are offered by default.
Therefore, the users can easily pitch in their ideal/product/service and conveniently accept funding from across the globe. But is it easy to find niche-specific or responsive crowdfunding themes?
No, it is not, and hence we have compiled the best options from various sectors in this read.
The first theme in this read is outstanding and one of the most competitive options that you can choose. As the name suggests the core development of all aspects here is done by keeping in reference everything related to donations.
Hence, you can use it directly either for the website of your NGO, Social service organization or for crowdfunding. The impressive part is that it is completely responsive, supports WooCommerce, and is translation-ready.
The multilingual feature helps you to reach out to audiences of different demographics. Accepting payment can be managed swiftly by integrating the payment gateway of your choice.
Other additional features like forms, tables, etc. can be added through inbuilt shortcodes or external plugins.
Best Crowdfunding WordPress Themes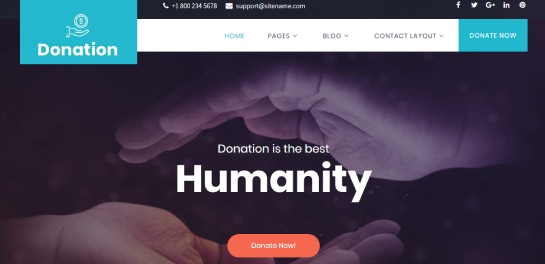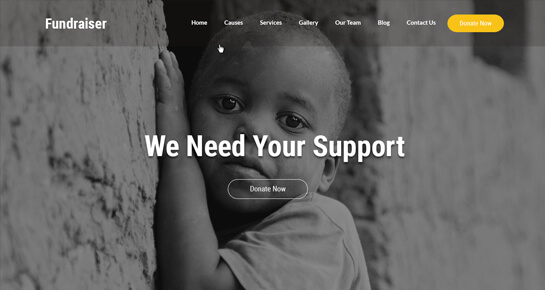 Fundraiser is widely used and one of the most preferred crowdfunding WordPress themes. The theme intends to simplify all process-related challenges that are often faced in this niche.
Additionally, it comes with a combination of professional design and flawless features that ensure world-class performance. According to your requirement and crowdfunding project, you can conveniently modify the layout.
The ready-to-launch HD-ready template is also customizable so that you can make the most of your online space. Setting up a gallery that highlights your efforts, products or results is also possible.
By adding forms, you can connect with individuals from different walks of life for your mission.
Lastly, in addition to developer support for one year, you also get access to comprehensive documentation for the theme.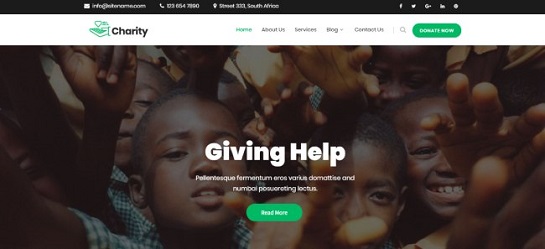 It is always highly recommended that one uses a dedicated and exclusive theme for the development of a charity-based or crowdfunding website.
This is because an exclusively developed theme is a club of required features as well as terrific aesthetics. Hence, the overall tasks remaining to be performed by you become easy and quick.
SKT Charity Pro is one such option that you can choose which has become the favorite of users. In addition to offering dedicated features and elegant aesthetics, it also enables full modification of all aspects.
Hence, customization of every element becomes possible without writing a single line of code for the same.
Integrating payment gateways of your choice will help you in collecting online funds and keep a track of them.
If you are looking to crowdfund for a public welfare activity for a social cause, then SKT Trust Pro is for you. The overall layout, structural framework, and related elements are in alignment with the cause.
Moreover, modifications of all kinds are permitted in all the sections as per the requirements. This flexibility enables you to highlight your mission by improvising every key factor that can touch the audience.
All kinds of payment gateways can be swiftly integrated to ensure that online payment is facilitated. If you want to add a blog along with your crowdfunding activity, then it is also possible here.
You can also add necessary details and information about influential personalities who are supporting your activity.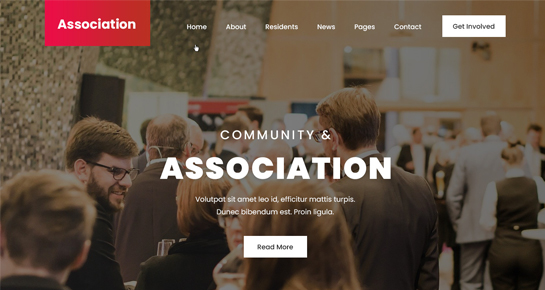 SKT Association has been dedicatedly created for all the entities, communities, and associations associated with crowdfunding. This makes it one of the promising options in this entire compilation of crowdfunding WordPress themes.
You can conveniently include one or more public funding activities that are supported by your organization. It is also possible to include, promote, and execute all operations related to one single activity or product.
The navigation and user interface have been kept simple and efficient while the overall design is professional. Features like one-click demo import, copyright-free images, and WooCommerce support increase its worth.
Lastly, you can completely rely on it in terms of responsiveness across all kinds of devices.
Activism Pro is amongst the most liked Crowdfunding WordPress themes. It is handy, 100% responsive, and completely serves the purpose that you are looking for.
It comes with the power of complete modification through the page builder and customizer. This enables you to mold the entire layout, structure, and other elements as per the requirements.
When it comes to responsiveness it has been tested across a wide range of devices, browsers, and screens.
Moreover, it also offers inbuilt shortcodes that can help you in adding other features as desired. In any of the above-mentioned operations, there is no need for writing any kind of code.
By default, it offers integration of Google Fonts and other third-party applications can also be added.
With successful crowdfunding campaigns across the globe, this method has been adopted by various organizations including those in governance.
Hence, SKT Municipality will be an ideal and one of its kind Crowdfunding WordPress themes that will empower you to create and manage a campaign successfully.
In addition to that, it will also enable you to create a website related to your city's governance model that is accessible by all citizens. Integrating a payment gateway for accepting online funding is simple and quick.
Adding all information related to your cause, product or service is easily possible. You can modify the entire site as per the need of the project with the help of a customizer and the page builder.
Are you looking for an option that enables you to create terrific crowdfunding operations along with an interesting website? If it is so then this is an ideal theme option for you.
SKT Library is the one with terrific color options and the most flexible layout that can suit niches of various kinds. This helps you in creating a website that is sound and strong both aesthetically and performance-wise.
Moreover, it comes with added features like multilingual support, multiple menu options, Google Fonts integration, etc. Some of the major perks include no requirements for coding and full support from the developers for one year.
You also get access to comprehensive documentation related to the theme so that all difficulties can be resolved.
Religious is one of the finely created options for religious purposes in this compilation of crowdfunding WordPress themes.
It will help you to create a website for your trust, association, temple, church, mosque, and all other religious places.
Additionally, you can start a blog on the same website and help users with all information and knowledge related to it.
The inbuilt support offers full compatibility with WooCommerce also so that you can set up an online store for different materials and books.
All information related to your funding from the devotees can be published here and donations can be swiftly accepted.
This is a special multipurpose theme in this entire collection of best themes. It is special because it addressed the needs related to the ending of the human cycle.
It is packed with functionalities and features that can help in formulating a website related to any domain.
It can also be used to create a platform that can enlighten and motivate users to work and fund your project/cause. Adding photographs and other textual or videography content is manageable.
In addition to the default features, you can rely on shortcodes as well as third-party plugins for other important features.
All kinds of modifications are swift and convenient without any mandatory demands of technical expertise.
One of the major public funding activities is widely seen for the preservation and governance of nature and its subsidiaries.
Nature One Pro is a distinct and dedicatedly developed theme in this entire compilation of crowdfunding WordPress themes.
It has been designed and crafted in a manner that can be compatible with any website related to nature.
Hence, all images that are used in the default template can be directly used as they are copy-right free images. All kinds of customization are permitted with the help of a page builder and customizer.
You also get tons of features and integrated solutions along with it. The installation process is one-click and quick so that anyone with limited knowledge can also manage it.
This is an exclusively crafted theme in the domain of pet and animal care. If you are looking to create a website for an animal welfare trust or an NGO related to pets, then this is your theme.
By analyzing and carefully resolving the common issues faced in the management of such a site, Ele Pet has been crafted. This helps you in easily formulating the site structure.
You have full freedom to modify the segments as required, but given the distinctness, you will have to use limited efforts.
The inbuilt features like RTL support, WooCommerce compatibility, multiple menu options, and responsiveness, among others, will make your tasks easier.
Standard pages like About Us, Contact Us, Error 404, etc. have been offered by default for your convenience and use.
Kindergarten is an education-based option in this compilation of best crowdfunding WordPress themes. The most revolutionary factor with the internet is that it has helped in democratizing education across the world.
When you are looking for peer-to-peer funding for a school/institute then the same can be promoted here. You can also create an institution's website and raise funds for specific children or for specific scholarship initiatives.
Integrating payment gateways is swift which promotes a friendly-user interface. Adding necessary photographs or embedding the video links for promoting the cause can be executed.
Personalization and management of the entire site operation are easy and do not demand any coding skills.
The importance of youth in any country is always prioritized. But the care and facilities for the senior citizens also contribute to the nation's overall performance.
If you as an individual, NGO, association, or trust are involved with facilities for senior citizens then this is for you. All texts, photographs, videos, and graphical formulations for creating the content are permitted.
You make the most of the inbuilt features like Google Font integration, complete modification of all elements, one-click demo import, etc.
Hundreds of shortcodes are offered to help you add features quickly. Moreover, whenever required third-party applications can also be added.
Make the most of your website through different activities by creating a stunning and powerful website.
Holy Church is undoubtedly the best option for creating websites related to the church, congregation, etc. In addition to creating a distinct website for the church, you can do much more with it.
Hence, it has been included in this best collection of crowdfunding WordPress themes. The entire history in all kinds of media can be included along with other information.
Routine prayer timings, scheduled activities, and prayer details for Sunday can be notified with the slider. Donations can be swiftly accepted as integrating payment gateway is manageable.
All kinds of modifications as per the demand by the church authority can be made through the page builder and customizer.
The last and one of the most impressive crowdfunding WordPress themes in this compilation is SKT Recycle. For any industry, research-based groups, or institutes who are looking to formulate a recycling-based site, this is for you.
All technical and aesthetical support in terms of templates, features, and performance is offered here. Therefore, the most relevant task would be to add content in the best form and launch the site.
Specific details, achievements, progress, case studies, and appreciation can be added in different sections. Modification in sections and different elements can be managed as per the demand of the project.
Developer support is offered for one year and all kinds of external applications can be added. It also offers standard pages, WooCommerce support, and Google Fonts integration.