We invite you to join the big community of creative blog WordPress themes users to craft a unique and highly productive personal or corporate blog type sites and profiles.
So, you are sure you can creatively reveal your point of view on certain aspects and people are going to listen to you.
Or you give preference to the format of an improvised portfolio adding your work to it, so that you can get objective feedback from your fans and followers. In either way, having one of the creative blog WordPress themes at your disposal will be of great assistance to your personal needs.
On the other hand, running a blog has to do with the increased popularity of any firm, company or corporation and taking the latter to new heights in the search engine rankings.
This technic has already shown itself to be wonderfully efficient at producing more prospects and high quality leads for any type of corporate and business activities.
The collection of the best creative blog WordPress themes we are going to share in this article is compiled for all those individuals and startups, artists and portfolio owners, entrepreneurs and solopreneurs, company managers and other enthusiastic and creative with unique talents and expertise in some specific area.
All of those creative blog WordPress themes celebrate durability and hassle free performance that will last a lifetime.
Moreover, they can be purchased at an affordable price by all those people who are limited to certain marketing budget and need something cost conscious yet results generating.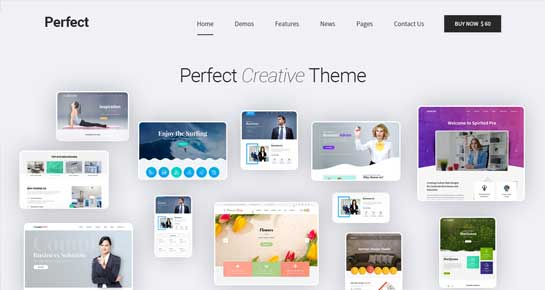 SKT Perfect is one of the modern and energetic multipurpose and creative blog WordPress themes that will be a joy to work with.
This responsive and cross mobile compliant template will assist you in elevating your attractive profile that will certainly make your audience engaged with your blog posts and the overall content found on your profile.
Appearing as a homogeneous unity of beautiful look and accurate form, SKT Perfect comes with stunningly flexible framework enabling even the most non techy user tweak to the core of the theme and alter the default template the way needed.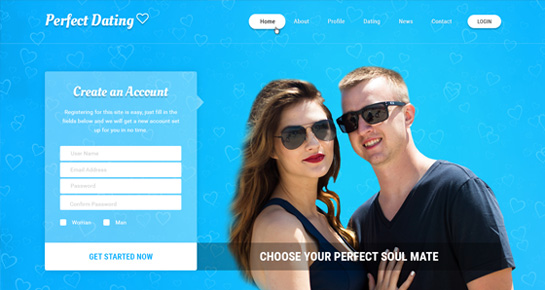 Dating is light and creative, visually engaging and subtle template developed and modeled for dating and relationships websites and blogs, marriage and anniversary business or personal profiles and other relevant topics and niches.
Hence, this shortcodes and fonts armed, widget friendly and totally manageable framework can be used both for commercial and personal needs while giving you freedom in deciding the overall appearance and form of your blog.
Designed with modern material and flat design principles, Dating is also quick in usage with Customizer options, as well as translation ready to connect your website to the international market of Internet users.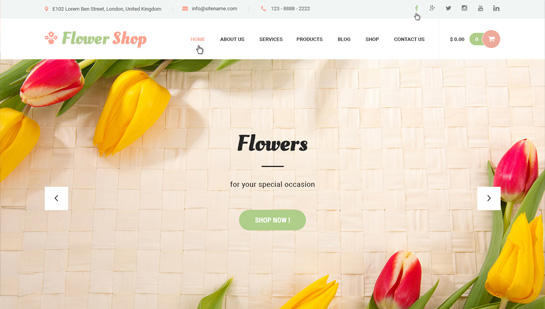 Flower Shop is the next chic and thrilling website template that is flexible enough to go well with absolutely any kind of topic.
Whether you want to run a personal blog sharing your DIY materials, handmade products or offer floristic services and sell flower compositions, this template will do the job.
Your independence as a blog owner in relation to Flower Shop is what makes this profile so lovely and demanded.
With this template you are the one to take care of the presentable look and feel, constant updates and ongoing modification of your profile to be informative and enjoyable for your target audience.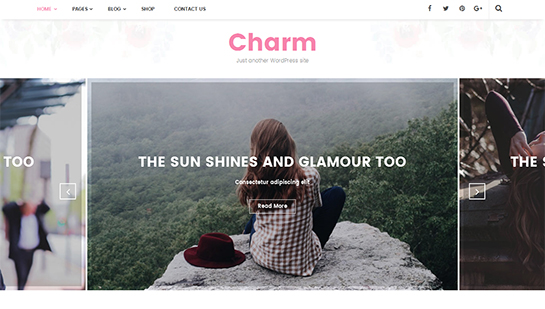 Charm can be the peak of your creativity and unordinary thinking.
This blog type WordPress based template is suitable for magazines and news websites and blogs, personal portfolio profiles and CVs, artists and designers virtual homes with the distribution of their original works and projects and not only.
Optimal speed in loading, pristine navigation and responsive design are the best characteristic features of Charm guaranteeing the constant flows of qualified traffic to your blog posts and pages.
Charm is also conversant when it comes to plugin support. From commercial, gallery, translation and commenting plugins to shortcodes and page builder ones, all have been tried and successfully tested with Charm.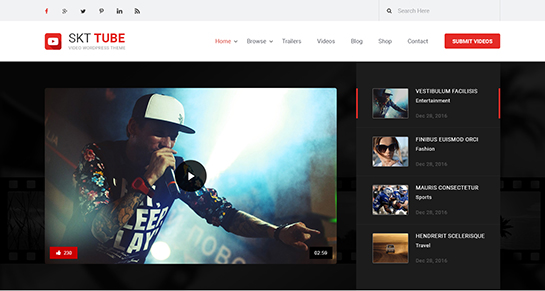 Launching your personal or corporate blog will be really easy and affordable with one of the video and portfolio based creative blog WordPress themes launched as SKT Tube. With an obvious similarity to a famous YouTube portal, your website based on this template will certainly be condemned to the nearest success and client integration.
Video slider is enabled by default on the homepage so that you can immediately pass on to adding your video materials and tutorials.
Further, you can change this slider and test other sliders for the sake of better visualization of your imagery.
Video and other shortcodes are also inserted into the theme so that you can apply them once you have installed and activated the theme.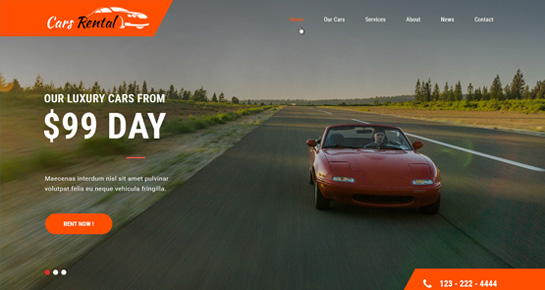 Car Rental is more serious looking and business centric website and blog creation tool launched with the average WordPress user and its requirements in the theme developer's mind.
From financial companies and digital agencies to car rental and mechanic services, almost any kind of business can be showcased through this theme since it is custom built to undergo dozens of changes to wear the look matching your personal style or business identity.
Harness your blog with best qualities and functional possibilities in the blink of an eye since this template is well optimized for plugin and extension usages.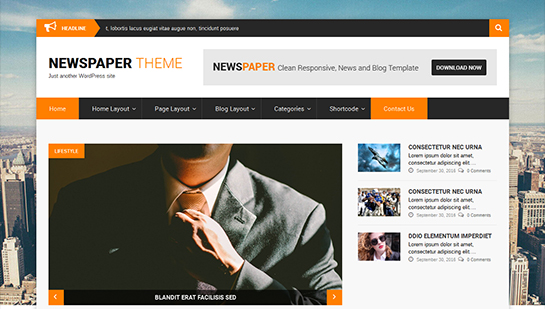 We have included also SKT NewsPaper Pro in our collection of the creative blog WordPress themes in order to narrow down your selection only to the best ones.
This top notch and designer made template is the one to host any kind of content and blog style, from magazines and online journals to personal culinary or fashion blogs, online shopping stores and centers and more.
The given layout and category, page and post, sidebar and font choices and much more are all incorporated in this template to lead to better outfit and readability.
If you are into creative writing, then it's high time that you set up a blog online. Its better if you opted to base your blog on WordPress as it comes with a load of free features, free themes and more importantly, the platform is an open resource.
Freelance writing is an extremely competitive field, and naturally you would want to showcase the best of your work to various clients.
That's why you need to check out these creative WordPress blog themes, as they have been crafted and customized for the creative writing niche. Our creative WordPress blog themes come with built in page builder, sliders, drop down menu, portfolios to display your work and much more.
Here are a few reasons as to why it is important that you select one of these themes and install the same on your website at the earliest.
Appearance: While anyone can be a professional writer, not everyone takes the time and effort to set up a processional website.

The difference is that with a professional website, you are able to provide prospective clients with information about who you are, the work that you carry out and more importantly, the fact that you can showcase the same in a neat portfolio.

This manages to convey the opinion that you are a real professional with a flair for creative writing and chances are that you would land the gig.

SEO: Our themes come loaded with various tools and in addition, you can install various plugins that should help improve the functionality of your website.

You should be able to optimize it better than before, and with these tools and plugins, you should be able to cleanse your website of dead links, tweak the layout, images and even the content so that it looks better. This should enable your website to rank better.

User engagement: The great thing about WordPress is that they come with a great CMS and more importantly, that they are extremely flexible as well.

You can use pagination to help your website look uncluttered and even communicate effectively with real time clients. These themes come loaded with various tools that should enable you to increase user engagement within a short while.

Call to action: Our themes are all woo commerce compatible and you can even use additional plugins to setup escrow as well as so that your clients can pay for your creative writing in advance.

Our themes come with several advanced features including the ability to set up milestones so that you can carry out the work accordingly. All of this only makes it apparent as to why it is important that you use these themes when setting up your website.
These are some of the reasons as to why you need to use these themes when setting up your website. Just remember that it is essential that you select a theme that gets you more eyeballs; since most users hardly spend more than a few seconds online, an eye catchy design can help boost your online conversion rate.