Whether you are a start up or an established business looking to increase your digital footprint, the one thing that you need to do above all else is to ensure that the framework you utilize for your website comes with a responsive design.
As for the design itself, anything that looks simple and professional should do the trick but it may be a good idea to scope out the competition ahead so that you have a better idea of what you are up against.
Most beginners get tied up on aesthetics; aesthetics is important but a good theme would be fully customizable so that you can change and alter the background as well as any page element and recreate the website by implementing your vision.
So make sure that you checkout some of our best company WordPress themes and choose the one that looks to be a good fit.
Above all else, make sure that when checking out the various WordPress company themes, you demo the theme as that should give you an idea as to how effective the theme is, in action.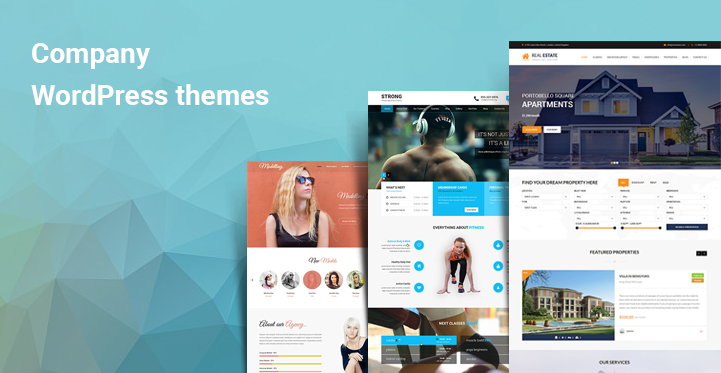 With the right framework in place, you should be able to set up your website with ease and get more traction online, as a result.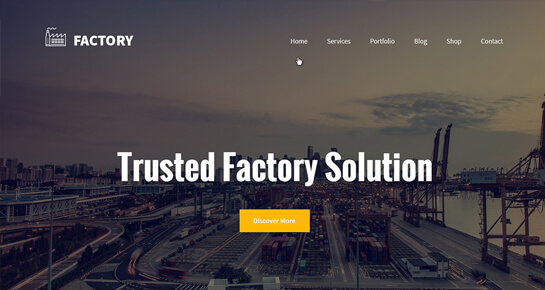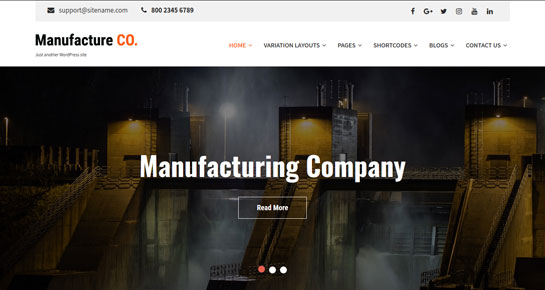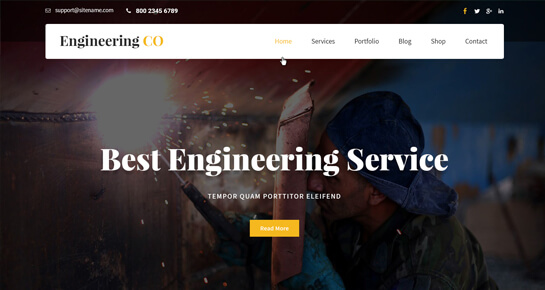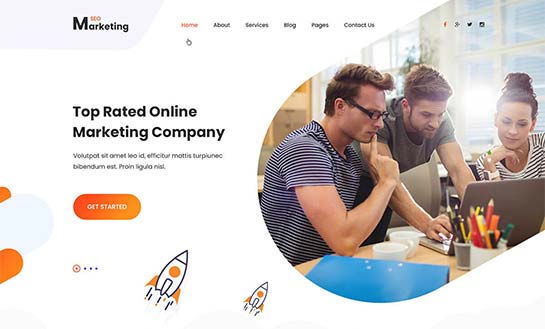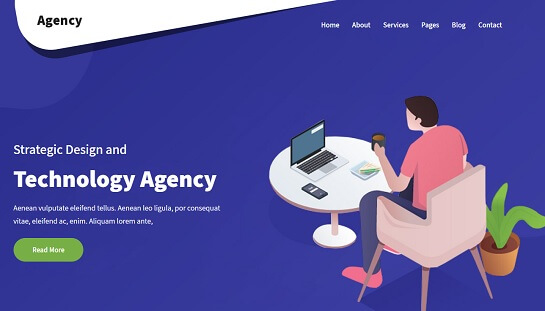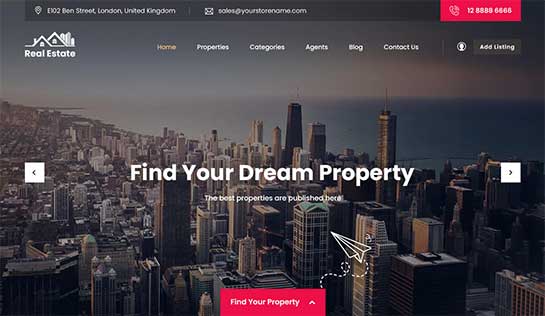 This theme stands out from most of the other company WordPress themes on account of the fact that it comes loaded with additional functionality. For starters, the theme comes with responsive design, that's easy on the eye and is both robust and intuitive.
It comes with intelligent design as well as a dark grungy background with a minimalistic appearance. And as it is completely customizable, you can change, alter and modify any page element with ease; so you should be able to change the dark background to something lighter.
It also comes with site wide and boxed layout options as well as being widget friendly; you can add the required widgets to the sidebars and even to the headers/ footers and improve the functionality of your website.
Apart from this is the fact that the theme comes loaded with 800+ Google fonts so you can tweak with the typography to make your website all the more distinctive and attractive in the process. And it also comes with built in short codes which should help facilitate with the customization process.
And as the theme supports external plugins, you can replace the default slider with something much more advanced such as video sliders to showcase your high resolution images, videos right on the front page.
You can also install SEO plugins like Yoast and All in one SEO and optimize your website so that it ranks better for SEO. With these plugins in place, you should be able to get your website to perform better, which is why the price tag of $48 is reasonable given the additional add-ons offered with the theme.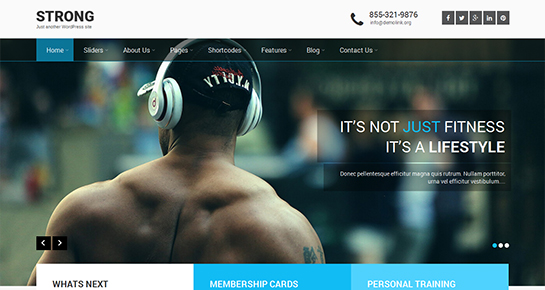 If you are on the lookout for professional themes, then you could not do any better than this theme which incidentally ranks among the top ten company WordPress themes.
This theme comes with a classic layout as well as a nice background image, with the usual requisite drop down menu to help facilitate easy navigation. The design itself is 100% responsive, completely scalable and has been tested for various resolutions.
Apart from this, the theme comes with 3 header variations, 5 footer variations along with various sidebar and layout variations (including blog layout).
So you get to have more control over how your content is displayed to others. The overall design is simple enough, which actually should enable online users to navigate your website with ease.
It also comes with a blog which you can customize, but what makes this blog stand out is that it comes with a unique timeline feature that displays the latest posts chronologically (but this can be customized as well).
You can change the color of most of the page elements and even alter the fonts by utilizing the various built in short codes. Moreover, you can use the various social fonts and even tweak the typography of the theme thanks to integrated Google fonts to make your website stand out.
The theme is compatible with third party plugins and to that end, as the theme comes with POT file; it is both translation and multilingual ready.
You can use plugins like Loco translate among others, display your content in various languages and reach out to a wider audience.
The theme also comes with various built in content blocks such as testimonials, forms, contact forms and is also woo commerce compatible. Given all this advanced functionality, is it any wonder that the price tag of $39 is more than reasonable?
If you are aspiring to be a model or running a modeling company, then you would definitely need to check out this theme. The theme, which ranks among the best for company WordPress themes, comes with a nice design with a modern layout.
The theme is of course both responsive and scalable; apart from that, it also comes with a default slider, gallery as well as portfolio for you to showcase your models along with high resolution images and videos.
But as the theme is compatible with 3rd party plugins, you can utilize more advanced sliders including high resolution video sliders along with advanced portfolio and gallery to showcase the same right on the landing page.
It makes more sense to do so as a recent study highlighted the facts that consumers are more easily influenced by images than they are, by textual content.
The theme also comes with 2000+ font based icons that you can use anywhere on your website, along with integrated Google fonts so that you can alter the typography of the theme into something more attractive.
It also comes with several header, footer and sidebar variations that you can put to good use as well. It also comes with POT file which should provide for specific string translations, and you can also utilize multilingual plugins like WPML, qTranslate X and Polylang to display your content in various languages.
And as the theme is also woo commerce compatible, you can even set up an integrated shopping cart for your customers with a payment gateway.
You can also integrate Google maps on your website as well as enable tracking so that your customers are able to track their orders in real time. With this sort of advanced functionality, the price tag of $39 is indeed a steal.
This theme manages to stand out from all the other Company WordPress themes on account of its look, design and appeal. The design is interesting and simple enough and it also comes with intelligent navigation in the form of drop down menus.
The theme comes with both side wide and boxed layout options along with various header, footer, sidebar variations; incidentally, you can tweak the inner header to display banners, CTAs as well as videos which should help garner your website more attention online.
It is also retina ready and is responsive, and has been tested for several resolutions. It is cross browser, cross device and even cross platform compatible and supports external plugins.
These external plugins along with various widgets which you can park in the sidebars should enable you to provide your users with advanced functionality and rank better as a result. It comes with a price tag of $39 only, along with free installation and support for a year.
This industry and renovation WordPress theme makes for the perfect theme as it comes loaded with all the advanced functionality that you need along with some great features such as social media integration and more of the same.
The theme comes with a grungy look but it also comes with a color picker so you can change the color of the page element and of the theme itself. It comes with an intelligent and intuitive design that's geared to focus user's attention on the specific parts of your website as well as the CTA.
The theme also comes with compatibility to woo commerce, several SEO, SMO plugins, social media plugins and much more. In short, this theme supports external plugins so you so you can provide your users with all the advanced functionality they would ever require.
Moreover, you can use the built in short codes for developing pages such as Gallery, Contact form, testimonials, team and services and much more. And of course, you can always download more short codes, as much as you need by installing short code plugin on your website.
With these, you should also be able to increase the performance of your website and rank better as a result – and all of this is available for a reasonable rate of $39 only.