When it comes to creating an informative city information or town press, city guide or travel, municipality or government website or official blog, you will never find a better starting point than our collection of city information WordPress themes.
Designed with care and considered for bringing any city and its peculiarities, governors and interesting places accessible to a larger audience, each of these town and city information WordPress themes is suitable for niche specific websites of different kinds, from official and legal to traveling and personal.
Whether you are an enthusiastic blogger who wants a special digital space to share the most stunning image of your country or city, a representative of some governmental institution or local community to craft an online environment for presenting works, missions and vision of it.
A travel agency owner who needs to attract more and more people across the globe or guide tourists through the most interesting places of this or that locality, you will be able to do it with these city information WordPress themes.
Each of these web building methods is a great solution to revolutionize the way websites are built and promoted without much spending and much turmoil.
Otherwise stated, all of these legal and jurisdiction, town and city information WordPress themes are not only pocket friendly and help you save your financial means, but also easy to customize and configure to adopt the most productive promotion ways to conquer the digital world.
From a more technical standpoint, they are all well structured and modernly coded so that the strong and presentable look of your site and its sustainable performance along the way would be the best proof of your professionalism and efforts you put into maintaining the excellent look of your site around the clock.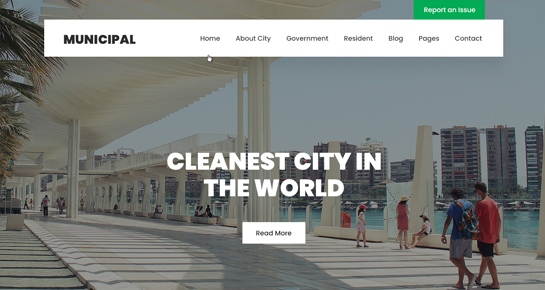 Whether you want to let more people hear about your city, town, village, farming industry, agricultural or organic farming business, you are welcome to organize it via one of the best city information WordPress themes called Farming.
This multipurpose and fresh looking template will never leave you alone on your way to crafting a wonderful website or blog that will be available for the website guests in 24/7 format and will be flexible enough to comply with any screen or mobile resolution.
The theme is also well prepared for social media attendance and search engine optimization, as well as supports all kinds of useful and practical plugins to add certain functional capacity to the default template.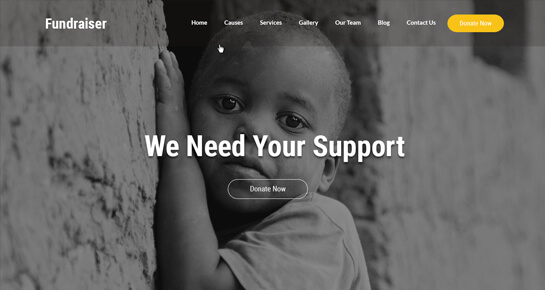 Fundraising has always been a part of the daily routine of any undertaking aimed at making any city life better and more comfortable for its citizens.
In this relation, Fundraiser is an excellent website builder you can use for fundraising or charitable, NGO or non profit, religious or other topics, campaigns, events and more dedicated to making your locality a better place to live in.
Given the topic of your site, it will inevitably need online ways to receive donations and money for solving different problems and here is where the theme's plugin friendliness comes into picture.
You can accept money via different payment gateways that can be added to your site via relevant plugins and add ons.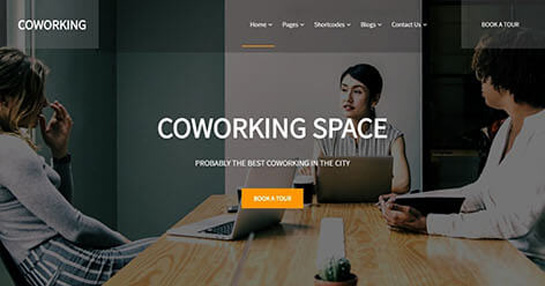 CoWorking is another versatile and completely customization ready website builder you can use to realize different online projects, from the creation of working space for municipality or some department employees to a dynamic city information for citizens and city guests with weather warnings, coastal reports, transportation, satellite images and much more.
Homepage full width slider is ideal for demonstrating the true face of your city with engaging images of it. You can also control the way those images are displayed with pause time, animation and more.
You can also make the most of the given shortcodes for adding new effective touches to the theme, Google fonts for fully legible typography, as well as color picker for mixing the most eye catchy colors and shades together across the whole website.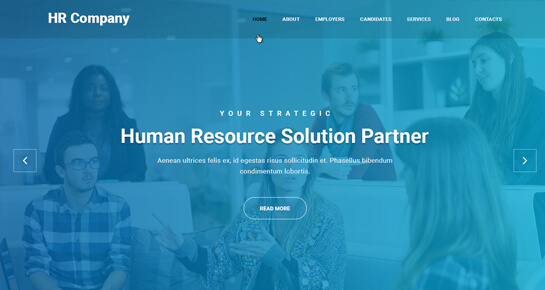 Another high end WordPress template that comes as a ready made website builder with accurate homepage and demo content, page and post controls as well as tons of other customization controls is called HR Management.
With this admin friendly website template, you don't need to start everything from scratch as the theme's developers have already added the best coding and styling to it, have structured it in the most effective way and enabled you to do your own changes as per your needs and wishes.
Hence, you can play with the whole theme without touching its codes and result in a wonderful digital product that will be harmonic in form and function, user and website guest optimized, easy to scroll and navigate.
SKT NewsPaper Pro is one of the best magazine or blogging style city information WordPress themes ready to satisfy different needs of all those who want to run a dynamic and frequently updated online information for their city, town, geographical area or region.
From displaying thematic articles and sharing interviews to giving weather forecasts and presenting time zones, offering a list of must visit places and monuments, museums and other places, advertising the best accommodation or hospitality places and more, you can use SKT NewsPaper Pro for hosting absolutely any kind of information and content.
Complete Pro is a robust and really complete web management solution that comes bundled with endless functional capacity and modern appearance ready to sweep your website guests off their feet.
The main advantage of this responsive and mobile checked, Google approved and search engine optimized template is that it can wear as many different outfits as you may like to test and try until you find the best one.
You can also quickly set up the needed content and offer it with the typography, colors and size, arrangement and sequence best suited to your profile.