The practice of blood donation is one of the proofs people have not lost their human character and compassionate nature.
Releasing someone from spiritual, physical or social poverty, donating something that can save lives, and generally, making the world a better place for all of us is what should be propagated largely at present.
Fortunately, there are already hundreds of NGOs and non profit organizations, charitable funds and blood donation campaigns, medical institutions on voluntary basis and other relevant undertakings focusing on such important initiatives, issues and works.
And our collection of NGO and blood donation WordPress themes is mainly for them.
Whether it is a worldwide known blood donation agency or company like Red Cross, medical center or blood bank, or a small non profit organization trying to spread its voice around as many donors and people as possible.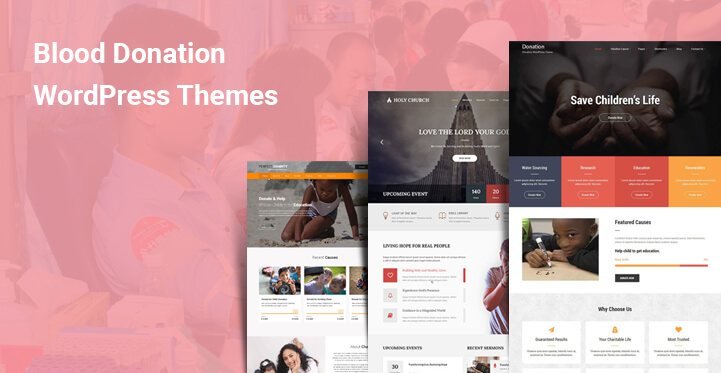 Each of these blood donation WordPress themes will create a really convenient environment for you to quickly get started.
Whatever the people's reason for donating blood, it's evident that this need is constant. What your website can do to involve more people in this relation is to give proper explanation of the whole blood donation process by step by step guidance.
Quick explanation and description of ongoing and future plans and programs on how the donated blood is going to be used, as well as motivate them to do something good and valuable for saving lives.
Well, each of the below mentioned multicultural blood donors and blood donation WordPress themes can give you the needed flexibility and freedom of presenting any kind of helpful or encouraging information on your specific activities.
From frequently asked questions and partnership programs, appointment making for blood donation to donating financially online, everything can be well organized with any of these high quality and impressively smart blood donation WordPress themes.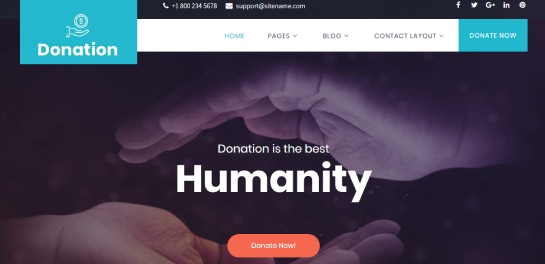 Donation is one of the niche specific and inspiring blood donation WordPress themes respective services and agencies, physical and legal entities will find expedient to their financial state, technical knowledge and web creation plans.
We all know that donation campaigns are in strong control of their purse strings and try to economize as much as possible.
In this relation, Donation is an ideal web creation solution as it is offered at a cost conscious price and limits your further expenses as well.
When it comes to the theme's customization or maintenance, you would not need experts or web developers to assist you but will be able to create and manage a really decent website without spending a dollar.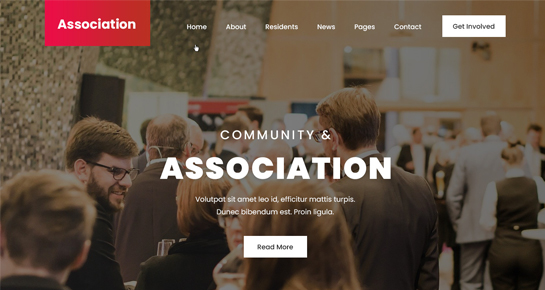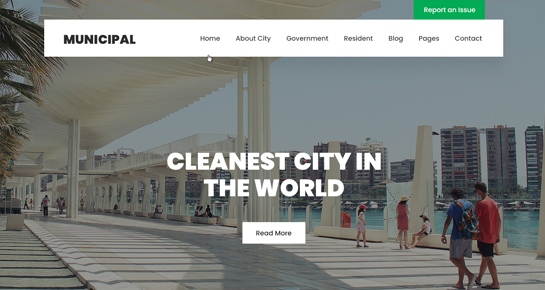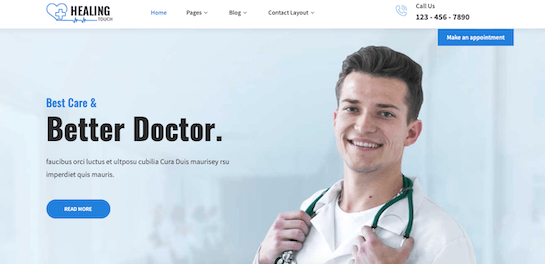 Healing Touch is one of the clean and crisp, visually aesthetically pleasing and technically award winning medical, blood testing and blood donation WordPress themes custom built to be one of the most valuable tools in your arsenal.
It comes with admin friendly framework and live customizer functionality to simplify the whole process of web pages management and configuration with quick modifications and their live preview, homepage default slider for quality imagery and content to announce new events or meetings, donation services or any other data.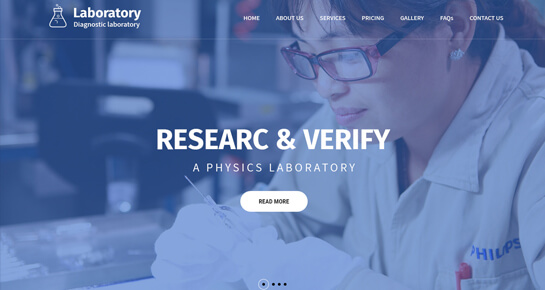 Laboratory Pro has been built and launched with all the necessary tools and theme controls, easy to extend functionality and complete responsiveness that allow you to elevate a charity or donation website without any turmoil around financial expenses, necessity to hire web professionals or other issues.
Just like for e commerce sites, charity and donation profiles also need online payment system integration for enabling donators to participate with direct online payments.
Therefore, Laboratory Pro has been coded with plugin compatibility and compliance with popular payment gateways in the theme developers' mind.
Another important feature any website operating on donation spectrum should share is multilingual readiness. From this standpoint, Laboratory Pro is also a winner, as translation and localization plugins are also working fantastic with it.
When it comes to charity and donation, we cannot underestimate the role of churches and religious institutions. Therefore, Holy Church with its religious orientation could not help but included in our assemblage of the best blood donation WordPress themes.
Hence, this seriously developed and motivational website builder can be productively used for a wide variety of topics, from church and religion, temple and prayer group, gospel and basilica to NGO and non profit, charity, donation, humanitarian programs, social projects and beyond that.
Conducting fundraising events, showcasing important social causes and sharing information on children and adults needing immediate assistance in this or that way will be easier with Holy Church thanks to its fully controllable and easily customizable nature.
SKT Trust knows the art of successful start for all kinds of donation projects online. Minimum startup cost, maximum versatility and endless options to get the final product your respective business needs.
The modern design of the theme combined with warmth and friendliness encourages people to express more interest in what you are doing, find more information on your services and finally join you.
You can use the customization ready layout of the theme for content are segmentation and control, homepage slider for fresh images, widget ready areas for secondary content and blog area for keeping the audience engaged with successful stories and saved lives.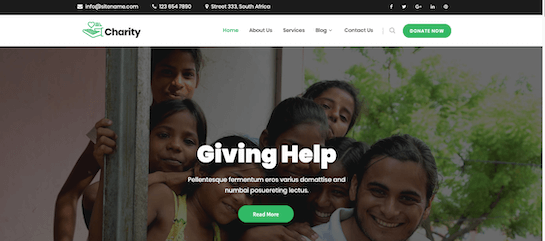 Get closer to the target audience and establish new connections with SKT Charity Pro that is easy to use and intuitive, HTML 5 and CSS 3 based, visually stimulating and practically ready made to function without major customization processes.
The theme's all inclusive structure makes it possible to share patient and doctor success stories, detail the process of blood donation, share locality details, make online appointments, announce upcoming events and press releases, and organize all from one and single admin dashboard.
You cannot complete your mission without going multilingual and having an inappropriate mobile version of your site.
Luckily, SKT Charity Pro solves both problems by letting you translate and publish content in different languages on the one hand, and ensuring it is going to be accurately delivered across mobile platforms as well.