Bed and Breakfast WordPress themes popularly known as B&B have been listed here.
A perfect guide to bed and breakfast WordPress themes for exclusively any hotel, vacation apartment or room, tour agency or operator or any other business of this kind around the world to get their client and conversion – related issues.
The hustle and bustle of a vacation or holiday destination are one of the primary links of a travel planning chain with a long to – do – list inclusion.
But every traveler in the current reality is lucky enough to free himself from never – ending rush about searching and finding the best packages or offers affordable within his financial limits and according to his wishes.
Holiday and hotel, B&B and traveling websites are doing the hard part of the work, leaving you online the engaging part of browsing their websites and visually enjoying the venue or location you are going to visit afterward.
Hence if you want to generate direct bookings, continuously boosting your sale rates and boost your client investment on account of your engaging and creative, user and customer – driven and niche – specific websites, these Bed and Breakfast WordPress themes are specifically for you.
All of the suggested templates require only pretty little investment for the creation of your stunning vacation or holiday – friendly website with "back to the future" thinking mechanism.
Meaning that every single penny you spend while purchasing the theme will be seamlessly compensated with a thousandfold increase in productivity of your business.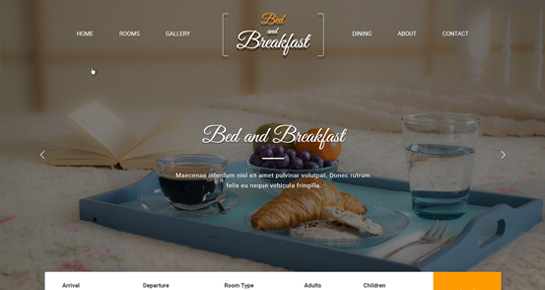 Bed and Breakfast WordPress theme has been created for those B&Bs to get online bookings easily as well as showcase their services and offerings in the most elegant and professional manner.
It has been designed to showcase a nice website for a very nice B&B. Rooms of the property can be showcased nicely. Rates are given clearly on the homepage and can be added as a navigation menu on the top.
Styling just suits those antique hotel properties we have seen before. Slider can showcase the selected room properties as well as other services like swimming pool, dining facilities, spa etc.
A short and simple menu is also given and if needed a menu plugin can be plugged into and easily added to showcase the entire menu and cuisine available with the bed and breakfast.
Most B&Bs cater to the corporates and hence corporate menu, corporate dining and lunch and breakfast as well as services like Wifi, Laundry, Spa and pool makes more sense. Rates of each of the items also should be pointed out and latest offers and discounts also should be focussed and showcased nicely.
It should also be very easy for the user to navigate around the website and hence the navigation has been kept easy and simple.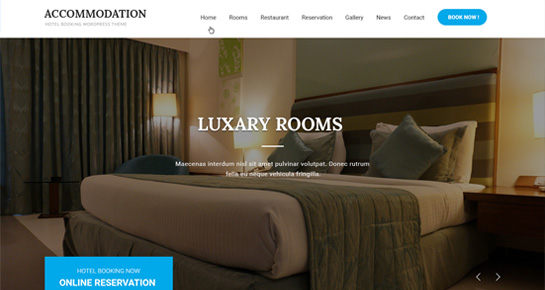 Accommodation as the theme's name suggests is for those who are looking for a quick and easy accommodation for themselves. Nowadays more than newspaper advertisements or ads in print media it has come down to online medium.
Most people would want to book their accommodation and as well as pay for the same from their smart phones or tablets or office computers because it becomes easy for them to manage and it becomes very easy for them to maintain the flight bookings, print of the tickets etc.
Also they get an email so it helps in saving paper and showing it easily to the receptionist on arrival and hence instead of doing phone bookings and via print media one prefers the online way and hence that is the reason why hotels as well as bed and breakfast have started to take the online medium seriously.
Have online bookings via platforms or via their own website and hence their website not just needs to be tech savvy and easy to use but also be searchable and SEO friendly and this is where WordPress CMS scores over others
SEO is the one factor which gives an edge to this CMS over the others and hence it is imperative that clients choose this over the others.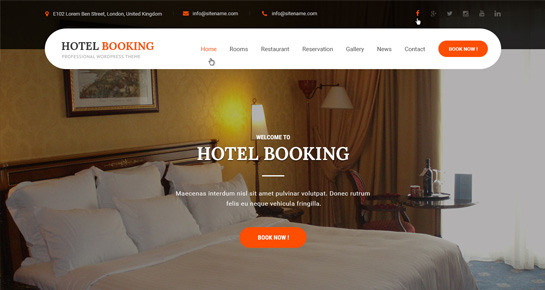 In case you want to get a lot of bookings for your hotel and want to get a nice and professional website to be the face of your hotel property then you might want to consider premium bed and breakfast WordPress theme.
Which gives you the desired functionality of Hotel Booking and also gets you more and more online visitors from across the locations you prefer.
In case your hotel is at a popular tourist destination then around the world it has to appear and thus a website is easily searchable and people can find you online.
And you can place advertisements as well online for your website. Also bookings can be done via payment gateways online and confirmed to the visitor or the party.
Thus this becomes a necessary tool for business users to easily get more traffic to their website and thus increase sales in the process and more bookings which in turn increases their turnover and revenue.
Since these websites are social media savvy they can also be linked to your social media profiles for users to place a review for your hotel or bed and breakfast.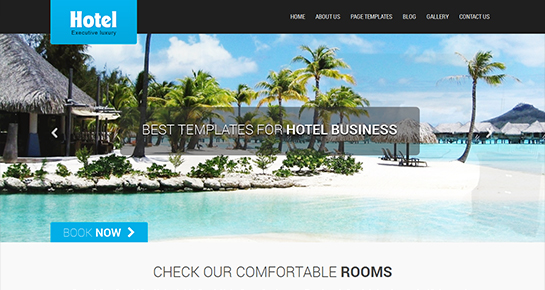 Faster and efficient, Stay Here is one more award – winning web solution included in our repository of bed and breakfast WordPress themes to give any tourism and hotel industry – related website headstart in digging out and finding new clients from every part of the world.
Get ready for a surprisingly easy to follow traveling web page building experience with 0 coding knowledge and become one of the most influential medium of choice for the target audience.
Based on durable, yet admin – friendly backend, Stay Here comes integrated with comfortable sections and zones for publication of company and hotel details, available rooms and other facilities.
The surroundings and advantages, images and photos, contact details, all the representatives, branches and sub-branches throughout the globe, as well as Contact Form 7 support for comprehensive reservation forms.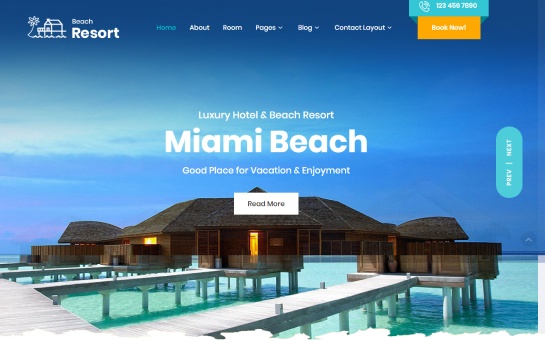 With smoothly navigable and truly interactive, visually strong and inspiring, creative and unbeatable, SKT Beach will let any hotel – based industry witness enormous growth in the respective field even while operating on a quite limited budget.
The theme is minutely developed and taken care of to be tailored to any need and requirement of tourism business to professionally offer all the tour packages and affordable offers to the public at large.
It is among the top – rated and responsive Bed and Breakfast WordPress themes that is in flawless compliance with all the modern WordPress codex standards and shares utmost unity across all the contemporary mobile and tablet versions.
Full color changing options, WooCommerce and EDD, page builder and shortcode plugin compatibility generalize the compact look of this pattern.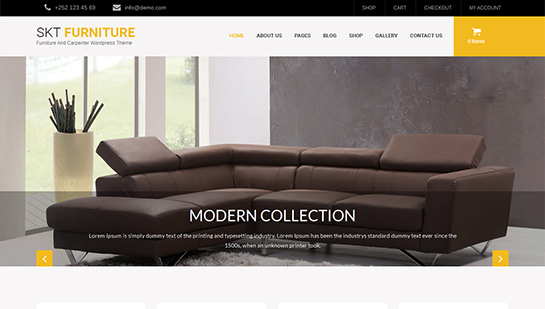 Designed for qualified usability even for non – techies, Furniture Pro comes integrated with all the top – notch structural peculiarities and inbuilt elements to make the most out of any traveling – based content and images in the most effectual fashion.
Build your reputable online tour agency in a matter of minutes and showcase all your informative content through the convenient posts and pages, use available shortcodes to control your content anytime and from anywhere.
Arm the default homepage slider with high – resolution and breathtaking images of destinations and venues and get your details translated into many languages to reach out new layers of consumers.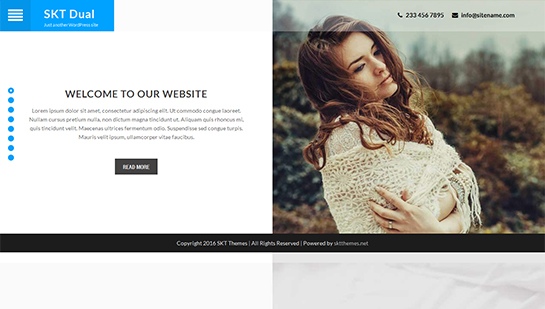 Make your online travel agency or hotel highly competitive and challenging across the digital platform with the help of SKT Dual to meet all your expectations and even exceed them easily.
Increase the number of bookings and reservations directly from your web pages, save your customer's precious time and nerves and furnish the latter with a comprehensive informational wave incorporating all the details and images of the place or hotel of his interest.
Moreover, any potential client will have all the potential of scanning your website and get in touch with you no matter what device, mobile or another gadget he is using for that purpose, since all your content will be coded to adjust itself to any default screen dimensions.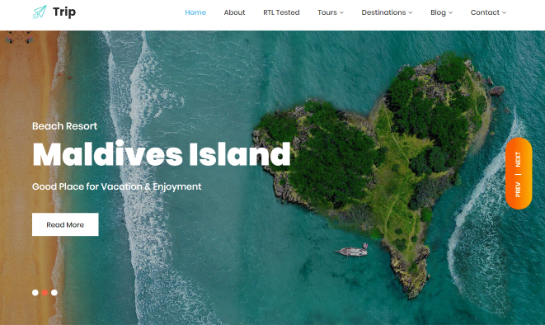 One more credible product in our compilation of the best bed and breakfast WordPress themes is The Trip ready-made to provide every website users with tons of options and incentives pertaining to their preferred tour package or vacation place.
You can organize even virtual tours of your hotel or apartment, so that the customer can visualize the whole elegance and professionalism of your business.
The theme comes with boundless chances in the line with content creation and customization the way you have prioritized, adding.
Removing or editing whatever you may find reasonable with the help of modern Customizer, persuading the web viewer to take the expected action to get in touch with you via diverse calls to actions pinned to the website and much more.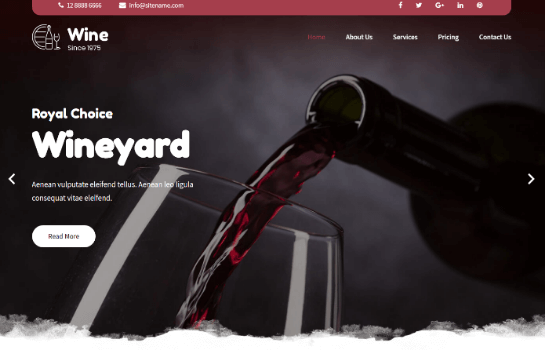 In case you want to occupy a well – deserved place in the over – crowded marketplace of the digital reality, Wine Pro can be your helping hand to achieve that position in the shortest period of time.
Avoid from any kind of breakdowns and stumbling processes and turn to streamlined pliability to breathe life into all your hot offers and proposals for all average or business travelers and enable them to make all their traveling and accommodation arrangements online.
This hotelier WordPress theme of SKT production features extremely easy and lightweight admin panel with a wide array of controllable feature to streamline all the web details in a nicely – formatted.
And well – arranged way, fascinate all the web viewers with interesting images and graphical solutions so that they will be persuaded to scroll all the way to the bottom of the page.