Are you one of those who have an in-bound passion for sports and want to make it a business to make your future brighter?
Then, the best thing you can do is, open a website and flaunt your passion and services through it online. But creating a website and making it famous can become trickier if you lack the right theme for it.
Thus, we are here to introduce you to 14 basketball WordPress themes that are created with perfection to let you enjoy brilliant functionalities. So, here is what you need to know more about the themes.
It becomes easier to create a sporty look on your site when you have the right kind of basketball WordPress themes with you.
So, to make your job easy, we have discussed the most popular sporty themes above, which you can choose and use anytime to get the convenience of website building.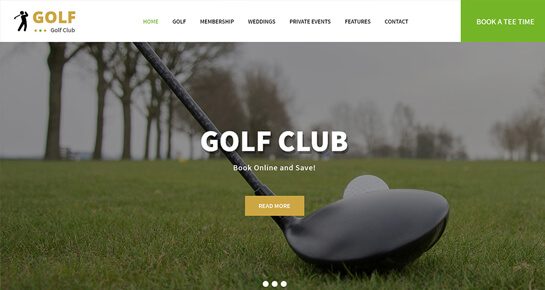 To give your website a very sporty look, you will need a theme that can do it better. A website that especially highlights anything related to golf will require a highly dedicated theme for the particular purpose.
Thus, we suggest you check out SKT Golf, which is made to deliver you the best kind of performance. This theme is filled with features that are just perfect in letting you enjoy a brilliant website.
Here are some of its unique features that you must have a look at: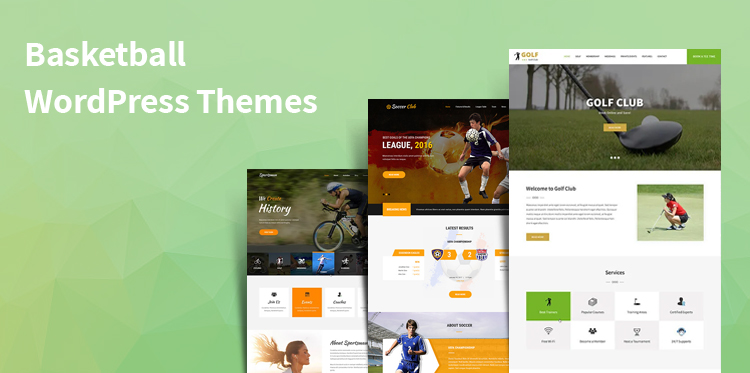 This theme is very easy to understand; even a beginner can use it easily
It lets you embellish the inner header with a slider, map, banner, video, etc.
Coding on this theme has been done as per SEO purpose
Works well with the most popular browsers like Chrome, Firefox, Opera, etc.
Many page builder plugins like Elementor, Divi, Gutenberg, etc., work well with the theme.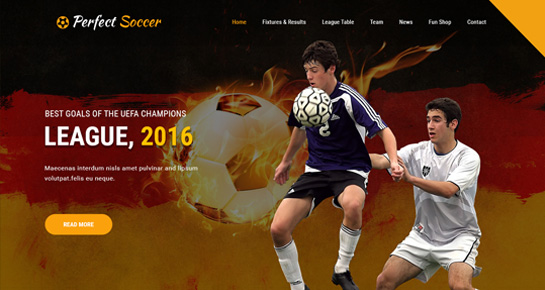 If you are sincerely looking for one of the best basketball WordPress themes that go well with your sports-related website, then Soccer can be the right option for you. This theme is so simple and easy to use that any novice user can rely upon it.
This theme is highly intuitive and comes with a panel that you can understand quite easily. There are plenty of options available in this theme to make your task easier.
So, whether it is a myriad of features it flaunts or the ease in functionality, everything makes this theme a perfect choice for you.
Here are the features it boasts:
It offers you total control over its myriad of layouts
The footer layout comes with 4+ choices
Easy-to-integrate CTAs are present everywhere to trigger better conversions
With this theme, you can get access to many standard pages like 404, categories, archive, etc.
This theme is WooCommerce plugin compatible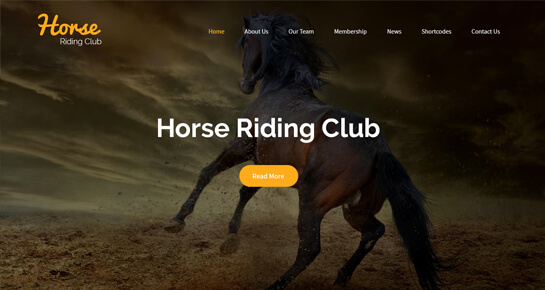 When it comes to rendering a highly professional yet sporty look to your website, you will require a theme that can do it more effectively. The Horse Riding theme is one such type, which is made to deliver you success in this matter.
This Equestrian WordPress theme comes as a CSS3 animated one which can load much nicer effects. All the effects on the homepage can easily be managed through the variety of sections given.
What is more exciting about this theme? Well, you can choose each of the sections through pages, and you can add any type of content to those pages.
Here is what you need to know more about its features:
There are 100+ built-in shortcodes available in this theme
One can easily add various plugins like WooCommerce to it
It has been tested with a variety of screen resolutions
It is an SEO-friendly theme
POT language file has been added to this one of the most impressive basketball WordPress themes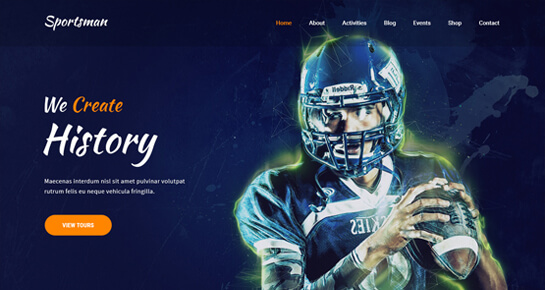 The world of athletics has a large arena of opportunity to disclose in front of you. This theme flaunts in front of you an impeccable design that goes suitable for any service providers like a sports club, fitness center, health club, sports training center, sports material shop, etc.
With numerous shortcodes, you can add plenty of additional functions into the working of your website. Thus, by using a shortcode plugin with this theme, you can add more advancement to your website.
Here is what it has to offer you:
It lets you design your header section quite elegantly using four layout variations.
The coding on this theme has been done as per SEO standards
The theme works well with RTL languages
Lets you tweak any color element present in the theme
Goes compatible with popular page builders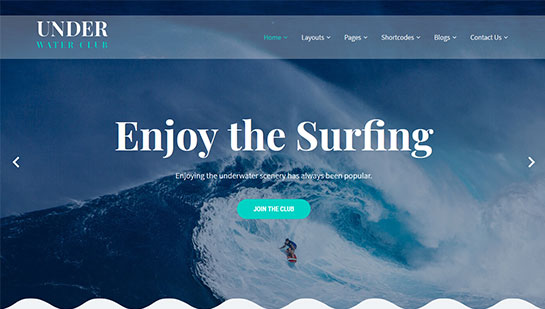 Underwater Pro is one of the best basketball WordPress themes that you must have to give your website a simple yet professional look. This theme is highly congenial with the latest version of WordPress and also goes well with the latest plugin.
A slider is given on this theme to offer you the services, which are highly impressive to create brilliant functionalities on your website.
Below the slider, there are at least 6 columns that are provided to showcase your various service offerings that you facilitate through your business.
So, here are the features it lets you unleash:
This template goes suitable with Swiper sliders, SEO, SMO, etc.
This theme has passed the Google Mobile-Friendly test
There are 4 various types of footer and header provided in this theme
It is WooCommerce compatible
With its press release section, you can display all your successful sections.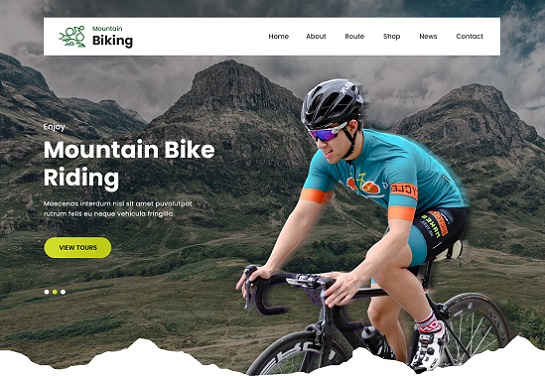 Mountain Biking comes to be one of the most impressive cycling club themes that you can use to create the best kind of web solution. If you are interested in businesses dealing with biking, cycling, or have a bike store, then you can use this theme any day.
This professional-looking theme lets you take your business to a completely new level with its look. For creating a highly professional and beautiful-looking website with brilliant responsiveness, this one is a great addition to your site-making task.
Here are the features it flaunts:
It comes as 100 % GPL license-ready.
Lets you create unlimited number of websites and domains for a variety of purposes.
This theme is WooCommerce compatible
The installation process is easier and faster
This theme comes along with a built-in plugin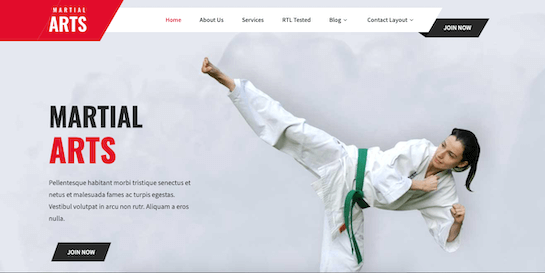 For a website that would flaunt a martial art service, you will need a basketball WordPress themes that can reiterate the purpose of your business in the best way. This is why Martial Arts is considered one of the best selections for you.
This theme comes up with plenty of features so that you can create a very classy and user-friendly web presence. You can use this template any time to set up your online classes and clubs.
So, here is its enticing set of features:
This theme has been made with the use of valid codes of HTML and CSS that lets your website rank faster.
There are 4 different header styles available with this theme
It comes with 900+ Google font
Compatible with WordPress version 4 and above
Supports the popular browsers
Summer Camp is one of the highly extensive and clean camping themes that you can use to for your website related to campsites, campers, campaign agencies, and activity sites.
This theme comes with an alluring design and plenty of rich features that you need for building a website for your campground. It also fits nicely for any of the services related to the art camp, nature camp, water camp, etc.
Here are a bunch of features this theme has in its store for its users:
Let's you add HD photographs, videos, etc., to make your business look more attractive in front of your viewers.
This theme has been developed with SEO-friendly coding
This theme is WordPress 5.4+ compatible
It is Megamenu compatible
SKT Marathon is one of the best basketball WordPress themes, which is quite susceptible and comes with a multicolor appearance. For any health coach, sportsman, athlete, runner, and people looking upto a healthy lifestyle, this theme is a great choice.
This theme is crafted with the latest Elementor page builder, which makes it very simple to use and customize. While working on website building, you will need a theme that can do better jobs. Thus, this theme is a great choice.
Here is what you need to know about the features:
Goes compatible with WordPress 5.0 and above versions
Works nicely with various popular plugins
It supports all types of sliders that are highly user-friendly
Coded with HTML5 and CSS3
Supports RTL language
Ele Fitness is one of those themes, which are created with utmost perfection in quality and functions. This premium theme comes along with extraordinary features that let you create a brilliant user experience in no time.
This fitness theme is designed with power-packed tools and Elementor page builder. This theme is simply ideal for any personal trainers, yoga instructors, or gym owners who are willing to give their service an online exposure.
Here are the features it will flaunt in front of you:
A pricing page is given to display pricing for the service
It comes with a customizer option that lets you personalize your theme accordingly
Works quite optimal with WooCommerce plugin and SEO plugins
You can use a color picker on this theme
It comes with 900+ fonts and a typography option
Are you looking for the best basketball WordPress themes for your diet and nutrition-based website and online services? Then, the Diet and Nutrition theme can be an ideal option for you.
This theme comes with the Google Mobile-Friendly feature so that you can make your website intuitive for a larger user base.
This theme is highly compatible with the Elementor page builder so that you can create simple functions using it. It has been tested for eCommerce functionality as well.
Here is what you need to know about the features of this theme:
The homepage comes along with 10 in-built sections
Includes an option for the blog sidebar control
Integrated with 580+ fonts and icons
It is SEO friendly
Loads quite faster
SKT Swimming Pool can easily be tagged one of the greatest basketball WordPress themes due to all the right reasons. This theme is stylish and stuffed with many features that make your task easier on your website.
This template is quite modern and highly functional. It has a robust design that suits perfectly any services related to pool maintenance, cleaning, repairing, etc. So, one can use this theme to offer swimming classes, training, and other such sports-related services.
Here are some of its features:
Designed with CSS3 and HTML5
Available in various color schemes
Compatible with WPML and Polylang plugin
It comes with animated home sections
Compatible with various SEO plugins
GB Extreme by SKT is one of the highly impressive basketball WordPress themes that you can use for a myriad of sports purposes. The theme is easy to use and works quite faster.
This multipurpose theme can be used for any sports services-related sites. This minimalist theme is very lightweight and offers you seamless performance in creating a robust user experience.
Here is what you need to know about the exclusive features of this theme:
This theme is based on SKT blocks so that you can use it and customize it quite simply.
The theme is WooCommerce compatible and works great for eCommerce purposes.
Any modification you make to this theme will go well with any of the devices.
This theme comes as an RTL-ready one.
There are 4 different blog layouts available in this theme
The Karate training you provide needs to have brilliant online exposure for fame and recognition. And without creating a good website for this purpose, you cannot excel in this area.
Thus, you must be starting a website by using any reliable basketball WordPress themes, which will let you have brilliant control over your success.
For such purposes, the SKT karate theme is brilliant. It comes with all those features, which will make your website-building tasks easier and more convenient.
So, let's check out the features of this theme:
This theme is completely HD retina read.
It comes with social media integration for better expansion of your business
Let you add a share button for your content
100% responsive
More than 7 pages have been pre-defined to give you brilliant control over a robust website.