Are you looking for the best Bakery WordPress themes? Are you going to start up your business online for bigger customer reach?
Setting up a website isn't difficult today, but choosing a well-suited theme that works positively for your business is quite difficult.
Therefore we have made it easy for you. In this article, we have listed our top handpicked bakery themes that increase traffic, conversion, and revenue of the site.
Moreover, for running a perfect bakery store, cafe, and restaurant you have to choose a theme which is user-friendly, SEO ready, and speed optimized.
Hence, our list is based on all quality features that the user needs. Now, explore the given themes and find the best one for you.
We Bake is fully responsive and the best Bakery WordPress Themes that has been tested on various browsers and compatibility plus mobile friendly as well.
It includes defaults sliders with controls plugins such as pause time, animation effects and speed. More than that, it is woocommerce compatible that make it easy for you to a setup cake shop and the pastry shop.
On the other hand, this is integrated with social media icons that help you to reach your customers easily.
Additionally, it provides you with a team section, services section and Default contact form with captcha available. This is yet another responsible theme which can be used by any of person for a personal blog, restaurants, and more.
Bakery WordPress Themes for Cakes and Food Shops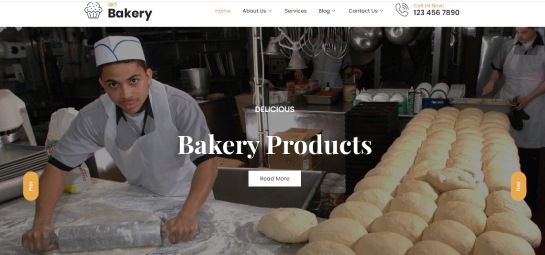 Key Features:
The homepage is easy to manage.
Compatible with WooCommerce and different languages.
Wider blog section.
Includes header and footer widgets area.
Fast to load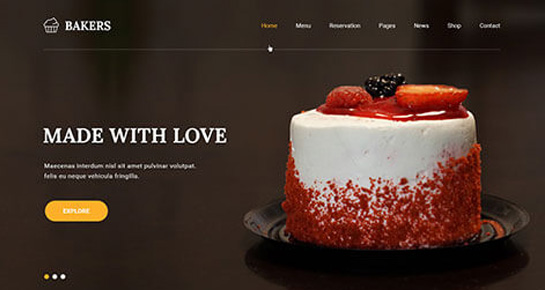 Bakers is a professional designs of bakery WordPress themes. If you are looking for a simple yet professional theme for your bakery shop, cafe or small restaurant then Bakers can be best to choose from. This theme fits well with all devices so any user can reach your website or a place.
The theme is completely documented and provide you with the perfect design see you can set up the working of each section moreover it will make your website a parent's attractive so the user just want to eat from your place.
Because the texture and colour combination is very amazing. On the other hand, you do not need an expert to set up the website because the coding is inbuilt. So, you just have to follow up the sample content and set up the website accordingly.
This cakery theme provides two different site layouts that give you commenting feature as well as allow you to reach more traffic without extra efforts.
Furthermore, the theme is designed beautifully, so you can enjoy the benefits in your business perfectly. Moreover, the drop-down menu of 5 levels is provided, so you can easily adjust and feel the best of yourself.
Key Features:
This provides you with upgraded features.
Easy to manage to sell via WooCommerce.
Include the right call to action button with perfect contact form.
Include numbers of variations that represent your brand perfectly.
The strings are easily translated into any language.
Provide different sidebars and blog layout options.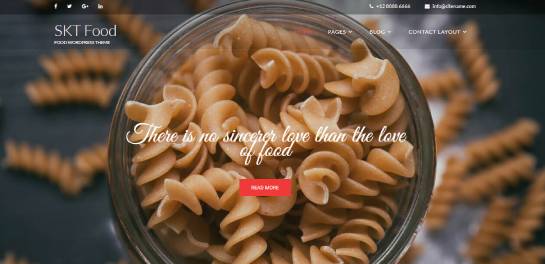 SKT Food theme is the specially designed theme for chefs, food bloggers, bakers, cafes and recipes website. This is comes to best bakery WordPress themes. It has a clean and wonderful design where your website looks awesome.
It includes a gallery section, animation control, flat graphics, modern clean design, and multiple page layouts.
Moreover, SKT food is coded with elementor page builder, which provide multiple features that are easy to use and comfortable by your audience as well.
This will provide an exciting and fantastic implementation of the shortcodes so that your website will easily rank on Google. With SKT food, you will find the multifunctional and responsive theme to support your business.
Key Features:
Tested up to 6 sliders.
Provide you fully widget-friendly support.
Compatible with NextGen gallery.
Easy to use theme panel.
Fast to load.
If you're looking for a multi-purpose theme that can be used for your cafe, restaurant, catering business, bakery shops, and food bloggers as well then Bistro is the best to get started with.
It comes upon the unique colour combination and animation along with the great graphics that support your website and grabs user attention quickly. It is 100% responsive and tested on various screen resolutions.
Moreover, it is mobile friendly and has been tested with a variety of mobile devices such as Windows, Android and many.
It includes event calendar plugin, HD and retina ready theme along with that the modern technologies of this theme provide a simple layout and fantastic appearance.
Furthermore, it is easy to use and you can customize it according to your preferences. This can help you to create fancy content as well, so you will not get any issues while using it.
Key Features:
You will get a booking facility with woocommerce plugin.
It is simple and easy to use.
Full Colour changing theme.
Include Google fonts and social media icons.
Guttenberg editor theme.
The dynamic theme includes images and text.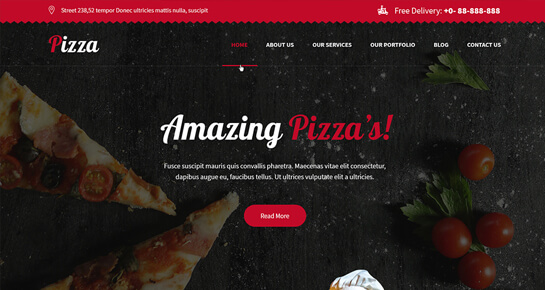 If you're running a local small pizza house, bakery shop, juice bar or a home kitchen then it's time to take it online with Pizza theme to grab more traffic and customers to your shop.
If you would like to create a website that takes online orders from customers with ease, Pizza theme is also the best to get started with.
This theme is designed particularly for the Pizza and bakery lovers that provides a template which is attractive and unique in nature. On the other hand, it includes 800 plus typography where you can choose as per your preference.
This theme is mobile friendly and user-friendly, so you won't get any issue of the speed and navigation menu. It is entirely the best website which provides Complex functions that make the User experience better.
This also come up with the normal documentation and complete guide, so you will not get any issue while setting up the theme on your website. This also includes the standard pages and complete website solution.
On the other hand, it is translation ready, high resolution ready, eCommerce site layout and comment template supportive theme that takes less time to take your business into the success.
Key Features:
Support BB press membership plugins.
Include slider plugins, fusion, smart slider and revolution.
Provide review and security standards coding.
Include multiple page builder plugin like DVD, blocks, visual composer.
Include header and footer with four types of layouts.
Get one-year customer support.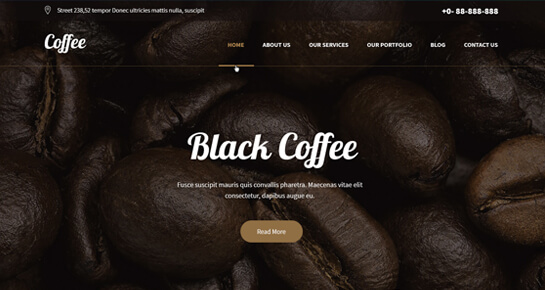 SKT Cafe Pro is best and well-suited designed bekery WordPress themes for bakers, food corners, tea shop, coffee shops, and cafes. This fantastic theme comes with full documentation, so you won't get any issue while setting up and using the theme.
The support is available for everyone for one-year. In case, you find any issue with establishing and using a theme, support is there to help you.
The header reaction includes four layouts which are widget friendly. It is a complete SEO standard theme that supports google analytics, gallery, slideshow, and many more plugins. This theme is entirely designed to be responsive and 100% effective for converting traffic into sales.
Key Features:
Cache plugin is available that boost the speed of the website.
Work flawlessly with various browsers and devices.
Default 3 slides are inbuilt.
Customize & forum supported theme.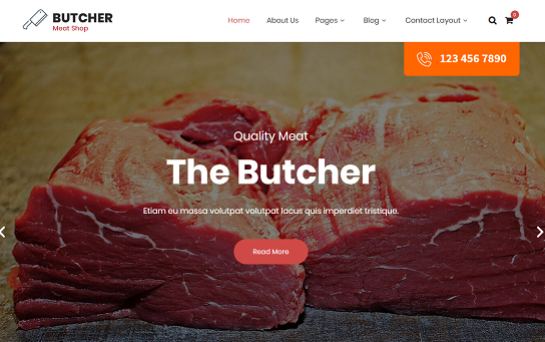 Butcher is yet another the best multipurpose theme that can be used for various business-like cafes, meat trade shop, restaurants, and bakeries.
It is one of the great themes to support your online business with maximum benefits. With this theme, you can showcase your products in a decent way that grabs user's attention and you will get more sales.
If you want to go for online orders or booking then Woocommerce plugin is highly supportive in the theme. It's a call to action button and inbuilt shortcodes are great to set up the website perfectly.
Also, the testimonial section is great to showcase what your customers are saying about it. With this, the demo content is also available to help you in building the stunning website.
Key Features:
Integrated with social media plugins and sales plugin.
Incorporated with the best chatbots.
Supports multi-language.
Includes 50+ shortcodes.
SEO optimized theme with SMO friendly buttons.
Handy Admin Panel & two-steps installation.
Ele Restaurant is the most famous and trusted bakery WordPress themes that supports your bakery in the next level.
In this theme, you will get the desired results as it builds with a page builder that allowed the restaurant to create a website with giving you exactly what you want.
It includes colour combination and provides you with a range of benefits that can be defined to give your website the next level appearance.
On the other hand, It is the simplest way to build a website in the easiest and fast mode. Further, the theme is extremely the best theme, a fully functional and come up with a range of features.
It is highly animated and more attracted to the sliding effects that easily grab serious attention.
It is also the multilingual ready and HD ready theme, so you can reach the audience from the multiple States without language issues. Some of the active menu in this are highly great such as home, about us, and services pages.
Key Features:
Coding is simple and validates with CSS.
Customisable theme with full documentation.
Provide blog Layout to give a different experience to the users.
Compatible with woocommerce.
If you are master in fruits selling, fruits juice, fruit cakes and more related to food items then Juice and Shakes is a popular theme you can choose hassle-free.
The same provider you unlimited access with a number of colours and for actions the inner pages are come up with slider and different formats which easily impressed by users without doing manifests this theme will help you to be the maximum number of audience.
On the Internet was because you are banner will be engaging and the content will be the fantastic which provide you with the competition with international markets with demo content is also available with services or products in the home page that you can add it for your choice.
The separate pages have also created for the blogs, so you can easily give more information to the readers. You just get this now, it is interesting theme where the user can find you interested in reading.
Moreover, it provides you with full control over choosing colours and publishing content.
Key Features:
This provides a budget-friendly cost.
The theme is invented with a strong and influential framework.
You can use the shortcodes with different columns.
Support the NextGen gallery and testimonial section.
Registered with GNU GPL license.
If you are an IceCream lover and want to create your website related to ice cream, cakes, ice cream cakes, etc. Ele Icecream is comes to best-suited bakery WordPress themes for your foodie business.
It is one of the high-quality WordPress themes that can create an outstanding and unique plus picture-perfect website that grabs user attention in seconds.
With this theme, you can choose from 900+ fonts which are free to use. It includes outstanding sales featured that would work amazingly to increase conversions and revenue of the website. The animation effects and styles are great to work in giving you success.
Key Features:
Includes various formats and styles.
Comes up with the best logo.
Technical faults can resolve by contact support.
5-page menus with regular update feature.
The recipe theme is also the top picked in our list, when it comes to creating a website for food, personal recipe blogs, baking shop, etc.
It includes an animated home page, cross-platform checked theme with various devices and browsers. This comes up with different languages and can be easily displayed on subsets. It is very simple and easy to use.
The sidebar blog layout can give you 4 type of layouts. Demo content is also available to help you in each step while setting up the website.
This is a close standard theme that compatible with the latest version of WordPress. On the other hand, speed is highly friendly and easy to navigate by the users.
Key Features:
Google tested a user-friendly theme.
POT file included theme.
Simple design with modern features.
Pause time with the slider controls option.
Inbuilt Call to action.