Architecture WordPress theme is essential for architects to have a great and dynamic website which they can change the design and at will and have additional functionality just at the click of a button.
Architects basically need a portfolio website where they can showcase the current projects and the previous and past successful projects they have done.
They want to highlight certain projects of theirs which they have created and have got accolades for the same.
Also they want to have their contact info displayed properly so that builders, developers and individuals who are interested in developing buildings, flats and houses or bungalows can contact them or their agency.
Big Architect firms also have several architects working under them and hence it makes sense for them to showcase team members and client portfolio and logo.
The list comprehensively showcases all the architecture WordPress theme which we have and there might be many others as well which may be suited for the clients.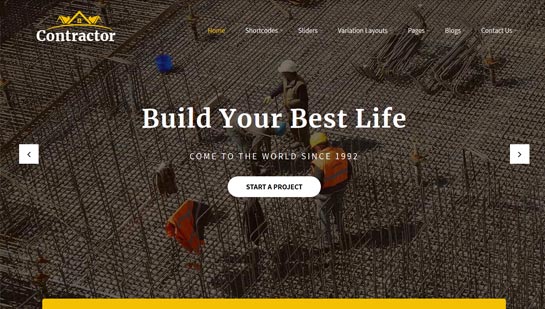 Contractor Pro is easy to use and modern architecture WordPress theme that comes with pre-designed pages and home page demos for your comfort.
Thanks to comprehensive documentation and support that will make your website more striking and help you to present your services in the most beautiful way.
It does offer plenty of options for creating the most sophisticated and modern construction project. Contractor Pro has a responsive layout that will adapt to every tablet, smartphone, and desktop computer.
Also, it is optimized for SEO and speed and incompatibility with top web browsers and retina screens. The more good-looking and professional website you have will improve the chances of attracting more clients. However, Contractor Pro will match all your expectation to gain more success.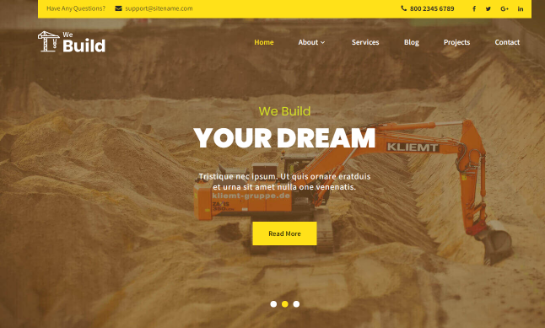 GB Construction is a professional architecture WordPress theme that goes well for industrial design, construction, architecture design, interior design, engineering, or manufacturing companies.
GB Construction is based on Gutenberg and supported by other site builders too that will help you to build an awesome-looking website with trust and innovation.
This template is actually multipurpose and suitable to most of the innovative industry even the layout and its design features go well with the fields like repairer, painter, interior designer, carpenter, art and so on.
It will still help you to build a modern, powerful and beautiful website for any innovation business in just a few hours. Major features of this theme are mobile-friendly, pricing plans, sticky navigation, SEO optimized, testimonials, RTL support, and more.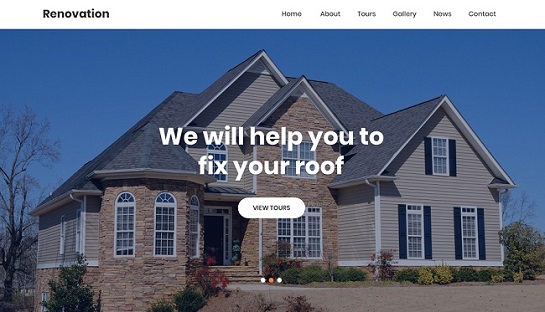 Are you looking for a theme to build a stunning website that will stand out from the crowd and get more clients? Then here comes GB Renovation that will help you out in achieving all your dreams.
This theme is built by the excellent WordPress development team. Because it is meant to be SEO optimized you can make your website visible on Google very easily.
Now you can showcase your portfolio, company's profile, services, and projects in a modern, professional, and trustworthy way. All over the site, we have putten a call to action button along with the company's contact details.
Using GB Renovation theme means now you will be able to spend more time on business development rather than website development because our theme offers easy to install, and easy-to-use theme that doesn't take much time for setup.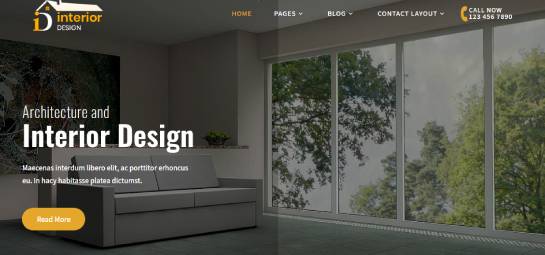 Unlike other multi-niche and multi-purpose themes that can be used for various niches but they fail in offering special focus to their theme.
However, SKT Interior Pro is a multipurpose design only to focus on interior design, construction, renovation, and the industrial sector.
It does have some special elements that can make your construction business more successful. In the particular section, you can add information related to your services, opening hours, and contact details. With a beautiful portfolio and galleries, you can also display your work.
With Woocommerce plugin integration you can convert a personal website to commercialize. Even many plugins are also suitable to make your website look and feel unique from others.
Some of SKT Interior Pro top features are mega menu support, GPL licensed coding, customizer options, latest WordPress version compatible, PSD on demand, Blog posts sidebar, and so on.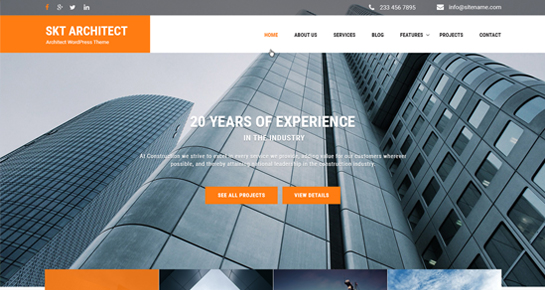 Architect Pro is the perfect example of how an architect would like to showcase his portfolio or an architectural firm would like to showcase their projects past and present.
It is a visual treat which showcases a homepage with a nice full screen slider and thereafter the services. Architect Pro provides visually attractive boxes with images.
Our works follows who we are which contains about the company. Our works showcases nicely all the projects and divides them in categories.
Our works can contain nice images which when clicked will open in lightbox. This is an in-built feature of this architecture WordPress theme. Advantages section tries to show the limelight as to why we should select this firm.
Team is important because sometimes its a firm with several architects and hence one should understand who the team consists of.
Client testimonials are equally important. USP of the firm can also be explained in the advantages section. Any other section upto 20 sections can be added in this theme.
Architecture needs galleries, slideshows, Full page layouts fancy developed with the help of page builder all of these features are given already within this template.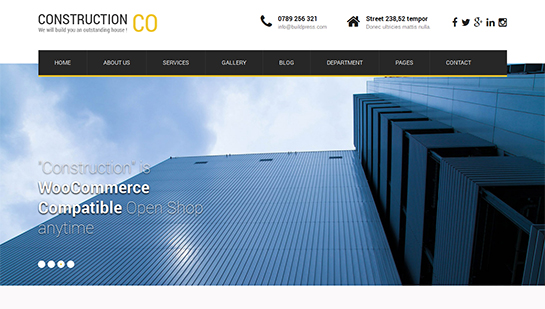 Construction Pro is yet another modern looking architecture WordPress theme which is responsive just like others and have been tested with all modern plugins for compatibility and has a great gallery.
Slideshow compatibility for good features and other functionality which make it secure for future additions and scalable for future as well as it is a great template to be used for any architect firm readily.
Although, Construction Pro was developed for construction and contractor companies but really suits any architect firm as well.
Another construction template but since contractor and builders also showcase buildings and other stuff related to architects is Build theme, hence it figures out in this list.
Build template by SKT Themes has a great look and feel and very dynamic template to be considered for any architectural firm.
Furniture Pro was initially intended for carpenter and furniture stores. But as we know interior design is also internal part of architectural firm solutions.
Hence architects as well as interior designers can well use this template and make use of the facilities and features given in this template.
Furniture Pro template also satisfies the needs of an architect firm with regards to team, store, gallery, templates and plugin compatibility.
Handyman Pro was originally intended to work as a handyman template but due to its dynamic nature of the theme it can be termed as a multipurpose usage template and can be used nicely for any architectural firm which wants to focus more on its services and different portfolio it has.
Handyman Pro theme focusses more on the services part and showcases services nicely and in a better way than the other rest of the templates. Features similar to what we have been discussing above.
Perfect is a perfect template with several templates within it and has several shortcodes and functionality which make it a killer template for use with any industry.
This can be well suited for all kinds of multi concept and multipurpose websites and can be twisted to suit any type of requirement.
Perfect theme has unlimited possibilities with regards to sliders and hence any kind of slideshow like layered sliders, video and image sliders and other kind of galleries can be added to suit the requirements for architects.
Thus this template can be well suited for any architecture WordPress theme based website.
Flat Pro is a modern designed flat graphic usage WordPress theme for architectural firms with material and flat design.
Compatible with various plugins like gallery and WordPress sliders plugins to give architects ample opportunity to present their works and showcase their talent.
Flat Pro theme has team member section so that one can easily showcase team members. Several templates and header and footer variations similar to perfect template.
Lens pro looks unique and different than any of these templates of architecture and hence it presents and gives space more to the visuals thus implementing more focus on the work than the content.
Lens Pro theme has a sidebar menu for navigation and all other features are similar to what we have written for other templates with several page and blog templates
SKT Dual is a nice marketing architecture WordPress theme which has a split screen design and acts like a one pager on the homepage or landing page and can have multiple pages linked to inside pages.
Looks really visually attractive and very unique and different than the rest. SKT Dual theme works well for firms who want to showcase they are something different.
Movers and packers is although based for logistics industry but works well as an architectural firm website as well and looks good.
Movers and packers has a nice get quote and other call to actions like address etc given and suitable for any local business website.
Industrial one is a plain and simple kind of a template which works for any industrial design related websites. It has all the features as common ground mentioned for other templates. Looks good if someone wants to have more info based website.
Kraft looks a real gem for any corporate website and looks and feel are also boosted due to the icon based menu and navigation we have on the top.
Has nice parallax sliding background for the team section and works like a charm for any website who wants a visual different to their firm.
SKT Full Width has a nice and fully visually attractive template just like Lens Pro. Instead this one is black instead of white. Does the job for interior designers, architectural firms etc.
Has all the features similar to other templates and has the left main menu section. Can have different background images in all pages of the site using this theme.
Some of the salient and common features of these architecture WordPress theme are:
Fully 100% responsive and adheres to rules of Google mobile friendliness and works on all devices and platforms
Great coding standards maintained so that one can easily use them without worrying about the security of the codes as well as compatibility with various versions of WordPress
Several standard pages and page templates built already within each of the templates and several blog templates
Elementor page builder and other page builders can be used for inner pages to have a great layout on your own using the full with page template
WooCommerce compatible for online shop, several gallery and plugins of sliders already configured and ready to work out of the box with this template
Footer, and sidebar widget friendly in all of the architecture WordPress theme we have presented above
Great design and look and feel and all of them with ability to change colors, fonts, font colors etc
Integrated with font based icons and as well as several 100+ shortcodes in built ready to use and also compatible with several shortcodes plugins for performance enhancement and features
HTML5 and CSS3 based and hence CSS3 animations also work and works with all modern browsers and devices.
At par support over various platforms like email, forum as well as Skype support and with complete documentation and manual available
We always get stunned by looking at the tall buildings when we pass by on our way to work, or the beautifully designed cricket stadium when we spend our evening watching a game or even the pictographic metro station.
Architecture is an art form that surrounds us every day and every moment and makes our life more beautiful and meaningful.
But architecture from a business perspective it's quite a niche service due to its expectations, high cost and few sales lead. But there is a high chance of making millions out of this if you plan exceptionally well and manage to utilize resources in correct order and time.
One such resource is the digital world where you can showcase your niche business model and objectives to your potential clients so that you can convert them into sales leads.
But you may be thinking about how to manage this large business in this digital world when there are already so many competitors? Thanks to popular content management systems such as WordPress, which made many businessmen set up their professional websites up on the web with minimal investment and efforts.
Your main focus should be creating a professional looking clean and interactive website. With these architecture WordPress themes, you will be able to build the perfect looking and flexible yet powerful website in no time to reflect your business ideas and concepts to look more promising to your potential customers.
These architecture WordPress themes come with plenty of different features which can be used to create an attractive and professional portfolio.
With the use of these themes, you can customize your homepage accordingly to your business requirements, like adding a slider displaying and highlighting all your latest projects completed.  
Moreover, these themes allow you to customize the color, background, and header and footer area of the website as per your requirements and desire to give a sophisticated look. Now, you can extend the functionalities of your website through the use of plugins that are available with these themes.
For example, you can allow your customers to contact you shortly after they like your business offerings by activating contact form in your website.
You can optimize the search engine capability of your website with the help of different plugins which will allow you to place your website in top ranks in Google's search results.
This plugin will act as a marketing tool to enhance the visibility of your website in various search engines. You can also give your user the ability to view your website's content in PDF format with the help of PDF viewer plugin.
With the use of these architecture WordPress themes, your website will be provided with the highest security features ensuring no data theft from your site.
Moreover, making these websites super responsive will help you to capture the market base that uses smartphones or tablets more than laptops or desktops to surf the web.
So, if you want to have a strong grip on this business field to dominate the market more than your competitors, then you need a powerful, flexible and elegant looking website.
To fill up the necessities of your future clients that can be easily achieved by the use of architecture WordPress themes with less stress and efforts.