The best ancillary care WordPress themes are gathered here as a key to success for ancillary, health supportive and diagnostic centers.
These ancillary care WordPress themes are suitable for the above as well as ancillary and other health – related service providers who lack proficiency in the digital world but want to use it in the right way.
The production of products and rendering of services in every single spectrum has to be carried out in compliance with certain social efficiency criteria.
The step-up of social well – being requires that those goods and services fulfil certain conditions and satisfy certain expectations. This inevitable applies to the provision of ancillary care and other health – centric services.
People are continually using the online platform in an effort to find reliable health and doctor information, including ancillary services as auxiliary assistance prior to the main treatment, procedure, operation, etc or during it.
And since the role and utmost importance of ancillary and other health care websites in the quality of your relevant businesses and service provision is already well recognized.
Here are some precious tips for you in the form of ancillary care WordPress themes to present your diagnostic, therapeutic, custodial, laboratory, genetic testing and another service to the public at large.
With these templates connecting thousands of patients to your professional services will be easier than you can ever imagine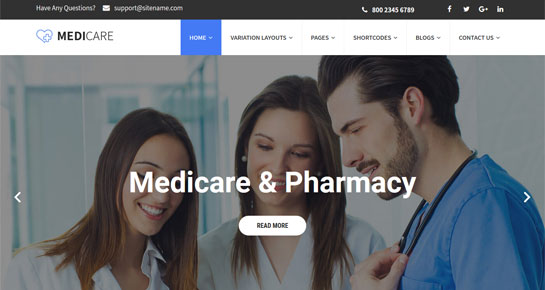 Medicare Pro is highly dynamic and properly organized ancillary care WordPress themes that give you awesome appearance while using it as your online business. This theme is created to support the bundle of health and fitness-related services.
The doctor section can be used to mention the details about the doctor that they are specialized in. This theme will work for single and multiple page structures.
This means if you are a single doctor who handles the patients than you can create a website to single page. And if you have a well-settled organization than you can create a website using multiple page structure.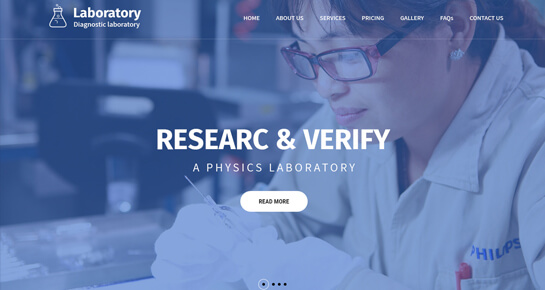 The homepage of ancillary care WordPress themes plays an important role, therefore, laboratory Pro consist of an 8-page section that included all the service that research organization may need. The theme is active in behavior that your user can jump from one page to another.
This theme supports the Gutenberg editor that will help the user to create a website in an easy and effective way. To explain your services and research more in details you can post some blogs including questions and answers.
Countdown plugin has been integrated to showcase your research done up to know. Not only research organizations but also doctors, dentists can use the features of this theme.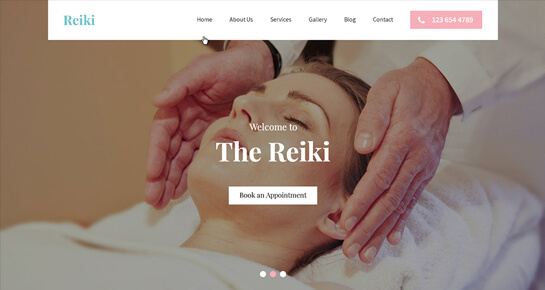 Reiki pro is a physical therapist related theme to heal pain from various deceases via online consultation. Dangerous deceases suffering person may not able to go and visit doctors clinic every time.
Hence this theme will lower down your pain by online communication. To make communication easy online registration form has been given.
The doctor available in the clinic or not does matter, as the website created by ancillary care WordPress themes is accessibly through every device.
Also, the theme is viewable in different devices like labs, laptops, computers, mobile phones etc. Hence the theme is very responsive in nature.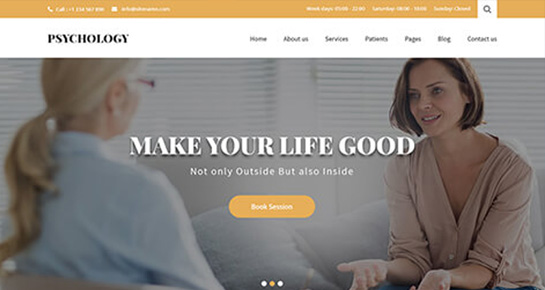 Ancillary care WordPress themes is provided with good structure documentation that can be accessed online. The online documentation will guide you while changing the WordPress theme.
You can set up this theme very easily. Organizations related to the doctors, medical practices, dentists, dermatology, hospitals, etc. can use this theme.
Psychology will adopt the role of your organization and will give outcomes effectively. Because this theme has the feature of plugin compatibility, allows widgets on footer, color changing option, logo changes, layout and elements usage unlimited this theme comes under the category of best selling WordPress theme.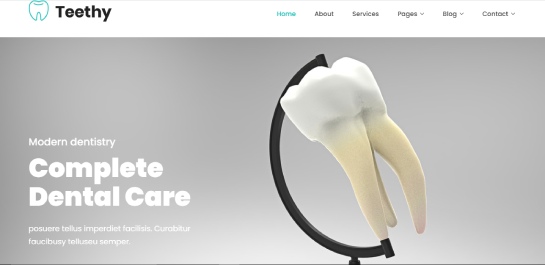 From diagnostics to rehabilitation services, physical and occupational therapies, massages and chiropractic services, everything can be served to your audience at the highest level with Teethy as one of the best ancillary care WordPress themes to be purchased at an affordable price.
However, this serious – looking and clean website builder knows no frontiers when showcasing any kind of other medical content.
Thus, this multi – service framework can be successfully practiced by myriad health and medical experts, including dentists and pediatricians, neurologists and chiropractors, surgeons and therapeutists.
Enhance the productive patient – doctor relationships with your content shelved in the convenient theme sections and parts, like home, about us, services, contact and others so that each website visitor will easily orientate and find whatever the answers to his or her questions.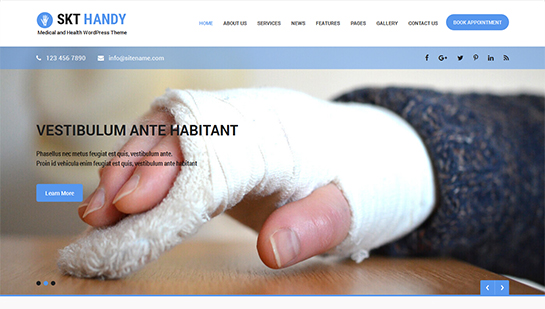 In case you are a ancillary service provider and are aimed at keeping your prospective clients in the loop, then look no other way than Handy.
Vastly functional and pristine, well – laid out and competition – ready, this health and medical website builder is the one to expose nicely balanced form and function.
Otherwise stated, clean and white – based, streamlined and decent visualization of the theme is combined with seamlessly functioning inner frame ready to host a content of any description and size.
White and blue based, user and admin – optimized, Handy with its search engine – optimized nature is ready to boost to the top of the relevant search inquiries and let you dominate your competition in top – positions.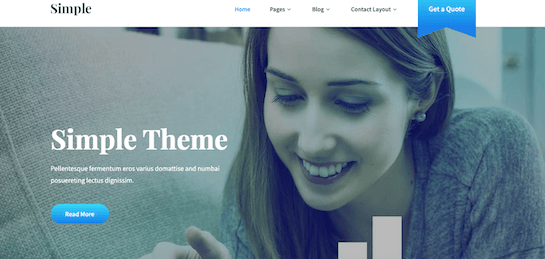 Truly simple and salient, elegant and thoroughly – thought out, Simple as another spectacular pattern among ancillary care WordPress themes will be ideal for building patient trust and loyalty.
Devoid of anything distractive or irrelevant, this cutting – edge template is powerful enough to showcase all your content in the most streamlined fashion.
This template is ready to cater any kind of ancillary and health – related content and be the official face of the experienced doctors and experts, plastic and other surgeons, hospitals and clinics, medical insurance companies and agencies, etc.
Great execution of smooth navigation and readily responsive design also come as an indispensable part of any website based on simple so that it will be much appreciated by all the end – users, from desktop to mobile.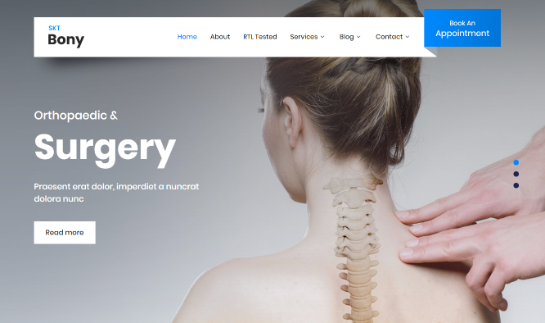 Be the area where lots of patients constantly embark on to look up valuable medical information, symptoms, search treatments and required specialist or whatever it can be with the template launched as Bony.
Advance your practice by becoming one of the credible sources of medical information and expect more and more leads and prospects for your business.
Conquer new heights and realize new objectives with your award – winning ancillary website without any developer or designer standing by your side.
While in conformity with all the compulsory standards of modern WordPress community, Bony comes bundled with fully adjustable layout, responsive and cross mobile – compliant character, and finally, shows impeccable functionality with a wide array of commercial, SEO and other plugins.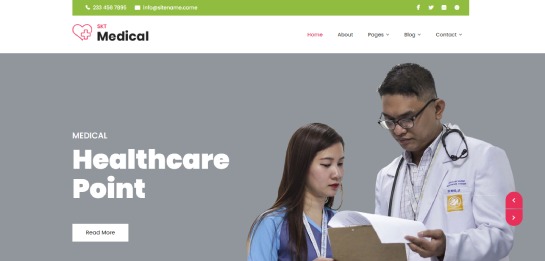 SKT Medical Pro wonderfully utilizes the original and inspiring web design dotted with the subtle shade of blue color combined with the dominant white.
This color combination is for sure ideal for any ancillary website to keep its face fresh and unblemished, as well as its content – totally legible for every single patient.
As one of the easiest to use and understand ancillary care WordPress themes available for now, this template has been made with non – techy website admin in the authors' mind so that you will be capable of exploring the best working principles of this theme in a matter of minutes.
SKT Medical is also clearly coded with HTML5 and CSS3 and thus celebrates all – inclusive package with the most essential features and controls.
Among them are mobile – friendliness, homepage slider availability, preloaded icons and Google fonts, plugin support and much more.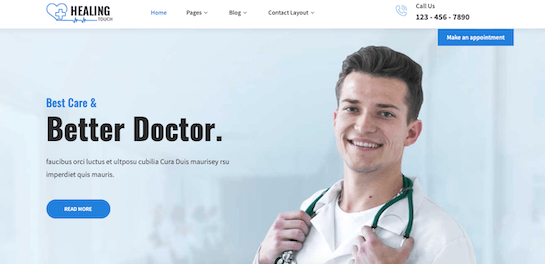 Enhance your online visibility and drive potential patients to your business thanks to Healing Touch as one more perfect website solution for ancillary care services and not only.
Create stronger medical market presence with the given platform and offer your high – quality services.
Use the uniquely stylized user interface design and top – notch inner performance to widely communicate your message with your patients and web readers.
Ready to assist you in getting your productive and results – driven juices flowing, Healing Touch comes covered and ready to meet all your anticipations and even surpass them.
Beautiful and clean visuals, 100 % responsiveness and error – free navigation, color picker integration for playing with theme colors, everything is wrapped up in one single template for your comfort.