Health Clinic WordPress Themes for Health Clinic Websites
In the current digital world and thousands of online marketing strategies coming along it have provided many health, health care and medicine related clinics, hospitals and other businesses.
These businesses with opportunities to take advantage of the potential of electronic communication means, including the cooperation with potential clients and partners via their websites.
Naturally, medicine and health clinic WordPress themes should be precise and accurate both in their look and functionality to enjoy the people's confidence and loyalty.
Fortunately, the specialists have taken care to ensure the existence of high quality health clinic WordPress themes suitable for doctors and other health professionals to put up with their medicine websites or blogs and get in touch with their patients in the most time –effective way.
With the help of the website, it is possible to guide the people to the reliable and trustworthy sources of information about some illnesses, medication, specialists, services or some other required content.
Anyway, health and medical website advantages are not limited to practice promotion only. Digital networking platform lets people find experts and specialists in other countries as well.
As a result, the business comes out of the geographical borders and becomes accessible to anyone.
Hence, if you are a doctor, dentist or other medical specialist, here are top rated doctor and health clinic WordPress themes to ensure their strong presence in the online system and gain positive patient experience.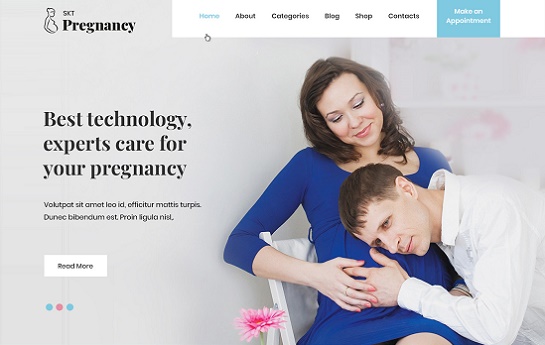 SKT Pregnancy is a premium health clinic wordpress theme that is specially designed for medical staff, doctors, hospitals, and nurses. Also, the layouts suit well for dental, nurseries, emergency room, child care, gynecology, and general therapist clinics.
It is a robust and mobile-friendly template that will make sure it runs faster and perform well on every device. Along with the call to action button, you can add a welcome message on the homepage. This will get straight away from your user's attention.
SKT Pregnancy is widgetized friendly so that you can display your healthcare services and related content professionally.
This theme offers powerful functionality. It is empowered by Elementor page builder and made compatible with other page builders too.
If you are looking for a fast and multipurpose health clinic wordpress theme then no look further than SKT Sanitization Pro.
This template allows you to create a website related to the health industry with ease. Especially it offers 1 click demo content importer so that you can add demo content on your wordpress in just one click.
To satisfy all medical firm requirements the theme comes with more than 4 predefined pages. it is also SEO optimized by default so that it will help you in generating organic traffic quickly. Some of the features it is supported with are appointment form, pricing plans, sticky navigations.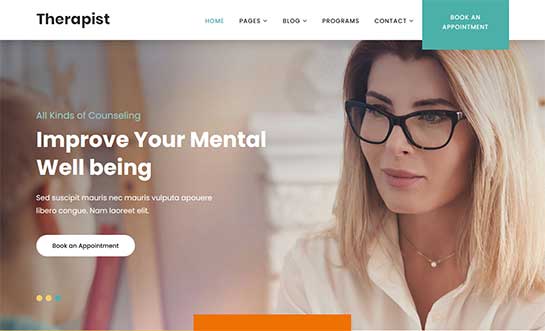 SKT Therapist Pro is a marvelous template offering extraordinary features and functionalities such as 1-year support, comprehensive documentation, appointment and SEO plugin compatibility, contact form integration, and much more.
The theme and its layout design can be utilized for various purposes. Keep in mind that the SKT Therapist is a super powerful and flexible theme that works with any medical firm industry.
With countless features, customization functions, and predefined pages you can have your own website up and running in no time. Without any doubt, you can say that your users will have a better user experience by making sure they are able to book an appointment with ease.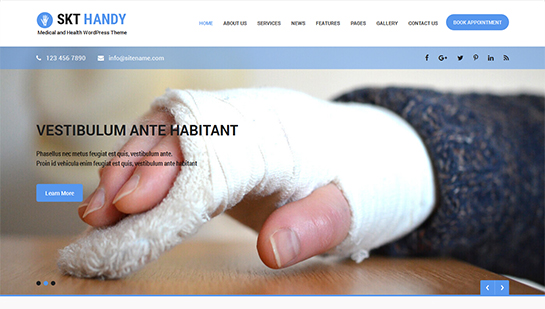 Handy has long been a source of informative and credible doctor and health website creation and management.
In addition to sharing conveniently and neatly arranged theme sections and options to insert all the relevant information about the health center or medical clinic, a powerful collection of theme options and features is included deliberately composed to assist you during the whole process of the website control.
Built on responsive and mobile compatible design, your web presentation will be flawlessly present in any mobile or device screen, thus the relevant medicine – related web pages will be viewed in response to the screen resolution of the device the person is viewing with.
Hence this template strongly fits the health clinic WordPress themes category.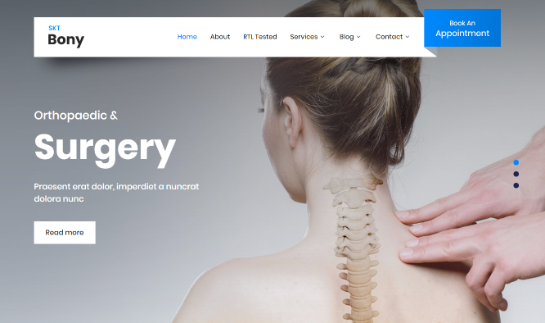 The next handy and premium quality medicine, health, doctor, chiropractor, bonesetter or any other specialist – centric health clinic WordPress theme demonstrating an extensive mixture of professional and clean design solutions, smart and intuitive template, and easy to use structure to undertake all the changes and modifications to fully realize your working potential and previous experience is Bony.
As your clients and partners come from the way information about you is displayed and perceived, here the website appears with a set of capacities and chances to highlight the whole target content with accompanying images and texts in the most efficient way.
Apart from being strong framework on which the web or blog existence can be guaranteed, the theme is also convenient for exercising any electronic commercial activities.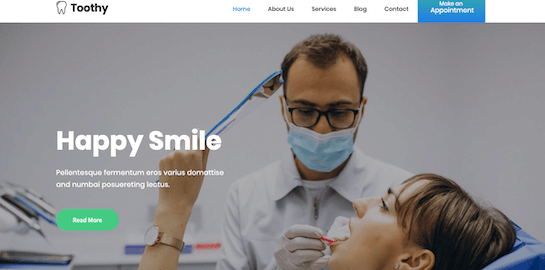 Highly integrated and comprehensive, all inclusive and embracing, totally smart and intuitive, flexible and resourceful, Toothy comes ready with all the potential features and characteristics every individual dentist or tooth – related activities will ever need to share.
This uniquely versatile and serious one of the health clinic WordPress themes supported template is entirely armed with lots of shortcodes to achieve the targeted content presentation and the website overall functionality.
Color changing and other customization options to take the full care of the website overall appearance and exceptional look, conveniently arranged homepage areas and sections to be filled with whatever is searched for the most, as well as compatibility with a series of modern and dynamic plugins to meet specific goals and objectives.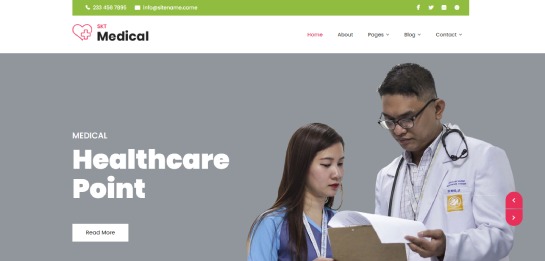 SKT Medical Pro is impressive one of the health clinic WordPress themes perfectly developed and exercised to cater to any health clinic, hospital, dentist, healthcare centre website.
By the application of this well – coded, informative, easy to set up and use, and therefore deeply practical and accessible template you will be able to design your future website in such a way, that it will definitely keep your visitors coming back to the website and try to find the answers to their medical related questions.
All in all, SKT Medical Pro with its total responsive and mobile compatible framework has all the chances to become an integral part of your medicine practice in the online networking system.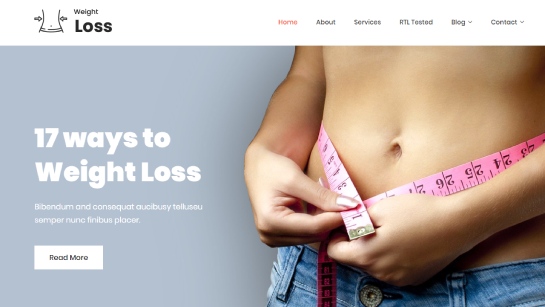 From aesthetically endowed and polished external design to technologically seamless operational framework, Fitt is worked out ready to relate to every single phenomenon and manifestation appearing in the relevant medical, health clinic WordPress theme or fitness world. Its layout is clean and precise, hence it will attract more and more clients to your pages.
Home, about us and portfolio sections are the best areas to present yourself from the professional viewpoints and stress out all your achievements, lots of shortcodes integration into the theme will greatly help you in the process of adding all the needed features, options or whatever is needed to the website.
The theme layout is responsive towards all the major mobiles and tablets. At last, Fitt comes with fundamental tools for SEO and SMO optimization.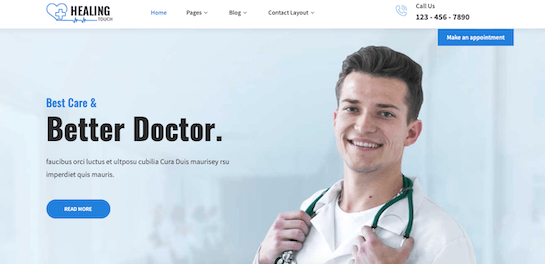 Healing Touch seems to be the nest ideal selection as a deeply reliable and highly stable of the health clinic WordPress themes, on the basis of which it is possible to ensure any health, medicine or doctor related activities presentation.
From start to the end, the whole process of the theme conversion into the platform you really wish will take the minimum efforts and costs from you.
Healing Touch has been minutely projected and realized by the respective specialist to correspond to all the standards of user – friendly and easily manageable theme.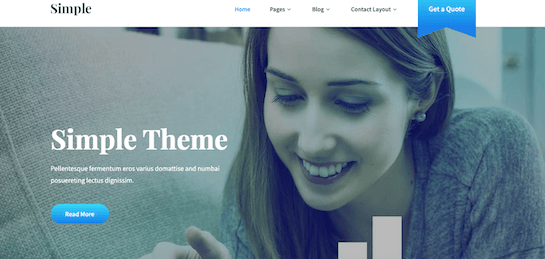 Multipurpose and feature – rich, Simple neutralizes all the flaws and obstacles any doctor or health specialist may be faced with when trying to run a challenging and inherently modern medical website.
Designed to be simple and easy in usage, allowing you manipulate the template without any specialized skills or knowledge, the theme really takes all the hard work itself and lets you only interesting and engaging part of stylizing and customizing it as per your ideas and preferences.
This WordPress supported health clinic WordPress theme is also readily and intuitively responsive to adapt itself to any mobile and device demands and operates with a wide range of useful plugins in case of necessity.
No matter what kind of service you are providing if the website is not impressive enough there is a likely chance that people will turn away from it.
In today's world, even health care has become a competitive market and when people are looking for something they make a quick search online. This means that the health care website should speak volumes to appeal to the search so that the visitors click on them.
This will majorly depend on the features that are available on the website. The Health clinic WordPress themes are designed in a way that they have included features which comes with it.
Since there are ample features which will be included in the themes it sometimes becomes difficult to find the one theme which will be best suited for you.
If that is the confusion with the Health clinic WordPress themes then here is a list of the must-have features that will help you make the choices easy.
Secure web presence: This might not be directly related to the customers but the authorities. When you are dealing in health care you have to make sure that the website is approved by the health standards and the information which is available be it related to patients or any department is secure.
The security of the website is of key importance. This will even go a long way in creating trust with the patients or the visitors hence it is all in favor of the website owners.
Accurate contact and location information: Since it is a website which provides service it is important that proper information about the office or offices is provided.
The patients will find it really annoying not being able to get the exact phone number or the address when the appointment will be made.
If there is multiple information the make sure that it is created in a manner that it is easy to relate to them and channel them in the best possible way.
Call to Action: You want the visitors to take action and immediately hence the website should have a call to action feature. This could relate to booking an appointment, locate a doctor, take a tour of the hospital, and contact the staff.
There should be a get help now button on the home page so that the visitors do not have a tough time locating it.
Blog: Not everyone who visits the website is a patient there are lots of people who want to know more about certain conditions, treatment etc.
The website should have a blog feature where the latest happening, community events, news, and announcements can be made along with sharing of any information which is relevant.
Blogging helps the information to be shared easily with everyone and it is also a strong medium to keep in touch with everyone.
Creating a healthcare website will become fun when you will be aware of the features that are to be included in it. Using WordPress themes will make things easy for the website owners.