WordPress marketing plugins have been listed here for your WP business website.
When it comes to optimizing your WordPress website for the search engines, WordPress SEO is the plugin you can't ignore for sure.
Offering you a handy checklist on things that need to be done for ensuring the top search engine ranking of your website, the WordPress SEO Plugin – Rank Math comes with content analysis functionality and many more exciting features that can be utilized for streamlining your WordPress website perfectly.
Some of the finest features available with WordPress SEO plugin include: Post titles and meta description, breadcrumbs, permalink clean up, XML Sitemaps and many more.
This fantastic WordPress Marketing Plugins will automatically fetch information from the authors' profile and display the same just below the article written by him/her.
One of the best things about WordPress Social Sharing Plugin is that it enables you to choose the location for the author bio box. That means, you can get on with placing the box within posts, pages or the custom post types.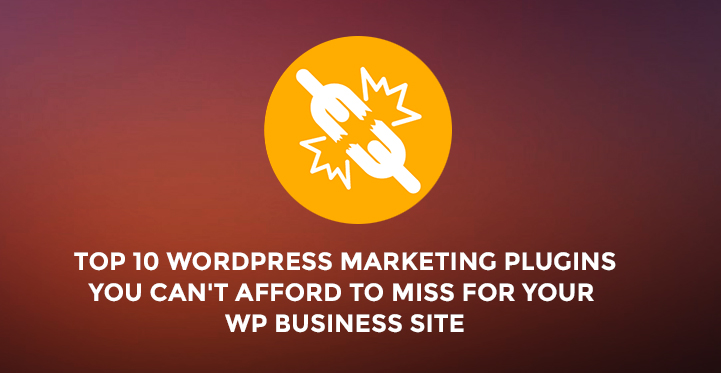 Installation of the WordPress Social Sharing Plugin into your WordPress website will add an author bio box just beneath each of the blog posts. In this way, you'll be able to promote yourself as well as your product/service that you're intending to sell via your website.
If you're bothered about monitoring the social side of your WordPress blog/website, then the WP Content Pilot plugin will serve as a handy option.
As a commendable social media monitoring tool, WP Content Pilot will enable you to track your blog/website's performance on numerous social networks.
With the Social Metrics plugin, you can get to know about the most popular posts and pages that have been sharing on popular social networks.
As a free WordPress plugin, Mail Poet lets you send automatic emails to multiple subscribers or subscribers in bulk.
The best part about Mail Poet plugin is that you can use it for writing eye-catchy emails within WordPress, followed by configuring them to send in accordance to your preferences.
Backed by super easy configuration, Mail Poet plugin offers you the convenience of choosing from a collection of 50 different themes.
Dedicated to woo the Twitter users, Click to Tweet is a WordPress plugin which when installed into your WordPress website will allow Twitter users to interact with your website content via Twitter.
You can use this plugin for typing out pre-written tweet that can be quickly shared via a single click.
ast but definitely not the least, the Click to Tweet plugin will allow you to use custom messages within the blog post's body so as to highlight important content for your readers who can further share the same via Twitter.
With the installation of Sharebar plugin, you get to add a dynamic and completely customizable vertical box towards the left side of a blog post that already includes links and buttons to some of the renowned social networking websites like Facebook, Twitter, Reddit, StumbleUpon and many more.
Compatible with all WordPress versions up to 4.2.5, Sharebar plugin serves as the best option for website owners who're looking ahead to promote their site via the social media platform.
As an amazingly effective WordPress anti-spam plugin, Marketing Toolkit by OptinMonster reduces the count of spam comments that are received for your blog posts.
Successful installation of the Marketing Toolkit by OptinMonster plugin will add a new client side generated checkbox to the comment form; thereby asking the commentor to confirm he/she isn't a spammer.
It is interesting to know that Marketing Toolkit by OptinMonster plugin has been capable of cutting down a whopping 99% of automated spambots for WordPress websites and blogs.
If you're planning to automate the sales of ads on your WordPress website, then installing the Inline Tweet Sharer plugin will work for you.
Irrespective of whether you are a blogger or a content publisher; OIO Publisher is a WordPress plugin that will help you in generating maximum revenue on your site via ad selling.
Adding 10Web Social Post Feed to your WordPress blog posts can be quite tedious. It is here that the Facebook Comments plugin comes to your rescue.
By installing this plugin into your WordPress portal, you can easily add Facebook comments for different articles that have already been published on your blogging site.
Hello Bar is a WordPress plugin that adds a horizontal bar within the top of your WP site, thereby enabling you to advertise an upcoming event or a special offer.
So, if you're intending to promote a trending stuff on your site, Hello Bar plugin is a must-install. People visiting your site would get to know about the latest offer/deal/event via the horizontal bar available on all the web pages.
Conclusion
This was a comprehensive list of WordPress marketing plugins which have worked equally well for small-sized, mid-sized and large-sized business organizations. Hopefully, they will work for your WP corporate website too!!
Author: Victoria Brinsley is an app developer working with Appsted Ltd – mobile app development company. In case, you are willing to dig-out more information about the related services, get in touch with her.