Are you preparing for launching your website? It's time to think about what needs to be reworked and also focus on style changes and design. This can be scary if you have not list to properly keep track of all tasks.
We have made a list of 20 things to do before launching your website to help you also ensure that you did not miss anything.
Designing your website
The design of the website is one of the biggest considerations one should focus on while preparing to launch a website. You want your users to have a good experience when they visit your website. Given below is the list of design elements that you should give more focus to make your site look great.
1. Carefully Choose your Website Colors :

While choosing the colours for your webpage, it's enticing to take the simple route and simply utilize a default colour scheme that accompanies your site building software or template. In case you're not satisfied with your colour choices, you have to sort it out before your launch date.
Ensure you check and confirm every one of the coloursof your site, make sure that you stay with your brand colour, and don't pick any colours that are toodisgraceful.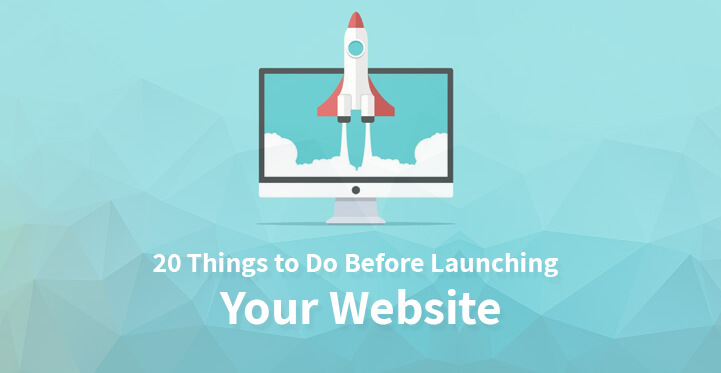 2. Pick the right fonts :

The readable content on your webpage is the most essential part of your online presence. That implies you should ensure your textual styles are readable and that they fit the style and the message of your site.
In case you're attempting to convey on a fun and cheerful message, discover a text style that fits the tone and meaning of that message. Keep your text styles consistent in both size and spacing, and ensure that your sentences and paragraphs are organized so the content is effectively readable.
3. Focus on Branding :

Make sure that your website includes all your branding elements and your brand message is strong and well represented. So that your users and visitors shouldn't have to guess about what are you selling or sharing.
As soon as the users see your homepage, they should know who you are and what do you do. Successful marking sets the client experience and strengthen your online presence. It should begin with the absolute first interactionbetween you and your site guests.
4. Create and implement Favicons :

A favicon is known as a website icon or tab icon that appears in the browser tab, next to the title of the page. Think about the bright "G" when you're reading Google. You can also upload your own favicon so your logo will show up in the browser tab when guests open your site.
This little component may appear to be well, little, yet including it in just improves your brand identity. A Quick Guide to Adding a Favicon to Your WordPress Site.
5. Link your social media accounts :

Social media has become an internal part of many people's daily lives, both professionally and personally. Thus, one should have a presence on social media platforms to promote their business.
You can decide which of the social media platform to link the business to, if your website has a direct link to your twitter and Facebook accounts then it's a good start. Keep your accounts up to date with all your news, updates and launches.
6. Set the Copyright Date :

At present copyright date is one of the most important things to include when you are launching your website. Users mostly avoid sites that are not regularly maintained and nothing looks more unprofessional than an expired date.
The copyright date also can affect your SEO ranking, so it needs to be current. Even if the changes you make to the site are small, ensure to update the copyright date.
Content

Designing is important, but content is the king and the most essential part of your website. Thus, one cannot afford to have anything wrong with the content at your website launch.
7. Proofread, spell check and Edit :
If the visitors find the errors with grammar, spelling, and sentence structure, it will give the impression that you are not paying attention to your content. You need to avoid making negative impressions, so one should proofread carefully before you publish on your site.
If one really wants to uplift their blog or news site, you can consider hiring an editor or proofreader. This will make your content professionally and engage readers.
8. Test your website's functionality :

Check that all your contact form, subscribe form or a custom form you need to ensure that all are working properly as they should be. It would be embarrassing if you are not able to reply your client because you forget to add your email or contact form. Take advantage of the auto responses, as they allow you to add a custom "thank you" note.
9. Do check you CTAs and test them :

One of the most important elements on your site is how to tell your visitors to perform a desired action. But if you are trying to get your visitors to do something like buy a product or sign up for the newsletter, you will need a call to action (CTA) button.Ensure it stands out and is simple for your clients to execute.
10. Optimize image size :

Your site needs to look and perform great at the same time. To make this happen, you need to optimize your images to check if they are sized properly. Find a sweet spot between a fast load time and high-quality images. With a little resizing, you will see results that will not only look good but also make your site to work faster.
11. Include videos :
Including videos of any kind grab your user's attention. If you are embedding videos from YouTube onto your website, be sure to check the original source link to see that it is still an active video. This takes a lot of processing load off your site, saving you the cost of hosting large video files.
Test your User Interface
User interface plays an important role when it comes to the user experience of before launching your website.
12. Think of layout considerations :

Carefully test the layout of your website. The easier it is to navigate for users, the more effective it will be. If something on the site does not work properly, then they will go somewhere else. For this you have to ensure that all of the testing is done well before visitors hit your site.
13. Link your Logo to homepage :
The logo homepage link is an important feature and easy to implement. It is very nice idea as it allows the user to navigate back to the homepage by clicking on your website's logo, make sure you include this one as well.
14. Test the buttons :
In the event that you have different functions on your site, chances are high that you will have buttonsassociated with them. They all dissimilar by function and purpose, and you should test every single one to ensure they do exactly what they should, without bringing on any errors.
Plan your SEO and Implement it like an Expert
15. Check your links :
SEO is really difficult at first, but it is also very important. When somebody clicks a link on your site and it takes them some place, they didn't plan to be taken, you can except abandoning from your site.
If there are links that are no longer active, one should remove them and update with the working ones. This goes for all links on your pages, menu, blogs, and even your anchors.
16. Research your Keyword :

In SEO the keyword component is very important. In the event that your content is oversaturated with Keywords, your site will be punished and won't appear in search results as regularly as it should.
This implies you need to adjust your content. Finish off your text edits by making sure that your headings are in the correct format as per how Google scans the content.
17. Add Alt test for your pictures :

This is another important element for your SEO. Write text related to your pictures, and if used correctly, it will help search engines to determine the correct context for your picture when they are compiling search results.
The main reason to use ALT tags is to boost SEO for your website's. The tags provide search engines important information about the pictures on your site.
18. Lock in your domain :
Your site will be completely indexed on the search engines, if the website is for business, it is advisable to have your own customized domain name. Picking your domain name ought to be genuinely simple for you, as it will undoubtedly be your own business name.
Whoever is responsible for your hosting service should provide you with all the details before launching your website.
19. Check off page SEO settings :
This setting enables you to define the description and title of your pages on search engines. These settings are appropriate to each page on your site, so ensure this is filled out for each and every one of your stunning and wonderful pages.

Responsive and mobile devices
At the present time people do mostly all their thing through cell phones. Ignoring this part means separating a lot of traffic away from your site and missing out on possible customers.
20. Make your website responsible for mobile :
Today majority of the people access internet through smartphones. Thus, it is really important making your website responsive, so that anyone can have access to your site easily.
Your design should account for mobile devices, but that does not mean that you should not test your site on PC or laptop as well. Make sure to test your website on all the devices and browsers before launching your website.
Conclusion
Building a new website is both exciting and nerve-wracking. Before launching your website, there are a lot of things to do to make sure that all the important features of your website are up and running fine. There is always something more that you can do to increase your site visitors. Hoped this article helped you.