There is no doubt that the wedding business is one of the most competitive industries there ever was. There are hundreds of companies that are in the market, and tons of them will have a better network that you have.
Surely, there will be others that are always coming up with newer ideas and innovations to set them apart from the others, competing with the major leagues. In this scenario, what can set your company apart from the rest is a well-branded Wedding Business Website.
Yes, your business might be flourishing right now, and you might be a little reluctant to think of making changes.
However, it is never wrong to make a few redesigns and adjustments for the betterment of the business.
For that very reason, I am giving several tips down below on how to brand your website. Check these out.
1. Take a quick look at some Case Studies :
Whenever it comes to finding ways to brand your Wedding Business Website, the beginner's step is first to take a look at what others have done- a slight case study.
It certainly does not mean that you just copy off someone's hard work and design. What you can do is note their strategic points and use them to your advantage. This will include taking an in-depth look at two critical components of what people notice first, namely the design of the site and the content.
Firstly, you need to realize what your business type is and what you are offering to your clients. For example, Siyaram`s, a wedding business shows real people wearing wedding dresses rather than some supermodels, and a lot of people generally likes this tactic.
The experience that you will provide the users will also be of utmost importance as according to Vitamin Talent, the percentage of people that will leave a website due to poor mobile experience only is 48, a very high number indeed. Your website must be optimized to perform flawlessly for the mobile as well as personal computers.
So to summarize, take a look at all the elements that you find worthy noticing and try to work out a way to utilize those elements when creating your wedding business website.
2. Creating a social hub :
Having your website be a social hub is another crucial aspect of the wedding industry. Social media is a vibrant platform to advertise your content and is also one of the primary research tools of soon-to-be couples.
According to a report by HootSuite, a surprising number of 83% of Americans own social media accounts, which shows the broad audience that you have to deal with. Moreover, it is an entirely different game for those who are exclusively interested in marriage content.
Your website and society should work side by side to promote visual content when it comes to the wedding industry. This balance can turn out to be very tricky. There has to be a sensible use of campaigns to make sure this works well.
For example, when the movie "People you may know" released a trailer, they used to trailer to bring users attention to the website. It can be a beneficial practice regarding what promotion you are doing and what output you expect from the media.
3. Focusing on the Design :
When it comes to a Wedding Business Website, the design combined with the visuals speak a lot to the target audience and give a clear picture to your potential customers about your brand.
Hence, your design and visual strategy should remain consistent on the website as well as on other platforms like social media. 90% of people that were surveyed by CrowdSpring believed that they should have the same level of experience at all the platforms.
Furthermore, it is of utmost importance that you have a solid branding kit for your Wedding Business Website if you want to not only survive but also compete in this game.
CLICK HERE Select Some of Beautiful wedding WordPress themes for your website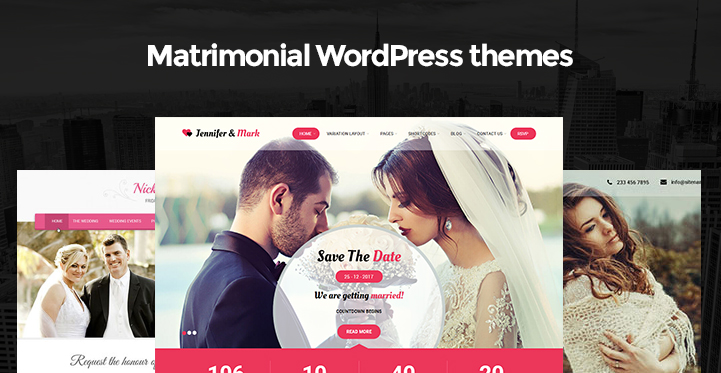 You have to start by understanding what your part is in the Wedding Industry- what are you giving it. Also, you need to dig a little deeper to know why would that be a need? Branding is speaking out to your customers by saying nothing at all, and so it will be giving your company identity.
Make sure it speaks out what your company is speaking out. For example, the strategy that Juul, a vape brand, follows is the use of bold colors with thin typefaces that helps them bring forward their flavors. You have to do the same for your brand, finding a brand that makes your company special.
4. Last but not least: Search Engine Optimization (SEO) :
Lastly, SEO is a must to consider in your digital mix as it is undoubtedly the most vital digital marketing tool that is available. 93% of the experiences online start by a search as surveyed by Junto Digital.
Thus, to get to the top of your game, you need to get to the top of SEO as soon as possible. You might become a customer's top choice with the right SEO, who knows?
To get this optimization done ASAP, first, you need to find out the key factor that makes your Wedding Business Website unique. Start by searching the search terms that people specifically search for on your website or to look up your site.
To narrow down to what strategy works best for you, it is a great idea to target the customers you are after specifically. For example, if you work as a caterer for weddings and specialize in, let us say, seafood, then it will be a wise idea to focus on the words "caterer," "wedding" and "(city)."
Putting it all in a nutshell, it is very crucial to optimize search for your site if you want to make your brand a recognized one.