WordPress Image Optimization is required to improve the user experience and increase your site visitors, Your site will be faster, Your Google PageSpeed Insights score will be better and Google will like you more and your search engine rankings will improve.
No matter how optimized your site is, images will always be one slowest loading elements on the site's page.
There are numerous reasons why you would incorporate pictures in your WordPress posts and articles. Basically, everyone loves their site guests. Pictures are an important method to separate long bits of content and improve SEO, keeping the visitor engaged in and attracting a new audience of people.
If you want to speed up your WordPress site to the max, you need to implement the strategy that targets image specifically known as WordPress image optimization.
Unfortunately, pictures are most likely the biggest resource on a site page that must be loaded. Only a two-second of delay in loading time can result in page rejection.
Putting pictures and media takes up the bandwidth of about 63 percent on the modern sites. Hence, it is very important to optimize your images before you upload them on your site for speed. WordPress image optimization is mainly about two things, optimizing the number of bytes used to encode each image pixel and optimizing the total number of pixels.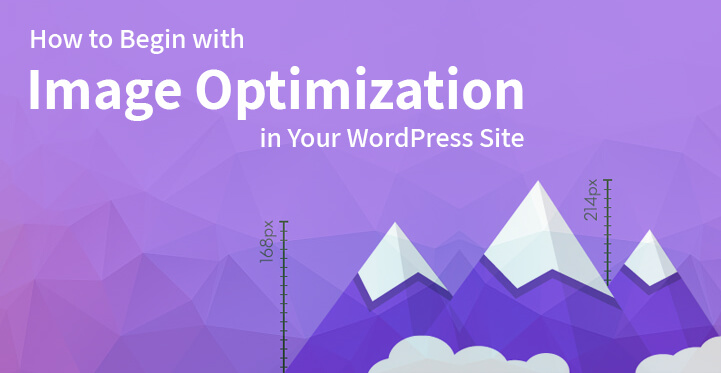 Read the information given below to get an explanation of why larger images might be dragging your site down, how to effectively compress your media files and some image optimization tips to improve your site's SEO.
Optimizing your image for WordPress
Image Size

When you reduce the dimension of your images, then you decrease its file size. Delivering scaled pictures is one of the least complex and best approaches to optimize your images.
Why so successful? Image scaling will guarantee you're not dispatching any a larger number of pixels than expected to show the benefit at its planned size in the browser.
Before you optimize your images, it can be helpful to size them properly. There's no reason in uploading an enormous large picture to your website, particularly when it will be resized anyway. Larger than necessary dimensions guarantee that the image is carrying unnecessary bulk, and hence making if difficult for you to image optimization in WordPress.
For example, let's say that you need a 300×300-pixel image, but you upload a 3000×3000 image and make your WordPress theme shrink the image to display properly.
This will increase your bandwidth and also load your images really slow. Thus, make your images correct before you upload, that way you will be dealing with the smaller image from the start.
The best approach is to take the note of the image dimension properly required by your theme and also size your images accordingly. At that point, run it through an optimization tool and upload your picture.
Featured Images :

The featured picture isn't embedded into the body of the WordPress post but it is utilized fundamentally throughout your WordPress theme as a thumbnail by a post title or in the header when seeing a specific post.
Most themes and widgets depend on featured pictures, so it's not something you are not going to avoid. Featured images allow one for greater customization; you will be able to show exceptional custom header pictures for specific posts and pages or set thumbnails for the special features of your theme.
When you've chosen the size you need your featured picture to be, that size will stay set for all future images. The size you should choose relies upon the theme of your WordPress site and the format of your posts.
Featured pictures are typically large in width, it's additionally best to pick a high-resolution picture and not one that is pixelated that is a lossless JPEG picture that has been taken from the internet.
One of the important tips to control the media that is displayed whenever a post or a page is shared on social media site like Facebook or Twitter, install Yoast SEO. With this you will not only be able to customize the title and description, but also you be able to upload the correct image sizes for your social channel.
Compress your Images :

Image compression is defined as limiting the size in bytes of the graphic file without corrupting the quality of the picture to an unacceptable level. High-resolution pictures that are unnecessarily huge in file size can affect page speed, on the other hand optimized pictures are 40 percent lighter than normal ones.
There are two different approaches of image compression: lossless and lossy compression. Lossless will protect all the data from the original file without giving up quality. And, lossy removes some of the data to create a reduce file size.
Whatever compression you select, always remember to consider the WordPress theme you have chosen and the correct image dimensions associated with that template.
Make sure Images are Neatly Cropped :
WordPress has an in-built image editor that enables you to crop your images from the dashboard. In spite of the fact that this can be valuable, we suggest editing your pictures before you optimize and upload them.
In the event that you understand a picture should be cropped to better fit your site, at that point erase the picture from your site, crop it, and re-upload it. By performing too many edits inside the dashboard you can finish up saving multiple versions of the same file. This increases your server load and the overall size of your site.
Improve your Image SEO :
WordPress images optimization is important as it helps your site and the images rank in the search engines. Optimizing your images will increase the speed of your site and improve your chances of ranking. If you want to improve your SEO then follow the below given steps:
– Optimize your image title: The image title text will appear when a reader hovers over your image. It's not super important for SEO, but this little trick can improve your user experience.
– Use proper image filename: Your picture filename can help it to rank in Google image search, which can be a great source of extra traffic. It's better to spend some time thinking about what an appropriate name for that picture would be.
In case you're utilizing various words in your filename ensure you're utilizing a hyphen between your words, as Google will read them as a space. Otherwise, the words will run together and your filename won't be readable.
In Closing :
If you want to increase the site load time, user experience and increase your site's visitors, it is important to optimize your images.
Going through the above WordPress image optimization step will make it easier for the Google to love your site. It will also improve the SEO which is great for your brand's visibility and accessibility.