If you want to create a startup business, you must put in a lot of effort and creativity to make your business idea stand out. With so many business ideas springing up each day, you will have to come up with something unique, interesting, and out of the ordinary.
Investing in the tourism industry is one of the most effective business ideas nowadays, as with the development of tourist spots, infrastructures, and facilities, the number of visitors has considerably increased.
Tourism, however, not only means visiting hill stations and beaches but also includes cruising, adventure sports, camping, etc. So, if you want to establish such a business, the first step is creating a suitable website.
After creating the business website, browse for a competent theme to go perfectly with it. If you are searching for the best boat WordPress themes, check out the below-given options: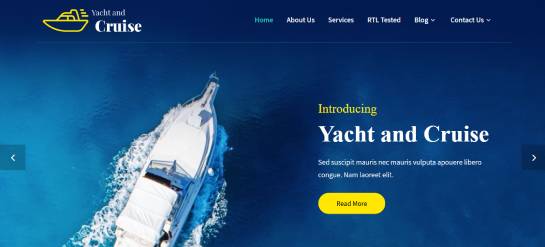 With so many types of businesses flourishing these days, The yacht and cruise business is taking up a very good position in the business industry for its increased profits. People are investing funds in this business to obtain adequate profits.
The yacht and cruise business plays a major role in tourism as people love to sail on yachts and cruise ships during their vacations.
To make a cruise ship business flourish more, you will need to create an online presence of the business by creating a website.
Are you in search of a highly potential theme for your business? You can completely rely on the Yacht and Cruise theme. This theme suits boats, ships, yachts, and other related business websites.
It comes with a highly user-friendly interface and complete documentation. You can get all its details through the documentation. Also, it is compatible with WooCommerce, Accordions, WPForms, BuddyPress Forms, and other popular builder plugins.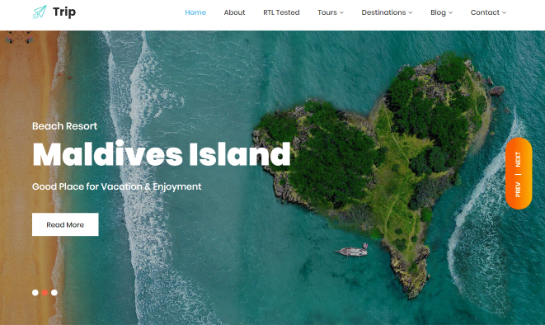 Whenever people get a little leisure from their daily work life, they tend to plan trips to relax their minds. This is why creating a tour or trip business can be highly beneficial.
Nowadays, even doctors recommend their patients go on a vacation to experience a change as it improves their health. The change in the environment can often be beneficial.
Are you planning to open a trip-related business website? Then, you should mandatorily pick the appropriate theme for your website to flourish quickly.
The Trip is the perfect WordPress theme to opt for. It is perfectly suitable for travel agencies, tour operators, vacation planners, resort operators, and similar other businesses.
It is visually incredibly appealing and can make your customers highly impressed. It is an Elementor-based theme and can even be operated on a mobile phone. Besides, it is multi-resolution; hence, it works perfectly with various resolutions.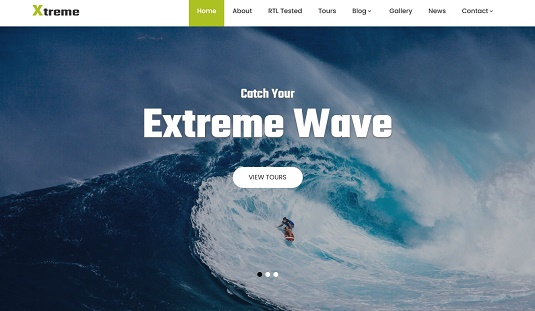 Recently more and more people are showing interest in performing adventure sports due to the thrill and excitement contained in it.
Adventure sports usually include fun activities such as climbing, mountaineering, sailing, rafting, cycling, hiking, etc.
Investing in an adventure sports business can be incredibly profitable as people love to engage in these activities.
You can make your business prosper greatly by creating a website for it. The GB Extreme theme is one of the best boat WordPress themes for such business websites.
It is a Gutenberg-editor-based theme and hence can be seamlessly edited. The sleek and stylish appearance of GB Extreme makes it a great pick to go for. Being multilingual and translation-ready, there will never be an issue regarding the language.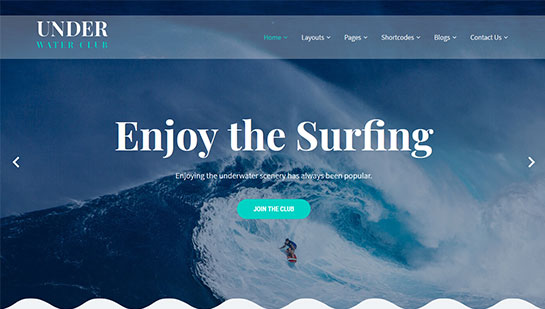 An underwater tourism business can include multiple things, such as scuba diving, aqua diving, snorkeling, surfing, and much more.
When people go on vacations, they usually indulge in water-based fun activities to refresh their minds and body.
Are you planning to start an underwater-related business? If you are planning so, you will need to create a website for it as it will shed adequate exposure on it.
However, if you create a website for your business, you must first choose an appropriate theme to comply with your business website.
This theme has CTA buttons for your customers to engage directly with your website. As it is compatible with multiple browsers, Google, Yahoo, Mozilla Firefox, Bing, and all other popular browsers work efficiently with it.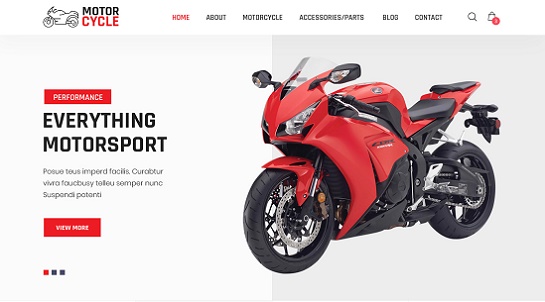 Nowadays, almost everyone owns a motorcycle due to its supreme convenience. Riding a motorcycle can reduce stress and save both time and energy.
So, you can now open a motorcycle-related business as you are sure to receive a lot of customers. You can create a business on motorcycle repair, auto parts, bike servicing, etc.
For a prominent and well-recognized business, creating a website for it will be a necessary task to do at all costs.
The Motorcycle theme will be highly suitable for such commercial websites. Not only repairing and servicing, but it can even go along bikers clubs, riding groups, biking vlogs, and other similar websites.
Working with it is easy, with an incredibly simple user interface and documentation. Also, it is RTL compliant and comprises a drop-down menu up to level 5.
Towing is an incredibly important service that automobile businesses provide to move broken or disabled vehicles from one location to another.
Towing is done using trucks and other big vehicles. The disabled vehicle is tucked with the broken vehicle to move it.
Towing is a very useful and popular business idea. If you want to invest your funds in a business, towing can be the perfect idea. Creating a website for your business will be very useful.
Use the Towing theme designed specifically for the towing industry. Also, automobiles, garages, and other websites can use it.
It is cross-device tested and multi-resolution. Being translation-ready, it can be easily translated into multiple languages. Also, it comes with a support system of 1 year.
Are you interested in starting up an automotive repair or mechanic shop business? If yes, it will be a great initiative.
When starting such a business, you must provide adequate exposure to make people learn about it.
You can start your website with the Auto Car theme for great exposure and a reputable online presence.
It is suitable for automotive or mechanic shops, and auto parts, car dealers, and other car-related business websites can also use it.
It is highly customizable and has a very appealing and informative homepage to attract viewers. Also, popular gallery plugins are compatible with it.
Who isn't fond of shopping? A shopping mall is great for hanging out with friends and families.
But if you want to create an online shopping store, first, you should design a proper website so that more people can learn about it precisely.
When creating a website, do not compromise in picking the appropriate theme for your webpage, as it plays an integral part in making a website successful.
You can use GB shopping as your ultimate pick. It is designed for shopping malls, commercial stores, boutiques, and other shopping-related websites.
It is completely e-commerce friendly as it is compatible with WooCommerce. Carrying out financial transactions will never be complicated. It comes with multiple page layouts and has a completely modernistic outlook.
Adventure sports, such as rafting, cycling, hiking, camping, bungee jumping, skating, etc., are in high demand recently.
There are many tourist spots offering adventure sports activities for visitors. These activities greatly boost the popularity of the spot.
Investing in such a business will never go in vain. You can have a well-established adventure sports business by creating a webpage and picking one of the best boat WordPress themes.
The Adventure theme will be ideal for your business website. It is specifically designed for commercial websites related to boating, skating, sailing, hiking, camping, etc.
This theme is easily compatible with the most recent version of WordPress. Also, it is extremely easy to use and edit, so one without adequate coding knowledge can easily work on this theme. Besides, this theme's flat design structure and gradient-less design make it usable on any browser and device.
Nowadays, pubs are in high demand due to their super-lively atmosphere and cheerful aura. People love to spend time with their friends in pubs, so more pubs are being built over time.
Usually, pubs are places where teenagers hang out. Hence, if you want to create a website for your business, you must advertise your business properly among them through various social media platforms.
Creating a website for your bar or pub business will incredibly help. It will make more people learn about your business and increase profit margins.
However, all your effects in creating a proper website can go in vain if a suitable theme is not used. With so many options available, you can easily get confused. Beer and pub is the best option to opt for.
It allows easy installation completely free of cost and comes with Google Analytics and fancy plugins. It is perfectly compatible with multiple WordPress plugins.
Are you related to the beach industry? Beach tourism is a very popular and demandable business industry.
Beach tourism includes resorts, hotels, clubs, holiday homes, etc. If you are looking forward to starting such a business, you can readily do that by creating a website.
But while creating a website for your beach-based business, do not compromise using an efficient theme to make your website a big hit.
Looking for the most efficient boat WordPress themes?
You can use the SKT Beach Pro for your commercial website. It can wonderfully go along with vacation planners, beach houses, tour operators, resorts, and other beach-related business websites.
It comes with multiple block post styles and is ideally compatible with the latest version of WordPress. Also, it is an SEO-friendly theme.
Conclusion
The above-mentioned themes are some of the most useful boat WordPress themes designed for commercial websites. All these themes are ready to be used and can act as the complete solution for your business website. Due to their high versatility, they can be used for various niches. Use them and make your website prosper quickly.