Do you want to know how you can attract more traffic to your websites? One of the main motives of web creators and web handlers is to get maximum customers on their website so that their SEO and Google ranking get improved.
Have you ever thought of using a WordPress theme for your online furniture store? Well, most web handlers think that using a theme would lead to different problems like increasing the loading time of the page, complicating the webpage, and many more.
What if we tell you that all of these problems can go away with the help of furniture WordPress themes? Sounds impossible? Well, below is the list of the best WordPress themes for furniture that are made for the specific website that can help the business to grow and help the website to get a better ranking.
Let's find the Best WordPress Themes for Furniture Stores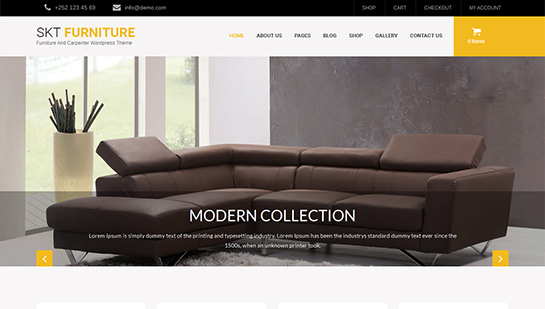 If you like to showcase the hard work of the carpenters and other woodworkers, then WordPress themes for furniture stores i.e., Furniture Pro is the best choice among the other themes.
It comes with a different section which includes a gallery to put the designs of the furniture and the theme is WooCommerce compatible which helps in online business.
The theme is widget-friendly which ensures that the sidebar of the website can be handled perfectly and the website shouldn't look like a rushed one.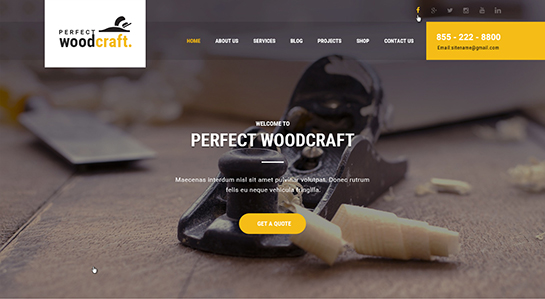 The WoodCraft WordPress theme is designed especially for online furniture stores so that they can set up their shop easily.
The WordPress themes for furniture store supports cross-device uses which means they can be run on different devices like phone, laptop, and PCs.
If you wish to change the slider in the theme, then several options come with compatible slider plugins. The theme doesn't involve heavy applications and, therefore loads faster.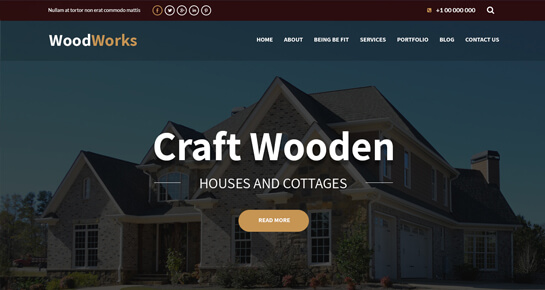 For every interior designer and home decors, WoodWorks WordPress theme is a great option to start their website and showcase their work of woods and furniture. This WordPress theme for furniture stores works perfectly in different web browsers and is also user-friendly.
The WordPress theme provides free installation of the WoodWork theme on your website if the web developer finds any difficulty in installing it.
The theme comes with different page builder plugins which include Elementor, Divi, and other ones that make it a perfect WordPress themes for a furniture store.
This WordPress theme is designed for multipurpose uses and if you are an interior designer who wants to establish their business online and want a perfect start. The Windows and Doors WordPress theme is coded and designed with HTML5 and CSS3.
The theme helps the website to load faster and is also compatible with different social sharing plugins which means it can be shared by the user on social media. Web developers can design their inner pages by using different header variations.
Kitchen design pro is the best WordPress themes for a furniture store. It is one of the animated themes with SKT builder which helps in setting up the theme for use and can be handled by any beginner or intermediate level person.
This theme is used by companies that deal in sanitary, bathroom, interior, architecture, and office supplies equipment. The theme consists of a blogging section and a comment plugin to take the views from the users.
Ele Store WordPress theme is a product-based theme that is useful for online stores and eCommerce businesses. This theme is perfect for supermarket promotions, grocery stores, and furniture businesses.
This WordPress theme for furniture stores comes with demo content for inner pages and the user can experience the use of the theme on their website as a demo. There are more than 3 inbuilt templates that are available on the theme with different elements.
The demand for online shopping sites is increasing and if you want to be at the top of the race then, it's time to experience the GB shopping WordPress theme.
GB shopping theme will make your business improve and attract more customers to your website with different headers and footers.
This WordPress theme for a furniture store increases revenue by providing SEO-based plugins and different slider sections.
The SKT Minimal Pro WordPress theme plays an important role in making your website eligible for good Google rank and online eCommerce business. It gives an unbeatable shopping experience with the help of the best UI/UX.
Of all the WordPress themes for furniture stores, SKT Minimal Pro proves to be the best one in performance, speed, and user experience. It is a great addition to the website which helps increase the traffic on the website.
We all need a handyman to solve problems in our daily routine like plumbing, electricity-related, and other errands. Therefore, handyman services are needed and for that SKT Handyman Pro provides the best support for the website.
The Handyman theme comes with a multilingual feature which makes it available for different languages and also transition-ready. The theme work of WordPress themes for furniture store is easy to understand by the users and also user-friendly.
The Home decor WordPress theme is made for the business that is based on interior designing, construction, maintenance, and other projects. This theme is WooCommerce compatible and therefore helps in buying and selling the items on the online platform.
The theme has around 30+ creative font pages which include a demo and 30+ custom elements which helps in making the Home Décor WordPress theme attractive and unique from others that are already present in the market.
This WordPress theme can be used to design different websites that are related to home décor, interior decoration, architecture, and other related websites. This theme is convenient to use as even beginners can work on this theme with ease.
Different headers and footer sections are available and it is also supported by page builders which include composers, Elementor, beaver, and Divi. The user can change the color of the theme according to their preference with different font styles.
SKT Lights is a creative and modern WordPress theme whose focus is on leg lighting which is suitable for a website that offers lights, chandeliers, light bulb retailers, and many more. The feature of the theme is perfect for the business and matches the expectations of the web developers.
It is WooCommerce compatible and the headers and the footers can be customized. The best part of the SKT light theme is that it comes with a light and dark version which makes it different from others.
GB Renovation is the best WordPress theme for furniture stores and works perfectly for business that wants to establish their business in the field like handyman, repairs, mechanic, plumber, and other similar sections.
This SKT theme comes with custom color schemes that make it attractive for the end-users and get more customers with their design layouts. The inner pages of the GB renovation theme are compatible with different plugins and also support social media sharing.
So, what are you waiting for? Choose your best WordPress themes for furniture stores and see the changes