Car wash WordPress themes for car garage and car wash, diagnostics and painting, as well as cleaning services, mechanics and auto repair specialists, dealers and other car related business representatives.
Cars and vehicles are no longer luxury, but means of transportation making our lives more comfortable and organized. Whether you are the driver or just passenger sitting next to the car owner, clean and fresh car inside and outside is what makes you satisfied by default.
Apart from convenience and feeling of comfort the fresh and newly washed car can provide you with, taking care of the presentable look of your vehicle is important in relation to the impression you make on the people around you.
A filthy car will never let people make judgments in your favor or prove them you are the one with good personal habits or lifestyle.
In this article you are going to find a splendid assemblage of car wash WordPress themes suitable for representing any car related or car based website or blog, as well as any auto wash and cleaning, detailing and care services online.
Take any of those car wash WordPress themes and make your website something your virtual guests will enjoy the most.
From clear visual overview of your car garage or car wash center to error free functionality for them to surf your website smoothly, those templates include everything you need to make your presentation premium quality and user optimized.
Thanks to the simple and intuitive structure of the theme, even the novice will be capable of controlling the look and feel of his website based on Car Rental or change it as per the needs of his audience.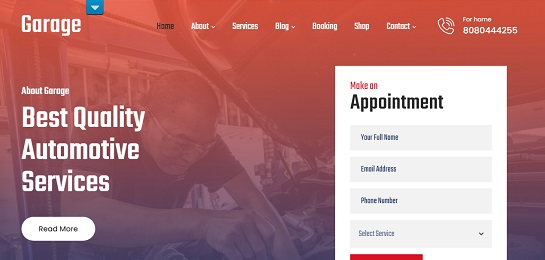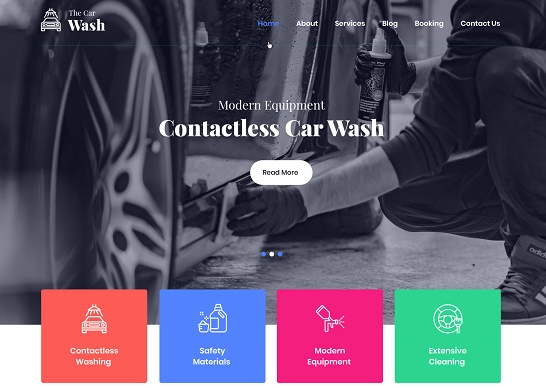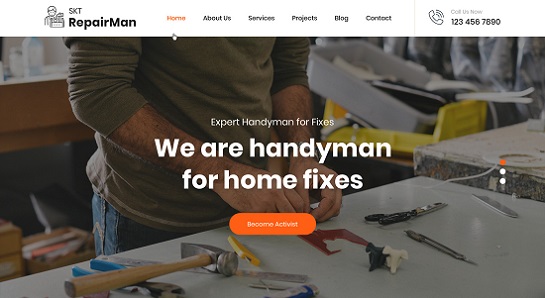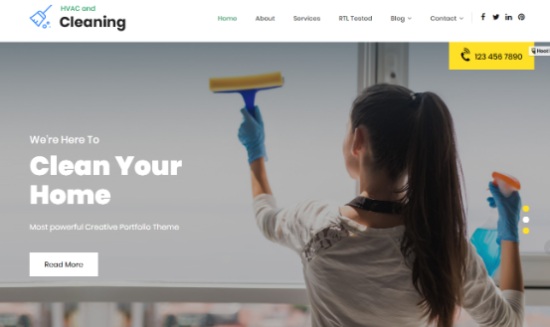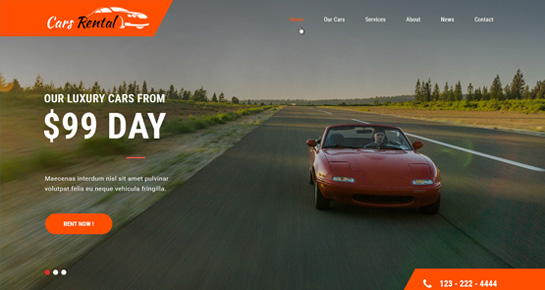 Car Rental is one of the dynamic and well executed, visually energetic and functionally saturated sample among the best car dealer and car wash WordPress themes for making your website highly efficient in the modern digital world.
There are home, our cars and services sections which are prebuilt for you to save your time and add your content, business profile, lists of available cars for sale and rent, car wash and mechanic services, and more.
Homepage full screen slider is the best for showcasing attention grabbing photos and images of your cars, experts, happy clients and more.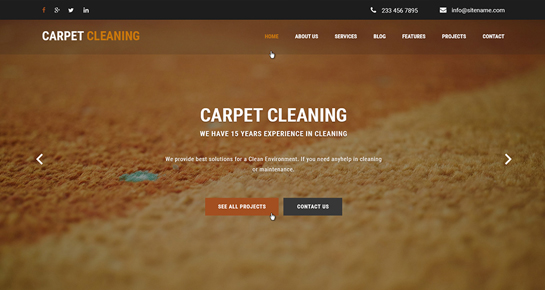 Cleaning Company is a clean and crisp, lightweight and admin friendly WordPress template specialized in hosting any kind of website or blog catering to cleaning and washing industry, whether it refers to dwelling spaces and residences or vehicles and automotive.
What makes this template so serviceable is the pixel perfect appearance across different platforms and browsers, as well as mobile optimized coding letting your site change its size or orientation based on the device or mobile under usage.
From color and font controls to homepage slides possibility, from preloaded shortcodes for instant usage to social media integration with social icons, Cleaning Company is rich with handy features and elements.
It is also optimized for plugin compatibility for commercial and trading, translation purposes, boosted traffic and client conversion and more.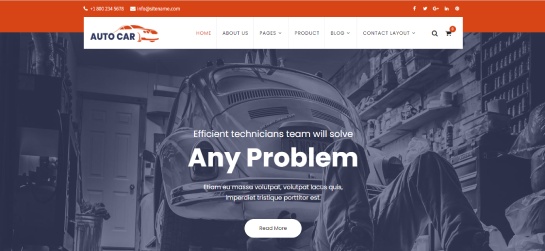 Designed for stable performance and hassle free navigation, made by the most professional web developers and designers, Auto Car is one of the most successful projects one can find in the library of car wash WordPress themes.
Ready to satisfy the needs of the most demanding client, Auto Car comes with a totally adjustable framework for adding your own touches, color preferences and typography to the theme via the preloaded color controls, fonts and icons packs, as well as pre enabled shortcodes for quick content setup.
The greater success comes when you reveal the whole working potential of Auto Car and hit that tipping point located at its core. In this relation, you are free to combine the default template with as many practical plugins and extensions as you wish and double your revenues.
The dedicated authors of Towing have one strong desire to make it an irreplaceable website solution for car related digital world.
They succeeded in bringing a whole range of unique attributes to every single part and portion of the theme they came across.
As a result, now we have responsive and mobile checked, fully fledged and inspiringly beautiful website building tool among the best car wash WordPress themes in the form of Perfect Mechanic which is also surprisingly pocket friendly.
With this shortcodes supported and highly functional template, your website content will be like water.
Just like you pour the water into the cup and it adopts the shape of the cup, your content will smoothly adopt the shape and resolution of every device and smartphone, from desktop horizontal navigations to mobile vertical ones.
Movers and Packers Pro is a smart and comprehensive solution for many car and automotive related businesses.
Whether you ran a delivery and moving, packaging or transportation services on your locality or outside of it, car dealing company or car wash garage, Movers and Packers Pro will be ideal for your needs.
Packed with the default structure and content that can be changed and tweaked, Movers and Packers Pro comes bundled with preloaded Google fonts for any typography, icons for making your site friendly and professional looking, as well as several page and blog templates to play with.
Just like the previous template, Condimentum is also a complex solution for car and vehicle based industries and services, from towing to delivery, and from car wash and cleaning to tire changing, etc.
You can purchase this top notch website tool at an affordable price and have access to an avalanche of handy tools, preloaded packs of elements and pieces of shortcodes, homepage nice looking slider with controllable slides and much more.
This SMO and SEO optimized, fully customizable and resilient theme is also ultimately shop and trading friendly with commercial plugins, as well as translation ready to make your content legible for a broader audience.
Gone are the days when people judged others lifestyle by the presence of a car. Now the main objective of having a car is to simplify life by owning a mode of safer and quicker transport between places.
Be it a rented car or owned car everyone loves to keep their cars neat and tidy. Clean cars enhance the comforts of the passengers as well as the driver itself.
There are a bunch of local garages that offer car and other vehicle-wash at a certain cost. But does running a business in full offline mode helps? Not really!
In order to survive in this highly competitive market, one has to take his or her business on the internet where it can show its offerings to a larger audience. This is the rule that predominates after the advance of the internet and digital market.
But how to take your car wash business into online? That must be your question. Well, you first have to make a website, put rich content and allow visitors to jump into your websites by enhancing your SEO i.e Search Engine Optimization.
Making a custom website by yourself will be okay if you have the right coding skills or by hiring engineers if you want to invest a lot of money into that.
But again comes the problem of updating the website from time to time. Engineers will charge way too money and be doing by oneself will be hectic. Thanks to WordPress, the most innovative tool to build content-rich, flexible, responsive websites just according to your needs.
In order to build a website with WordPress, you need themes that will fit perfectly with the nature of the business you own.
This is where our themes come into play. Our premium themes are way too flexible and are loaded with functionality that will make your job more simpler in bringing the website live to your customers.
We have a range of themes to support this nature of business each with different features and functionalities to choose from.
Car wash business needs to show more images and videos than actual write-ups and texts so that the visitors can see the quality of your car washing technique and then can opt for your offering.
This requires a large number of images and videos to be uploaded to your website and our themes are way much smoother to give you the best experience to manage your gallery consisting of images and videos.
You can customize the colour of our themes according to your needs to bring your car wash business lively and appealing to visitors.
You need to have a date picker and forms so that your online visitors can schedule their car wash at your garage, we offer that functionality too. Not only this, our themes are loaded with SEO also so that you can expose your business to a larger group of people.
We offer many more features like setting up an online store so that you can sell different automobile spare parts to maximize the profits.
Nowadays, people use smartphones and tablets more than computers and laptops. So, to reach more number of customers our themes are fully responsive and optimized to enhance the user experience of your customers.