Keeping in mind the below consideration, we have compiled a list of best design agency WordPress themes which can cater for different organizational requirements. Here you will learn about the most creative Modern WordPress themes.
With the increase in demand for an organization's online presence, it's really important to have an impressive website. This calls for a combination of great design, superb user experience and great functionality.
The aforementioned proposition applies especially to the design agencies which are in need of creative and modern websites.
Just like any other domain, the professionals belonging to the fields of consultancy, public speaking and coaching also need to have their website. If this is so, then this theme is the perfect choice for them. It has been designed and developed keeping in mind all the needs and requirements of consultants.
So, without further delay – let's get started.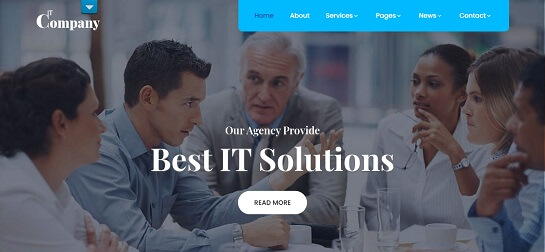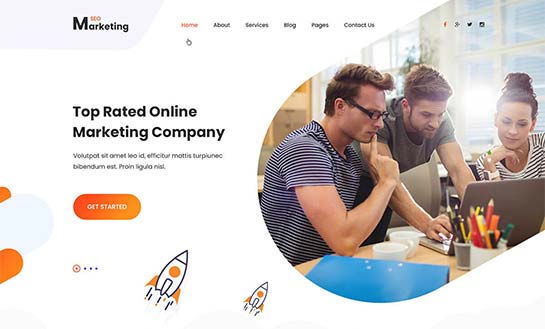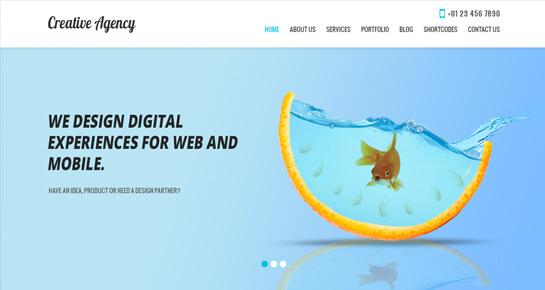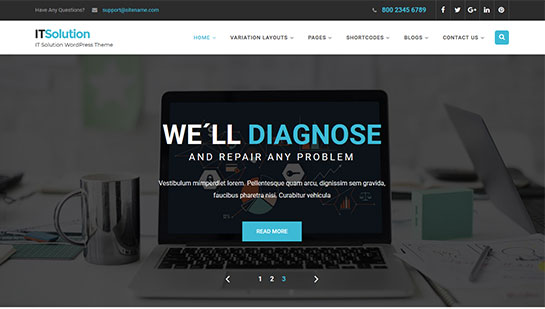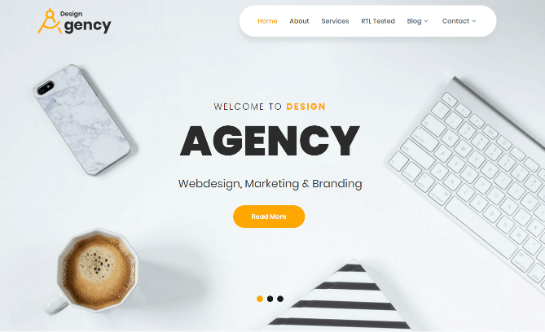 This is one of the most WordPress themes for a design agency. Catering for the requirements at a functional level, it also offers a nice and responsive design. Based on the idea of minimalism, it is a very good choice for corporate sector firms, design agencies and other organizations of same nature. Moreover, if you are someone who wants to showcase his portfolio then this creative modern WordPress theme can definitely suffice for the requirement.
It comes with a nice slider, a set of over 650 Google fonts, multiple page templates, impressive portfolio section and much more.
Other features include:
Widgetized sidebars and footer as well as header
650+ Google fonts integrated
Email, phone, social icons and contact form for proper call to actions
8+ page templates
Tested upto 5 drop down levels
Compatibility with latest version of WordPress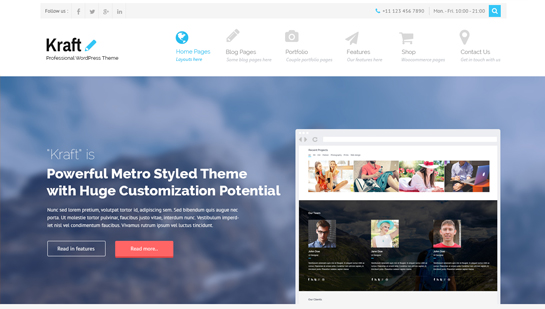 Being one of the most useful multipurpose themes out there, it definitely caters for all the needs of your design agency. Among the other design agency WordPress themes, it has got an extra edge due to its compatibility with multifaceted businesses.
Due to the integration of a color picker, this theme allows you to play with colors very easily. It imparts a very creative touch to this WordPress theme. This is definitely something that design agencies want.
With this theme, you will get very good functionality, responsive design, contact form, impressive slider, ease of use and whole lot of other features.
Other features include:
This theme is Google mobile friendly
Comes with complete documentation
Integrated with 500+ font awesome icons
Built in contact form for easy use
Blog to add your posts, articles, news and or press releases
100+ shortcodes as well as 600+ google fonts to choose from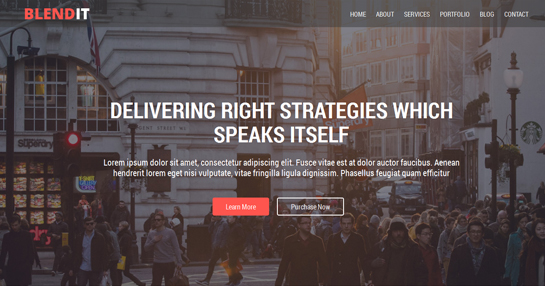 If you are someone who gets inspired from one page websites then you have landed at the right spot. Blendit is a one page WordPress theme for a design agency. Being modern, elegant, simple and authentic – it is also very impressive in terms of appearance.
It is a responsive theme that comes with features to complement your online presence. There are 7-8 pages in this theme which are dedicated to the About Us section. Moreover, the portfolio plays its part by enabling the visitors surf through various projects. This creative modern WordPress theme comes with the a blog section, a dedicated space to enlist your
Other features include:
Color changing theme, link changes and easy font color changes options
Blog area for promotions, press releases, and news
6+ page templates available
Clean and elegant look and feel
SEO Friendly coding with proper commented out codes
Compatible with latest version of WordPress
This theme interests those who are the fans of minimalism. It's a very simple, elegant and easy to use theme. Moreover, the white color base provides a soothing, professional and corporate feel to the overall user experience. The loading of the theme is pretty easy and you will not be engaged in any sort of hectic activity to make the changes.
One of the great features include the compatibility with WooCommerce. On top of that, you are definitely going to enjoy the incredible design, superb functionalities and various other aspects.
Other features include:
Slider images upto 10
Filterable gallery set up
More page templates
Retina and HD ready theme
Standard pages like 404 and search and blog available
Compatible with latest version of WordPress
Just like the SKT White Pro, this theme is also based on the concept of minimalism. Regardless of the fact that there are many simple and cool themes out there – this fact cannot be negated that this one outclasses others in all respects. The black imparts a very bold, authentic and clear experience to all the users. Moreover, the coding has been done so nicely that the theme complements the speed of loading pages.
All the options that are available with this theme are very easy to use. Moreover, the complete process becomes even easier through the detailed documentation.
Other features include:
Default gallery and inner pages like about us available.
Ecommerce ready theme with compatibility with WooCommerce
SEO friendly and coded keeping in mind WordPress.org theme guidelines.
5+ page templates to have the kind of layout you want from this theme
Retina ready and HD ready theme.
Coded with HTML5 & CSS3.
It is one of the emerging trends for websites to be simple, minimal and elegant. Thus, keeping in mind the utmost need to fulfill this requirement – we have designed Naturo.
This is one of the most elegant, simple and responsive themes which come with elegance. Even on grounds of functionality, this theme surpasses various others in the competition. But this should not mean that the theme is very tough to use. Regardless of all the functional complexity and detailing – this theme comes with ease in terms of usage.
Other features include:
Comes with a wide screen slider
Comes with 100+ shortcodes
Clean minimal WordPress theme has 600+ google fonts
Is SEO and SMO friendly
Has been checked for code consistencies
Drop down ready theme
This is another multipurpose theme which can cater for the organizational requirements of various businesses. It allows you to showcase five different things that form the basis and core values of your organization. Being a photographer WordPress theme, it has got unique features which impart a whole new life to the user experience.
The homepage welcomes the visitors with five interesting images which lead to the remaining features and sections of the website. The theme has been coded very efficiently and there are multiple functionalities like contact form integrated into it.
Other features include:
Color changing options.
Opacity changing options.
50+ social icons.
Better Responsive.
Portfolio/Gallery display options.
600+ More options for fonts with Google Font integrated.
This theme can be used for various types of websites. This includes:
Photography
Photo Blogging
Corporate
Portfolio
Law
Business
and much more

If you are someone who wants to exhibit his organization through visual aid then this theme can prove to be a great choice for you. Among the creative modern WordPress themes, it is one of the best. This is because of its great functionality, incredible design and exceptional user experience. On top of that, it offers compatibility with WooCommerce.
With this theme, you will have complete documentation to ensure that you don't face any issues while setting it up. You should definitely go for this one.

With the full width slider incorporated in this theme, you can enjoy showcasing your skills, objective of the company and what not.
There are 12 transitioning effects which have been designed in a very effective manner. The theme is loaded fast and the company is showcased in a very efficient and influential manner. At this point, the footer needs a special mention. It comes with the live tweets and flickr feed. Moreover, there are icons for social media as well.
Other features include over 100+ short codes, blog section, an area for portfolio, a dedicated services section and a Contact Us form.
Other features include:
Gravida is a corporate WordPress theme and is responsive
2 versions of home page
Video and image portfolio
Blog section for news, press releases, tips etc
Home page slider with 12 transition effects
Compatible with latest version of WordPress
The home page is very interesting and appealing to the eye. It has got a slider which gives a very quick overview about the consultant. This proves to be really effective in providing the users with great browsing experience.
It's definitely a really good theme for the consultants and other relevant professionals.
Other features include:
Consultant WordPress theme is responsive for tablet and mobile view
This theme comes with 600+ google fonts
Contact form with captcha and google map
Call to action with header and footer contact
Social Media Integrated for increasing social interaction
Coded with HTML5 & CSS3