Are you here to explore Western WordPress themes but still remain a little confused about their peculiarities? Don't worry, as you will find an exclusive collection of best-sorted themes for various niches.
These themes are retro, feature-rich, and developed in line with the fusion of trending culture. You can conveniently rely on them given their tons of functionality and easily moldable characteristic.
Moreover, it also gives your website and brand an international identity as the best graphics and animations can be found in different sections. It becomes difficult and tough to find all such characteristics packed in normal themes.
It becomes even tougher to expect flawless performance from them. Hence, relying on western themes for a dependable performance is the key to making a terrific website.
Best Western WordPress Themes for Modern and Vintage Sites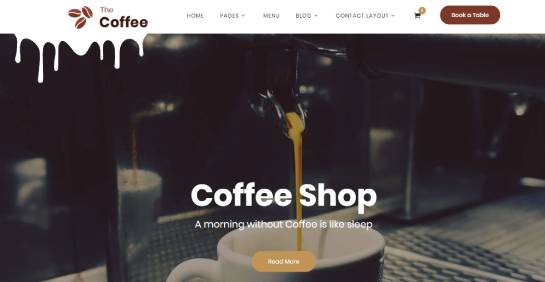 Coffee has been a part of world civilization for centuries and this theme will help you highlight its proper significance. Your restaurant or café can be an ideal place for coffee lovers, friends, and even for formal meetings.
You can conveniently market and project these peculiarities on your site. Meeting for a cup of coffee can be highlighted as one of its kind of experiences that you offer for your clients.
All the necessary features along with an impeccable design are offered by this theme. Moreover, the default template is solely developed for this purpose with proper care that all the required modifications can be undertaken.
Additionally, you can remain worrisome and depend on the shortcodes as well on external plugins for adding different features.
Responsiveness and flexibility are consistent across all screens, browsers, and devices. So what are you waiting for? Create a terrific online space and expand your food-business to new limits.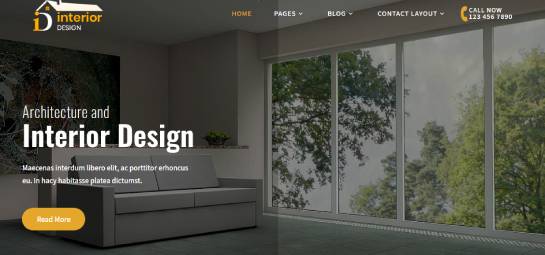 Decorating the interior of your house, working area, or corporate office is being prioritized across the world. As we move towards a more hectic and chaos filed lifestyle, individuals are relying on small details to find their solace.
This makes the profession of interior decoration in huge demand. SKT Interior Pro is a distinct option in this collection of western WordPress themes.
Just like your profession the design of the template is dynamic and can also be modified. You can mold the aesthetics and layout of your site as per your choice.
Setting up a gallery that can highlight all your previous projects, designs, and award-winning moments is also possible.
You will have complete liberty to add or remove, small and big elements from your site without knowing how to code. Lastly, its performance remains consistent and intact even after all customizations.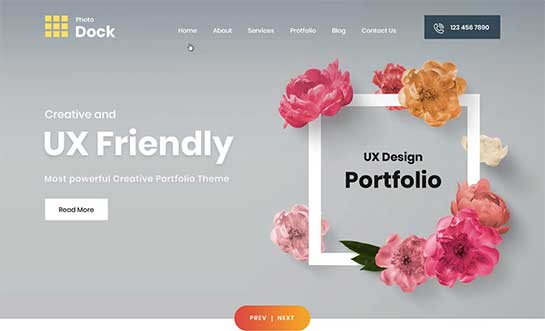 Photodock is an outstanding theme that has made it to this promising collection of western WordPress themes. It is a highly recommended theme for artists and photographers to create a portfolio based web presence.
The user interface of the website has been kept to minimal so that the photographs can be well highlighted. The navigation and menu options have also been kept simple which enables the audience to easily transit to other pages.
Setting up a gallery with optimized photographs of your niche or your art is also possible. It offers full compatibility with WooCommerce that enables business flexibility through an online store.
If you intend to target a demographic based audience then it offers RTL support and is translation-ready. Depending upon the requirements of your website and business you can add third-party plugins for features.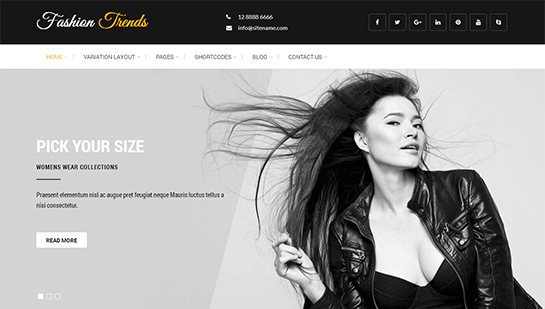 Fashion Trends is another great option in this compilation of western WordPress themes. It can enable you to create a dynamic, reliable, responsive, and feature-rich fashion-based website.
You can choose to create a company profile, online store, exclusive designer, and similar websites with it.
The interesting part is that the default template is already molded to meet the requirements of this industry.
Additionally, all necessary features like animation, slider, and Google Fonts are also integrated by default. This will enable you to project the best version and provide an upper hand over your competitors.
Everything from templates, colors, to the structure can be personalized to mesmerize the audience. If required a blog on fashion trends can also be launched and updated regularly. All components are optimized for search engines and tested for full responsiveness in different devices.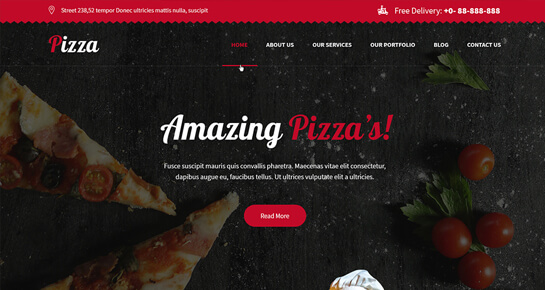 Pizza is a dish that is widely popular across the globe and available in different variants according to the culture. You can conveniently create an exclusive website for this flagship Neapolitan dish and attract hundreds of customers.
It has evolved with time and here you can list the best that you offer in the most organized and appealing manner. Photographs of different pizzas, testimonials from the audience, and the details about the same can be included.
WooCommerce compatibility will help you in taking online orders and integrating payment gateway is also easy.
Easily add features from shortcodes and plugins depending upon the requirement of your business. Personalization according to the brand presence of your organization is also possible with page builder and customizer.
Such great features, facilities, and design have made it a part of the best western WordPress themes compilation.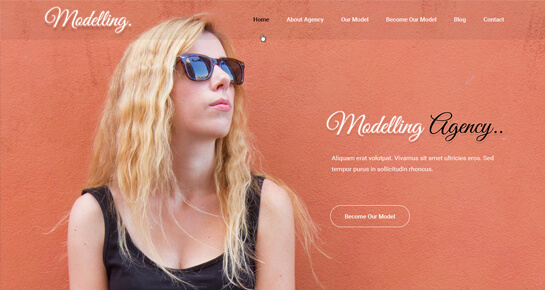 The last in this exclusive collection of western WordPress themes is Modelling which is a colorful and vibrant theme. Creating exclusive structure, landing page, layout, and template for a modeling based-website is not an easy task.
But with this theme, you do not have to worry about it as it is already worked out. The default template and design are mesmerizing and perfectly suit the trend of modeling.
It reflects elegance, glamour, and professionalism across all sections. It is rich in colors that make it stand out of the competition.
Modification in all aspects can be done to add a personal touch to the website. Multiple galleries can be set up and integration of social media handles for better engagement is also possible. There is no better resemblance to western modeling culture than depicted in this theme for the online space.
The scenario for social work and charity has changed drastically after the evolution of the Internet. Pet Care Pro contributes to creating a website for dog loving, social service, and other charity organizations. The overall design, graphics, and templates are created by keeping the social service and charity in reference.
This ensures that with the least modifications in the core design you can set up your site. Despite this, all kinds of personalization with respect to your field of social service can be made easily.
Adding content of all kinds and in different manners is also possible. This helps you in reflecting and capturing all the work and projects undertaken by your organization.
Additionally, necessary provisions are tested and checked for the integration of payment gateways and setting up an online store as well. This helps you in reaching out to the masses and collecting funds for your initiative.
SKT Lingerie Pro is amongst the cleanest western WordPress themes. It is for you if you are looking to create a site with minimal design and powerful performance. If your users are not a fan of high-end graphics and complex features then this can be your best choice.
Showcasing your skills, portfolio, business, products, and services will be the core aim of the website. Despite the graphics and the design being minimal the charm of the theme is magnificent.
It comes with plenty of white spaces and is equally responsive across browsers, screens, and devices. Personalization of all kinds is possible in each section so that creating your online brand identity becomes easy.
It is preloaded with power-packed features and also offers hundreds of inbuilt shortcodes to add more functions. It is integrated with Google Fonts and Social Icon Pack so that your design never lacks in creativity.
Beauty Cuts is a multipurpose option in this compilation of the best Western WordPress themes. This is a top-notch theme and with versatile features and world-class templates for more than 100 niches.
This means that you will receive HD-ready, retina-ready, and distinct templates for 100+ niches. This helps you in selecting the best one for your industry, sector, or skills to conveniently create a dynamic site. Moreover, all kinds of modifications in all the templates are possible which gives you an added advantage of uniqueness.
Elementor Page builder and customizer will be at your rescue for making all kinds of changes without knowing any kind of code.
It offers RTL support, multilingual support, WooCommerce compatibility, and is translation-ready. Additionally, all the images that are used in the default templates are copyright-free and hence can be used by you. It includes 100+ inbuilt shortcodes and is optimized for search engines.
Nuptials is another multipurpose and feature-rich theme in the compilation of western WordPress themes. This theme has been developed with all the features and subtle designs that are mandatory for a corporate site.
Given its multipurpose approach, it can be used for any kind of corporate irrespective of its niche, product, or service. To serve this purpose personalization of all kinds and at every level of the theme is made possible.
You can easily add your logo and mold it to the colors of your identity. A default slider is provided which can be controlled for transition and animation or can be also be removed.
Shortcodes will help you in adding other integral functions as required by your website and for the audience. If setting up a blog is your requirement then it is possible without any extra efforts. Standard website pages are offered and it works fantastically with third-party plugins as well.
This western WordPress themes list includes the The Trip theme to set up a classic and powerful business consultancy website.
Apart from consulting it does complete justice to eCommerce, personal, blogging, business, corporate, and non-profit websites.
High-end features and retina-ready performance across all devices are the peculiarities of this theme. You can conveniently choose to modify any section of the website including the homepage and its subsections.
This modification also includes changing colors, background colors, and font styles. For convenience in creating a distinct look, hundreds of Google Fonts are integrated by default. It is also supported by WooCommerce so setting up a corporate profile and online store on one website is possible.
In addition to that, you can choose to integrate the social media page of your brand or personal profile. Sliders, widgets, footers, and all other elements can also be modified to suit the requirements of the website.
Glamour, trends, and fashion of the western world are looked at by the entire world. Keeping these specifics in reference the Lifestyle theme has been created.
It offers rich graphics and images filled templates with different sections and subsections. It will help you in setting up a lifestyle-based business, blog, or review website easily. The best part is that given its core niche and peculiarities of creation you will only have to make a few changes.
It is fully flexible when it comes to personalization as molding all the sections or even removing and adding new ones is possible.
Being a pro coder for creating core changes or for modification is no longer a requirement here. Page builder will assist you with all steps with the template and customizer will enable making changes and previewing them in real-time. It can boldly compete with any feature-rich and aesthetically appealing theme.
Black and White is a multipurpose, retro, and amongst the most powerful themes in this collection. It is an attractive, modern, and yet a minimally designed theme.
The trendy design is most suitable for creating websites for artists, portfolios, photographers, retro musicians, and even models.
All the images that you decide to feature will be displayed on a full widescreen. The entire theme revolves around combination of black and white including the sections and subsections.
A default slider is also offered and animation in different areas has been assigned for better effect. The flat design approach makes it fully responsive across different browsers and devices.
It is SEO and SMO ready and is compatible with WooCommerce so that setting up an online store is also possible. The theme also offers comprehensive documentation so that you never get stuck with any operations.