Visa Consulting WordPress themes are a complete package of features to bring the best out of your services. It is necessary to see the functionalities of a template you like.
This is because it will be of no use if it fails to cater to your needs. It must be equipped with tools and must have the potential required for a visa consulting website.
Responsiveness, mobile-friendly, and flexibility are amongst the important parameters for selection. Therefore, we have compiled an exclusive list here to make the selection process easier for you. The excerpt will help you in knowing the peculiar plus points.
Without any coding, necessary changes can be made from the backend to get the desired output. The default design is minimalistic yet attractive and catchy. This ensures that the first impression on your clients will be reliable and professional. WooCommerce compatibility and extended customization add to the charm of its features.
It is retina-ready so you can expect supreme performance across all devices and screen sizes. The shortcode use it handled exceptionally well and required support is provided by the developers.
Best Visa Consulting & Immigration WordPress themes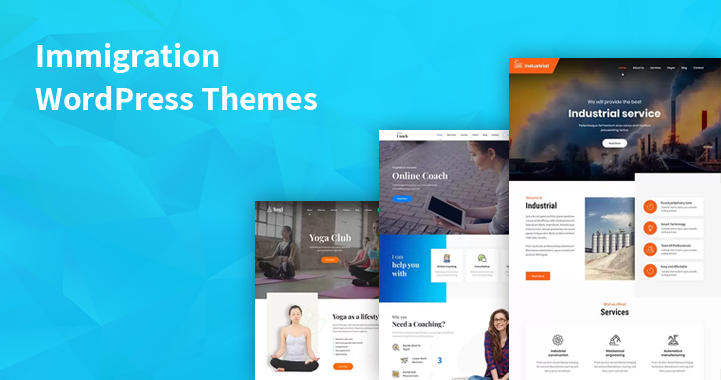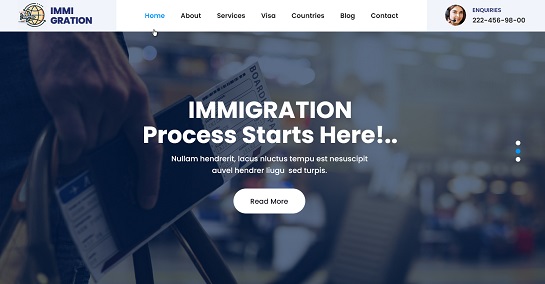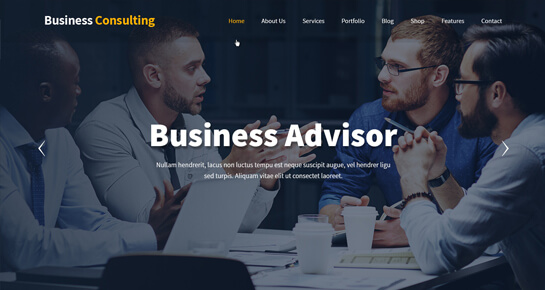 This theme is particularly not developed for the consultancy of visa applications. But it has more than the required features as the core development aim includes all kinds of business consultant requirements.
Hence, you can create a website at the next level which will help in converting potential customers. Using it you will be able to try something new which is reliable and more robust.
To suit your content's nature there are various built-in layouts and designs. Moreover, for the header and footer, you get ample capabilities. The plugin compatibility is way more than you can imagine under the hood.
When it comes to customization and style there are shortcodes and elements that will help you throughout the process.
You can manage page-specific colors, animations, highlights, sliders, widgets, and everything else. The translation ready and retina ready features are an added advantage that you get.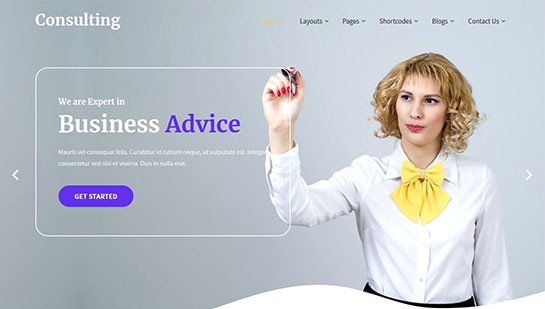 SKT Consulting Pro can be one of the finest choices for Visa Consulting WordPress themes. It is amongst the best sellers and gives fully-packed functionalities for achieving business goals.
You get a vibrant and dynamic homepage design to create a reliable impression on the visitors. You can easily add segments like testimonials, offers, news, and coming soon.
The customization process considering the graphics for other country images is also easy to add. All crucial details regarding the services, products, and the company can be easily added. You will never have to be tensed about the features because of its awesome compatibly with plugins.
Ready to use layouts, simple navigation, and user-friendly navigation helps you achieve the cutting edge. The entire setup is well documented and can be done without writing a single line of code. It can mold itself to all kinds of screens and sizes for different devices and browsers.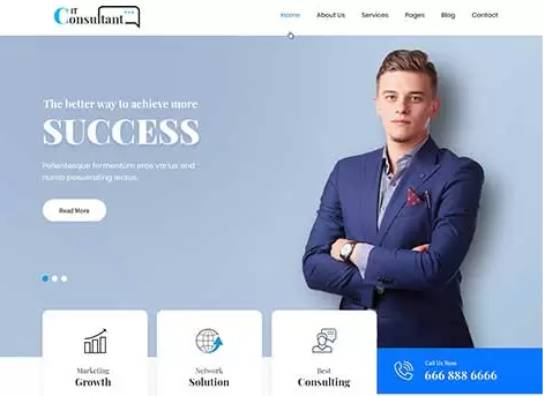 Next in the list of Visa Consulting WordPress themes is IT Consultant Pro. With all the latest functionalities and tools this will make a powerful website. It is flexible, highly-responsible, and well-finished.
With easy to use modification features you can make the desired changes and stun the potentials clients. Powerful widgets, shortcodes, sidebar, slider, and other components are all SEO-friendly.
This ensures that with the right kind of content you can easily achieve good search engine rankings. Templates are developed with high-quality graphics and can be easily customized. Page Builders will help in the process of the same to ensure that you do not have to write a single line of code.
All kinds of plugins can function exceptionally well so that you never run out of features. Desired pages according to the policies, services, examinations, and documentation can be easily created. For your professional consultation endeavor for immigration and visa, this is a perfect choice.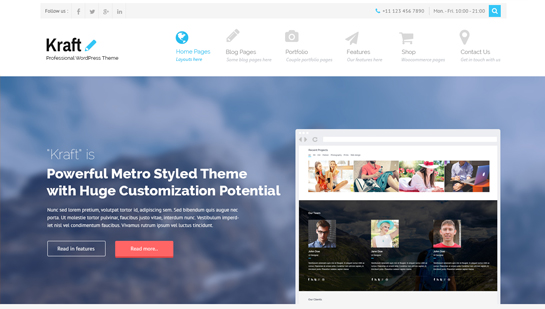 Kraft is a 100% responsive multipurpose theme and an ideal choice for visa consulting WordPress themes. Travel always remains trending throughout the world.
People desperately want to explore new things and require a reliable agency for the paperwork. To connect with such potential clients this theme has everything that you will require.
It has an out-of-the-box and eye-catching design which can be modified according to the services that you offer. Moreover, all other segments related to the same like fonts, background, color, and other elements can also be customized accordingly.
You have an option to directly use the prebuilt templates or make a new one with the help of the page builder.
For region and the demographic-specific audience, it offers translation ready and multilingual features. Keeping premium clients in mind this has been developed as retina-ready so that all kinds of screens and devices can feature it perfectly.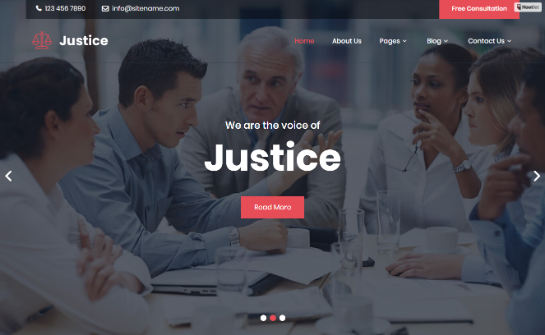 Lawzo is an aesthetically appealing and feature-packed theme for exciting your clients about their future destinations. It has marvelous ready to use templates which will be a perfect match for your purpose. The basic combination of red, white, and black color in the background, button style, and other elements makes it look great.
The audience will fall in love with immediately. As far as functionality is considered it includes all the basics along with support for WooCommerce. This helps you in establishing an online store whenever required and serve your clients with various products.
The temperament of the templates is soothing, calm, and adventurous. This helps in facilitating customers as per their choices. Contact forms, events, calendars, and similar functionality can be easily established with plugins.
You can quickly set up a blog and update it regularly to expand the reach of your services and client experiences. It is completely secured and has been developed by keeping in mind the global audience.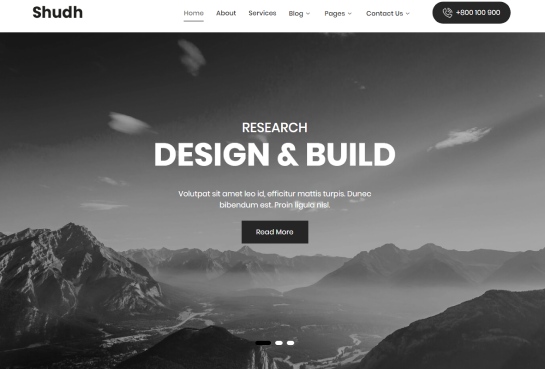 In recent times Shudh Pro has emerged as one of the finest Visa Consulting WordPress themes. It offers unquestionable responsiveness and is completely reliable with features.
The basic design is based on white and your clients can feel a premium aura across all segments. A smart combination of bright colors at various places makes it look eye-catching.
All provisions of adding a logo and other necessary graphics of your firm are available. Page builders will help you in creating an entirely new template or else you can quickly modify the default ones for use.
The interesting part is that all kinds of plugins related to functionality and social media can be easily added. This helps you in providing smooth access and dynamic engagement for the audience.
It is SEO-friendly and enables you to set up an eCommerce store. A blog depending upon the preference of your potential clients can also be set up. No separate provision or facility for the same is required.
IT Solutions Pro is next in the compilation of Visa Consulting WordPress themes. Right off from the bat, it can be used for the assortment of various purposes.
For immigration and visa specific niche it has all the capabilities, features, and functionality. It will give you enough time to work on improvising your content quality because the rest will be managed quickly.
Moreover, all kinds of content can be added for which colors, typography, fonts, and style can be controlled. To rock the online space with your brand presence you can choose to customize design a template and use it.
It is pre-occupied with handy features, layouts, light codes, and responsiveness to make your engagement the best. WooCommerce compatibility makes it stronger along with its readiness to host all other plugins. The only limitation here will be your imagination. Get full control and access to all elements, layouts, and segments at one go.
When it comes to selecting from Visa Consulting WordPress themes all you need is Web Programmer. With just a little breeze, planning, and proper execution you can make happen what you are aiming for.
It comes with a remarkable, professional, and modern concept that requires only a few clicks for a business-driven outcome.
Get ready to improvise sooner rather than later with different font options, page designs, and customizations without writing any code. By default, you will find sliders with smooth transition effects.
It also includes predefined headers and footers with an industry adapted layout. Do not worry for your out of the box ideas you always have the customization option.
It is optimized for magnificent functioning across web browsers and devices. The optimization is also extended to SEO and for achieving faster loading speed. Therefore, all operations will be quick, smooth, and flawless.
SKT Hosting is an ideal solution for setting up a visa and immigration-related business or informative website. It provides you a solid foundation so that you never have to worry about performance and security.
For your convenience, it comes with pre-developed templates that can be used directly with minor modifications. This makes the development process easier and less time-consuming.
For creating a website with minimal design and graphics it will take the shortest time. Without touching any coding you can create new customized templates or modify existing ones. Other settings related to header, footer, sidebar, widgets, sliders, background, etc. will be in your complete control.
The overall summary is that the fine-tuning of your digital space can be done conveniently keeping your target audience in mind. Cross-browser and cross-device compatibility are its USP's along with being retina-ready and multilingual.
When looking for Visa Consulting WordPress themes for your startup, this can be your ideal choice. With the booming startup culture, this theme has been designed to facilitate all requirements of aesthetics, functionalities, and features of a startup. The entire layout has been crafted by keeping the base color as white.
The other dark colors have been placed in other elements to ensure necessary significance is provided. You also get access to a well-worked comprehensive document for support during installation.
In addition to that, the developers are available for your support for a period of one year. This ensures that you can fully explore its potential and carve the best out of it.
The compatibility for devices, browsers, screens, and plugins is fantastic and at par with the industry standards. Customize or modify any segment that you want to achieve the minute detailing you have imagined.
The selection of visa consulting WordPress themes becomes difficult when your agency or firm is dealing with high-profile clients. In such cases, reliability and security are the two most integral aspects.
Your clients must feel that you are a reliable firm to hand over their data. And your platform should be equipped with the necessary protection to safeguard that data and prevent any misuse.
Cyber Security provides you both and much more. Apart from being 100% secure, reliable, and responsive, it gives you enough room for developing the entire site from scratch. If that is not required there are pre-developed premium templates that can be used absolutely free by making the required modifications.
All kinds of plugins are supported so that you can add all-important functionalities and features. You receive the required support directly from the developers and also in the form of documentation.
This is a multipurpose ad evergreen theme for developing a visa consulting and immigration-related site. This is also amongst the most premium and widely acclaimed themes used in various industries across the globe.
It comes with dozens of pre-built premium templates that are designed to cater to almost all the industries and sectors of the world.
You can select one that suits your niche and make the necessary modifications to use it on the go. The WooCommerce compatibility is at the peak with all necessary provisions for setting up payment gateway and checkout window.
Multilingual, translation ready, Google Fonts support, RTL support, cross-browser & cross-device compatibility, and retina-ready are some of its peculiar features.
It is coded by experts and exhibits fantastic performance for SEO and SMO to ensure higher search engine rankings. Not only that, but loading speed and user-interface are also the best.
The last theme in this read of best visa consulting WordPress themes is Marketing Agency. It is multipurpose but solely dedicated to the business firm and its operations. The fast-loading performance, terrific layout, and impeccable features make it one of the best.