Are you planning to create a commercial website? Nowadays, every business requires adequate nourishment to flourish properly. So, when you build a commercial website for your business or company, make sure to put in considerable dedication and effort with the proper management strategies to make it acquire a praiseworthy position among similar websites.
Using the proper theme is mandatory to make your commercial site look professional and unique at the same time. With the use of the best virtual reality themes, you can readily make your website popular. With superior 3D display quality, it can provide your viewers with an unforgettable experience, connecting them with the virtual world on the screen, thereby boosting your engagement rates.
Take a look at the best Virtual Reality WordPress themes that you can use for your website:
Cybersecurity is an utmost need nowadays. With the increase in cyber threats, website owners need to learn about it and take the necessary measures to prevent being a victim to it.
Are you planning to create a website associated with cyber security? Creating such a website will greatly benefit multiple users. It can help them learn from the basics to the advanced technicalities of cyber security.
Also, if you own a cybersecurity firm, you'd need a responsive website to showcase your services and reach out to your target audience.
However, using the appropriate theme for your cyber security website is mandatory. Cyber Security is one of the best options to go for.
As one of the best Virtual Reality WordPress themes, it comes with a highly customizable and dynamic homepage that you can use to display various information in an interactive manner. It is compatible with NextGen Gallery.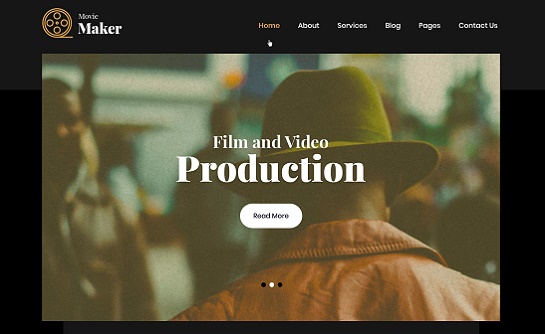 Are you associated with movie-making, or are you thinking about giving it a start?
You can build a movie-making website to bring it to the notice of people worldwide.
However, you will need a strong online presence to make your movie-making website stand out of the crowd.
You can do that easily using the SKT MovieMaker theme. It is perfectly suitable for movie making, movie blogs, portfolios, short videos, and other related websites.
It is a swiftly-paced theme and comes integrated with multiple social media icons for adequate publicity on the web. Also, it offers a 360-degree panoramic view of all the content listed on the website for better user experience, which, in turn, makes it one of the highly recommended Virtual Reality WordPress themes.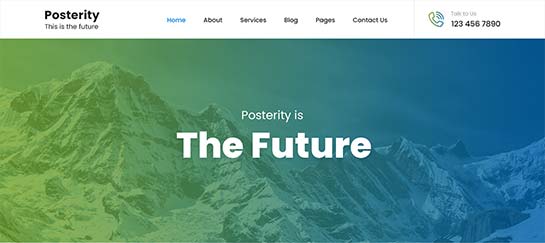 Are you in quest of getting hold of the perfect solution for your commercial website?
Posterity Pro can be the perfect solution for your needs. It is the best option for agencies, portfolios, business organizations, blogs, and other such websites.
As a website owner, selecting the theme completely appropriate for your site might turn difficult if not done tactfully.
The aim should be to pick an option that comes enriched with multiple useful features and functions to help your website flourish.
Posterity Pro is a mobile-friendly option to opt for and has qualified Google's mobile-friendly test. It can be readily personalized, and it is a widget-friendly theme, too.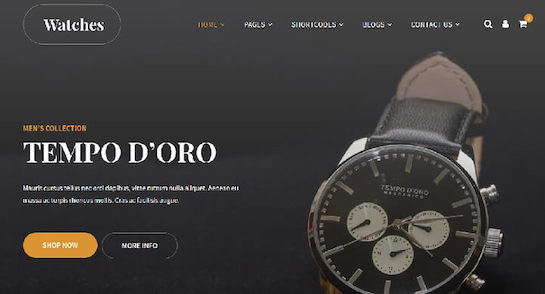 Do you own a luxury watch business? Providing it with the right exposure is essential to gain more customers.
You can easily gain more publicity for your business by creating a commercial site for it.
Opening a website will allow people from all around the globe to learn about your business and make purchases.
To comply with your commercial site, use the Luxury Watch theme. Besides watches, it is even suitable for businesses dealing with clocks, lamps, showpieces, and other such luxurious items.
It is an SEO-friendly website and is compatible with the WooCommerce builder plugin. The visual appeal of this theme is incredible. It comes equipped with a 360-degree viewer plugin that allows users to see a panoramic view of each product.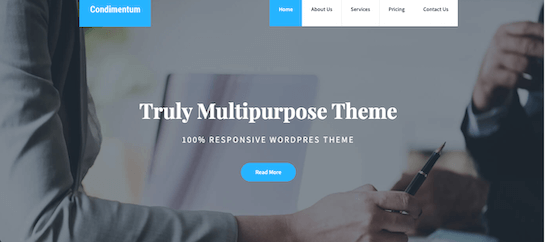 Are you planning to start a business? No matter what the niche is, stay prepared to provide it with adequate exposure.
Without exposure, it is difficult for any business to thrive in the industry.
To solve this issue, you can build a potential site for your business. Building a site will enable you to efficiently connect with more people all around the globe.
To use the best theme for your commercial site, use Condimentum. It is packed with uncountable features.
It is a multilingual theme and can be translated into multiple languages at the user's convenience. It comes with precise documentation and demo content for guidance.
If you are planning on starting an appliance business, make sure to implement the right business strategies to make it quickly established.
Gaining customers without an online presence has been tough in recent times. Hence, building a commercial site will be the best option to comply with.
With so many potential themes available, getting hold of the proper website theme can be a hectic task.
SKT Appliances Pro is one of the most efficient virtual reality WordPress themes for all appliance-related websites. With this theme, your users can get a realistic view of each appliance listed on your site and select their placement in your space virtually.
It comes integrated with the feature of Google Analytics and is compatible with multiple browsers such as Google, Yahoo, Mozilla Firefox, Bing, Thunderbird, etc.
Are you looking for the best theme to go with your infotech website?
Running an infotech company website is not easy and requires professional handling to make it well-established.
Though you will find a lot of options on the web, you will need to be extra careful while selecting an option to let it properly resonate with the audience.
SKT Infotech is the best option to opt for. It is perfectly designed for all infotech-related companies and businesses.
It comes with a brilliant HD retina-ready display quality and works seamlessly on multiple devices regardless of the resolution.
Are you a web developer looking for the appropriate platform to display your skills?
If you want to display your skills and make them well-known to everybody, you can attempt to build a website for it.
Building a website will enhance your possibilities of acquiring potential customers all around the globe.
However, you will require the appropriate WordPress theme to complement your website. One of the most popular themes you can use is Complete Pro.
The WooCommerce builder plugin is perfectly compatible with it. Besides, many other popular builder plugins, such as Accordions, WPForms, BuddyPress Forms, Sliders, etc., are compatible with it too.
Are you in search of the best theme for a start-up business, blogs, agencies, portfolios, etc.?
You will find uncountable options on the web that seem to be appropriate for your website. However, proper evaluation of features and functions is essential before making a final decision.
As multiple new websites are being created every day, making your website stand out of the crowd can be difficult.
Use SaturnWP Pro to compliment startups, agencies, firms, e-commerce shops, portfolios, blogs, personal websites, etc. As one of the best virtual reality WordPress themes, you can use SaturnWP Pro to showcase your services or products in an interactive manner to your customers.
It is incredibly easy to operate and comes with documentation and demo content. Moreover, it is SEO-friendly and Elementor-based. With a dynamic layout and 360-degree VR plugin, customizing this theme is completely effortless.
Are you planning to build a one-page website? If yes, do not skip finding the most suitable theme for it.
One-page websites are brief and to the point and require an appealing theme to complement them.
Though you will get several options on the web, getting your hands on the appropriate one is tricky.
Among all other options, Blendit is the most reliable option to pick for one-page websites.
It comes with multiple useful pre-built page layouts comprising a drop-down menu extending up to level 5. Also, it comes with detailed documentation for the user's convenience.
Do you want to start a digital agency? Digital agencies include creative and strategic marketing agencies.
There are countless digital agencies on the web; hence, implementing the appropriate business strategies is essential to make it recognizable.
To make your digital agency thrive, start by building a potential website for your company or business.
After creating the website, it's time to choose the appropriate theme. Look no further than Digital Agency, the most reliable option to opt for.
It comes integrated with more than 1300 customizable Google fonts, background images, and colors. It is even integrated with multiple interesting CSS3-powered hover effects.
Do you want to use a simple yet professional-looking theme for your website?
Though you can find many options for it, you might find difficulties in choosing the appropriate one if not evaluated cautiously.
You can choose Shudh Pro, one of the most reliable one-page theme.
With its appealing and useful outlook and features, you can use it for any commercial one-page website.
It is a completely SEO-optimized theme and can provide your website with a commendable ranking. It is also RTL-compliant and highly responsive.
Are you planning and preparing to start a professional cleaning company?
Running a professional cleaning company will require appropriate exposure and publicity to gain more clients.
Start by building a website on the web and list the services your business or company provides. You can use one of the most efficient virtual reality WordPress themes to display your offerings in an interactive way to your customers.
Well, you can opt for the Clean Pro theme for all cleaning-related commercial sites such as dry wash, dry cleaners, House Cleaning, domestic cleaners, residence keeper service, etc.
The Accordions builder plugin, WPForms, BuddyPress Forms, Sliders, etc., are all compatible with it. It is a translation-ready theme and can be readily translated into any language.
Creating a commercial software website comes with a lot of hurdles, with the biggest one being selecting the appropriate theme.
You will find plenty of themes built for software-related websites. However, not all of them are worthy enough.
The audience should be able to resonate with the website accurately. Hence, it becomes essential to use only the suitable option.
SKT Software Pro is designed specifically for IT, repair services, programs, coaching, corporate, freeware, business, applications, operating systems, online mediums, and such software-related websites.
It comes enriched with multiple CTA buttons. Due to being a multi-resolution theme, you can operate it on any device regardless of the resolution without any hassle.
Conclusion
Undoubtedly, it is complex to get hold of the most suitable theme for your website to give it an overall boost. Summing up, these were the best virtual reality WordPress themes that you can implement for your respective websites.
Using these options, you can readily provide your website with a complete professional outlook and attain the maximum benefits. So, do not look any further and utilize these incredible options to make your website highly popular and established.