We have jotted down the best collection of unusual WordPress themes for those who want to accentuate their identity or brand with unusual or unique style websites.
Getting your personal or business content noticed by as many people as possible is crucial. Whether you are running a personal website or a corporate one, the primary aim of your website is to bring more people close to you and your web content.
One of the best ways to do that is to arm your website with unique touches and strong functionality wrapped up together and brought to your audience.
There is no better way to start an extraordinary and awe inspiring website than following one of the unusual WordPress themes discussed in this article.
Each and every single website building template showcased here is custom built to capture the unique voice of your business or personal initiatives.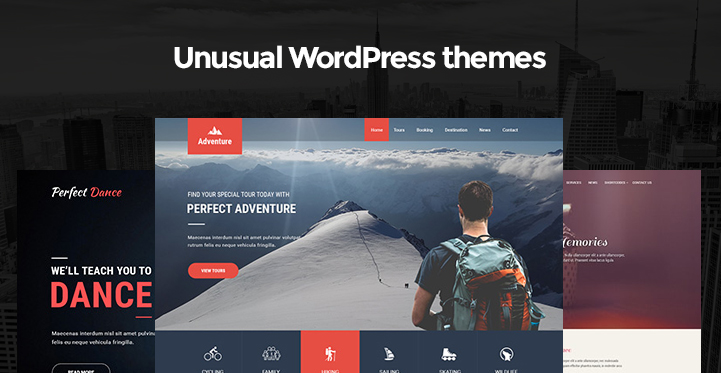 Whether you are fascinated by their look or the structural framework the offer, or admin friendly and user centric layout, each of them has something valuable to invest in your website.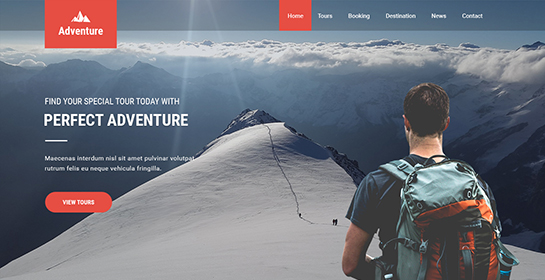 Adventure is one of the ambitions and unusual WordPress themes to sweep your web visitors off their feet. It generates breathtaking look combined with pixel perfect graphical solutions and touches.
Whether you are going to use this template for tour and traveling, as well as sports related businesses or want to establish something other, success is your final destination.
Social media friendly coding has been done with social media icons, as well as social sharing friendly nature when supported by respective social sharing plugins.
Other plugins, among them WooCommerce, Events Calendar, shortcodes, gallery and SEO, demonstrate their best practices when added to Adventure.
The theme is also HD and retina ready based on HTML5 and CSS3 to make your website look and feel perfect across portable mobiles and devices.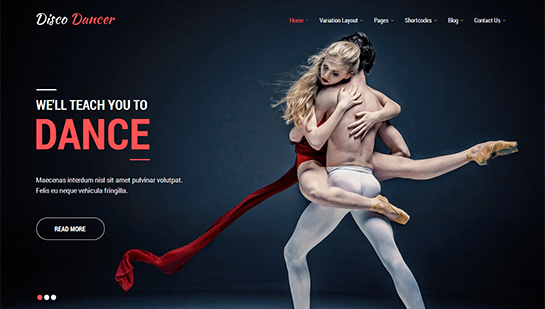 Disco Dancer is another dynamic and lively template with unusual visualization and strong performance. It is particularly crafted, decorated and launched to match the needs of music and dance world, private dance studios, artists, managers and others to share their content in an attention seizing fashion.
Packed with smooth scrolling controls, Disco Dancer has been developed to be the brick and mortar of your future site and make it cross mobile and device compatible.
Market your dance classes or studio, share your business achievements and showcase the profiles of your experts in nicely arranged content areas. bbPress and buddypress plugins have been checked with this template to put your website in shape and bring required features to your website.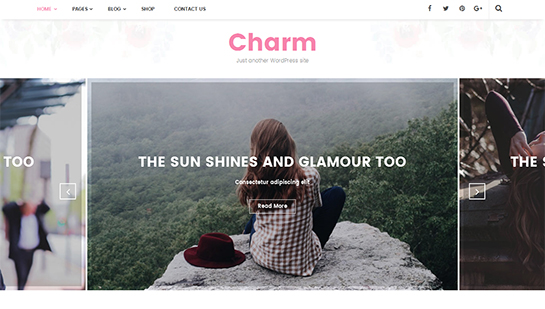 Please, welcome Charm as one of the charming and bewitching, unique and unusual WordPress themes for multipurpose usages. It is ready made to present any future website archetype with ease.
It means that you are free with tons of controls at your disposal to change almost every part of the default theme and use it for your specific purposes.
Moreover, irrespective of the type of the change you want to make, you are not obliged to deal with any coding procedure.
It's enough to make use of the given toolbox with color and font management options, easy to control shortcodes, page builder options when page builder plugins are functioning together with Charm.
Gravida is focused on the exceptional integration of unique form and function. It is unparalleled in visual rareness and pixel perfect design.
Created to win the flows of attention, Gravida is the one to mix its unusual style with yours to result in unbeatable product created for your market.
This modern and exclusive, well developed and designed template shares Customizer based performance for you to manage the transformation of your site as quickly and effortlessly as possible.
You are powered to play with footer and header variations, pack of shortcodes, header banner for inner pages, filterable gallery for images and testimonials to prove the positive experience of your clients and customers.
If you are looking for a marvelous and uncommon template for your bakery or café, bistro or restaurant, look no further than We Bake. It is one of the saturated, yet simple, admin friendly unusual WordPress themes designed for food and drink related industry.
This subtle and lightweight website building tool is specialized in sleek navigation, features integration and speed. Otherwise stated, your website is never going to be cluttered, distorted or bloated irrespective of the volume of content you are going to share on it.
What is more importance, the above statement refers both to desktop and mobile usages since We Bake is completely responsive and mobile approved.
Highly creative and out and outer, I Am One Pro delivers totally flexible template for you to put into action. This adaptive and sophisticated layout is rolled up with unique color and design controls to grab the web viewer's full attention.
It's a multifunctional and fully fledged template to serve for infinite website demonstrations and types.
The seasoned authors of this template tried to keep things as easy and lightweight as possible so that you can control them even intuitively.
There are color changing options to play with colors, shortcodes included to set up your content quickly, preloaded sections like about us, gallery, services and contact us, etc.
SKT Full Width Pro is one of the popular and frequently used unusual WordPress themes with excellence both in visualization and inner operational framework.
It's a persistent, stable and reliable website builder to proudly take on absolutely any kind of task you throw on it. Whether you want to share your skills or portfolio items, including photos and images, SKT Full Width Pro will show them off in an excellent manner.
The extensive nature of this responsive and shortcodes based, affordable yet premium quality template can be assisted by a wide variety of practical plugins as well, among them contact forms, sliders, gallery, and more.