One of a kind collection of the best tree service WordPress themes dedicated to the perfect performance of tree and shrub removal, trimming and pruning, lawn service, plant health care, emergency service websites, tree and herbal products sales, nature and eco friendly profiles and other relevant businesses online.
Nature is the entire material world of the Universe that was created without human intervention. During the whole time of their existence, people often turned to be guilty of certain changes and interventions in the natural environment they lived.
But the truth is that the role of nature, trees and plants is colossal and can never be underestimated.
We are all part of nature. We grow from it and exist in it. A certain atmospheric pressure, temperature, level of oxygen – this is the natural state of the Earth that is optimal for humans.
The aggravation of the ecological crisis forced the general public to turn to the world of plants and forests that provide multilateral protection of the biosphere. Apparently, they are the green shields of the planet and need special care and attention throughout the year.
Luckily, now there are dozens of highly specialized companies and organizations ready to take the initiative in starting nature preservation and protection programs, organizing events or communicating with the large masses to raise their awareness and involve in their projects.
Moreover, there are licensed and insured businesses and service providers to offer their high quality tree and plant related services to the individuals as well.
Our collection of the best tree service WordPress themes is suitable for all kinds of above mentioned services, sales and offers that are directed to the provision of beautiful, fresh and healthy environment.
Each and every product you will find among tree service WordPress themes is minutely worked out for you to make sure your website receives increased metrics which are so important to your success, such as page views, site visits, clicks, time spent on your profile, etc.
Now, let's discuss each of them separately.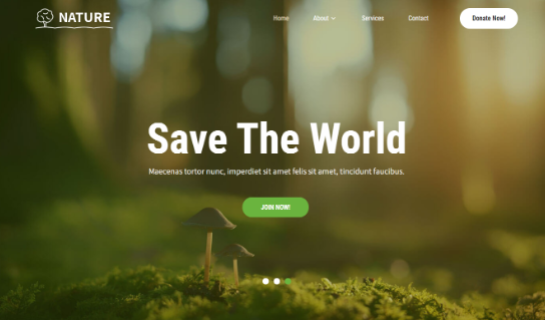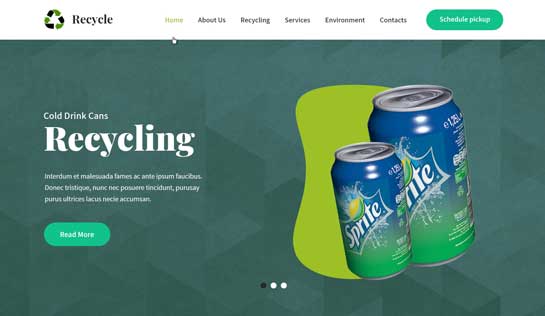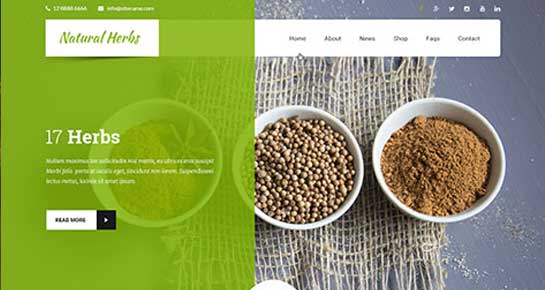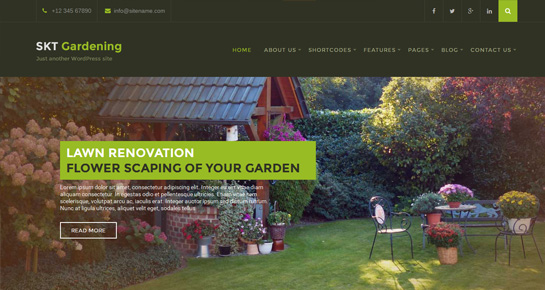 SKT Gardening Pro is one of the fresh faced and scrupulously managed tree service WordPress themes.
This amazing product does not expect you to have an expert level knowledge in web design or development.
Instead, it takes care of your comfort and convenience when working on the theme and changing its form, function, extending its capacity, removing or adding certain touches and more.
Showcase your audience that you value and respect them by establishing a total accuracy and smooth navigation in your profile with SKT Gardening.
The responsiveness of the theme together with HD readiness and clear typography available will contribute to your efforts in reaching the best customer care online.
Ele Nature is another holistic approach to getting any nature friendly website up and running at the lowest possible price.
Protect your nerves and wallet with this cost effective and intuitive child theme and create an amazing business profile to offer your tree and plant services.
Choose this template among many other available tree service WordPress themes and you will get access to all the perks at once.
From menu and page controls to post scheduling settings, color and font configuration possibilities and SEO friendly coding for maximum search engine results and higher rankings, Perfect Nature is enviably powerful in all its aspects and components.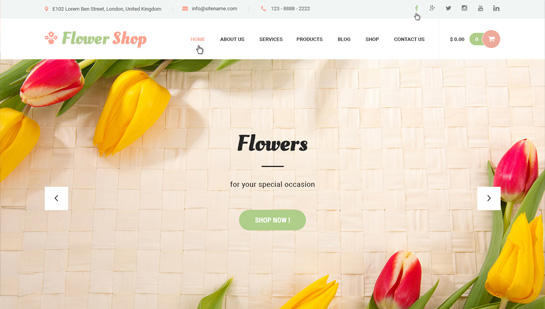 From floristic designers and flower shops to tree and plant, gardening and landscaping services, nature preservation GNOs and ecological institutions, a wide range of niche specific activities can be best highlighted with Flower Shop.
This spectacularly beautiful and avant guard website tool is powered by resistant coding, intuitive Customizer panel with the help of which you can make constant changes and live preview them to see whether you have the expected results or not.
Sell your services, trees, flowers, plants, Nutritions and fertilizers online since this template is as commercial ready as you will ever need to conduct online shopping business.
All the conditions for translating your content, integrating new contact form, making gallery more manageable are all provided within the theme.
If you are looking for an elegant and clean looking website tool on which you can manipulate your own color and design preferences, look no further than Diet and Nutrition.
The layout of the theme is highly attractive with ample choices of images, buttons, footer and header areas, homepage slides, editable header image for inner pages, etc.
Around 10 homepage sections are prebuilt for you to show off all the important information, give the list of services, prove your high qualification in the field, share the best images in the gallery section, etc.
Testimonials area is also given within the theme so that your clients can leave their feedbacks and persuade future customers that your services are worth their financial means.
Clean Pro is another revolutionary option for residential and commercial tree service providers and consultants.
With modern and clear design, this template shares all the credentials to be one of the thriving and nature friendly tree service WordPress themes at present.
With more creativity and less learning curve, anyone will be capable of creating an online profile in action with legible content deployment and cross mobile compatible nature.
All in all, Clean Pro boosts innovation and customization with pre enabled shortcodes, font and icons packages, different layout options, plugin compatibility and yet much more to come.
With strong infrastructure and green based visualization, Nature One Pro is premium quality website ecosystem with maximum freedom and pliability.
Let your prospective clients meet your team members, browse images and videos, request consultation or order tree care service all at one place through your posts, pages and content zones.
With Nature One Pro you can come up with any kind of new concept, solution, design, color combinations, widget area management, shortcodes application, custom CSS controls, transition effects for the homepage slider, etc.